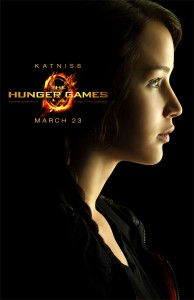 I loved the Hunger Games books.  I thought they are wonderfully written and I was engaged the entire time I read all three books.  I couldn't help but wonder if these books were appropriate for children as I was reading them.  They deal with some pretty tough situations and subject matter. As the movie opens this weekend, I was sent some of this information to pass along to my readers.  I thought that parents would be interested in reading what other adults are saying about the movie.
The Hunger Games opens in theaters everywhere tomorrow! 
As a parent, you may be wondering if The Hunger Games is appropriate for your child to see this weekend. I wanted to pass along a couple interesting articles by New York Film Critics Circle member, Thelma Adams where she discusses the film from a parent's point of view.

On Yahoo's Reel Breakdown, she writes: "When Katniss ultimately raises her bow and targets another human, it's an extension of a promise that she made to protect the weak and to push herself as far as she can to survive and return home to the sister that depends on her."
On AMC's The Film Critic, she writes about the lessons your child (and you) can learn from The Hunger Games, including: Loyalty can be hard and the importance of taking responsibility. 
Read the article at: http://www.filmcritic.com/features/2012/03/hunger-games-lessons-for-you-and-your-daughter/
I hope you have fun at the movies this weekend!