The latest stop-motion animated feature from LAIKA Studios, Missing Link, releases into theaters on April 12.  Last weekend I had the opportunity to screen this adorable movie and get the inside scoop on the newest film. Today I am excited to share with you my interview with actors Zach Galifianakis, Zoe Saldana, and Director Chris Butler.
This post is in partnership with United Artists Releasing who provided me with a trip to LA for the Missing Link press event.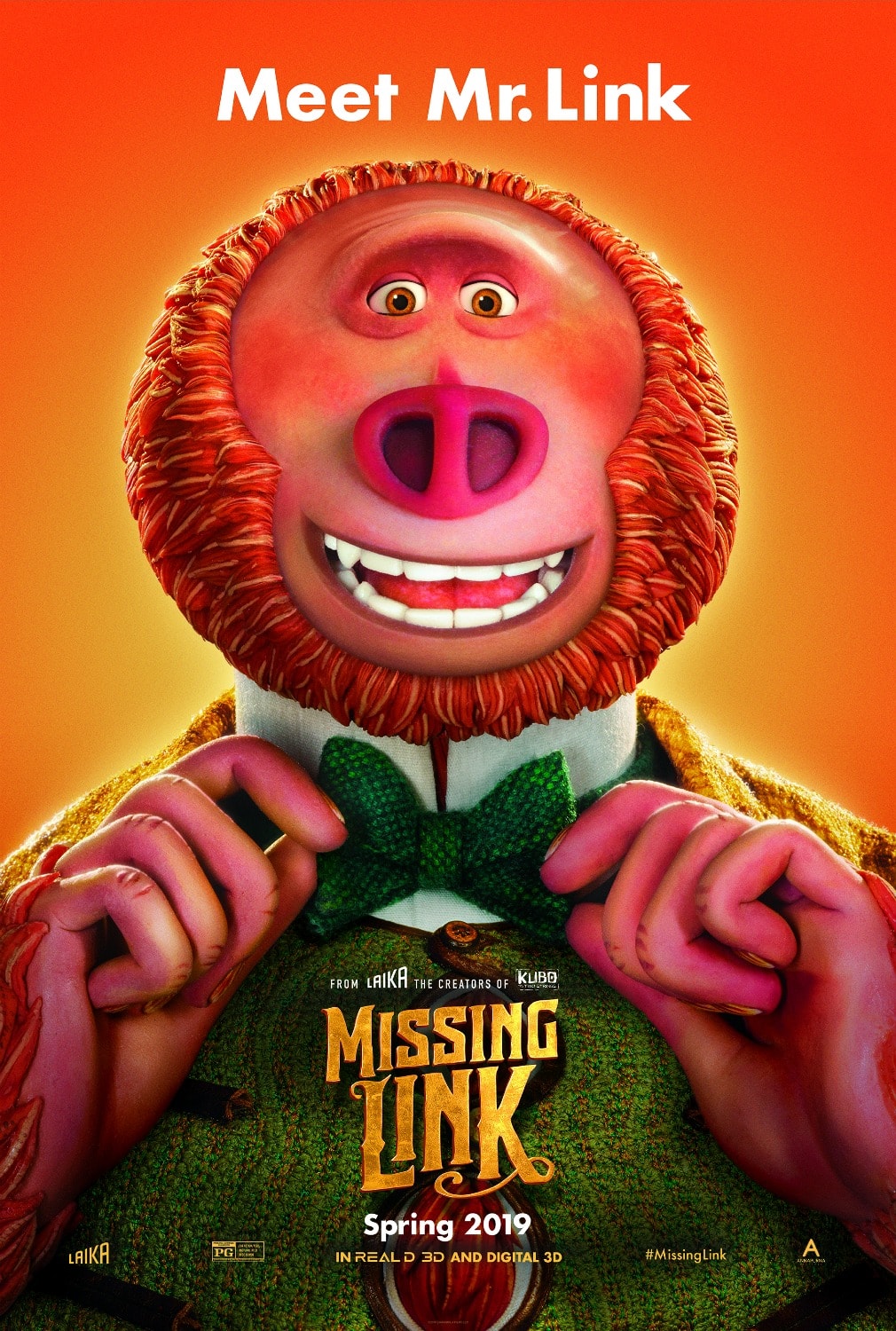 Missing Link
Get ready for a good old-fashioned adventure! Missing Link brings the audience along on a quest for one lovable Sasquatch to find his only living relatives.
Synopsis
This April, meet Mr. Link: 8 feet tall, 630 lbs, and covered in fur, but don't let his appearance fool you… he is funny, sweet, and adorably literal, making him the world's most lovable legend at the heart of Missing Link, the globe-trotting family comedy adventure from LAIKA. Tired of living a solitary life in the Pacific Northwest, Mr. Link recruits fearless explorer Sir Lionel Frost to guide him on a journey to find his long-lost relatives in the fabled valley of Shangri-La. Along with adventurer Adelina Fortnight, our fearless trio of explorers encounter more than their fair share of peril as they travel to the far reaches of the world to help their new friend. Through it all, the three learn that sometimes you can find a family in the places you least expect.
I will be bringing you a full review of the movie early next week so be sure to check back!
If you missed it, be sure to check out the trailer for Missing Link.
Interview with Zach Galifianakis, Zoe Saldana, and Director Chris Butler
I was pretty confident that sitting down with Zach Galifianakis, Zoe Saldana, and Director Chris Butler was going to be a fun time, and I wasn't disappointed. It started with Zoe and Zach talking about their kids being at the press event and it immediately bonded me with them. I was excited to get their take on this film, it being a family-friendly movie that I know all our kids will enjoy.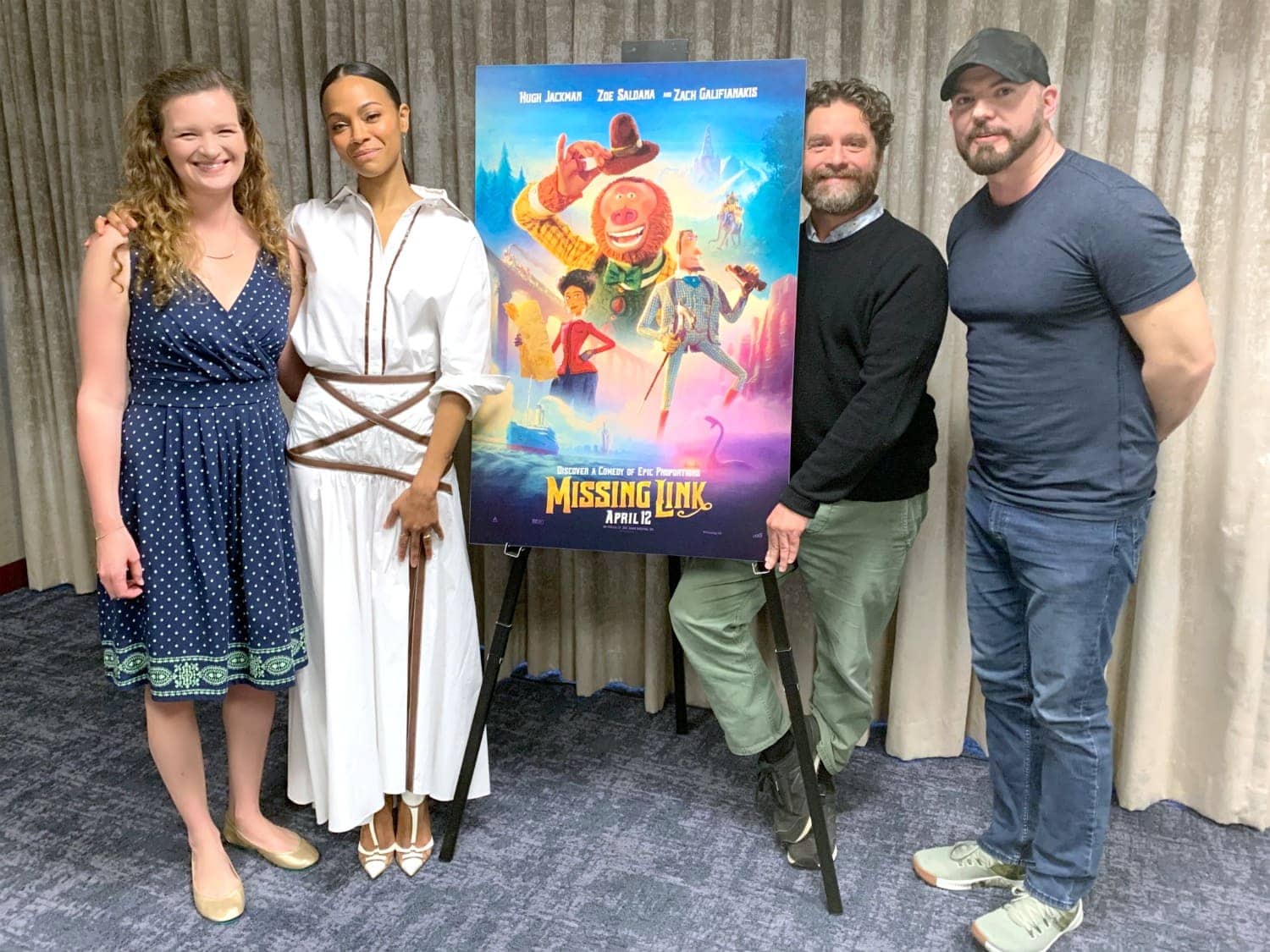 How Missing Link got Started
This project began about fifteen years ago with writer/director Chris Butler. He talked to us about how the film started with a few doodles of a "Hairy Avocado with legs". He kept coming back to this drawing and eventually this avocado turned into Mr. Link.
At the end of filming ParaNorman (2012), Chris brought three ideas to Travis Knight, the president of LAIKA Studios, for consideration. He said he didn't say much about the three stories, he just told him to "Pick one". Luckily Travis picked his favorite and it turned into Missing Link.
He said he loved it because it was a different story than they have told in the past. This film has adult protagonists and it is brighter and bolder than their previous films.
It's all based on stuff I loved as a kid… It's Raiders of the Lost Ark, meets Sherlock Holmes meets Planes, Trains, and Automobiles! – Chris Butler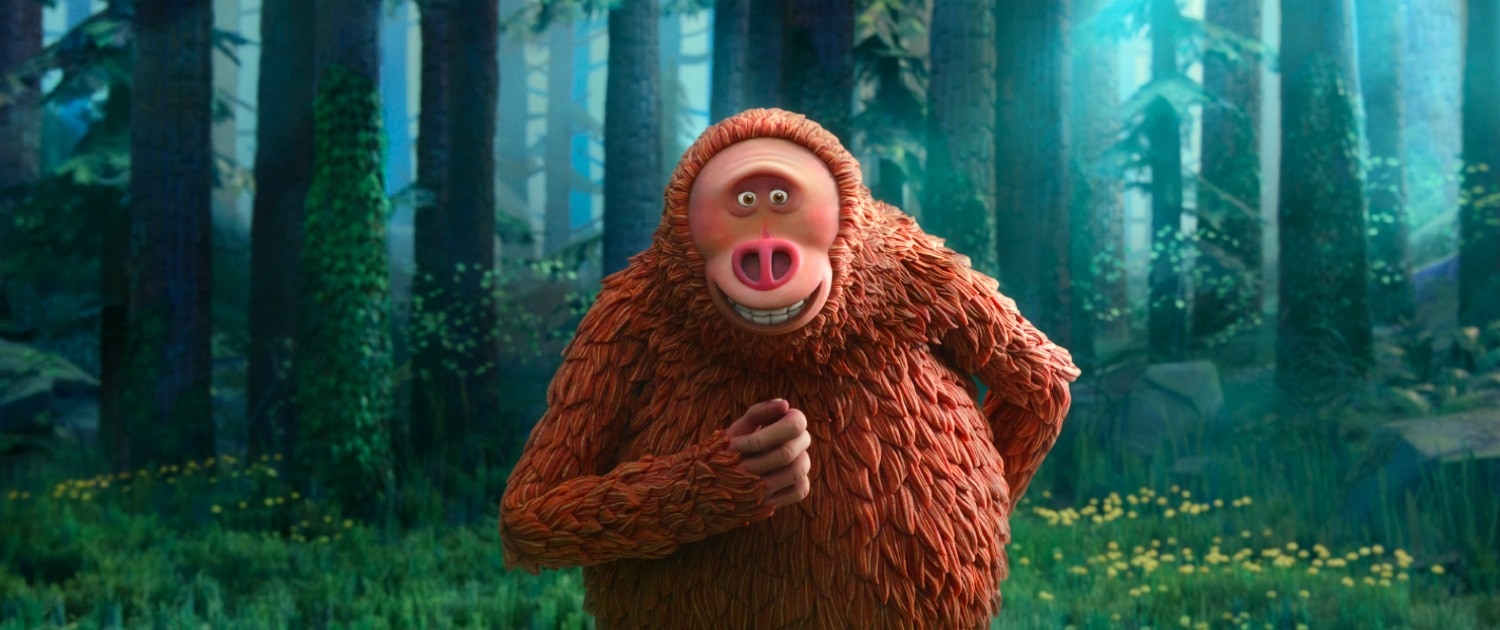 Mr. Link
Mr. Link is the main protagonist in the film. He names himself Susan and is absolutely charming. Chris Butler chose Zach Galifianakis as his first choice to voice the character. Zach told us he was pretty excited to play a "hairy avocado"!
Zach talked to us about what he likes best about his character. He loves Susan's innocence. He says he finds it refreshing.
The thing that I really like about Mr. Link, is innocence. I miss it, and having kids you get to see it.  And I'm like, "Oh my god, what happened to me?"  – Zach Galifianakis
While it is a lot of fun to voice a LAIKA character, Zach said the real magic comes in animation. He admires the way the animators are able to construct the face of the puppets with his voice. He told us that the animators are the ones responsible for making him interesting.

Adelina Fortnight
Zoe loves her character Adelina Fortnight. She loves that she is caring and nurturing but that she also is her own person. Adelina and Sir Lionel have a past where they were together as a couple at one point, but they both moved on. Adelina is a very strong character, Zoe talked about one of her favorite things about her…
I like that there was history that she never wants to kind of rehash in the way that he wants to. And I like also that she's trying to break away from that. She dealt with displacement, being an immigrant. Then she dealt with loss, like burying a husband. And now this self-discovery is like, okay, I have it in me to take care of people, check that. I have it in me to start from scratch, check that, but now I'm just gonna go "F-off" and go do my thing. -Zoe Saldana

I personally appreciate the fact that this movie didn't have a love story entwined into it. I think we were able to focus more on the adventure and the friendships between all the characters because of it. I felt like Adelina was a character that I could be proud to introduce to my daughter. She is a strong, fierce woman who held her own throughout the film, who also had to go through some hard things in life.
Zoe agreed.
I also hope that we continue to explore this new journey of portraying females that are broken, that are the ones that have the true lessons to learn, versus you know, like the voices of reason. -Zoe Saldana

Family and Friendship
There is a message in any good film for the viewer if they are willing to find it.  Missing Link had many different concepts it addressed, from nature, personal acceptance, family and friendship. Chris Butler wanted to explore the notion that family isn't just the family you are born in, friends can also become family. He does a nice job showcasing that in the relationship between Susan and Sir Lionel. It is really heartwarming.
Another message Chris really wanted to portray is about self-identity.
A big message for me in it is that your identity is formed by yourself, and it's not put upon you by others. So I think that's what I wanted to get across, and I think using this to get that across is a very cuddly way of doing it. -Chris Butler

I think that the message was loud and clear and beautifully created in this heartwarming film. You can see the adventure for yourself next week when Missing Link releases into theaters next Friday.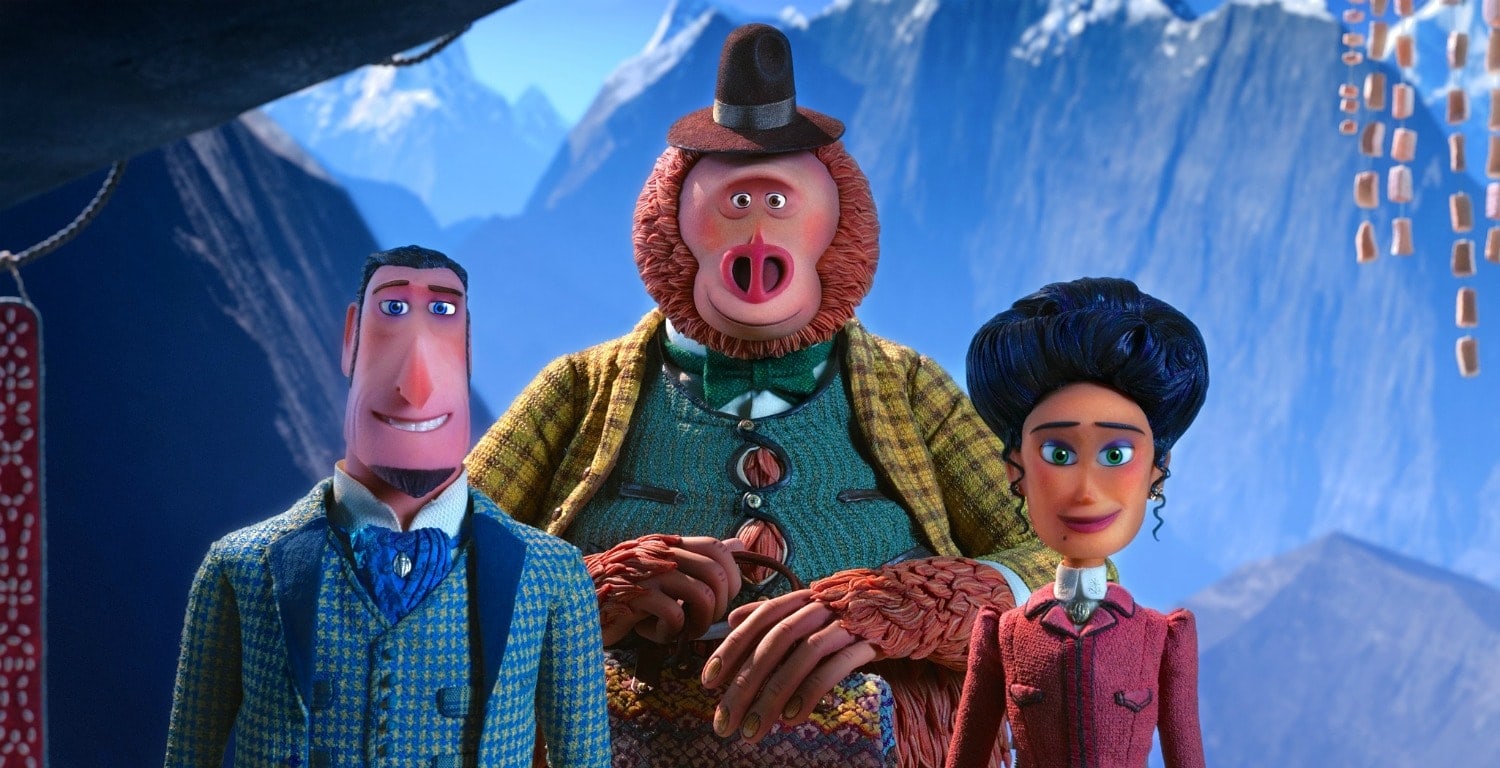 Follow Missing Link for more fun Coverage
#MissingLink hits theaters everywhere April 12. Get your tickets now! bit.ly/MissingLinkTix
Stay connected about the movie by following the #MissingLink hashtag on all your social channels. You can also keep up to date by following Mr. Link, Sir Lionel Frost and Adelina Fortnight on their movie website and social handles:
Official Website: www.missinglink.movie
Facebook: facebook.com/missinglinkfilm
Twitter: twitter.com/laikastudios
Instagram: instagram.com/missinglinkfilm
For a fun behind the scenes look at the puppets and sets used in Missing Link be sure to check out my friend Keri's behind the scenes tour of LAIKA studios!
Stay tuned all next week for more Missing Link coverage leading up to the premiere on Friday!