Imagine walking into a room full of mommy bloggers who are giving you a round of applause.  Chris Pratt loved it and almost went out and back in just so we would do it again.  It's not hard to realize why he is perfect to play the part of Star-Lord/Peter Quill in the Marvel blockbuster Guardians of the Galaxy. Star-Lord is a different kind of superhero.  He is charming, witty, charismatic and completely relatable making him unique in the world of Marvel. Chris Pratt perfected in the role in the first Guardians of the Galaxy movie and reprises the role in Guardians of the Galaxy Vol.2 releasing on May 5th. Last week, during my time on the #GotGVol2Event, myself and 24 other bloggers sat down with Chris to talk about the newest Marvel masterpiece and what it was like bringing Peter Quill back to the big screen.
On When He First Learned About the Plot of GotG Vol.2
Chris told us about the first time he learned about what the second film was going to be about…
Maybe just a few weeks or maybe a month or so after the first movie came out, he (James Gunn) invited me to his house, and just told me the whole movie. I was the first person to hear it. And, I'm like crying at the end.
The movie gives us a little glimpse of Peter's backstory and goes into more detail about his relationship with Yondu.  We get a bit more information about what happened when Peter was growing up.
It's a very contemporary story, and there's a lot of kids that are gonna relate to that, you know, whose dads weren't around. And who have another man in their life who's been, responsible for raising them, and how we can take relationships for granted that aren't those relationships we have built up in our mind.
On Working with Kurt Russell
Everyone on my team, everyone who's been hanging out with him, they're either just like, "He's such a great dude." And, he really is, man. I've heard a few people say like, "It really feels like you guys could be father and son." And, we have, we share a lot of the same passions. He's a really cool guy. He's a really open book. Definitely know where you stand with him. He tells it like it is. And, I really like that.

There's always that strange moment when you meet someone and you're a big fan,  you feel like you have to tell him, because otherwise you try to build a friendship and it's a little inauthentic, you know? You just say, "Listen, I have to get this part out of the way, but I love you so much. You're the best. You've always been the best." And he goes, "Yeah, I know. Thanks." And, all right, let's get to it, you know?
Does Chris Pratt Improv During Filming?
Peter's character has always been witty.  We wondered if some of the jokes were Chris' or if they were all written by the writers of the film.  We asked him if he was able to improv at all during filming.
But there are a few jokes that I improv that made it. I think the thing about if the thing between my legs had a hand on it. (reference from the film, you'll know when you hear it)

I remember the day, I was talking to James about that today, on the day it wasn't that funny. It was just like we'd done that scene a bunch of times, and they had to do it again because they needed to get something else. And so, I knew they already had whatever the line that was written. They already had it. And so, I knew when they already have it, then that's my room to play, you know? I say, you're gonna throw this take away anyways, I'm just gonna whatever I want. And that's what I said.  Then he was like, "Yeah, yeah, yeah." And, you know, it wasn't that funny.

And then he put it in the movie.
On the Important Topic of Snacks
Chris has a fun series called What's My Snack on his Instagram channel that I totally recommend you check out! In the spirit of his segments, we asked him what Peter Quill's favorite snack is and we got a little inside scoop on a prop used in the movie.
Peter Quill's shirt in the movie, if you see that… that's his favorite snack. That's actually a label from, this is a little Easter egg, from the first movie, there was some candy on the table… and I think I'm eating some of the candy. I don't know if I, they ever made it in the movie,  but James really loved the label, the art department had gone the lengths of creating this language, and created a label for some candy. And so, he put that label on the shirt. So, that's like a snack that Peter Quill likes to eat.
(Bonus fun fact, they are actually selling a version of that shirt in stores.  Come back next Friday and I tell you how you can get one!)
Of course, we had to ask about what Chris' favorite snack is and I was a little surprised by his answer.
I like cheese and crackers and Crudités, that kind of thing, you know what I mean? Is that what it's called, Crudités? Yeah, like cheese, crackers, and mustard and that kind of thing. If I could, you know, I'd just, I could live on that. I'd get fat.
On Fitness and Setting Goals
It seems like Christ did the impossible… he got himself into shape and seems to be maintaining it.  We asked him about that and how he accomplishes it.
If I'm gonna be fully authentic, I'm pretty careful about when I reveal myself to the public. So, and I do it in a way to make you think that I've kept it off the entire time, but I haven't.

Seriously, like I kinda keep tight, close to what I need to be, but I have to live my life as well. So, when I do a shirtless scene, or I do a magazine cover, or I do a photoshoot that I know is gonna get a lot of press, I then dial it in so that I can take a good picture. And so really all my eating habits and diet fitness habits are, it's very shallow of me, but hey, they're very much based around how I'm gonna be. So, don't be hard on yourself if they lose weight and they can't keep it off. That's just really natural.I think, you know, the best thing, the best way to think about it is not to have a goal of like a weight goal, do you know what I mean? I think the best way to think about it is not to have a goal of like a weight goal, do you know what I mean. That's not to say like my goal is a, is 225 pounds. That's not my goal. My goal is six months. It's like six months of consistency. Go to the gym, or do something every day for six months. See if I can do that.

I think the best way to think about it is not to have a goal of like a weight goal, do you know what I mean. That's not to say like my goal is a, is 225 pounds. That's not my goal. My goal is six months. It's like six months of consistency. Go to the gym, or do something every day for six months. Make the goal a consistency.

I just did it a couple weeks ago where I had a photo shoot for Men's Fitness. I made that my goal.  I worked hard for weeks and weeks and weeks, I got in great shape. I felt good. I did the photo. And like three days later I put on like 20 pounds.  Just 'cause I was so goal oriented, you know what I mean? 'Cause then you hit that goal and you're like, nailed it, let's eat!  So, it's natural to kind of go up and down.
I love that advice and I think it applies to anything in your life that you want to accomplish… consistency!
Christ Pratt also answered several more questions about the plot of GotG Vol.2 that I don't want to spoil for you guys.  Be sure to come back after you have seen the movie and I will update this interview with Chris's thoughts about some of the big events that happen in the movie!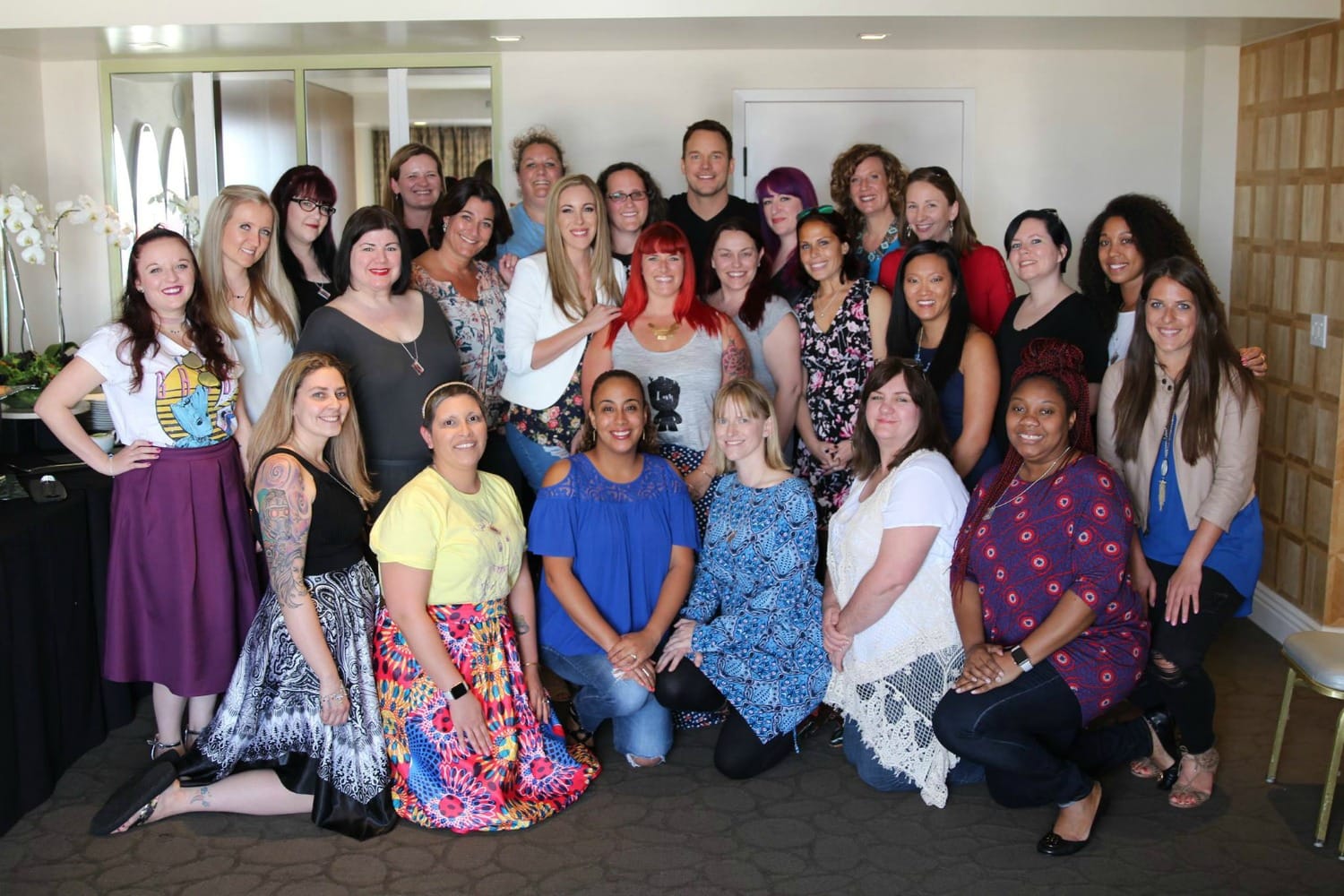 For up to date information about the newest Marvel blockbuster be sure to follow the Guardians of the Galaxy Vol. 2 on their social channels and use the hashtag #GotGVol2.
Facebook | Twitter | Pinterest | YouTube |Website
I will be back all this week and next with exclusive interviews and behind the scene coverage from the cast and crew of Guardians of the Galaxy Vol.2. Be sure to check back.
Be sure to check out my other posts from the #GotGVol2Event!
Guardians of the Galaxy Vol.2 Review and Purple Carpet Experience
I'm Walking the Red Carpet at the Guardians of the Galaxy Vol.2 Premiere
My Dancing with the Stars Dance Lesson
Photo Credit for Interview pictures: Louise Bishop / MomStart.com
A huge thank you to Disney and ABC Studios for flying me out to LA for the #GotGVol2Event. All opinions are 100% mine.