The tale of the Moon Goddess comes to life on October 23rd when Netflix premieres Over the Moon. A few weeks ago I was able to attend a round table with two of the film's stars Ken Jeong (Gobi) and Margaret Cho (Auntie Ling). We talked about the importance of diversity in film, what it was like to voice a character, and their favorite moments in this incredible animated film.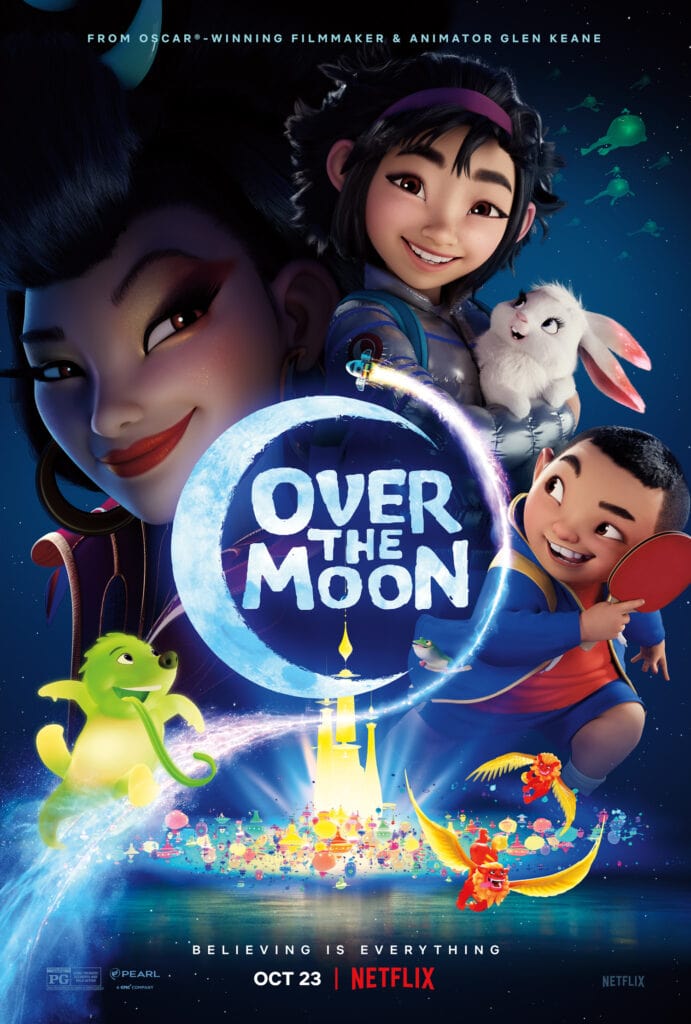 Over the Moon tells the story of Fei Fei, a young girl determined to prove to her father that the Moon Goddess is real. Her story is heart warming and relatable. This musical adventure is filled with excitement and heart warming messages that is so important for kids to hear.
In case you missed it, here is the trailer:
Synopsis
Fueled with determination and a passion for science, a bright young girl builds a rocket ship to the moon to prove the existence of a legendary Moon Goddess. There she ends up on an unexpected quest, and discovers a whimsical land of fantastical creatures. Directed by animation legend Glen Keane, and produced by Gennie Rim and Peilin Chou, Over the Moon is an exhilarating musical adventure about moving forward, embracing the unexpected, and the power of imagination.
Interview with Ken and Margaret
I was so touched by this movie. It has been a long time since I was moved to tears from an animated film. There was something so beautiful about this story that I feel is so relatable. When I asked Ken and Margaret if there was a time they got emotional while making the film, they both told me that they did. In fact, Ken told me he hadn't gotten emotional making a film before like he did in this one.
Ken Jeong:  Yes, recording one of the final scenes of the movie, between Gobi and Fei Fei, I got emotional. I just started crying while I was doing the voiceover. I've never done that before because the heart in the movie is just so rich and textured. It just kind of overtook me a little bit. And yes, it was really wonderful and I never experienced anything–or experienced anything like that before on a voiceover nor since. So, there's just a lot of magic in this movie.
Diversity in Films
Over the Moon is themed around the story of the traditional Chinese Moon Goddess. It's really important for families to learn about Chinese culture and see the beauty that is reflected in this film and it couldn't come at a better time. When asked if there was any specific messages or lessons or cultural elements that they are hoping that families take away from this movie, kids or adults, Margaret and Ken both talked about the importance of diversity in films.
Margaret Cho:  I think it's really about diversity and it's really about showing this multicultural sort of landscape where we have this kind of sharing of all of these traditions making it part of what holidays are all over the world. And also, what an Asia America looks like. I think it's really important now more than ever that we have this kind of diversity.

Ken Jeong:  Yes, I think appreciating one's cultural specificity allows you to realize that, universally, we're all the same. But, there are so many relatable elements that you don't have to be Asian to love Over the Moon because I think the deeper you go, you realize the broader the appeal. I think that's the way with filmmaking in general is happening within the Asian community, like, from Crazy Rich Asians to Tigertail that was on Netflix. That was, my favorite movie of the year, which really is about a father and a daughter. I feel like the deeper we go, as Asian American artists, you actually can yield bigger global satisfaction.
The Difference Between Live Action and Doing a Voice-Over

Both Margaret and Ken got their start in the entertainment industry as stand up comedians. Over the Moon was an opportunity to branch out from traditional acting to doing a voice-over. We asked about the differences of being an actor in an animated movie versus a live-action film.
Margaret Cho:  Oh, it's very different because it's a long thing. You know, you're doing a voice that you're not going to see in the animation for a year or more. And so, you really have to work in a collaborative way with the director, with the production. And so, it's a really interesting process, but I love it. It's very different, though.

Ken Jeong:  Yes, I completely agree with Margaret. There is something that's very introspective and more challenging about voice-over in the sense that you really have to create your own world to perform. Whereas, when you're doing live action, the world is already out there. You have other actors. You have other landscape as an actor that you can respond and react to.

But the really–the difficult part of voice-over is it hasn't been animated yet. You have to really see it for yourself. And it's only with a good script and great producers and director that can really provide that world. But we were so blessed to have Glen Keane, the director, and as well as the producers to provide that template for us very, very easily.
Relatable Characters

Over the moon was really rich with some amazing characters that you just fall in love with. We asked Margaret and Ken if they found that they had any sort of connections with a character in the movie. I was happy to hear that they both felt a connection with the characters that they played in the movie.
Margaret Cho:  Well, I'm auntie in life. And so, I'm definitely one who shares through food. And it's really about coming together with your family through these holidays and celebrating. So, I love that. I think it's really important to share.

Ken Jeong:  Yes. Even with Gobi, you know, I really drew upon kind of characteristics of my own self, of, like, kind of feeling, you know, insecure and lonely, especially as a kid. And then, kind of using humor to, you know, use that as a mask to manage it. Glen just did a great job just kind of peeling that–those layers of onions off of me to really just kind of go deeper in a way. Or it's almost evaluating why I do comedy and why using humor as some sort of defense mechanism to cover, to manage some pain. So, it became more personal than I ever expected. It's one of my favorite characters I've ever done.
Female Empowerment
Over the Moon tells the story from the view of a teenage girl who is a very strong female character. She is smart and brave and is a great role model for young girls. We asked Margaret if  having a strong female character was a reason that she decided to sign on for the role in the film.
Margaret Cho:  Absolutely. I love it. And I think it's so important for girls to have strong role models in cinema to emulate and, this is a really important thing. Like, we look to movies to realize our path in life, you know? It's more important than we know. And so, I think it's really great that she's so smart, she's so strong, and she gets there. She gets to the moon and I think it's so awesome.
The Music
When watching Over the Moon, I was just amazed by the wonderful music and all the different types of music they were able to showcase in the film. In my opinion it is a wonderful musical in addition to being a beautiful animated film. I asked Margaret and Ken what their favorite songs are in the movie.
Margaret Cho:  I love all of it. I love all of the songs. And I think I love all the classic kind of different sort of take on it. And I love all of the sort of Lady Gaga take on–China's rock take on stuff and everything is really beautiful.

Ken Jeong:  I think the main song, Rock it to the Moon is fantastic and I think should be nominated, for all the major awards because it really sums up the movie. It sums up the spirit. It's that whole scene and montage of visuals is my favorite scene in the movie because it really does–everything about the story is in that song.
Not only was the music amazing, Ken actually sang a beautiful song in the film. We asked him about what that was like and how he pulled it off.
Ken Jeong: It really is a credit to the producers and the director and the musical supervisors. Getting to work with them all day on this was such a treat. And being in a recording studio, I never do this. This was the first time I've ever done this in a movie on this level.  I'm so appreciative that they trusted me with such a delicate and heartfelt song. I'm just really honored that they trusted me with the material and I just didn't want to let anybody down. And I just wanted to, you know, do the best I can to, again, just service the story.
Childhood Dreams

Over the Moon is all about reaching your dreams. We talked about how many of us had a childhood dream of flying to the moon and asked Margaret and Ken if they were living their childhood dreams. I think they both found themselves on the moon!
Margaret Cho:  I think I'm doing, I think, yes. Being in entertainment, being a standup comedian, for sure, definitely doing it now. So, we're on the moon at the moment in a way for sure.

Ken Jeong:  Yes, this is beyond my dreams because I think when I was in high school, I just wanted to get into a good college, you know, and that was really it. I didn't have much of a vivid imagination, nor–I didn't do any theater in high school or anything. I did a lot of music but nothing in terms of acting and definitely not comedy. So, I'm a late bloomer in life. And I just kind of evolved all these things even towards the end of college and actually during medical school. So, I do believe everything I've done right now … I'm at the moon in my mind.
OVER THE MOON Premiers on Netflix October 23.  Be sure to make plans to see it, this is a film you and your family will want to watch over and over again!