I still can' t believe that I am actually writing this.  Somebody pinch me!!!  A couple of weeks ago we received our new Whirlpool Duet Washer and Dryer from Whirlpool trough a Mom Central ambassador campaign.  If you could have seen our old set, you would realize what a great campaign this is for us!  Our old dryer would literally take at least 2 hours to dry a normal load of clothes.  Our washer was okay, but it wasn't anything fancy and we really just used one cycle on it.
Over the past few weeks my husband and I have never been more excited to wash our laundry. In fact, at one point during our first load of laundry, my husband runs up from downstairs and says, "Come quick! You have got to come down and see this!"  I run downstairs to find him staring at the washing machine as it is on its spin cycle.  It is so incredibly quiet that we both just look at each other in amazement and smiled.  Seeing how fast the washer was spinning and how quiet the washer sounded was amazing!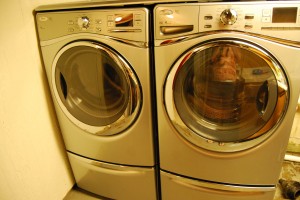 There are so many features on the Duet Washer that I haven't had the chance to try them all yet, but I can tell you the one feature that I am totally in love with…. the Precision Dispense Ultra!  This very clever feature allows you to fill the Precision Dispense Ultra cartridge one time, and it will dispense just the right amount of detergent for up to 36 loads of laundry!  This washer is so smart that it will automatically determine how much detergent is needed based on cycle, load size, and the soil level.  All you have to do is pour in your detergent, set the concentration level, and wash away.  It really is that easy.  I don't know about you, but I constantly add too much detergent to my washer and waste a lot of money by having to purchase more detergent before I really need it.  Not to mention, adding too much detergent to your washer can cause problems.
The dryer dried a load of our jeans in 37 minutes.  That's right, it only took 37 minutes!  Did I mention that our previous dryer took over 2 hours to dry a normal load of clothes?  The dryer is also very smart and told us that there was a ventilation issue, so we went outside under our deck and cleared out some of the lint that was stuck in the exhaust.  I will admit that this could of caused our last dryer to not dry as fast, but come on, it took over 2 hours!  Not to mention that it wasn't smart enough to tell us that there was a ventilation issue.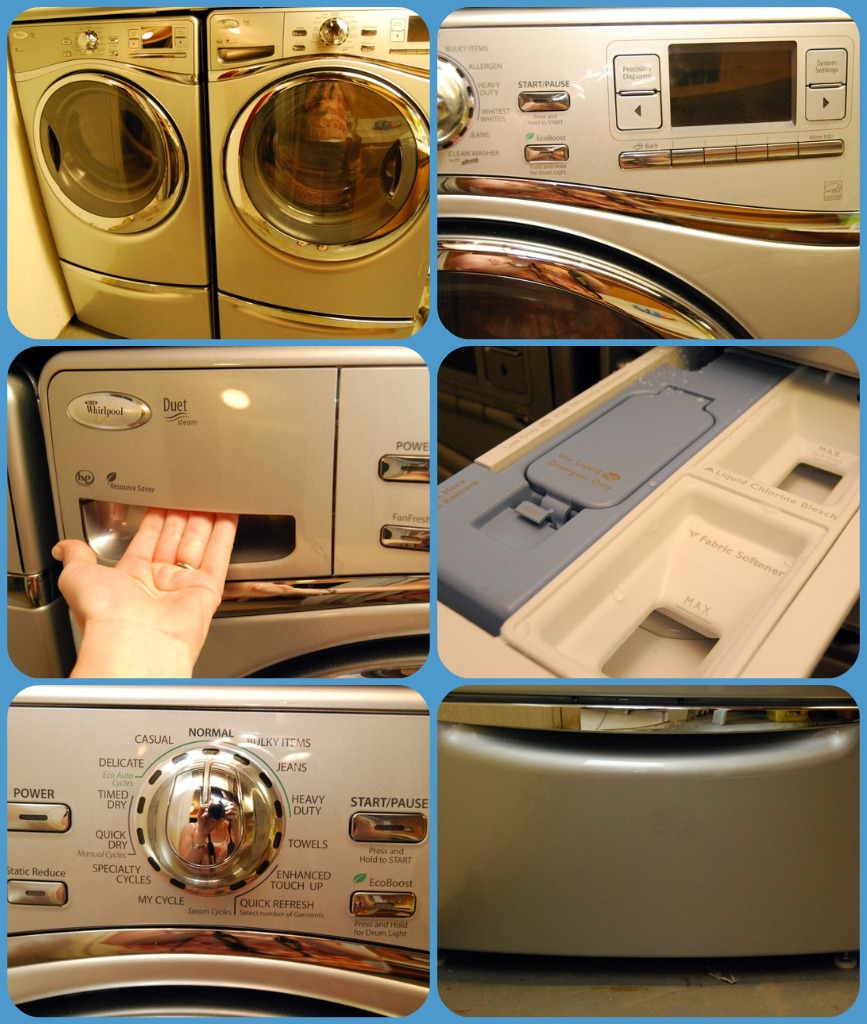 There are so many features to tell you about with the Duet that I will be updating my experiences over the next few months.  I just read about the FanFresh feature where I can was and dry a small load overnight!  I can't wait to try it out and tell you all about it.
Be sure to check back next month as I update my journey as a Whirlpool Mom!
I wrote this review while participating in a test-drive campaign by Mom Central Consulting on behalf of Whirlpool and received a complimentary Whirlpool Duet washer and dryer to facilitate my review.