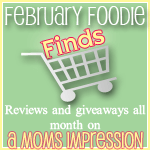 I am in love with my new KitchenAid Food Processor!  As I mentioned in my previous post, I have been wanting to make my own hummus for a while, and now I can!  It is so much easier than I thought.  You basically put all the ingredients in the food processor and turn it on.  Here is the recipe I used.
Ingredients
2 cups canned garbanzo beans, drained
1/3 cup tahini
1/4 cup lemon juice
1 teaspoon salt
2 cloves garlic, halved
1 tablespoon olive oil
1 pinch paprika
1 teaspoon minced fresh parsley
Directions
Place the garbanzo beans, tahini, lemon juice, salt and garlic in a blender or food processor. Blend until smooth. Transfer mixture to a serving bowl.
Drizzle olive oil over the garbanzo bean mixture. Sprinkle with paprika and parsley.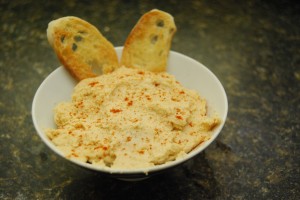 We love garlic in our house so I added a little extra garlic.  The hummus is much better if you use fresh lemon juice and not bottled. It took the juice from 1 lemon to do it, and it was very lemony.
Don't forget to read my full review and enter to win a $50 Gift Card from Hayneedle.
This product review was made possible by Hayneedle. I was not compensated for this review other than a product sample. All opinions are 100% mine.