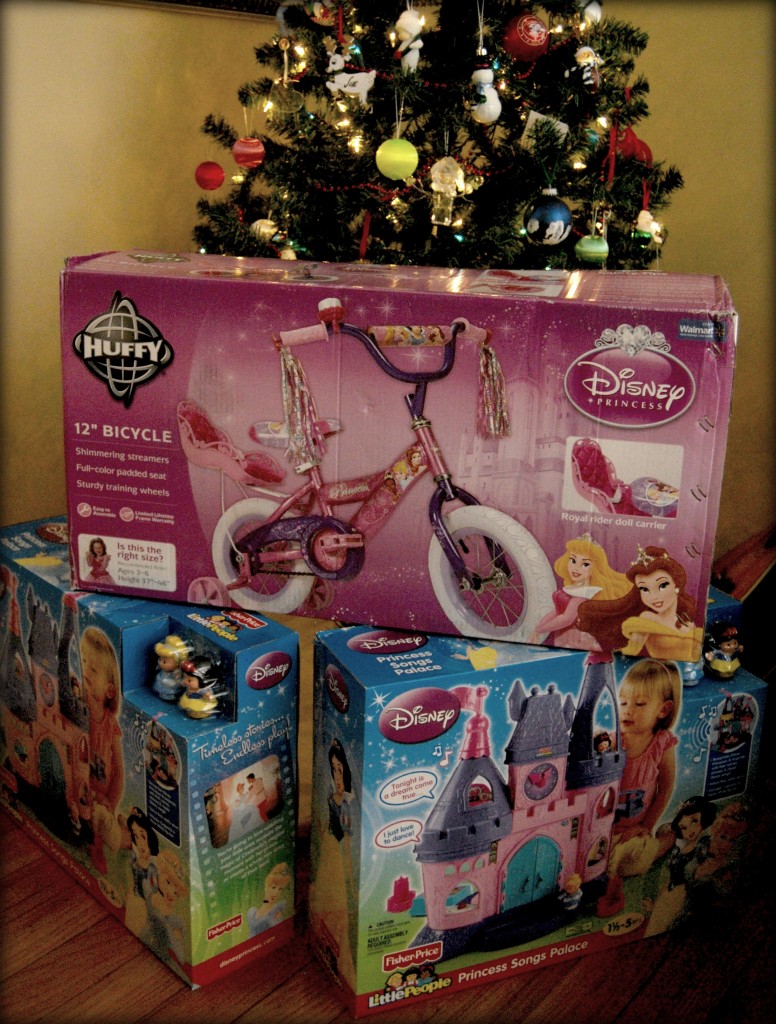 Remember these amazing Disney Gifts?  They are fit for a princess.  Every little princess needs a castle to play with.  I wanted to make my princesses feel extra special by wrapping their gifts extra special as well.  As I was thinking of fun ways I could wrap them, and idea came to me that I couldn't get out.  What about making the wrapping into a castle as well?  Of course, once I got that idea in my head I had to attempt it.
Here is what I came up with: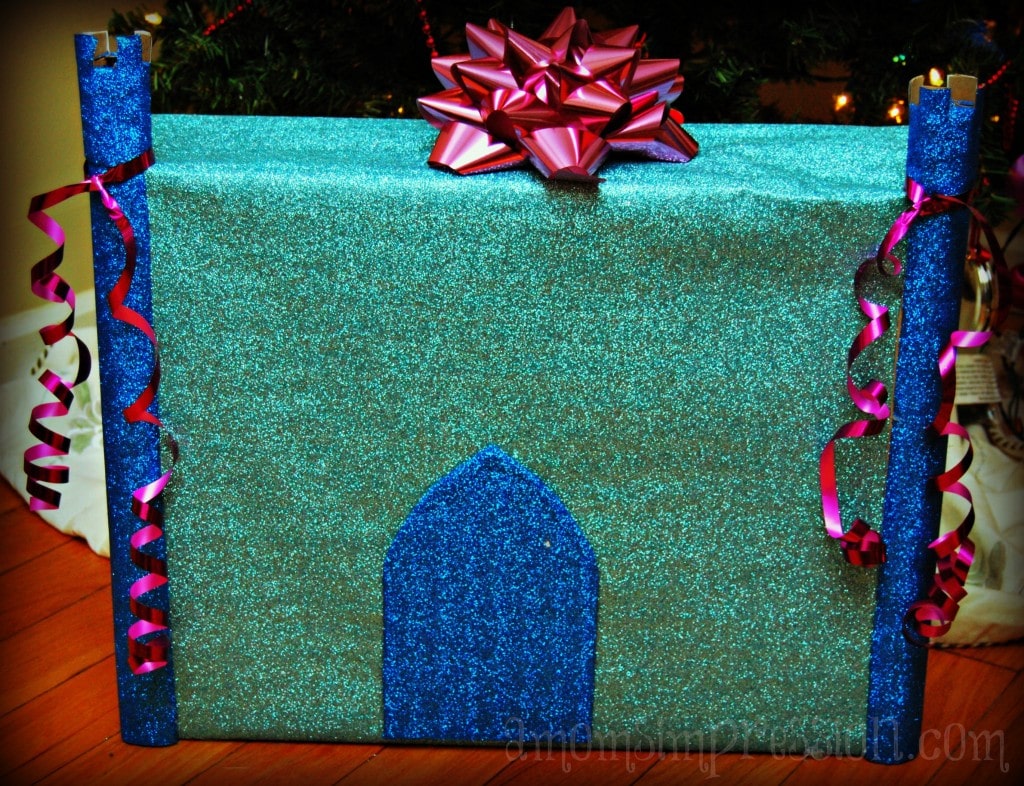 Isn't it adorable?  I was very excited at how it turned out!
Here is how I constructed the wrapped castle.  First I went to Walmart to purchase the sparkly wrapping paper!  I found two different shades of blue.  I wish the picture did the wrapping paper justice, because it is really beautiful in person.  The blues reminded me of Cinderella!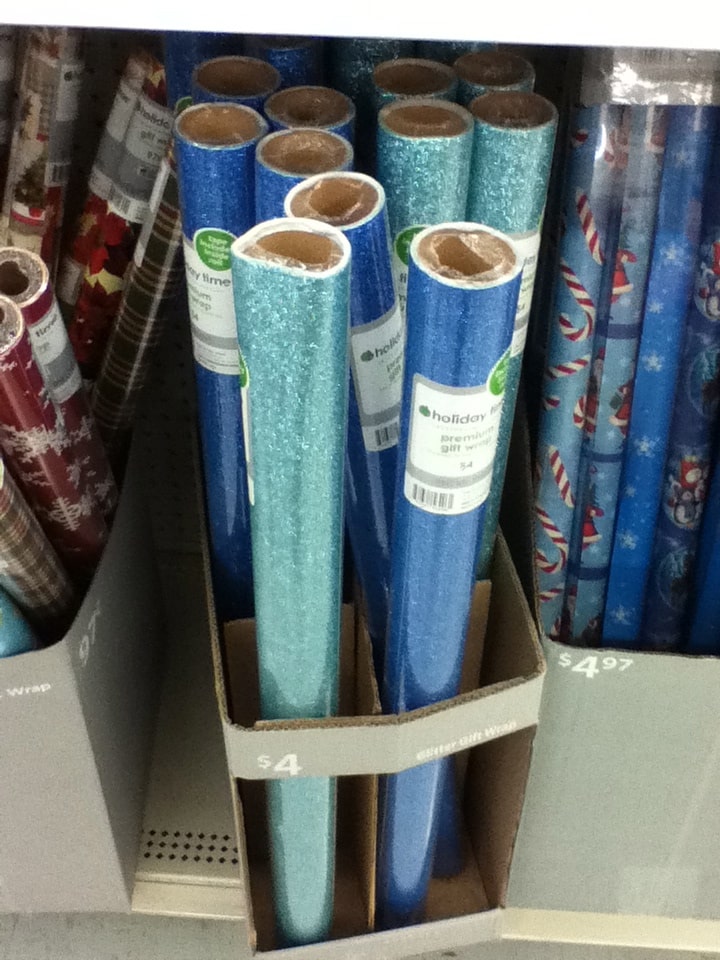 I also found some great ribbon and a fun ornament that I was planning on using for the top of my castle: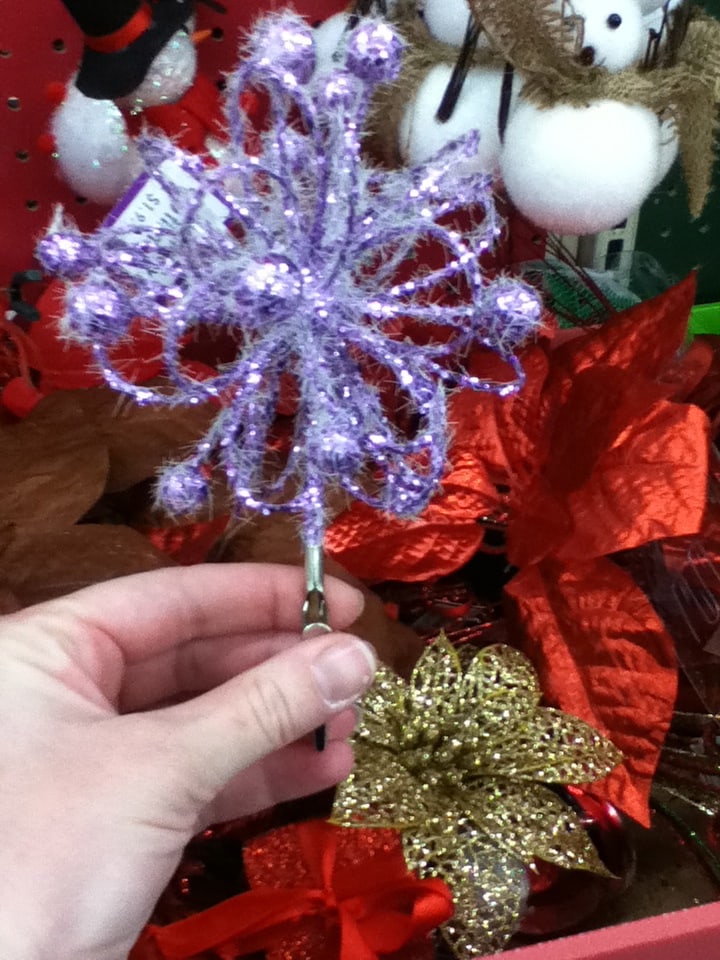 When I got home, I took the Fisher Price Disney Princess Castle and wrapped it in the light blue glitter wrapping paper.  Then I took an empty paper towel roll and cut it in half lengthwise.  I covered these in the darker blue glitter paper.  Just a little warning.  While this glitter paper looks amazing and it turned out fabulous, it was very difficult to work with.  I ended up  using a glue gun to wrap it because tape wouldn't stick to the outside of the glitter paper.  For this reason, I would probably not use this wrapping paper again.  It was worth it though when you see the finished product!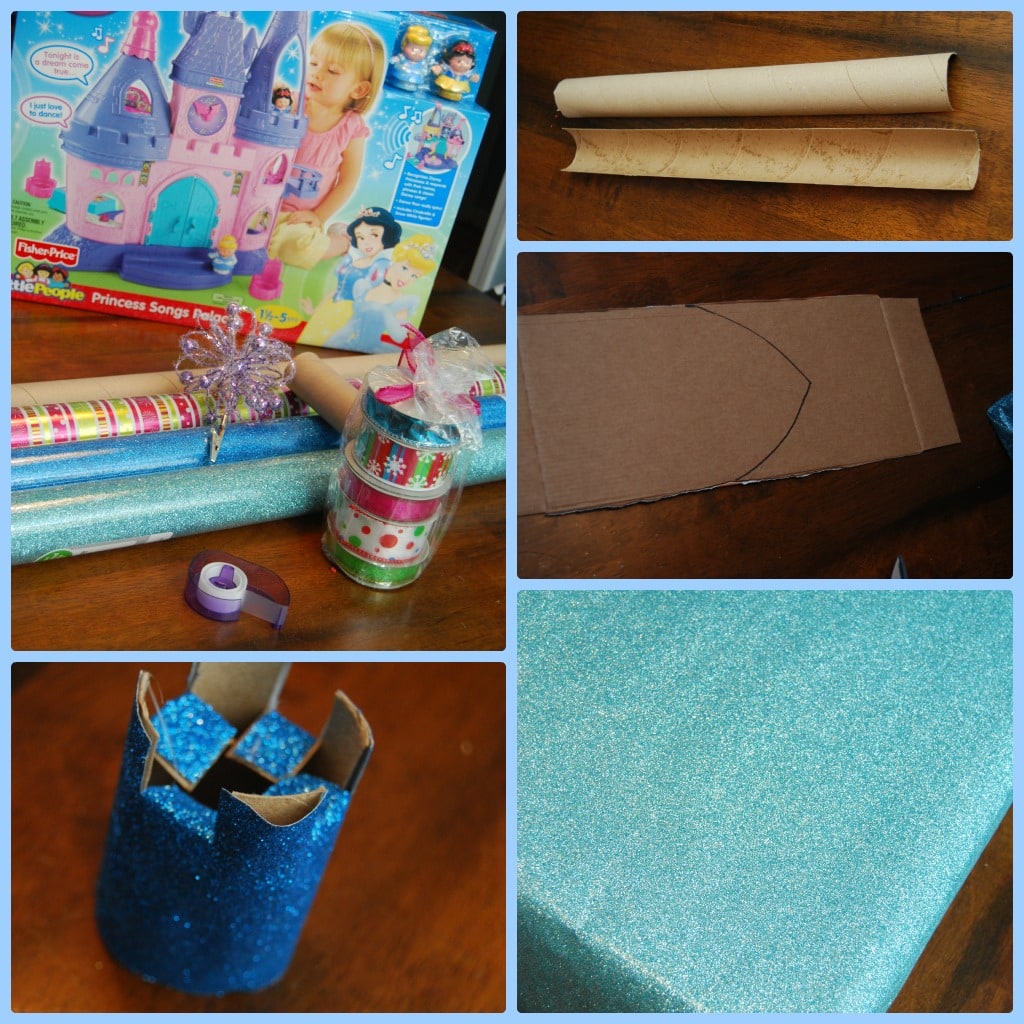 I attached the two wrapped paper towel rolls to the front edges of the present.  The top of the roll stuck out about two inches.  I then took a toilet paper roll, cut it in half and made two crowns for my castle towers.  I placed them over the top of the rolls and tied a ribbon around them for more color!
Next, I cut a castle door out of cardboard and covered it with the dark blue glitter paper and hot glued it to the front of the package.
Finally, I place a very large pink glitter bow to the top of the package.  I couldn't figure out a way to place the cool ornament that I found, so I decided that I was going to use that to clip onto the bicycle.  We decided that we didn't need to wrap the bicycle because we are going to assemble it and put it under the tree with a doll in the doll carrier.  The ornament will make it feel even more special on Christmas morning!
As for the second Fisher Price Disney Castle, it is going to my friends little girl as a birthday/Christmas gift.  She was born a few days after Christmas so we wanted to get her a special gift.  Right after high school, I moved in with a couple of roommates as I worked and went to college part time.  As you can imagine, I didn't have a lot of money.  I learned this amazing bow creation from one of roommates.  I love it because it doesn't cost much, you just need some extra wrapping paper.  This technique has come in handy more times than I can count.  Every time I make one of these bows, people ask me how I did it.  It works wonderfully with very large presents where you need a very large bow and you don't want to spend a fortune to buy one.  Here is what it looks like when you are finished: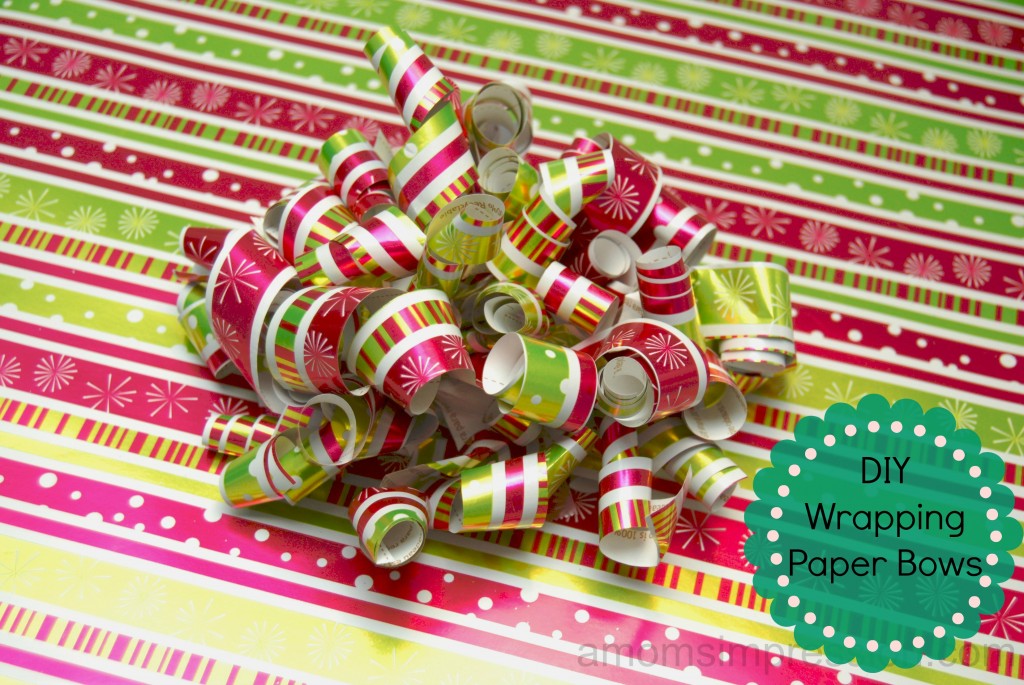 Pretty cool right?  It costs basically nothing, yet it makes your packages look spectacular!  It is really easy to do too!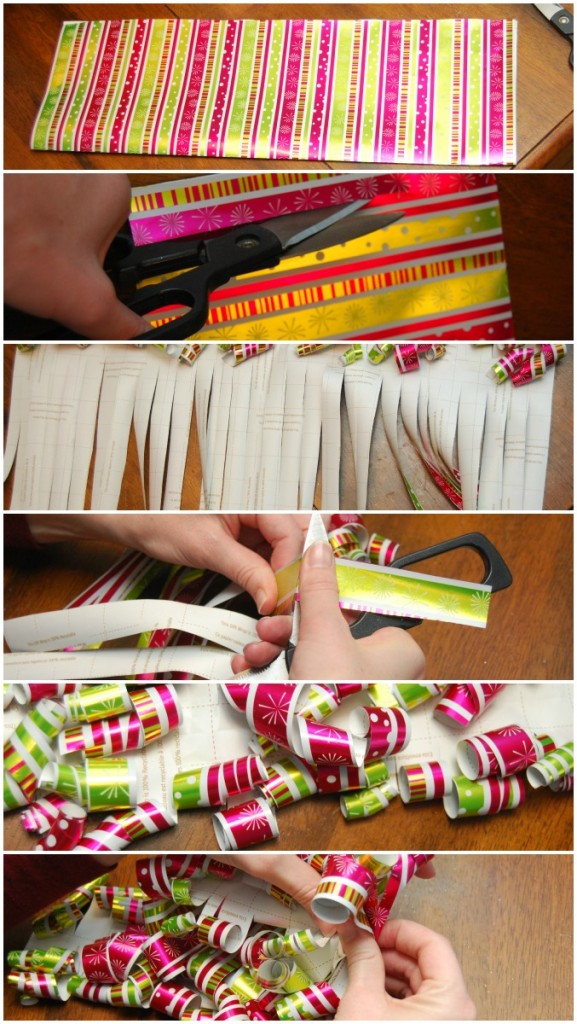 First, cut a piece of wrapping paper about the size of the front of the package you are wrapping.  After a few tries, you will become an expert at how big your paper needs to be.  Next, fold it in half lengthwise.  Then cut the paper from the bottom up being careful to leave about an inch before the fold. You will be cutting through two layers of wrapping paper.  After you cut strips all the way across, open the wrapping paper. Next, take the strips of wrapping paper and curl them like you would curling ribbon.  This can take a while depending on how skinny you cut your strips.  Curl both sides.  Finally gather the middle together by folding it up into a bunch and then tape it on your package.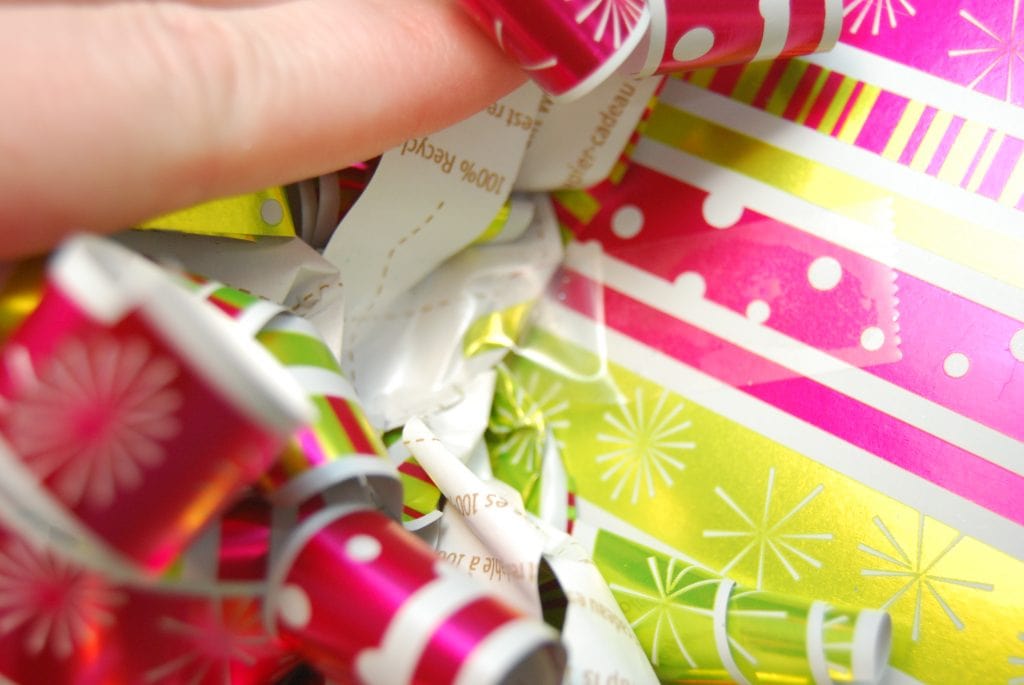 I don't really  have a system for this part, I kinda just tape it to the package wherever I think there needs to be a piece of tape.  Then I fluff and manipulate the curls to make the bow look nice and add more tape if I need it.
The result is a fantastic homemade bow fit for a princess…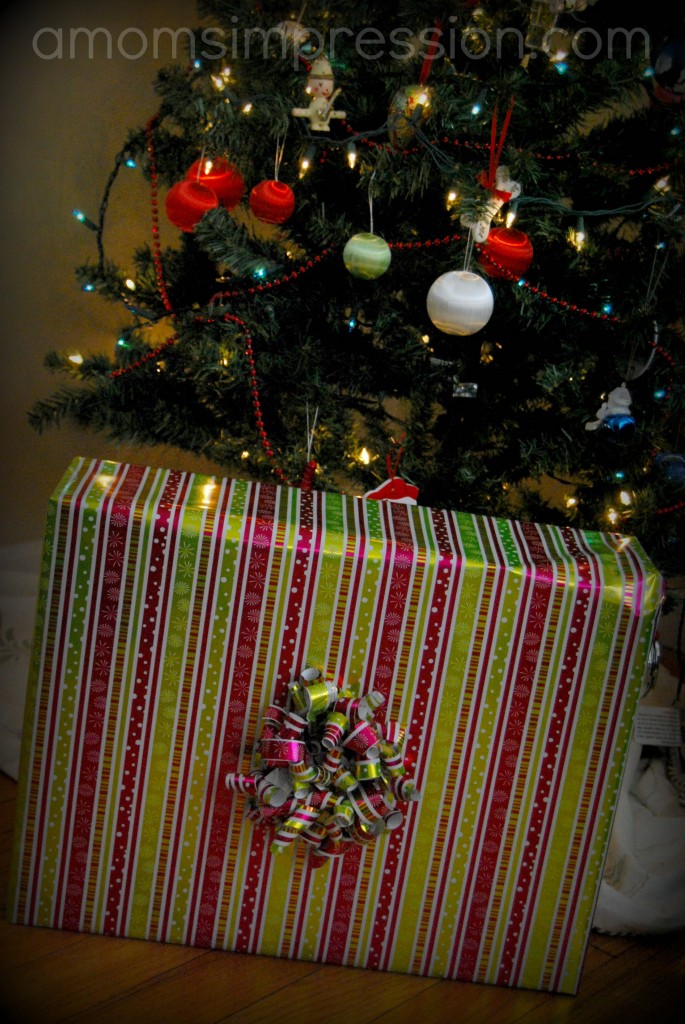 … or a prince or really anyone on your Christmas list this year!

I would love to hear some of your gift wrapping ideas!  Please share how you make your Christmas gifts extra special.
I am a member of the Collective Bias®  Social Fabric® Community.  This shop has been compensated as part of a social shopper insights study for Collective Bias™ and Disney Consumer Products, Inc  #CBias #SocialFabric