The kids and I have been eagerly awaiting when  How to Train Your Dragon: The Hidden World released onto DVD/Blu-ray and we no longer have to wait! The third installment of the series is now out on home release for everyone to enjoy and we have a fun giveaway for one lucky reader!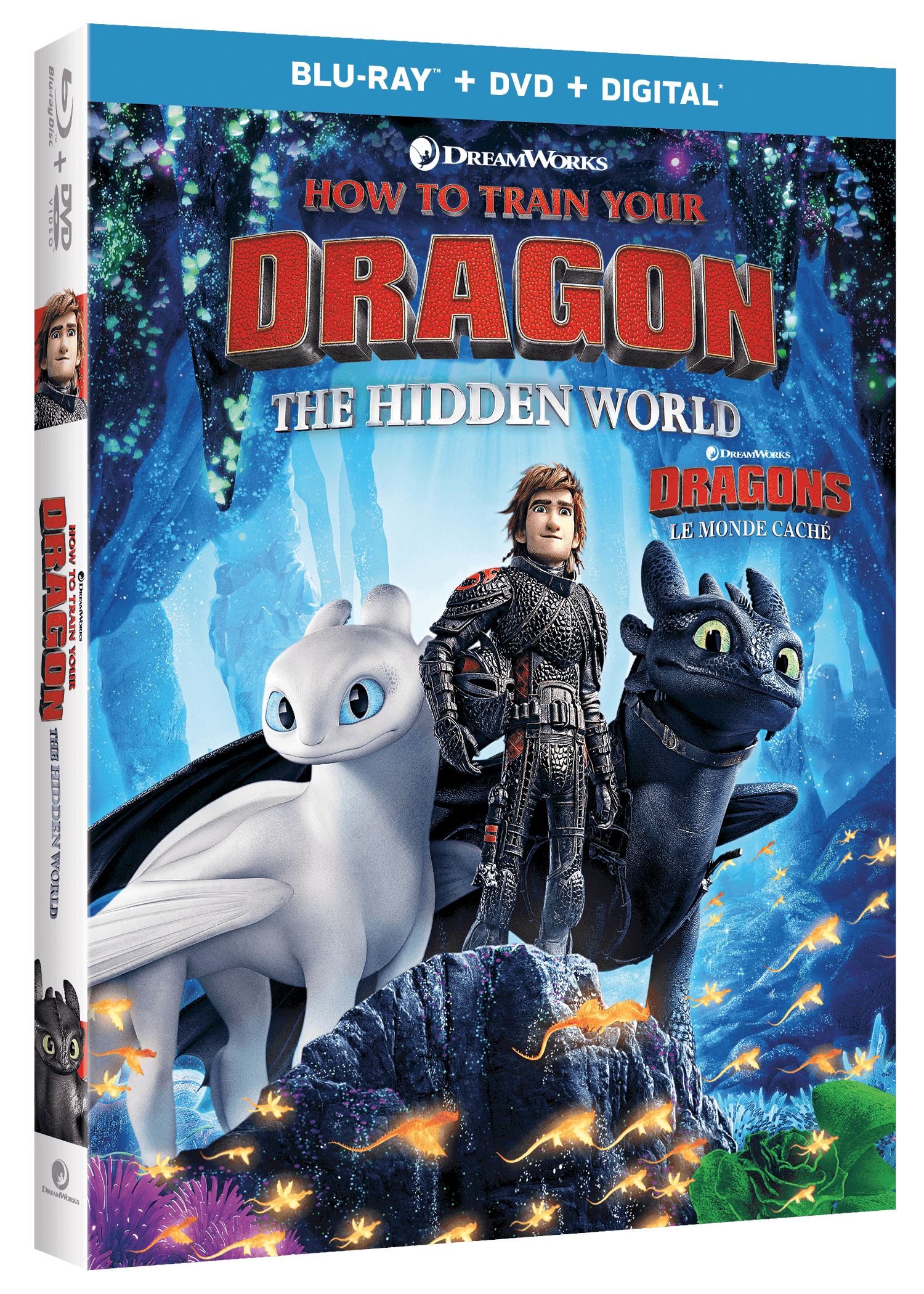 How to Train Your Dragon: The Hidden World
If you are a regular follower, you know that I had the opportunity to visit the DreamWorks Animation campus for a press event surrounding  How to Train Your Dragon: The Hidden World.  Included in the event was my interview with the two main characters including the voice of Hiccup, actor Jay Baruchel as well as America Ferrera the voice of Astrid.

The event was magical, but I have to say the movie was probably even better! I can't begin to tell you how much I love this movie and how excited I am that I can now watch it whenever I want in the comfort of my home!

How to Train Your Dragon: The Hidden World Synopsis
From DreamWorks Animation comes a surprising tale about growing up, finding the courage to face the unknown…and how nothing can ever train you to let go. What began as an unlikely friendship between an adolescent Viking and a fearsome Night Fury dragon has become an epic adventure spanning their lives. Welcome to the most astonishing chapter of one of the most beloved animated franchises in film history: How to Train Your Dragon: The Hidden World.

Now chief and ruler of Berk alongside Astrid, Hiccup has created a gloriously chaotic dragon utopia. When the sudden appearance of female Light Fury coincides with the darkest threat their village has ever faced, Hiccup and Toothless must leave the only home they've known and journey to a hidden world thought only to exist in myth. As their true destines are revealed, dragon and rider will fight together—to the very ends of the Earth—to protect everything they've grown to treasure.
My kids have devoured everything HTTYD. They have watched every episode that Netflix has to offer and watched the first two films more times than I can count. We knew right away that this movie would find its way into our home collections and it did on May 21st when it released on DVD.

DreamWorks was able to close the chapter on the How to Train Your Dragon franchise with a movie that showed what true love really looks like. It was sweet, inspiring, and breathtakingly beautiful! The story never dragged on, there was never a moment during the film where I wanted to look at my watch to see how much time was left. My kids also were glued to the TV screen the entire running of the film. It was filled with action, adventure, comedy and heartwarming moments.
I love the message of the film. Without giving away any spoilers, it comes down to it being a love story between a dragon and his rider. This movie tests their relationship and shows the sacrifices that true love has to give. If you haven't seen it yet, you need to go out and grab the DVD, or you can scroll down below and win it for yourself!

Bonus Features of the DVD/ Blu-ray and 4K Ultra Hd
One of my favorite things about owning a DVD when it releases is all the bonus features. HTTYD has a bunch on this release. Here is what you can expect:

Alternate Opening with Intro by Writer/Director Dean DeBlois
Two DreamWorks Shorts:

Bilby – Directed by Liron Topaz, Pierre Perifel, and JP Sans; produced by Jeff Hermann and Kelly Cooney Cilella. Threatened daily by the deadly residents and harsh environment of Australia's Outback, a lonesome Bilby finds himself an unwitting protector, an unexpected friend, to a helpless (and quite adorable) baby bird.
Bird Karma – Directed by William Salazar and produced by Jeff Hermann, the beautifully artistic 2D short film Bird Karma tells a delightfully lyrical and fully unexpected tale of a long-legged bird's journey of blissful joy, inescapable greed and the accidental discovery of the consequences when too much is not enough.

Deleted Scenes with Intros by Writer/Director Dean DeBlois
How to Voice Your Viking – Go behind the scenes with the cast as they record the Viking voices of HOW TO TRAIN YOUR DRAGON: THE HIDDEN WORLD.
Creating an Epic Dragon Tale – Discover what filmmakers learned while crafting this epic dragon trilogy.
How I Learned from Dragons – The diverse cast of characters reveal why they think the dragon trilogy is so special.
Brave Wilderness Presents: Nature + Dragons = Awesome – Join Coyote Peterson, host of Brave Wilderness, as he explores what it takes to make the dragon's characters come to life.
The Dragon Sheep Chronicles – Protecting sheep from the dragons of Berk is no easy task but Hiccup has a plan.
A Deck of Dragons – Observe four new dragons as Fishlegs unveils his original deck of dragon trading cards.
Growing Up with Dragons – After years of being with these characters, hear the lasting effects of the dragon trilogy from the filmmaker's perspective.
The Evolving Character Design of Dragons – Cast and crew reveal what it was like to evolve not only the characters of HOW TO TRAIN YOUR DRAGON: THE HIDDEN WORLD but themselves as well.
Drawing Dragons – Get a glimpse of what goes into designing a DreamWorks dragon.
Epic Villain – A different kind of villain, Grimmel brings great challenges to the village of Berk. Go behind the scenes as filmmakers breakdown this epic character.
Astrid's Whole Dragon Trilogy in 60 Seconds – Hold on tight as Astrid sums up the whole dragon trilogy in a legendary 60 seconds.
Welcome to New Berk – With Hiccup as your guide, get a firsthand look at the updated Viking village of New Berk.
Feature Commentary with Writer/Director Dean DeBlois, Producer Bradford Lewis and Head of Character Animation Simon Otto

Win It (Hurry Giveaway Ends 5/31)
We are partnering with Universal Pictures to bring you this fun How to Train Your Dragon giveaway. One (1) lucky reader is going to win a prize package that includes:
1 Soundtrack of How To Train Your Dragon: The Hidden World
How to Train Your Dragon 1-3 Movie Collection
This prize package is open to US residents who are aged 18 years and older. You can enter below, Good Luck!
How to Train Your Dragon Giveaway