This post is sponsored by BabbleBoxx.com on behalf of Mars Fish Care and the API brand.
My kids have been taking care of fish for the past few years now. They each have a little beta fish in their rooms that they are responsible for. When I was asked to learn about starting a tropical fish tank, I jumped at the chance. Now is the perfect time for any family to start and set up a tropical fish tank in their home.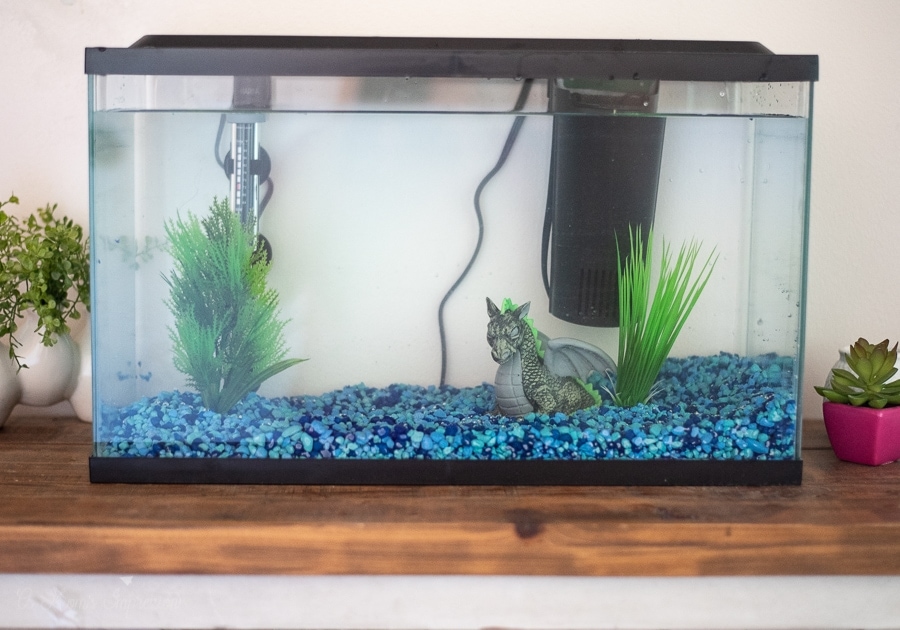 Why Getting an Aquarium is Beneficial for your Family
Kids are curious and I love any chance I can get to encourage their inquisitiveness. Not only is a fish tank a beautiful centerpiece to any room, it is a great way for kids to learn more about nature and animals. Having a fish tank in your home is a fun activity for everyone in your family.
My kids have been asking for a pet for a long time now. We aren't quite ready to adopt a dog, but a fish tank is a great way for them to learn about responsibility and taking care of another living thing. It has been said that fish are a great gateway pet, and I would have to agree.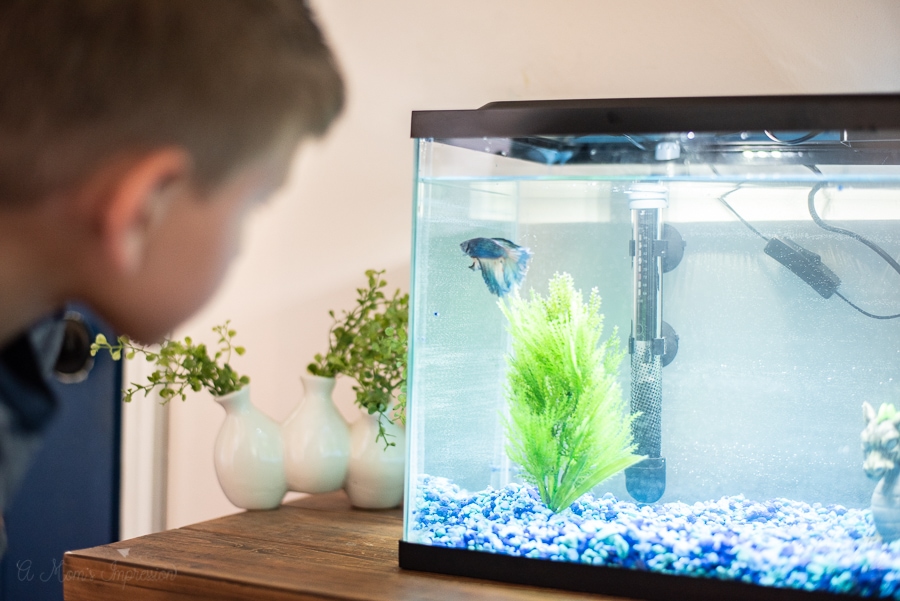 How to Set Up your New Tropical Aquarium
The basic difference between a cold water tank and a tropical tank is that the water in a tropical tank needs to be warmer. There are many beautiful tropical fish available at fish stores, and they make any fish tank fun and interesting to look at.
To set up a tropical fish tank you will need a few essential items.
A Fish Tank
A Water Heater
Some Fish Tank Gravel
A Water Filter
Some Plants/Decor
The first thing you will want to do is find a sturdy place to put your aquarium. An aquarium can get quite heavy so find a spot that will hold the weight that is away from direct sunlight.
Next, rinse your aquarium gravel and add your rocks/gravel to the bottom of the tank. For our 10 gallon tank we used 10 pounds of aquarium gravel.
Then add the water to the tank. You can use regular water from your faucet, just be sure to add some of the fish care products we will talk about in a minute.
Next add your plants and decorations to the bottom of the tank.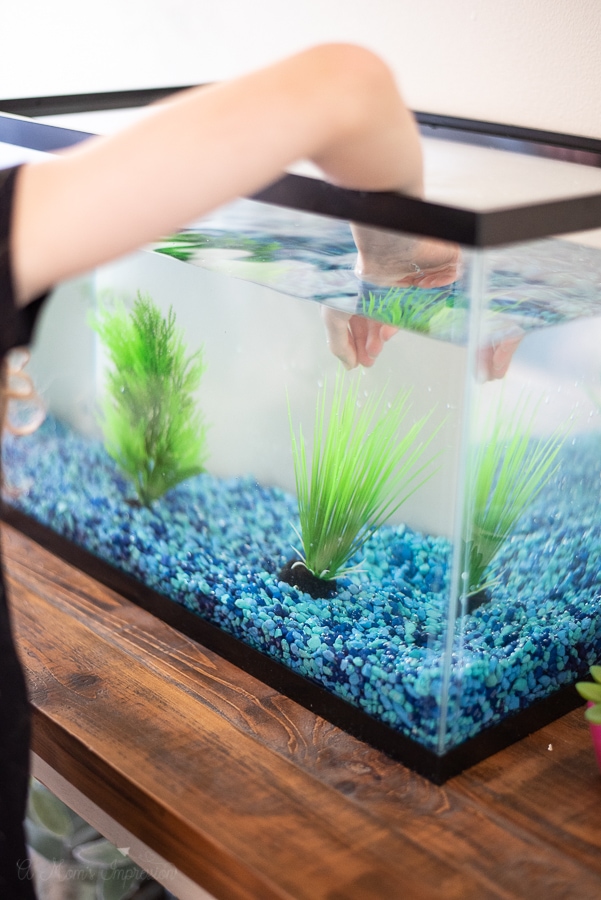 Insert your water filter.
Add your water heater.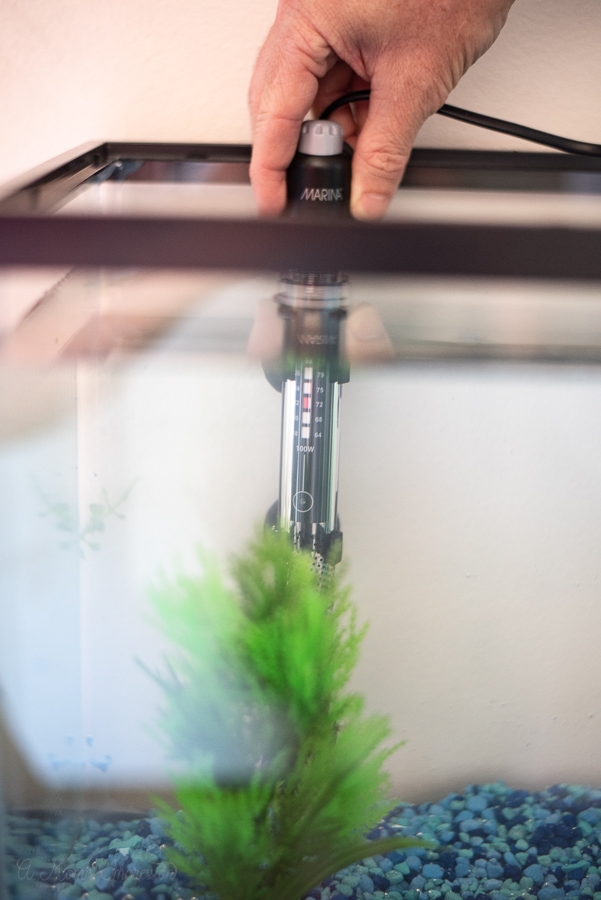 Add your fish care products (see next section) and then test the water.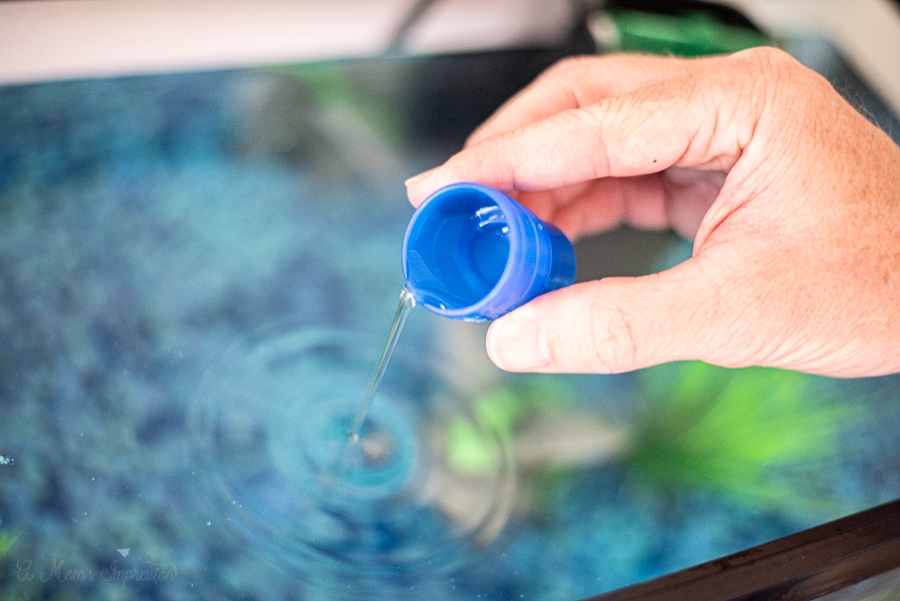 Add your fish and your hood and enjoy!
Helpful Fish Care Products
I had the privilege of learning about how to take care of, and set up a tropical tank from an expert at Mars Fish Care. He walked us through several of the important fish care products that we would need for our tropical fish tank.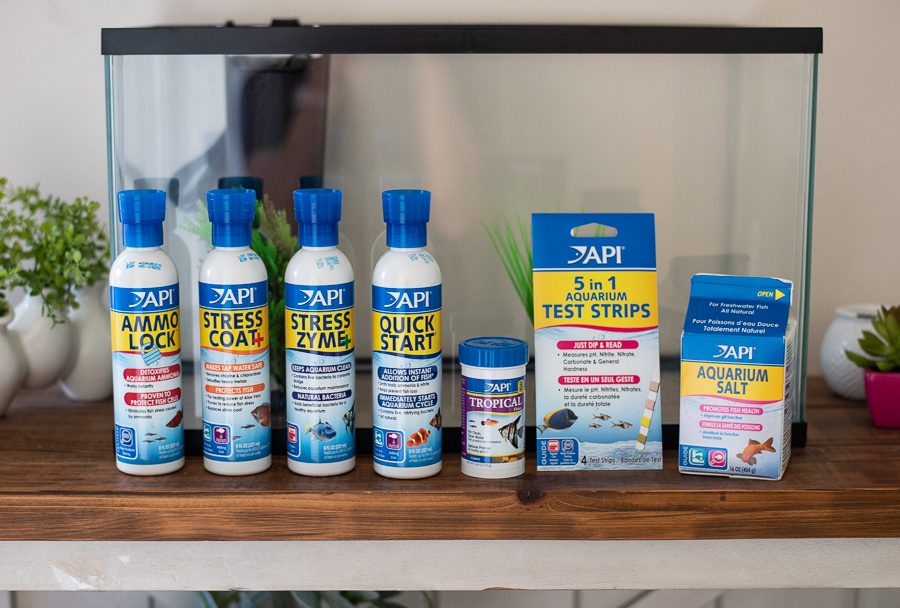 Here are a few of the products you will want to check out when you decide to set up a tropical fish tank in your home:
API Stress Coat – Gone are the days of having to wait several days for the water to be safe for your new fish, this API® STRESS COAT water conditioner makes tap water safe for fish immediately by removing chlorine, chloramines and heavy metals from tap water. Not only does it make the water safe, it helps reduce the stress on your new fish by up to 40% and heals damaged tissue and wounds. Stress Coat should be used for the following:
Handling, netting, or adding fish to a bag for the trip home
from the store
Starting an aquarium
Performing monthly water changes
When adding new fish to your aquarium
API Quick Start – It is really important to have beneficial bacteria in your tropical fish tank. It is important for converting toxic ammonia into harmless nitrate to prevent fish loss. API Quick Start can be used in both fresh water and salt water tanks to allow for instant addition of fish. This product will immediately kick start the beneficial bacteria process. Use in new tanks as well after water changes.
API Stress Zyme – No one likes to be constantly cleaning fish tanks and this is where API® STRESS ZYME bacterial cleaner helps. This product consumes sludge and reduces aquarium maintenance. Basically, it helps keep your aquarium clean and can be used in both fresh and salt water aquariums.
API Accu Clear – Eliminate haze and make your aquarium water crystal clean with API® ACCU-CLEAR. This water clarifier quickly clarifies cloudy water in your aquarium.  It works by clumping tiny floating particles together, so that they can be easily removed by your aquarium filter.
API Aquarium Salt – Aquarium salt is a must have in all freshwater tanks. API® AQUARIUM SALT is made from evaporated sea salt and improves gill function, making it easier for fish to breathe. Aquarium salt also provides essential electrolytes that fish need to reach peak coloration and vitality. Use when starting your new tank and when doing water changes.
API 5-in-1 test strips – Maintaining pH, KH, GH, nitrate, and nitrite levels in your tropical fish tank is important. API® 5-IN-1 TEST STRIPS are the quick and easy way to do this. All you need to do is dip one of the test strips into the aquarium and compare the colors to the packaging.
API Tropical Flake Food – As you may already know, food is important and not all tropical fish food is made the same. API® TROPICAL FLAKES is specifically formulated for tropical community fish such as Angelfish, Tetras, and Barbs. This unique nutritionally enhanced blend releases up to 30% less ammonia than most other brands resulting in cleaner water. Smaller fish especially love flakes when compared to pellets.
How to Choose Your Fish
It is important to choose fish that get along with each other. For tropical fish you can have about 10 different fish in a 10 gallon tank. It is a good idea to get familiar with the different types of tropical fish before you head off to purchase yours. Some fish like to swim in pods so getting several of the same species would be a good idea.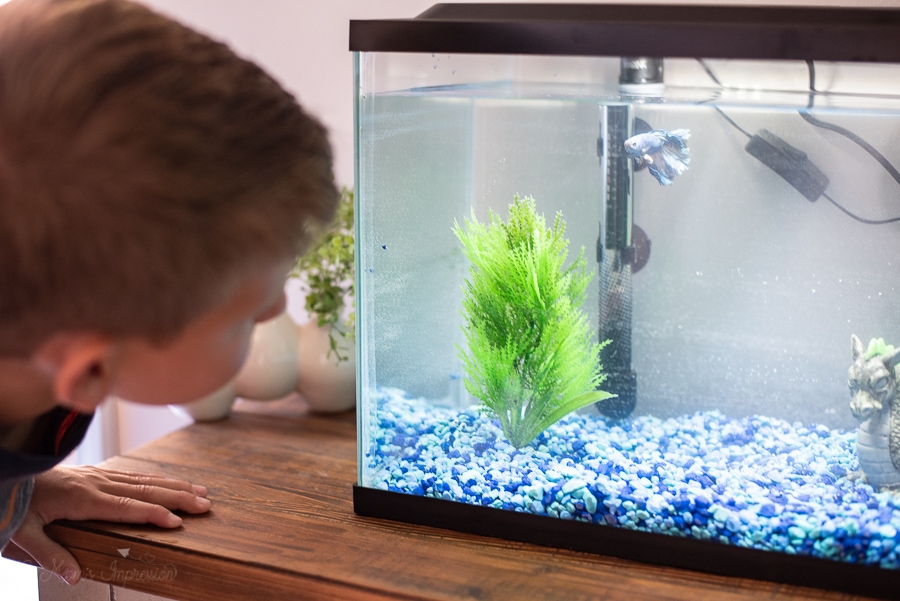 During my conversation with Mars Fish Care, it was also suggested that it would be a good idea to get one bottom feeder fish, a fish that will eat any food that has fallen to the bottom of the tank. It is a nice way to keep your fish tank clean.
You can learn more about fish care and different types of tank set ups at apifishcare.com! There is a wealth of resources available for you, be sure to check it out!
Good Luck!