This is a sponsored post brought to you by Kretschmar Premium Deli Meats & Cheeses. The opinions expressed here are completely my own based on my experience.
Making a beautiful family-friendly charcuterie board doesn't have to be intimidating. Today I am showing you how to make a delicious charcuterie board in 5 easy steps.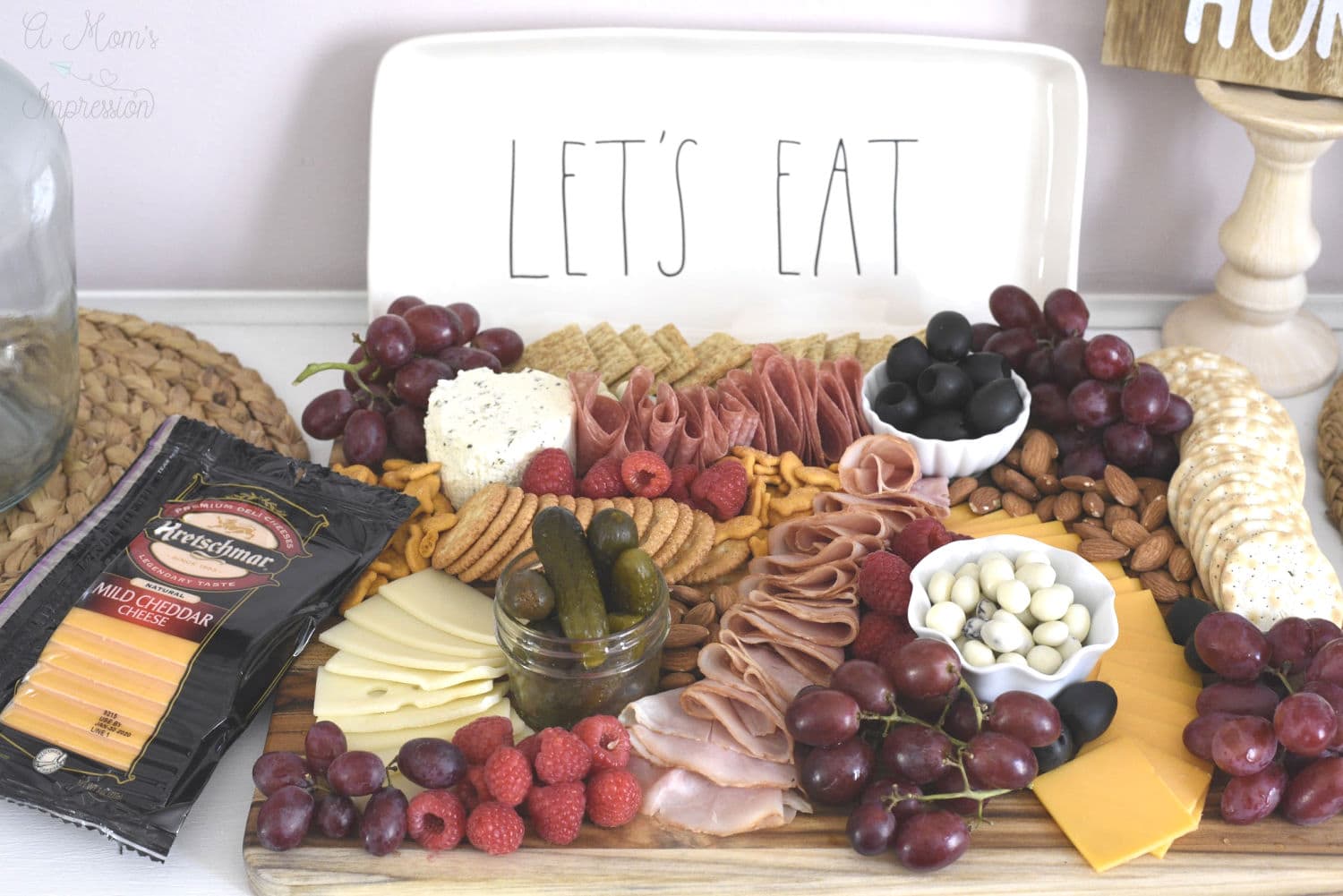 The holiday season is my favorite time of the year. I know that might be a little cliché to say, but it is the truth. I love the hustle and bustle of parties, family gatherings, birthdays, and the joy on my kids' faces when we put up the holiday decorations.
I can't help but be happy during this time of year.
I moved away from home almost 20 years ago now… gulp! Because I live away from home, having visitors staying with us is perfectly normal. We have a guest bedroom and some inflatable beds so we have an open invitation for anyone who wants to come and stay for a while.
When the holidays are approaching, and we have guests staying over it is important to keep the kitchen stocked up with easy to grab food and items that I can easily entertain with. Sometimes I know ahead of time that I need to make a dish to bring to a friend's house, and sometimes there is an impromptu gathering in my own kitchen. Being prepared is essential!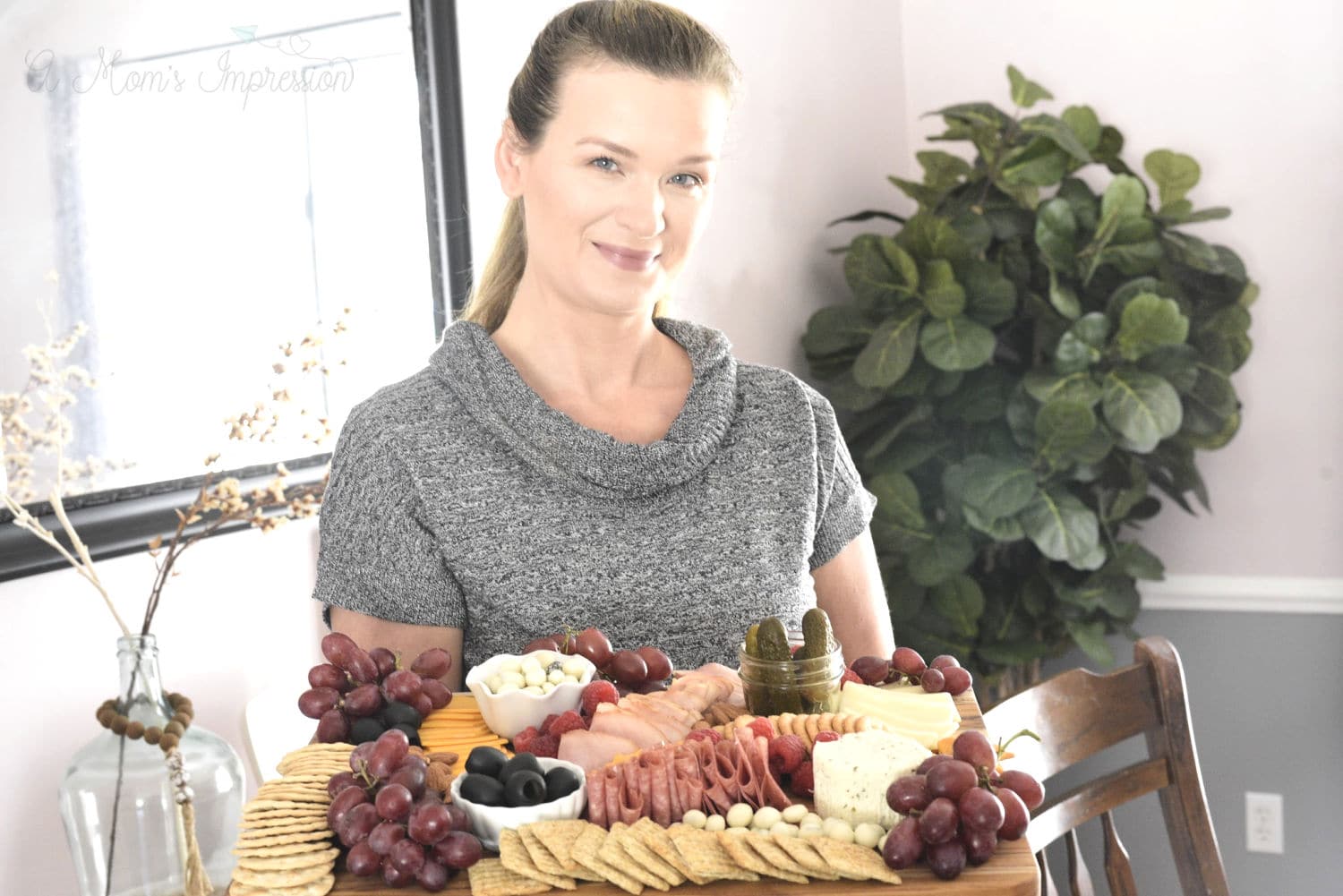 One of my favorite ways to prepare for the holidays is to stock up on deli products, cheeses, and other snacks to make a family-friendly charcuterie board. I love charcuterie, it is my absolute favorite appetizer and I am currently on a kick of designing fun and beautiful charcuterie board displays.
As most of you know, my kids are picky eaters. My son has some food anxiety so it is nice to know that if we go to a party or host some friends, he has something that he can eat that he feels comfortable with. This is why I love making charcuterie boards with Kretschmar Premium Deli products.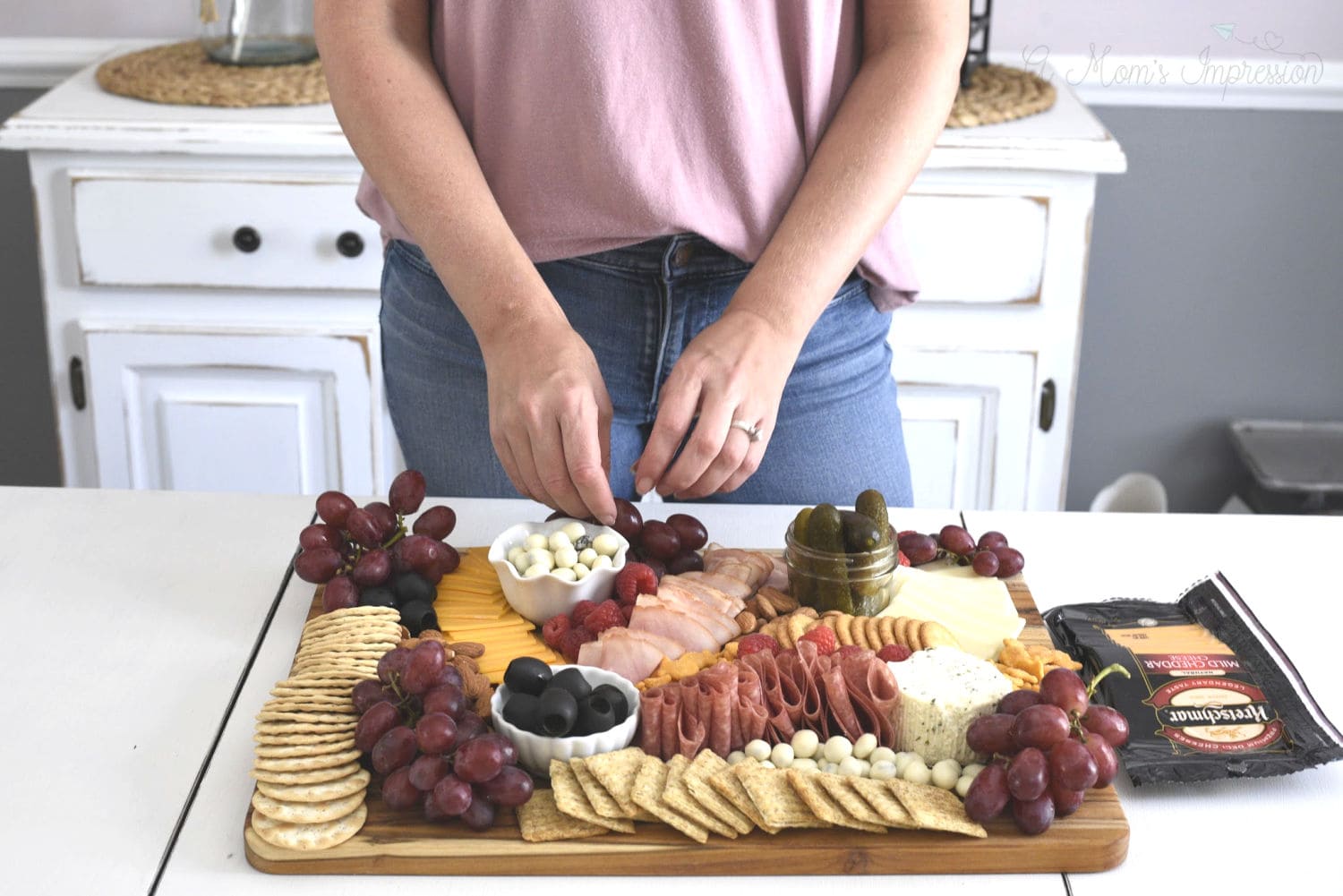 My family loves Kretschmar meats and cheeses. They have a large variety of items and their ham is out of this world good. Kretschmar hams are hand trimmed and are made with a unique hardwood smoking process to maximize flavor for uncompromising quality and legendary taste. Kretschmar products are also gluten-free, contain no fillers or MSG and are easy to find at your local Jewel-Osco store either behind the glass at the service deli or in the case with pre-sliced meats and cheeses. We love their poultry and beef too because they are hand-trimmed using only the finest cuts.
A charcuterie board wouldn't be a charcuterie board without the cheese! Kretschmar Premium Wisconsin cheeses repeatedly win in competitions world-wide, so you know they have to be good, and they are! We used both the Mild Cheddar and the Baby Swiss in our family-friendly charcuterie board, when paired with a soft cheese there is something for everyone.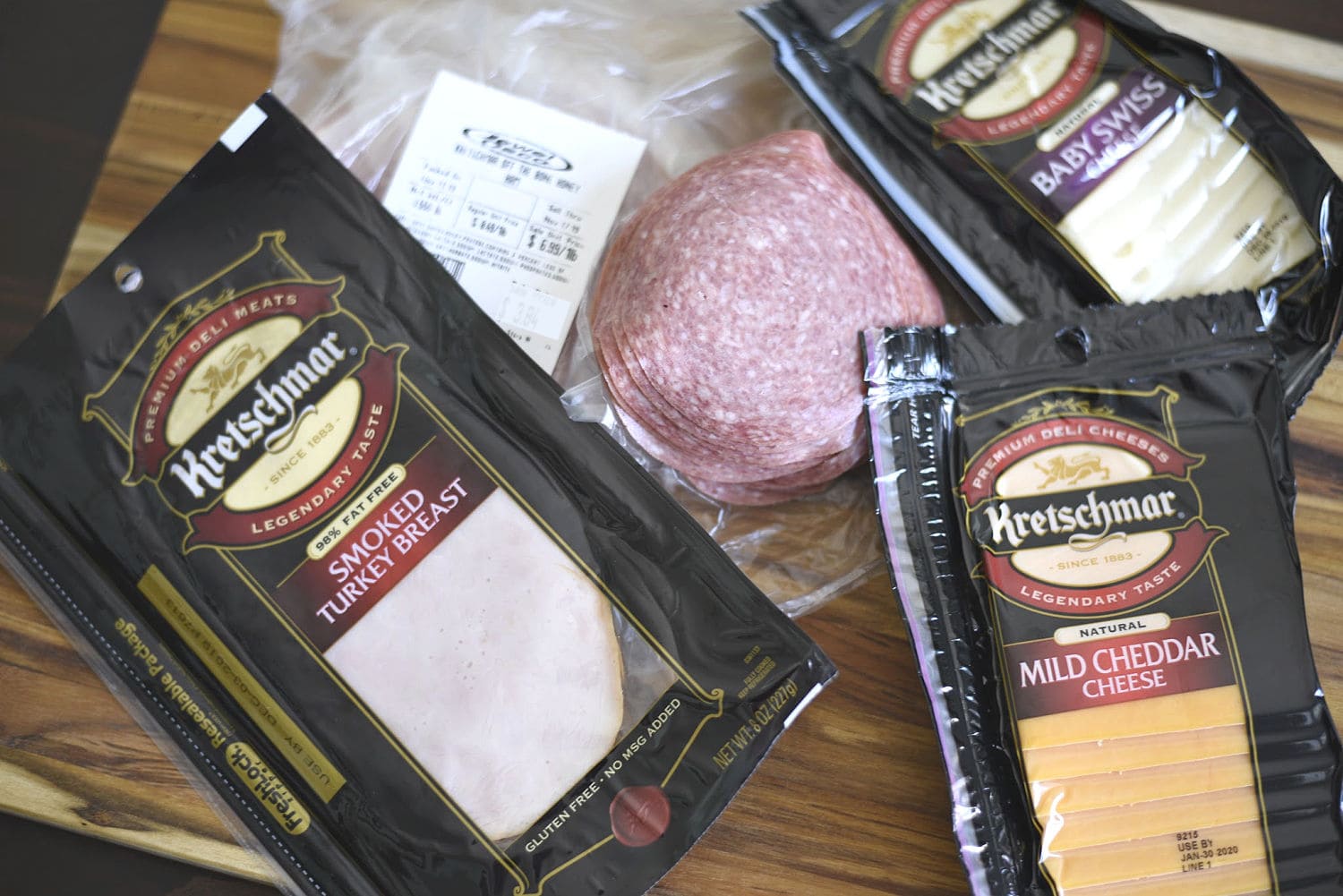 How to Make a Charcuterie Board
When I first saw pictures of beautiful charcuterie boards on Instagram it looked so intimidating. They were so amazing and delicious looking, and it looked like you would need a degree in art in order to make one.
I was wrong.
Making a beautiful charcuterie board is actually pretty simple. There are just a few steps you need to take for success.
Step 1
On a cutting board or a charcuterie board arrange your cups so you know placement. Using cups is going to give you dimension and height so that everything isn't just flat across the board. I use these for items that might roll off the board like olives or dips for vegetables if you use them in your display.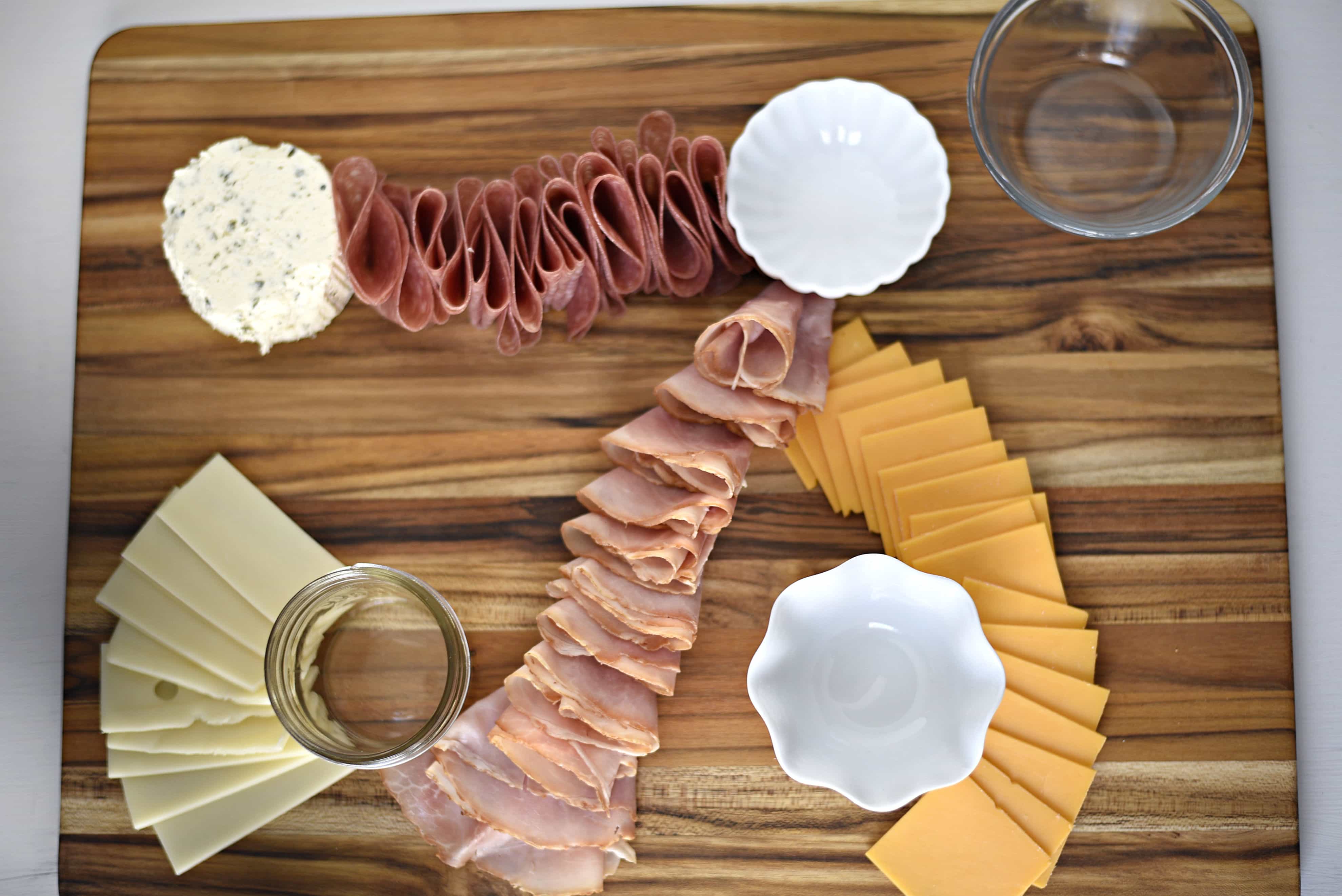 Step 2
Next I start with the cheese and meat and arrange them where I want them to go. These are the star of the show and so you want to start with them. We used Kretschmar Premium Baby Swiss and Mild Cheddar in our display along with a soft spreadable cheese. As for the deli meat, I used Kretschmar Off the Bone Sliced Honey Ham and Thin Sliced Hard Salami. The lovely staff at the deli counter sliced it thin so I could fold it to make it look pretty on the board.
One little side-note about the Kretschmar honey ham, it is my kids' favorite sliced ham ever! I am not sure what makes it so delicious, but it is amazing, and I highly recommend you try it for yourself!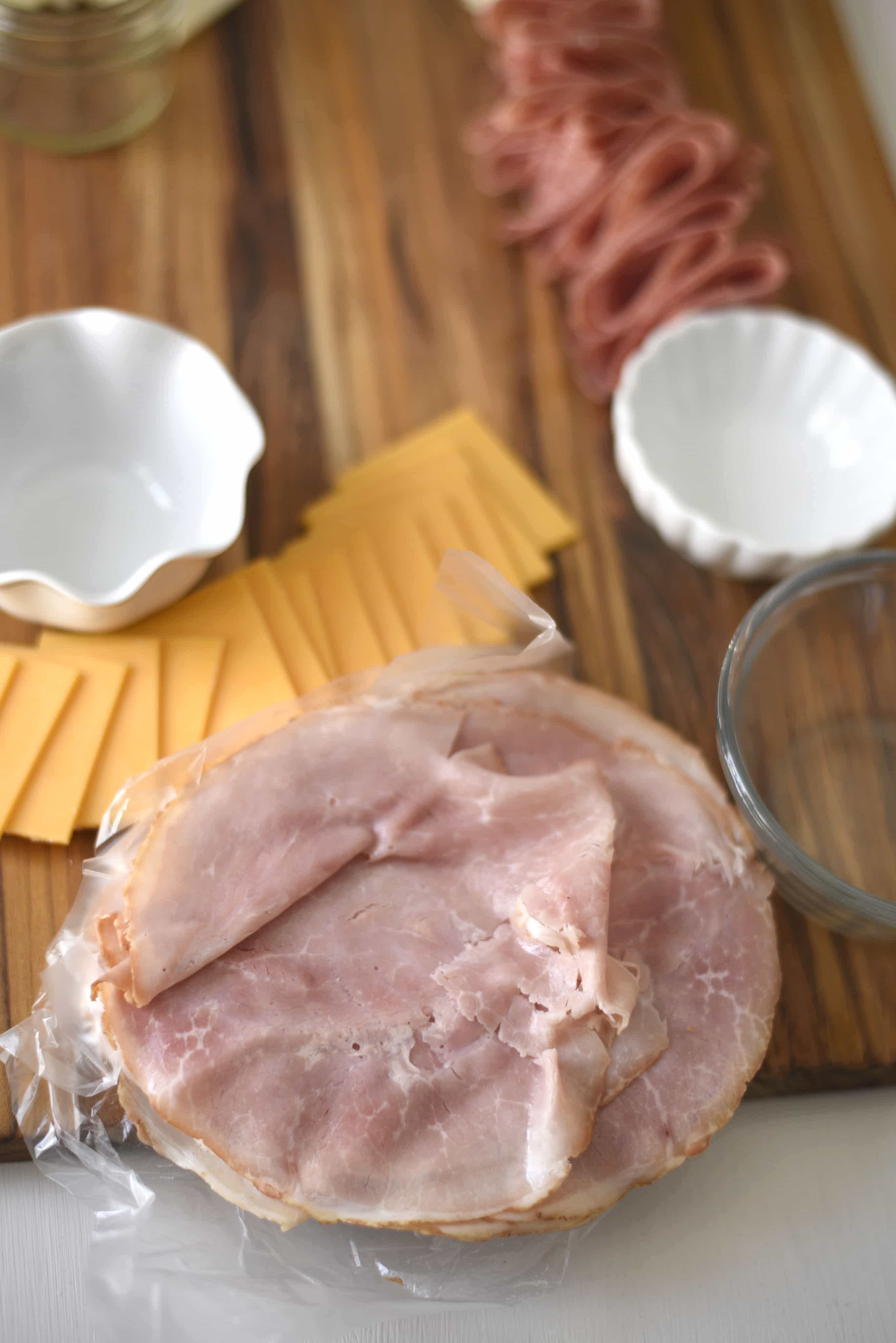 Step 3
For the next step add crackers or bread slices. I use a variety of crackers so that there is something that everyone enjoys. I place them on the board in the big open spaces that is left after the cheese and meat. I will usually clump one type of cracker in one area but if you have an extra-large board you might want to do more than one clump of each type.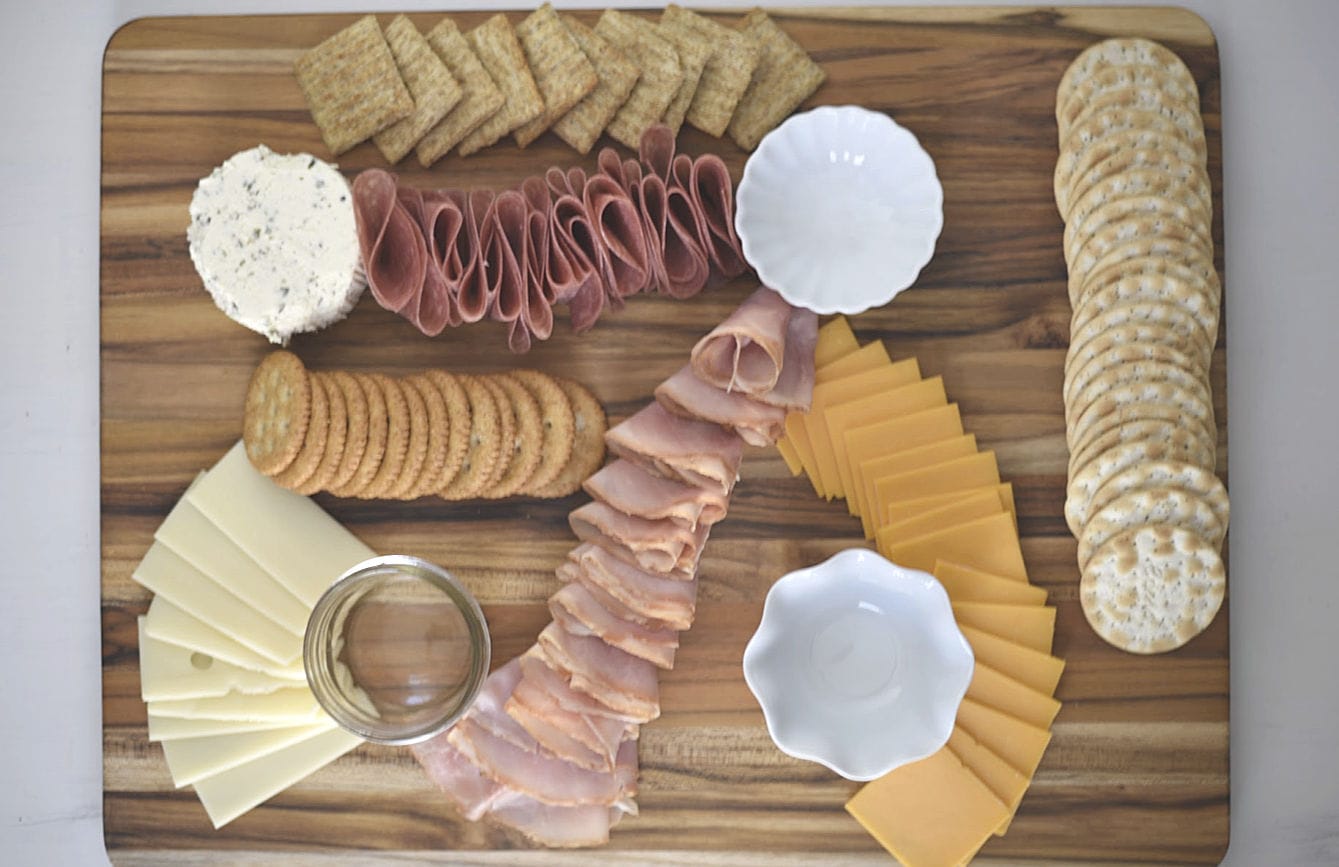 Step 4
Next, I place my fruit because they help fill in large gaps. I love the look of grapes still on the vine and I tend to place them around the perimeter of the board. You might have to play with the sizing a little and be sure to grab a pair of kitchen shears to trim up the stems. My kids love raspberries, just one little piece of advice is to try and place them over another item so that they don't stain your beautiful board.
Step 5
Finally, I fill my cups and place the smallest objects in the holes left over. I used some kid-friendly cracker snacks, yogurt raisins, and almonds to do this. You can use whatever you want to, there is no wrong way to do it. In my cups I have sweet gherkin pickles, black olives and yogurt raisins. I love using dried fruit because something sweet is always nice as an appetizer.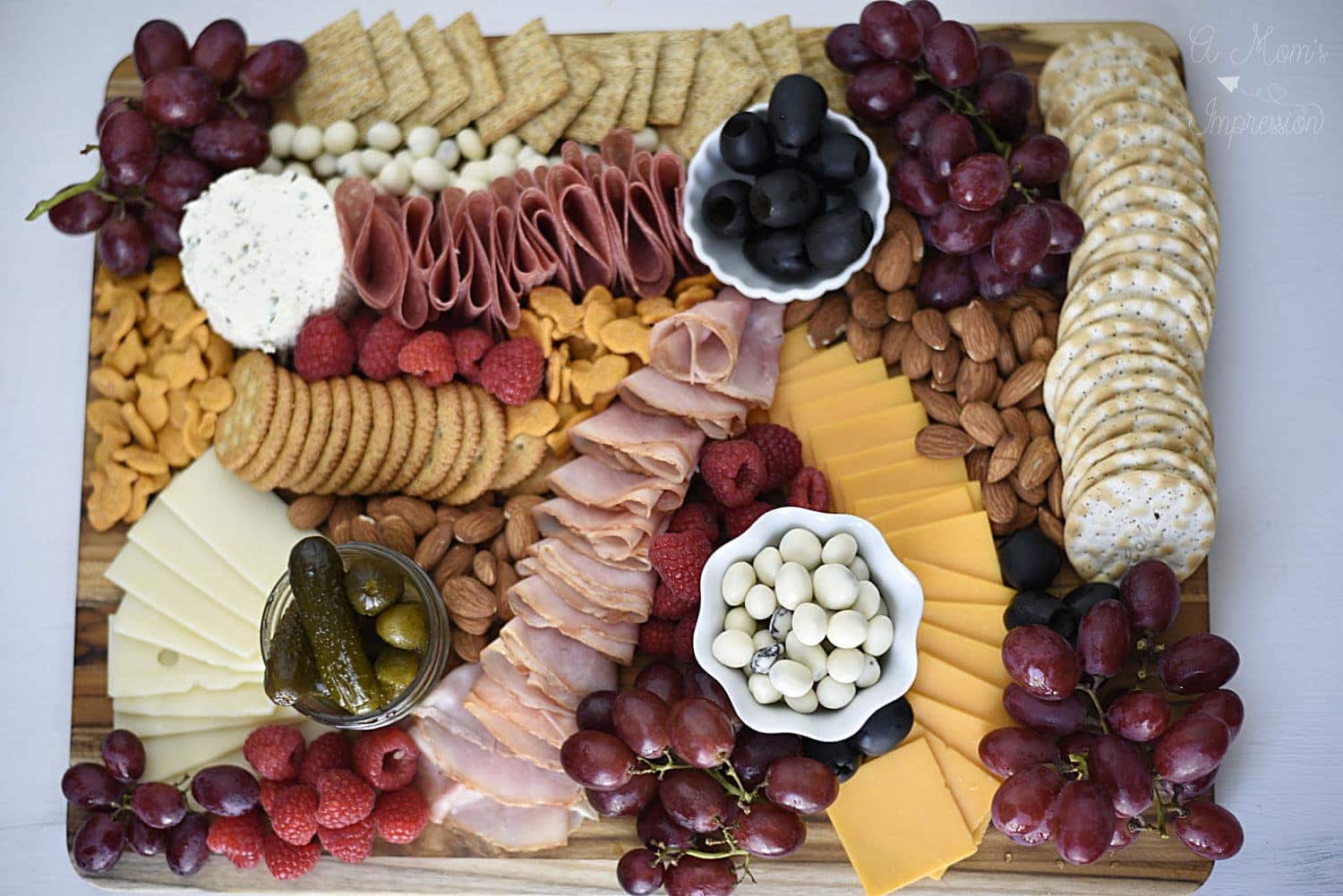 See, making a beautiful charcuterie board is really as easy as 5 steps, especially when you use premium products such as cheese and deli meats from Kretschmar. Having these items on hand during the holidays will score you major points with anyone who comes over to visit or for any dinner party you attend.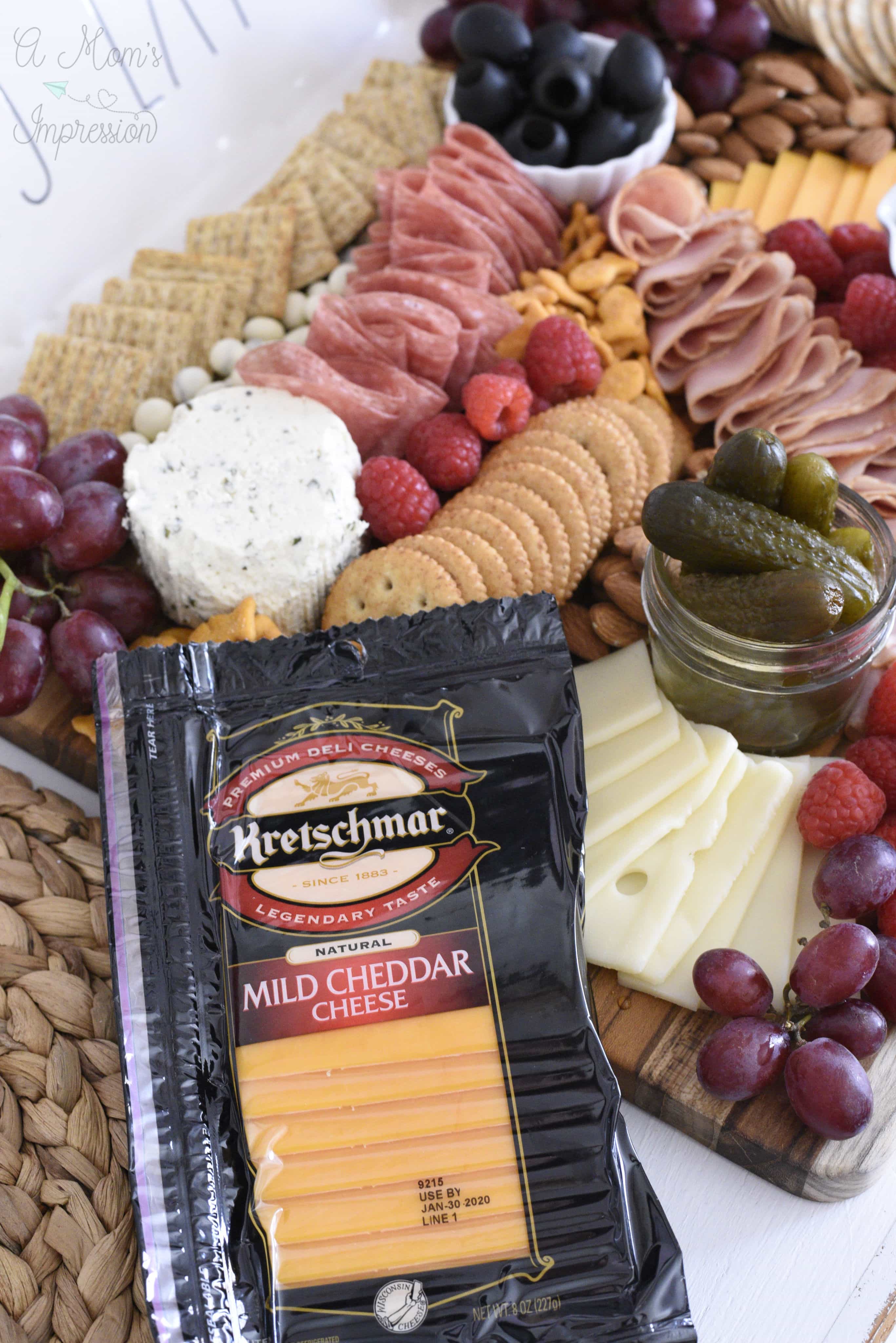 Save on Kretschmar Premium Deli products at Jewel-Osco
From now until December 13th you can save $1.00 on Kretschmar Premium Deli products at Jewel-Osco using this coupon. Hurry this link expires on November 30th.
You can also visit the Kretschmar Deli website here or visit their Facebook, Twitter, and Instagram pages to learn more about the brand!
Happy Entertaining!