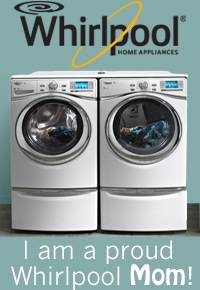 I can only speak for myself when it comes to laundry, but I have been there so many times.  The place where the stains just won't come out, or you accidentally leave a lip gloss in your pocket and it comes out all over your clothes (I have done this more times than I can count).  So what is a person to do? Whirlpool is here to help with some troubleshooting when it comes to pesky stains.  Here are some great tips for getting stains out of your clothes:
General Rules for Stain Removal

Treat stains promptly. Fresh stains are easier to remove than old ones. If the stain is on a non-washable fabric, take it to the dry cleaner as soon as possible. Tell them the stain and the fiber content of the garment.
Read and follow package directions when using any stain removal product.
Always test stain removers on an inside seam or other hidden part of garment for color fastness. To test, apply product and let stand 2-5 minutes, then rinse. If color changes, do not use product on garment.
When using bleach, do not try to bleach just one area of garment. To prevent uneven color removal, bleach the entire garment.
When cleaning a stain, place stained area face down on a clean paper towel or white cloth. Apply stain remover to the underside of the stain, forcing stain off the fabric surface instead of through it.
Never put chemical dry cleaning solvents directly into a washing machine.
Thoroughly rinse and air-dry areas treated with dry cleaning solvents before placing in the washer to avoid a fire.
Do not mix stain removal products together. Some mixtures, such as ammonia and chlorine bleach, can produce noxious fumes.
I have been using my Duet washer and dryer now for a few months.  One of the features that I love on my washer are the 14 specialty fabric cycles that are built into the machine.  These are designed to make sure your blacks stay black, your colors stay bright, and your whites are their whitest.  The temperature control automatically uses the right temperature of water for the fabric that you choose.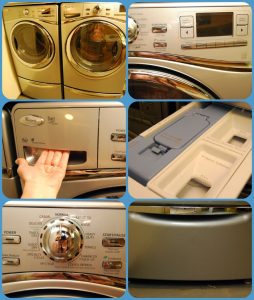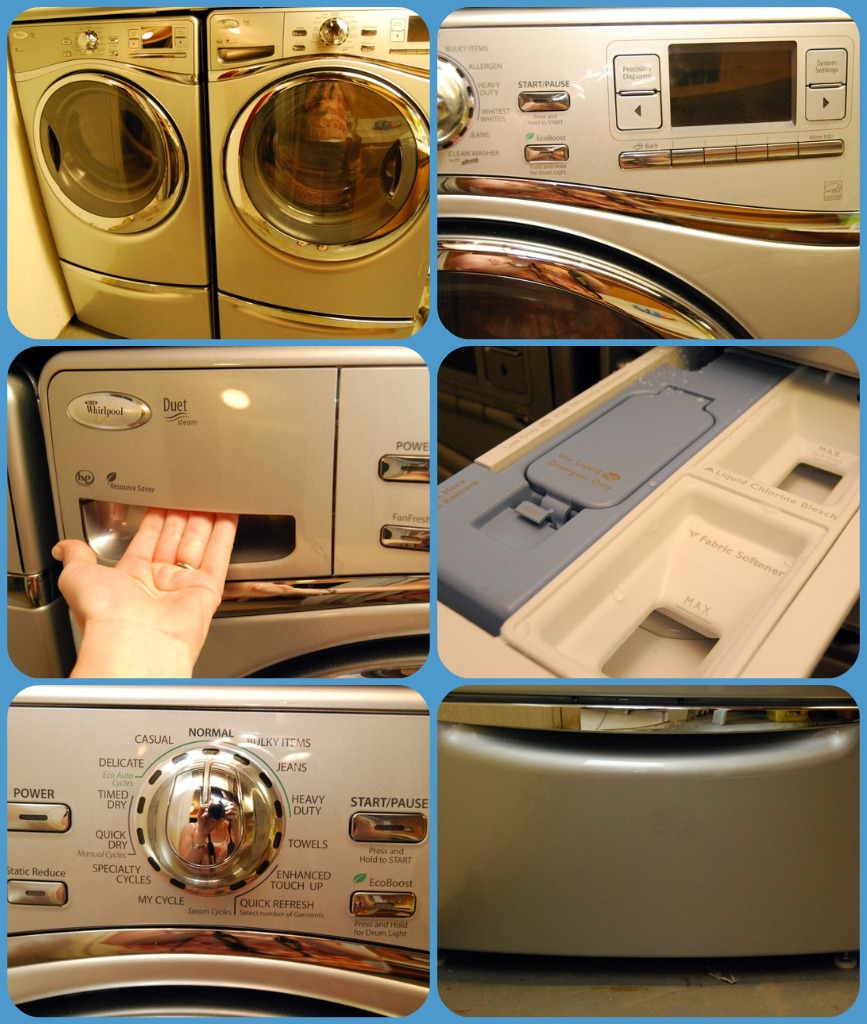 My Duet washer also has my favorite feature the Precision Dispense that automatically dispenses the perfect amount of detergent for the sized load of clothing that you are washing.  The Precision Dispense also distributes fabric softener and bleach at just the right time to make sure your clothes are going to come out perfectly.  I can't tell you how much laundry detergent I have saved using this feature.  I was one of those people who add way to much detergent into her clothing.  I was wasting money and causing problems for my washer without really knowing it.
To keep my washer smelling and working at its very best, I use affresh washer tablets to clean and deodorize my washer.  All I have to do is throw a tablet into the drum and run the affresh cycle.  I haven't had any fowl smell come from my washer or dryer.  I also love the affresh tablets for my garbage disposal!  They make my entire kitchen smell fresh!
Stay tuned next month for more updates on my journey with my Whirlpool Duet Washer and Dryer!
I wrote this review while participating in a test-drive campaign by Mom Central Consulting on behalf of Whirlpool and received a complimentary Whirlpool Duet washer and dryer to facilitate my review.