This shop has been compensated by Collective Bias, Inc. and its advertiser. All opinions are mine alone. #GameDayGlory #CollectiveBias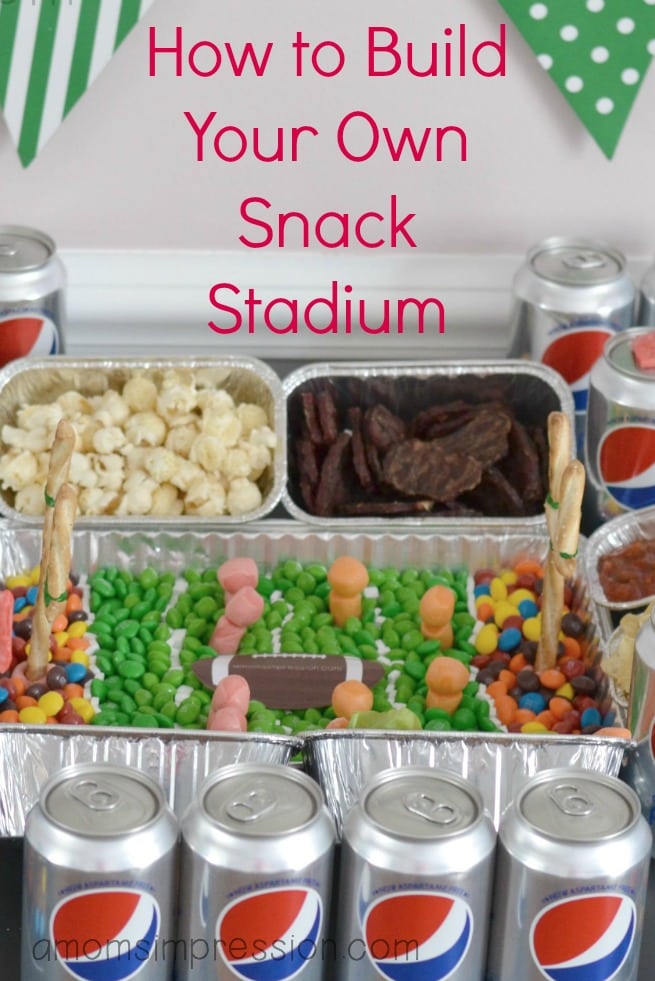 This weekend was filled with snow and all things football.  We were surprised with our first big snow fall of the year, the kids were over the moon excited about it.  It was nice that they were able to get outside and play.  While they were outside I was left with plenty of time to get ready for the big game!  As you may already know, my husband and I are huge football fans.  Our team was eliminated before the playoffs but we are fans of the game so we watch all of them until the bitter end.  Often you can find us entertaining while watching our favorite teams with our family and friends. This weekend I decided to learn how to build a snack stadium for the big game!
It all started with a trip to Walmart to gather some supplies.  We needed a lot of snacks to create this masterpiece and grabbed a cart full!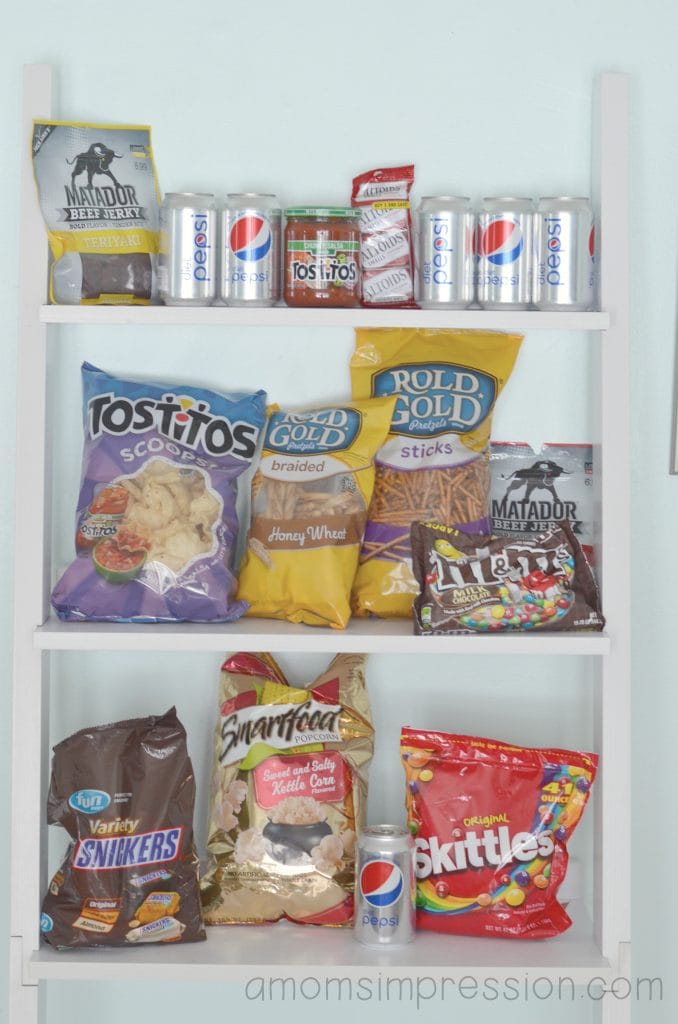 The main attraction in a snack stadium is the football field.  I used Skittles® to create my football field.  I sorted out the green ones and used the rest for the end zones. Since I knew I was going to post this on my blog, I gave myself a shout out on the center of the field.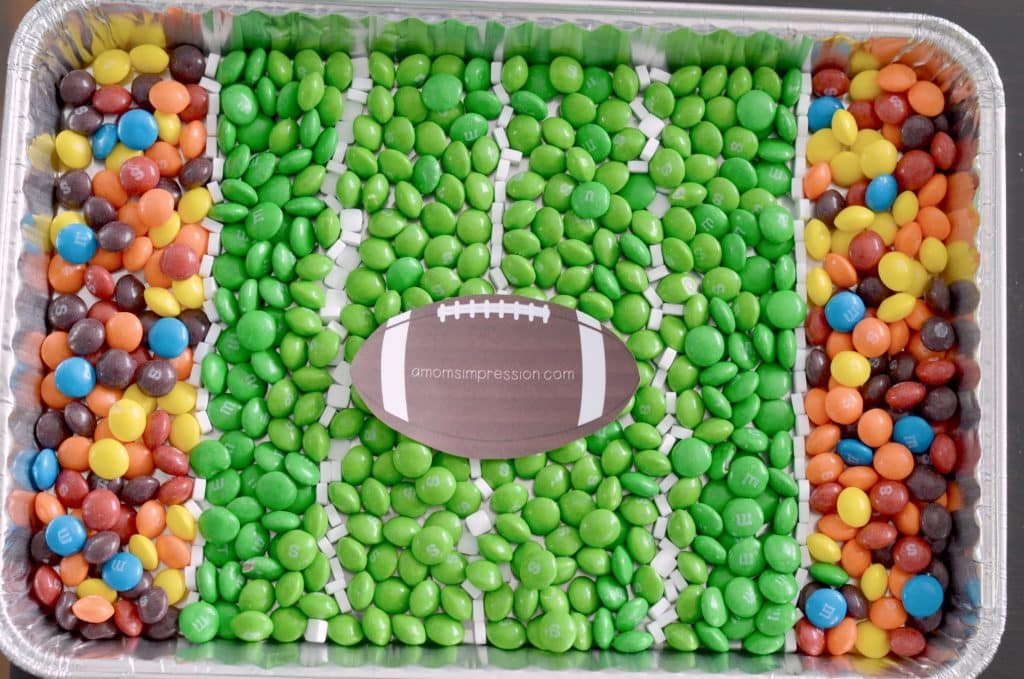 The tricky part of the field is to get the yard lines in place.  I used a piece of card stock to push the candy away to create a space for my yard lines to go.  You can kinda get the picture below.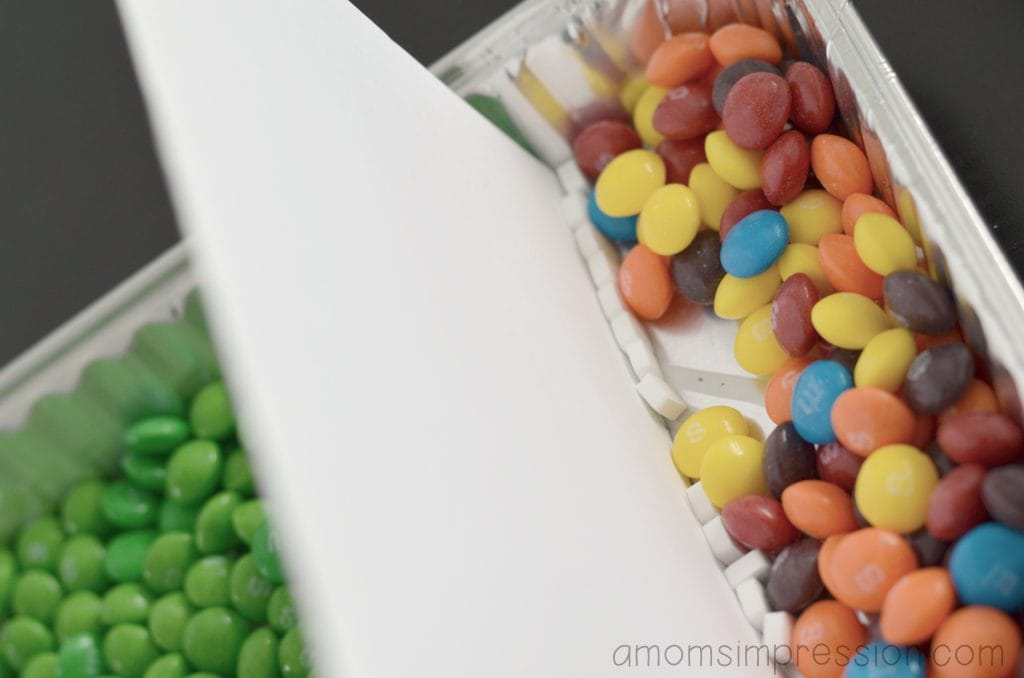 Every stadium needs a parking lot so I got a little creative and made some SNICKERS® cars using SNICKERS® FUN SIZE® bars.  The glue is cookie icing, it works wonderfully so that the cars are still edible.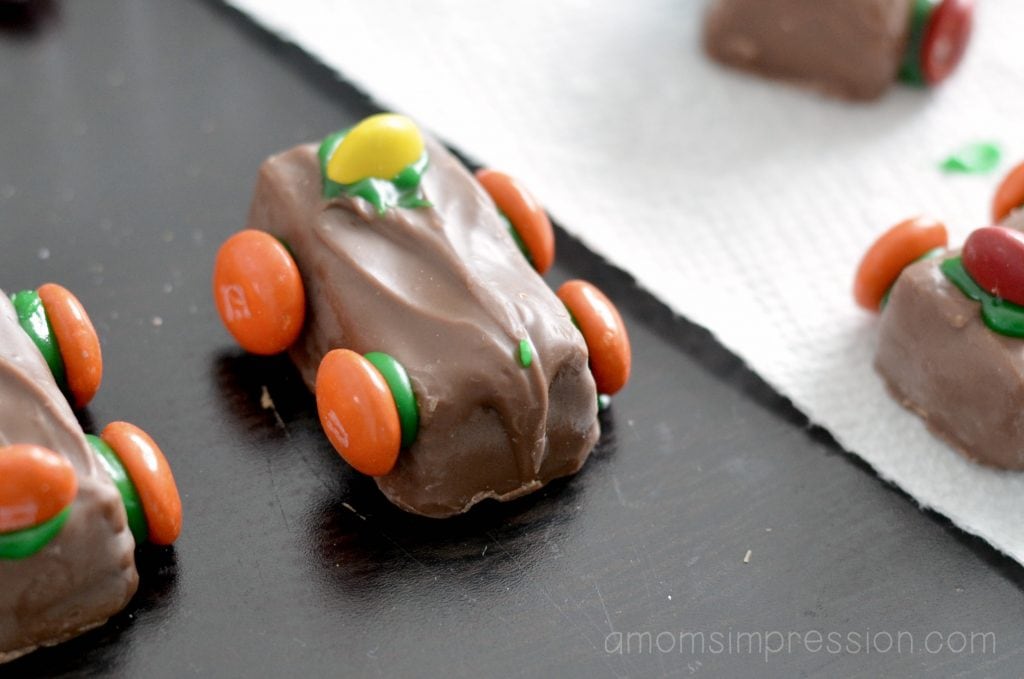 The stadium itself also needed some fun decor so I also created some edible flags to decorate it with.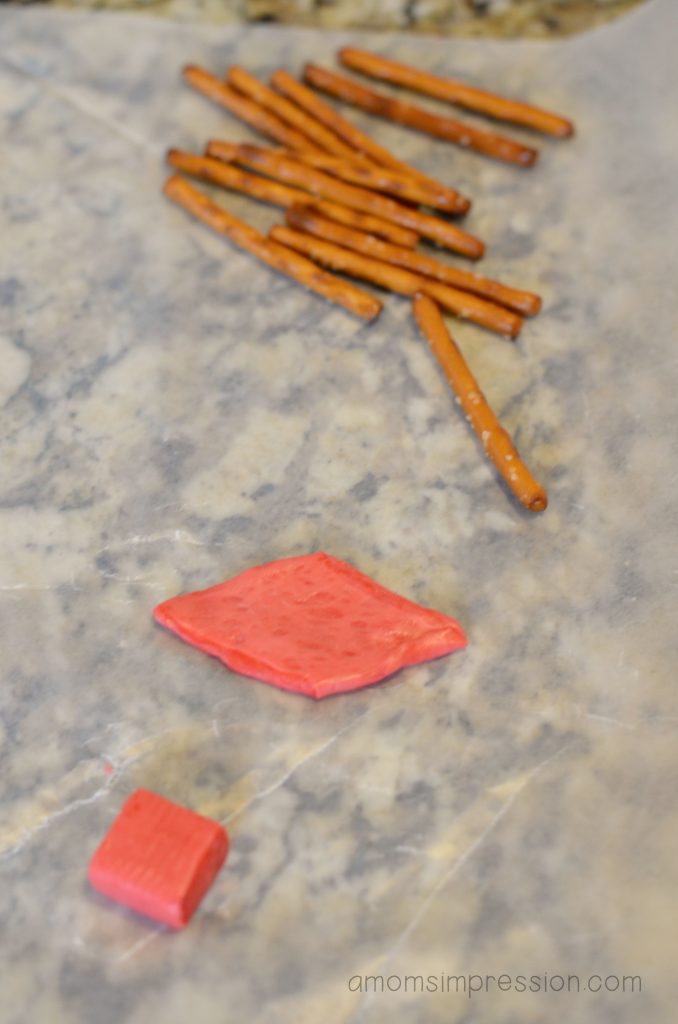 These simple flags give our stadium a fun look.  I placed them on top of my Diet Pepsi™ pillars around the stadium.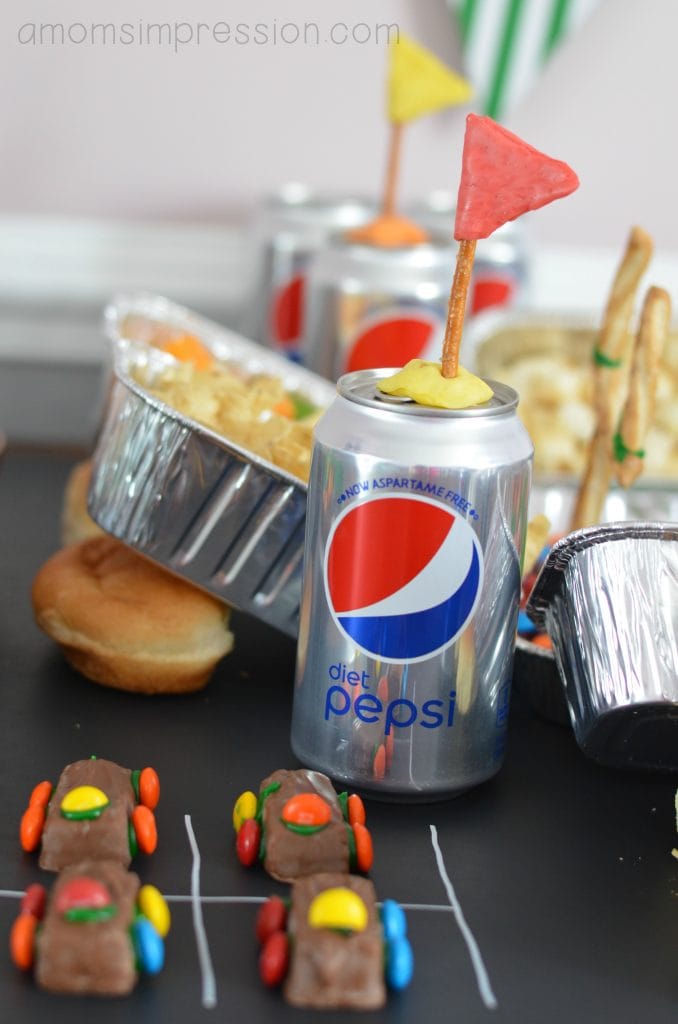 The end result was a huge success. The most brilliant thing about the snack stadium is that there is no wrong way to do it.  All you need a structure and you are free to use your imagination to create the rest!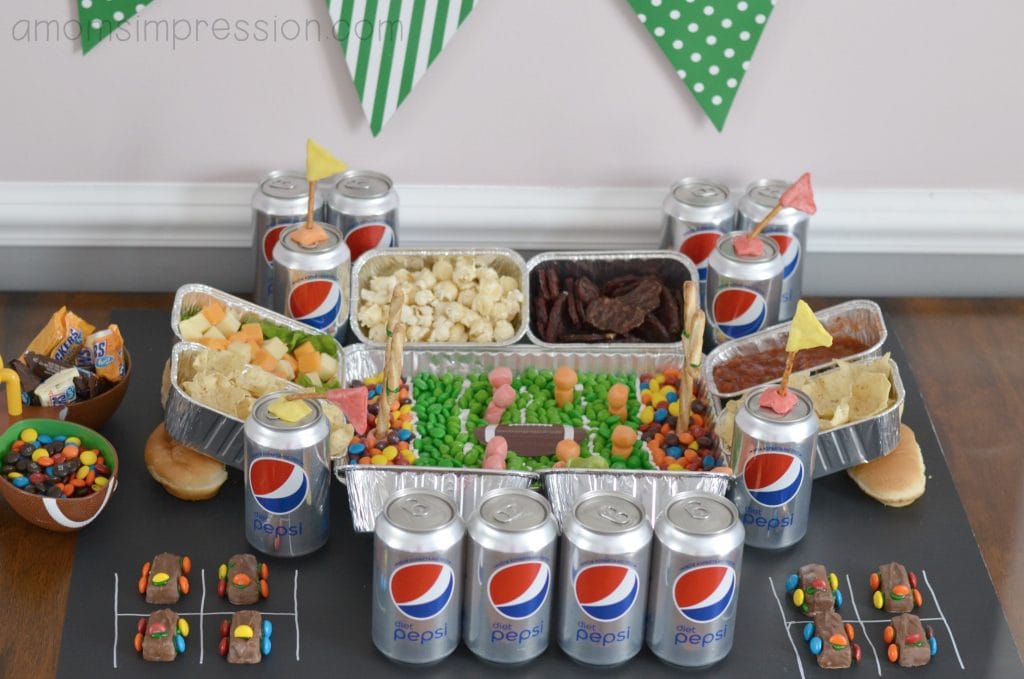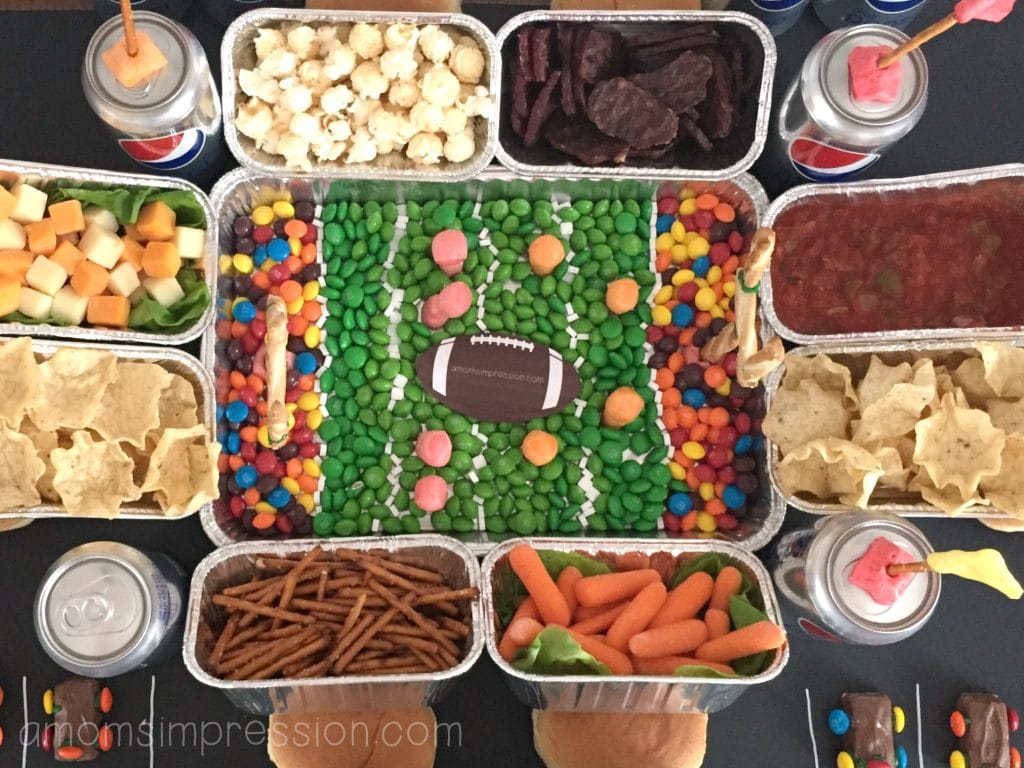 Here is what you need to build your structure.
8 small foil bread pans (Mine were 2 inches by 4 inches)
1 rectangular foil pan (Mine was a 9×6)
Something to prop up your bread pans at an angle.
4 pillars for the corners.
To build the stadium you prop up the small foil pans at the sides of the pan as pictured.  I used some small buns that my friends and family can use to make sandwiches later.  You should fill the pans first with your snacks,  I tried filling them afterwards and it was difficult.  After your structure is built you are free to create whatever kind of snacks you think your guests will enjoy!  Don't forget your TOSTITOS® Chunky Salsa and TOSTITOS® Scoops, everyone loves chips and salsa!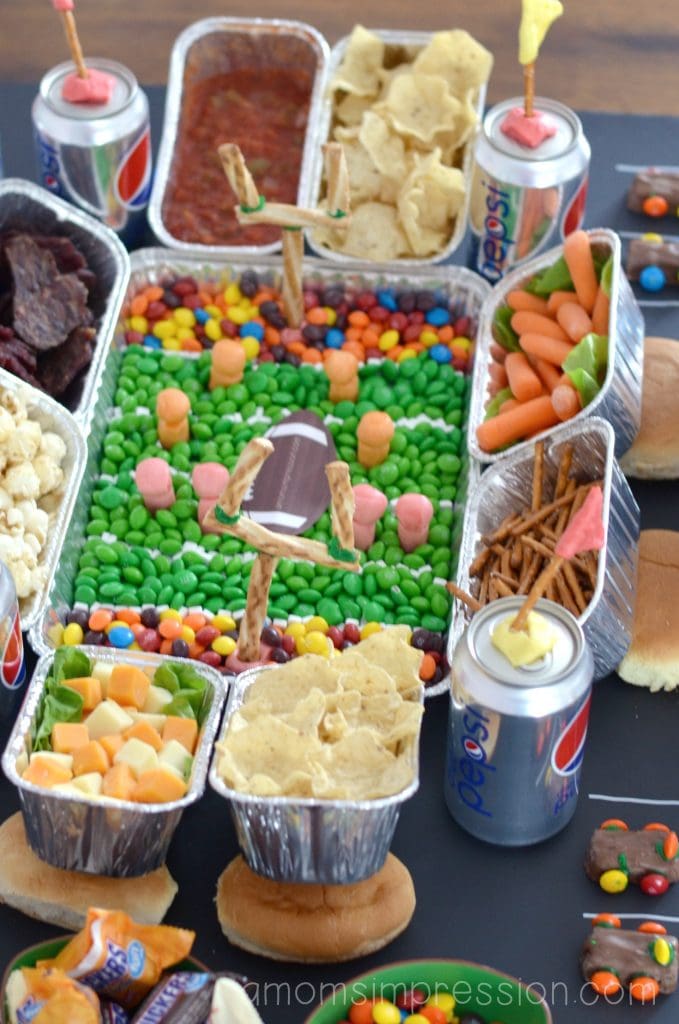 We are excited and counting down the days until the big game. I can't wait to entertain with my snack stadium next weekend too!