This is a sponsored conversation written by me on behalf of Tyson Foods, Inc. The opinions and text are all mine.
It is finally time for the football season to kick off! We love entertaining during the weekends, hosting friends and family for the games. Tyson® Chicken has made our game days so much easier and a whole lot tastier. Creating a spread for our guests with the help of Tyson means less time in the kitchen and more time enjoying the game!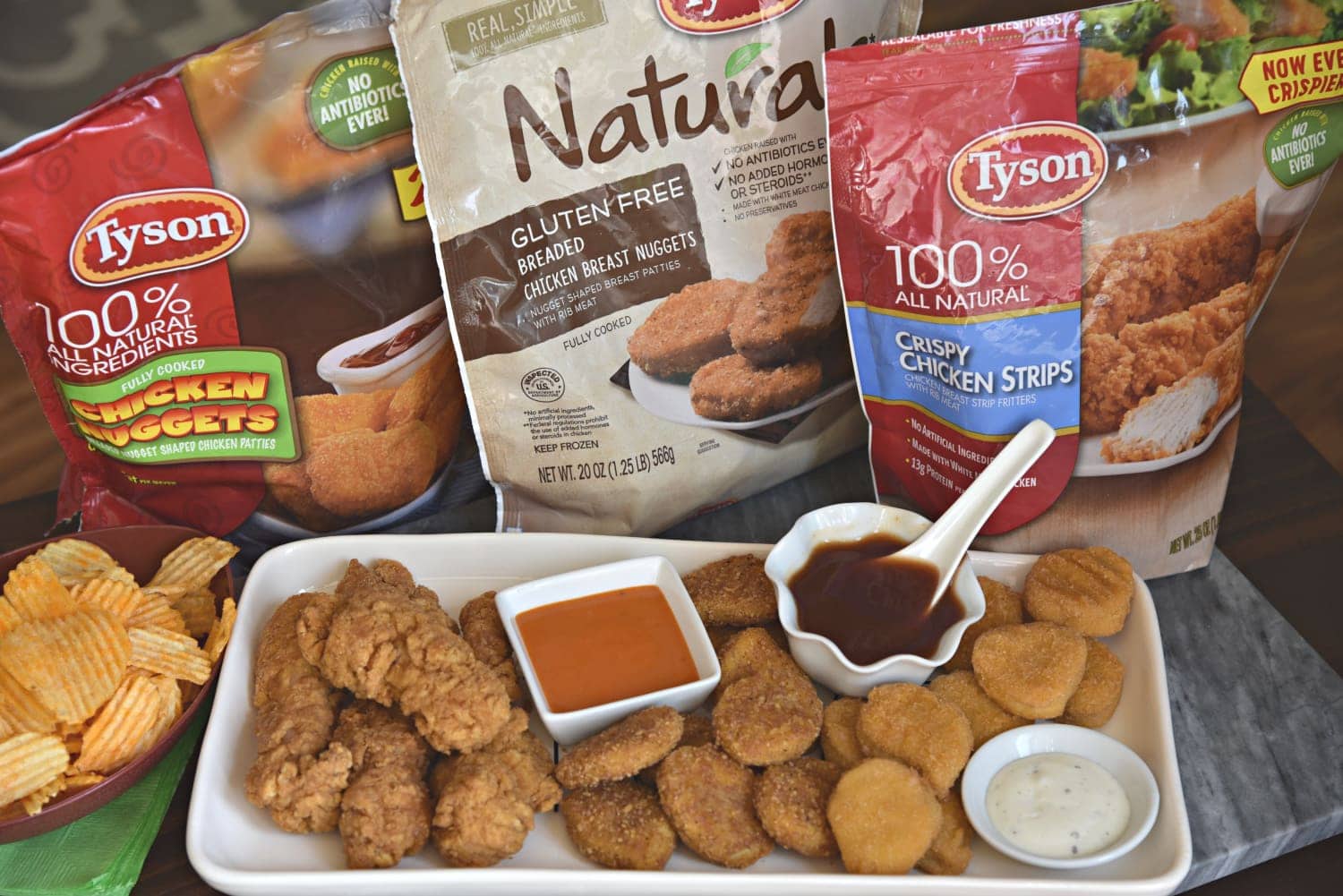 If you are going to watch a football game, there has to be great tasting food, am I right? Having the right game day food is essential when hosting friends and family. It is important that we have great football food options available at all times during the fall months.
Fall is such a busy season for us. Between soccer, gymnastics, scouting and running a small business, we find ourselves needing to slow down and relax when watching football games on the weekend. One way we do this is to get a little help from the grocery store when it comes to our football-watching spread.
On our most recent trip to Meijer, we picked up three different Tyson chicken products so that there was a little bit of everything for everyone. On this trip I grabbed Tyson Fully Cooked Crispy Chicken Strips and two types of nuggets, Tyson Fully Cooked Chicken Nuggets and Tyson Naturals® Gluten Free Breaded Chicken Breast Nuggets.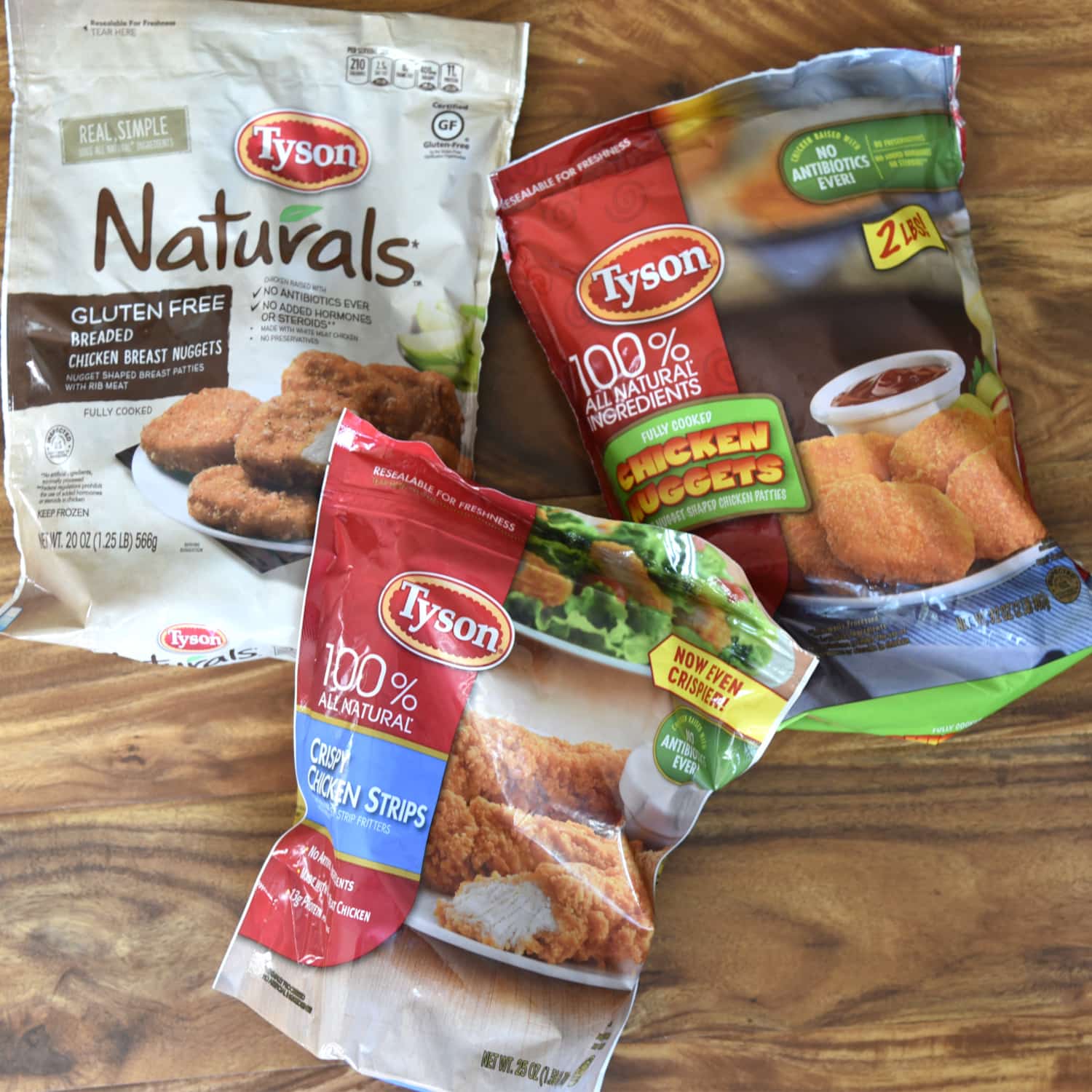 Meijer has such a wide variety of Tyson products that you won't have any problem finding the perfect chicken for your spread. We are also fans of the Tyson Any'tizers® Popcorn Chicken and the Tyson Grilled & Ready Fully Cooked Grilled Chicken Breast Strips that you can find in the frozen section of the store. We were recently introduced to the Tyson Refrigerated Chicken Strips and have been loving those for quick and easy lunch options.
My kids love the Tyson Chicken Nuggets and we love that are minimally processed and made with all-natural chicken without the use of antibiotics ever. Tyson Crispy Chicken Strips are also made with all-natural ingredients, no antibiotics and are made with white meat chicken. If you have a gluten sensitivity or allergy, the Tyson Naturals Gluten Free Breaded Chicken Breast Nuggets are a great option for you! They are made from chicken raised with no antibiotics, they use white meat chicken, and the breading is gluten-free. Many times when you are entertaining you may have someone who is sensitive to gluten so having these in your freezer is a great idea.
Easy Football Entertaining
Creating a platter for the game is so easy when you have all these wonderful Tyson products. I keep them in the freezer and pull them out right before the game starts and by the end of the first quarter, we are happily munching away.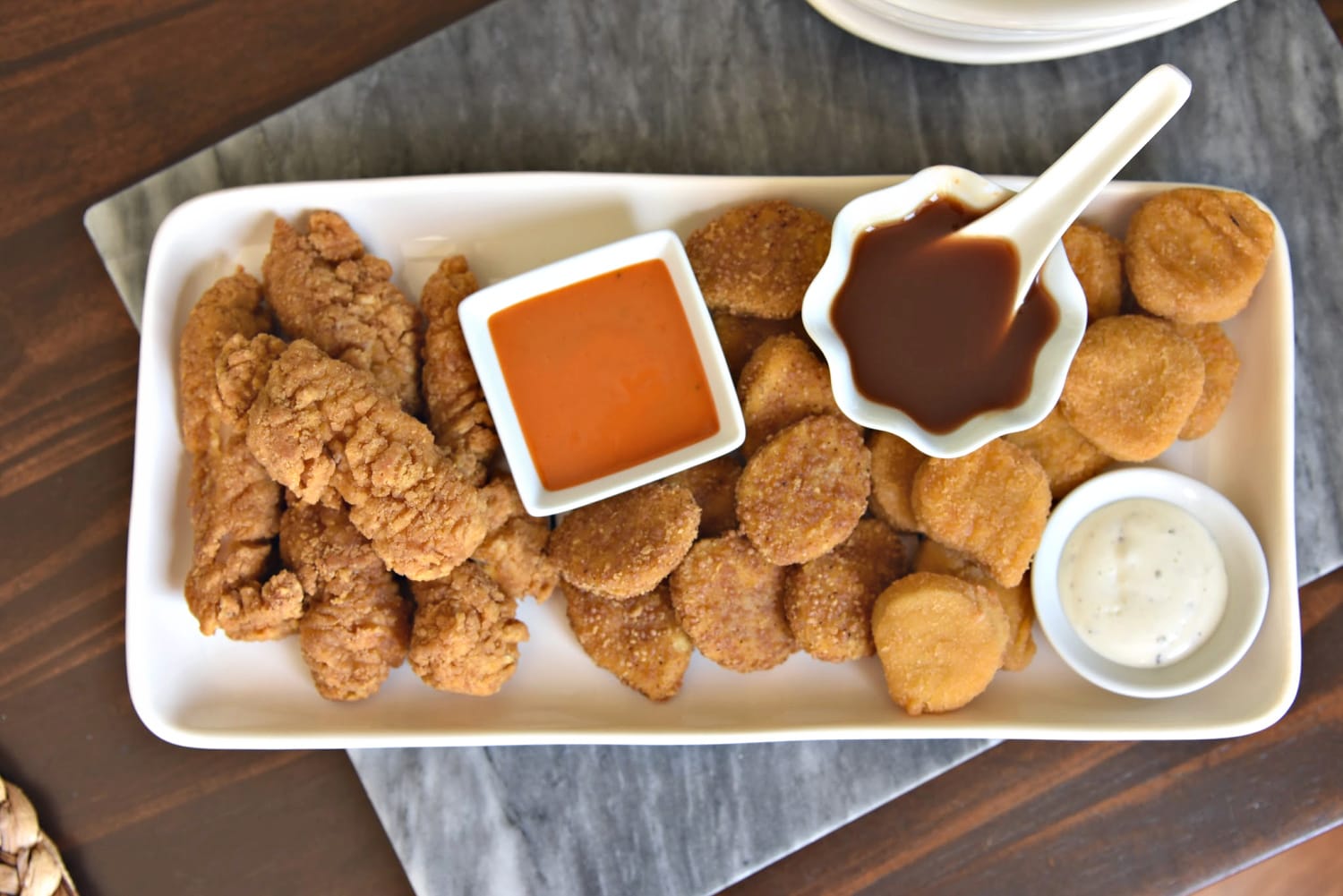 One of the ways I enjoy eating any kind of chicken is with a delicious dipping sauce. When we entertain, I love providing several different sauce options. Some of our favorite dipping sauces are ranch, buffalo sauce, BBQ sauce and this homemade sweet and sour sauce that is so simple to make that you will never buy it from the store again.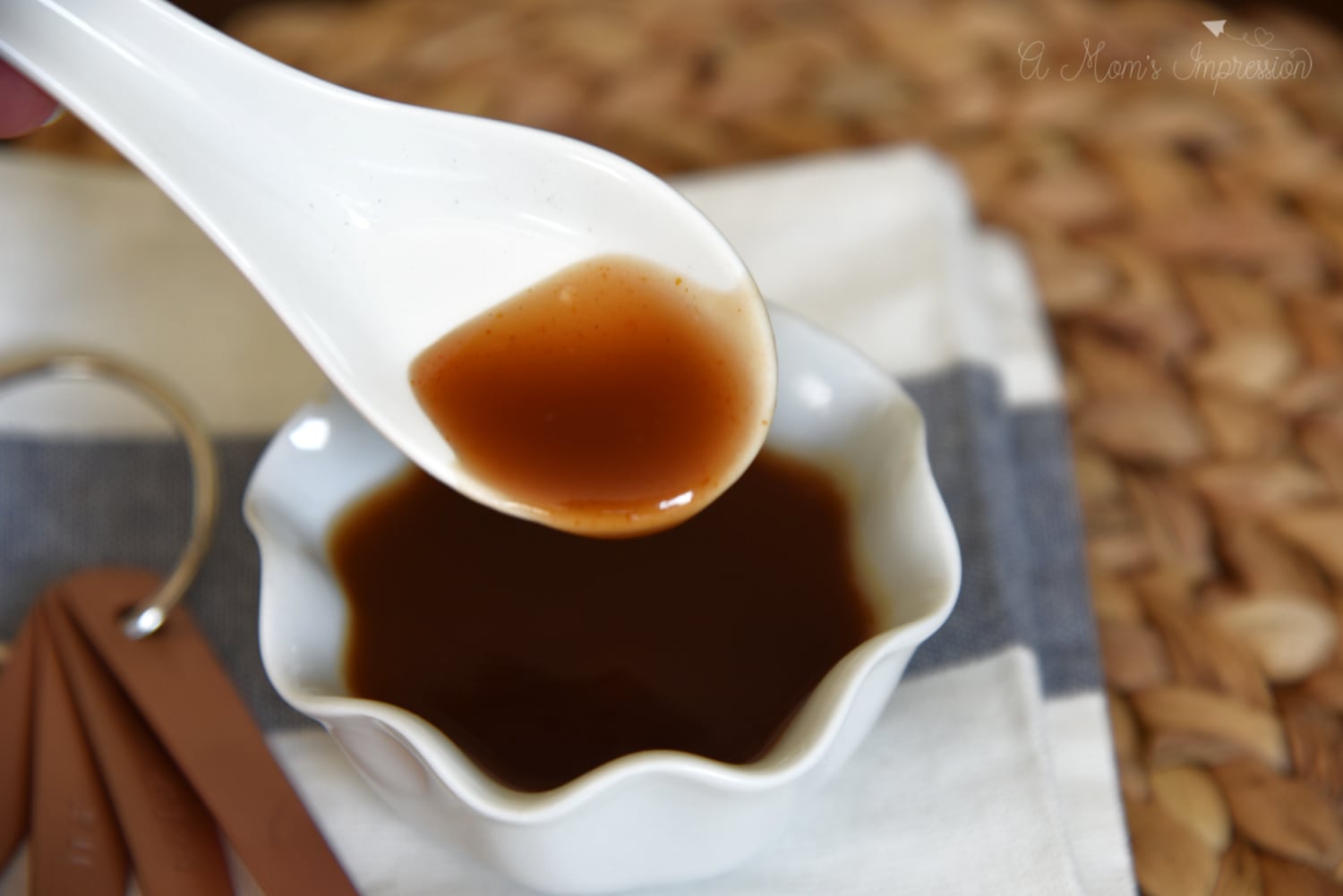 I put my chicken in the oven and start this recipe and it is ready to go when the chicken is done. You can also make this ahead of time and store in the fridge for up to a week. It is a simple sweet and sour sauce that everyone is going to enjoy with their tasty chicken.
Homemade Sweet and Sour Sauce
Ingredients
1 Tbsp cornstarch
1 Tbsp water
1/4 cup water
1/2 cup red wine vinegar
1/2 cup light brown sugar packed
1/4 cup ketchup
1 Tbsp low sodium soy sauce
Directions
In a small bowl dissolve corn starch with 1 Tbsp water, set aside.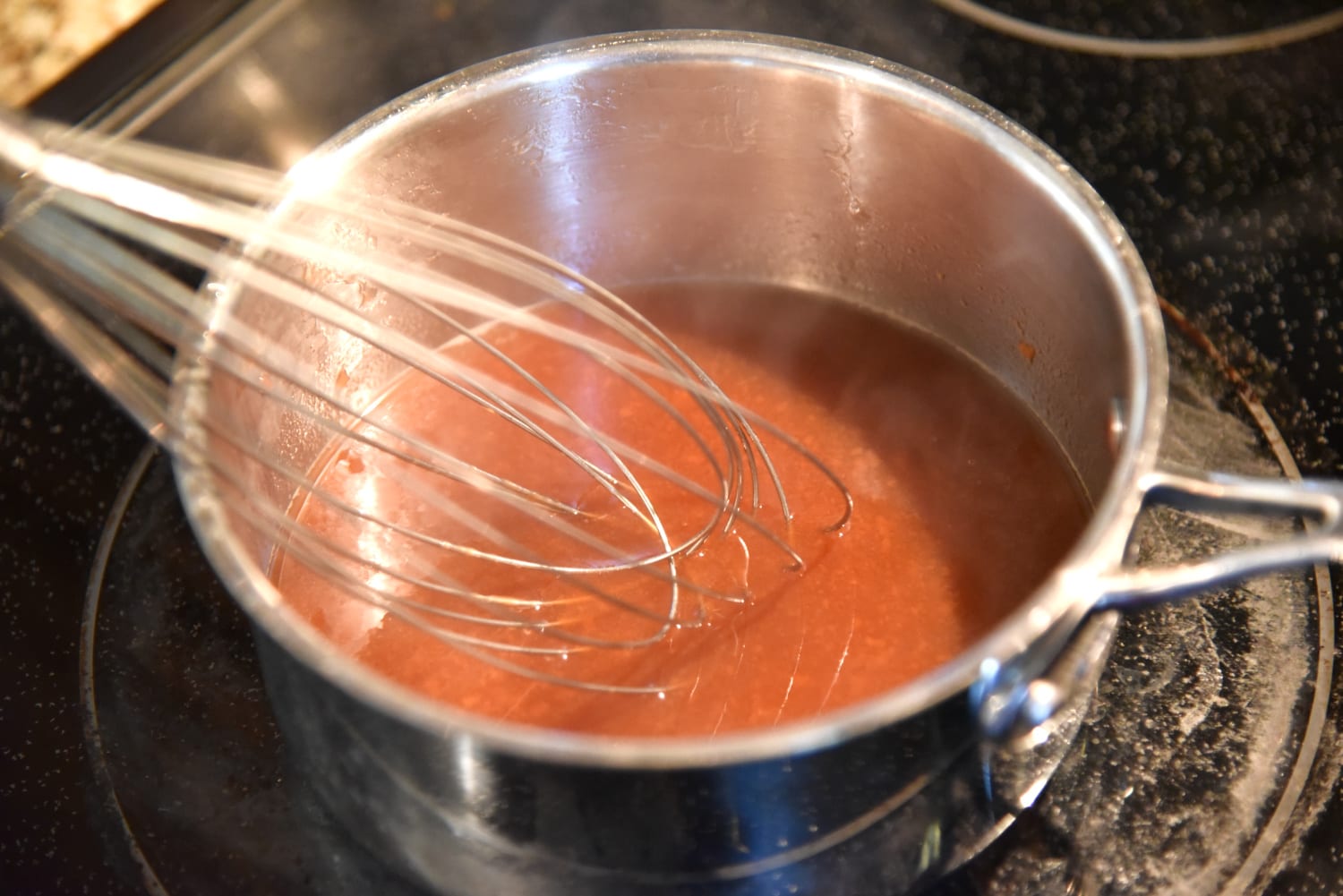 Over a small saucepan on medium heat, combine the rest of the ingredients and stir well. When the mixture is at a boil, add the cornstarch slurry and stir well. Cook for about 1-2 minutes until the sauce starts to thicken. Remove from heat and allow to cool, the sauce will thicken even more as it is cooling.
Use immediately or you can store in a sealed container for up to one week in the fridge.

More Easy Recipe Ideas with Tyson Chicken
I am notorious for making too much food for my football parties. The next day we have a bunch of leftovers so I love incorporating them into easy recipes like:
Little chicken nugget slider sandwiches for the kids
I have diced up the crispy chicken strips and added them to my salad with a little egg and tomatoes for a delicious lunch.
Easy, tasty chicken wrap – Just use the sliced crispy chicken strips with some cheese, lettuce and Italian dressing for a tasty chicken wrap. The possibilities are endless. Embrace those leftovers!
Shop at Meijer for all Your Football Season Needs
I hope these recipe ideas give you some inspiration for your next football watching party! Be sure to visit your local Meijer store to stock up on all your favorite Tyson chicken products.
Pin for Later