My favorite kinds of toys to buy for our family are those that inspire engagement  in active, imaginative play!  While technology and video games do have a place in our family, we like to limit them and instead encourage our kids to use their hands and minds to be creative.  This holiday season Hasbro has thePerfect Gifts for your Kids with many options for parents out there who, like us, want their kids to interact with each other and have fun doing it.  Here are a few of my favorite toys for this holiday season: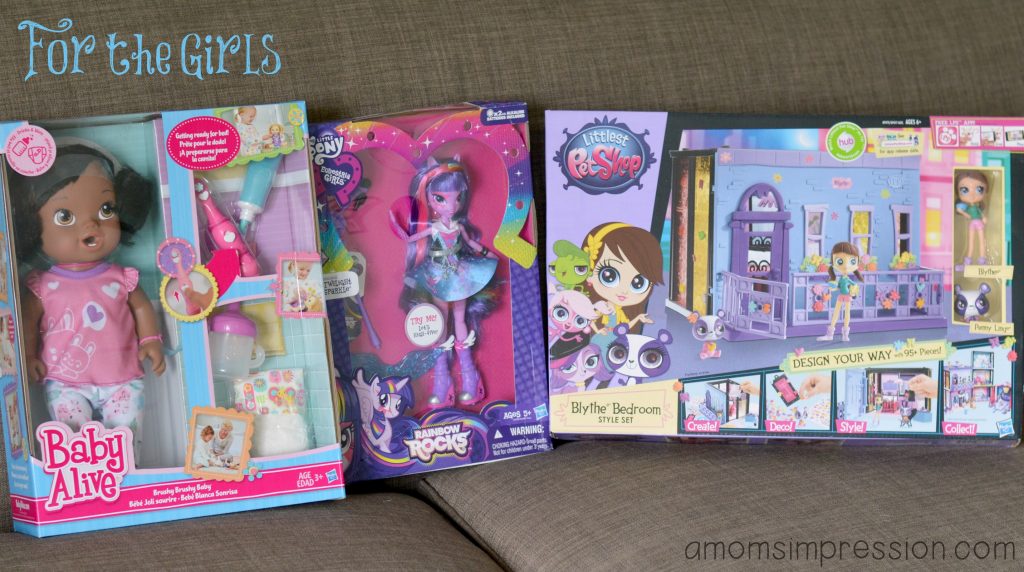 My picks for the girls include the adorable Baby Alive Brushy Brush Baby Doll, My Little Pony Equestria Girls Dolls, and Littlest Pet Shop Blythe Bedroom Style Set
.
The Baby Alive Brushy Brush Baby Doll allow young kids to practice putting their baby to bed with a pair of pajamas, a bedtime bottle, and a brand new dry diaper.  After feeding time, hold the included toothbrush to the dolls mouth and press the button.  The toothbrush bristles will move around in circles just like your child's toothbrush!  The baby doll comes in three ethnicities, each with rooted hair that is durable.  (Ages 3 and up)
Fans of the My Little Pony Equestria characters are going to love to sing along with their favorite dolls.  With the Dolls that Rock collection, kids can sing the My Little Pony Equestria Girls song along with their new doll.  Each doll comes with a variety of fashionable accessories, including a musical instrument.  (Ages 5 and up)
Fans of the Littlest Pet Shop can now design a room for their friends with the Littlest Pet Shop Blythe Bedroom Style Set.  This set comes with over 95 accessories  to add a little glamour to the bedroom set. This set can be combines with other Littlest Pet Shop style sets for additional play.  (Ages 6 and up)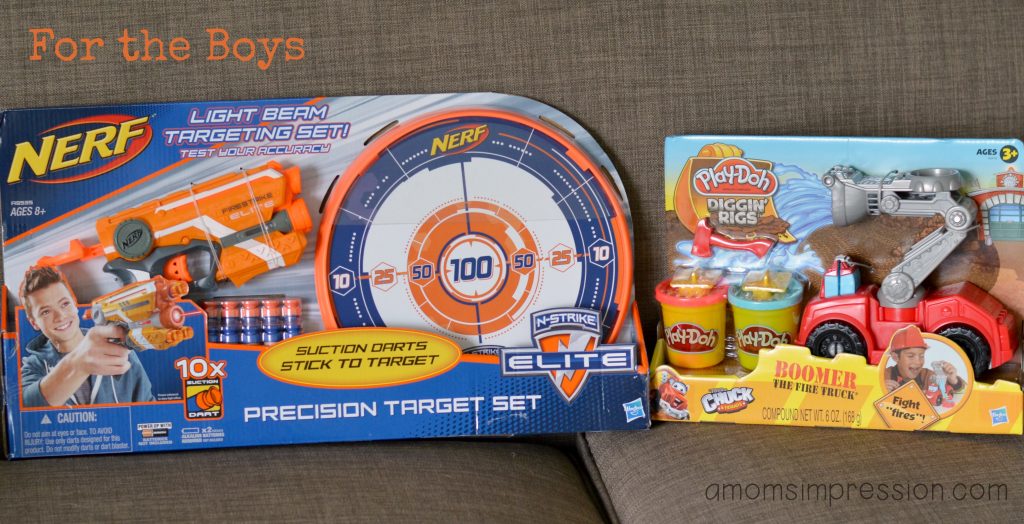 The Nerf N-Strike Elite
Precision Targeting Set is a perfect gift for any little man on your list.  Your child can aim using the precision light beam targeting and blast away up to 85 feet.  Included is a unique target designed to challenge even the most experienced NERF fan.  It comes with 6 suction cup darts, a target, and the blaster.  (Ages 8 and up)
PLAY-DOH is always a huge hit in our house.  My kids are going to love the Play-Doh Diggin' Rigs Boomer the Fire Truck Toy
.  The included book mold and stampers on the fire truck create bricks, blocks and even flames for children to create with.  The fire truck even comes with a water canon that kids can fill with blue play-doh and "shoot" out water to put out the fire.  The fire ladder on the truck even works creating even more imaginative play.  (Ages 3 and up)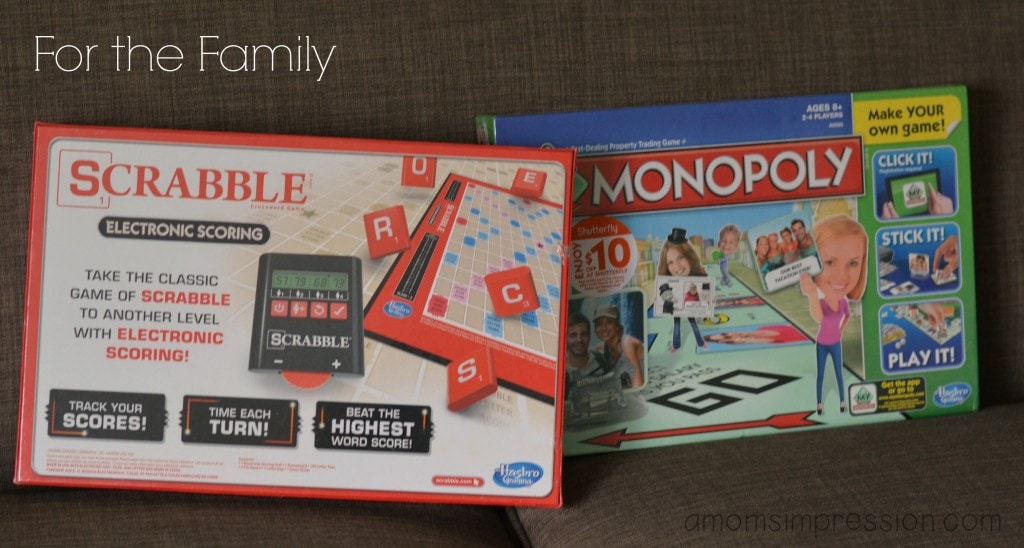 We love playing board games as a family.  I was very impressed with the new updates that Hasbro has included in two of their classic games.
If you are a fan of Monopoly, you must check out the new My Monopoly Game
.  This new version features a create your own personalized Monopoly Land!  With the app or by visiting the My Monopoly website you can personalize property spaces, game tokens, Community Chest and Chance cards to use in the My Monopoly board game. Choose your own photos from your computer, smart device, or even Facebook. Have fun adding captions or descriptions to the photos. Then print them out on the included My Monopoly sticker sheets, place the stickers on the Community Chest and Chance cards. The app is available n both iOS and Android platforms.  (Ages 8 and up.  2-4 players)
Scrabble Electronic Scoring Game  is another fantastic upgrade to a classic game.  This new version makes scoring easy and automatic with an electronic scoring unit.  All you have to do is dialing the score on the handheld unit and hit enter.  No longer do you need to hunt down a pen and paper and a good score keeper!  This new version also includes a timer option for those players who take way to long when it is their turn (you know who you are).
The holidays will be here before we know it.  I am about half way done with my Christmas shopping and all of these products are making an appearance on my gift list.  Be sure to check out Hasbro Toy Shop for fun, creative toys that foster creativity and imagination in your child.
What gifts does your child have on their wish list this year?