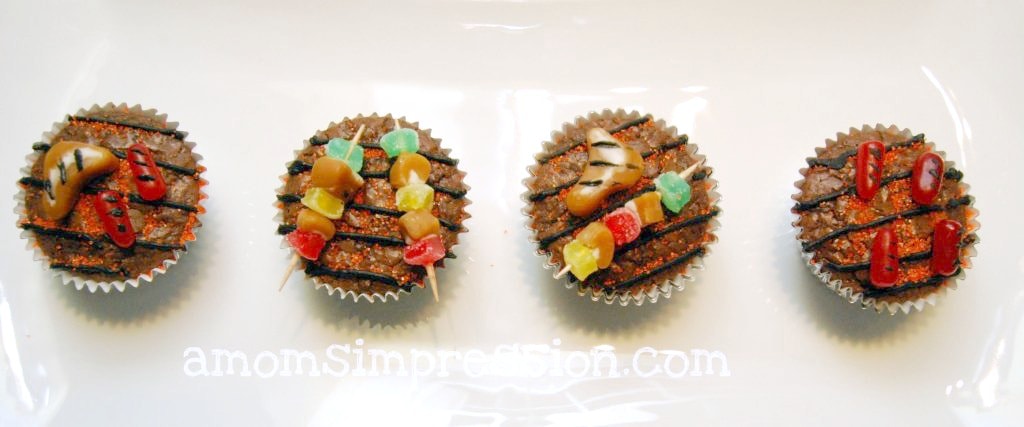 I called them BBQ themed cupcakes but these cupcakes are actually brownies.  You could easily make them chocolate cupcakes and they would turn out just as yummy.  My hubby loves brownies so I decided to go that route.  I found these in Disney's Family Fun magazine and I just had to make them for Father's Day.
BBQ Themed Cupcakes

Here is my candy prepped and ready to go!

Ingredients
Brownie batter
Black icing (I used the tube of black from Wilton, so simple)
Orange decorators sugar
Caramel creams
Red, yellow, and green gumdrops
Hot Tamales candies
BBQ Themed Cupcakes Directions
Place cupcake liners (I used the silver ones to help mimic a grill) in a cupcake pan, and fill them two-thirds full of your favorite brownie batter, then bake according to the recipe directions. Let the brownies cool completely.Attach a round size 3 tip onto your tube of black icing. Or you can simply put your black icing into a sandwich bag and snip off the corner. Pipe grate lines onto each brownie and let them set for 20 minutes. Add embers with a sprinkle of orange sugar.Prepare the grill food as instructed below and press it in place atop each brownie:
Kebabs = A caramel cream and red, yellow, and green gumdrops, cut into small pieces + toothpick skewers
Pork chop = one-half of a caramel cream, molded with fingers + black food coloring, applied with a toothpick
Hot dogs = Hot Tamales candies + black food coloring, applied with a toothpick
I debated about using the Swedish fish on top as well, but my husband doesn't ever grill out fish so I decided to leave them off, you can certainly add them if you would like to.
These adorable BBQ Themed Cupcakes would be perfect for cookouts, July 4th or for a special someone on their birthday.
Happy Father's Day!