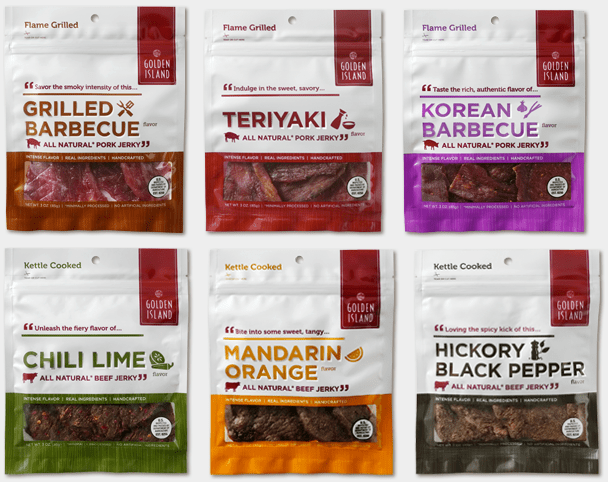 My roommate in College grew up on a dairy farm.  The best part of this was that he came back from all of the school breaks with fresh, homemade beef jerky.  This begun my life long affair with beef jerky which I really do believe is just about the perfect food.  It travels well, it doesn't go bad, it fills you up and satisfies you and it is incredibly tasty.   It is the perfect food for a road trip, watching a football game or just as a snack between meals.
 This is why I jumped at the chance to try Golden Island's All Natural Beef Jerky.  They sent me six packets in the mail.  Korean Barbeque, Hickory Black Pepper, Chili Lime, Grilled Barbeque, Teriyaki and Mandarin Orange.
The product is packaged well in sturdy, easy to open and resealable bags.  Depending on the flavor you choose, some of the jerky is pork and some if beef.  Some of it is kettle cooked and some is flame grilled.
The first flavor I tried was the Chili Lime.  It was completely amazed at how flavorful and moist it was.  I am used to the jerky I buy at gas stations to be a little bit tough and a lot salty.  Golden Island's Jerky was bursting with sweet, spicy and savory flavors in just the right balance.  The meat itself was extremely tender.  I had never had anything like it.  I am not exaggerating when I tell you it was more like a fine meal at a restaurant that a snack I was eating out of a bag on my couch.  I tried all the flavors and liked them all in varying degrees, especially the Korean Barbecue.  But the Chili Lime flavor was by far my favorite.
Golden Island achieves this superior quality by either flame grilling or kettle cooking 100% all natural US grown beef or pork in small batches.  There are no added preservatives such as nitrates, fillers or MSG.  They have spent 50 years perfecting their season, marinates and cooking process to achieve perfection.
At only about 60 calories per serving and 40-60% less sodium than other jerky brands, you can munch these down without feeling too guilty.
While Golden Island has been in the specialty meat business for about 50 years, they are rather new to retail stores but are quickly expanding.  On their website they have a handy store finder so that you can finder the retailer nearest you that offers their product.
Football season quickly approaches and this is the perfect snack to have while watching the game.  But heck, you really don't need an excuse.  If you like beef or pork jerky, get some Golden Island immediately, you won't regret it.
A huge thank you to Golden Island's All Natural Beef Jerky for sending me a few packaged to enjoy!  All opinions are 100% mine.