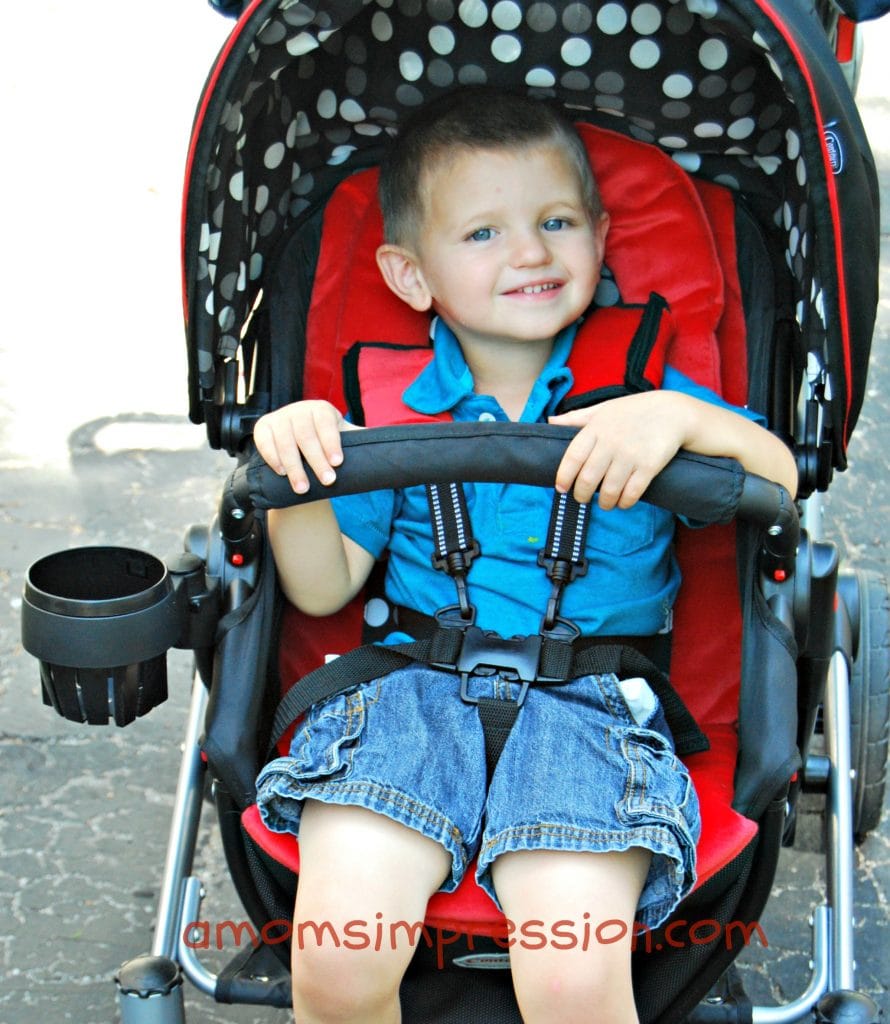 The Kolcraft Contours Optima Tandem Stroller has changed our life!  I know that sounds dramatic, but it really has.  Up until two weeks ago, I wasn't able to go on a walk with my kids and the dog all together.  I have been using a baby sling for grocery shopping, but with the heat there is no way that I could strap Caroline to me and walk around the block let along hang onto a stroller and the dog in the process. If you have been following my blog you know that I have been trying to get back into shape after baby.  Getting out of the house and moving outdoors is essential to getting mommy back in shape. We needed a double stroller.
The stroller arrived the day we got back from Idaho, and my husband had it all put together by the time we walked in the door that night!  He didn't take any pictures of the assembly (you would think by now that he would remember to take photos of assembly, but hey he put it together for me so I can't complain).  He told me that it was actually very easy to put the stroller together and all he needed was a screwdriver.  Believe me when I tell you that my husband doesn't usually think anything is easy to put together.  I am the one with the patience when it comes to these things.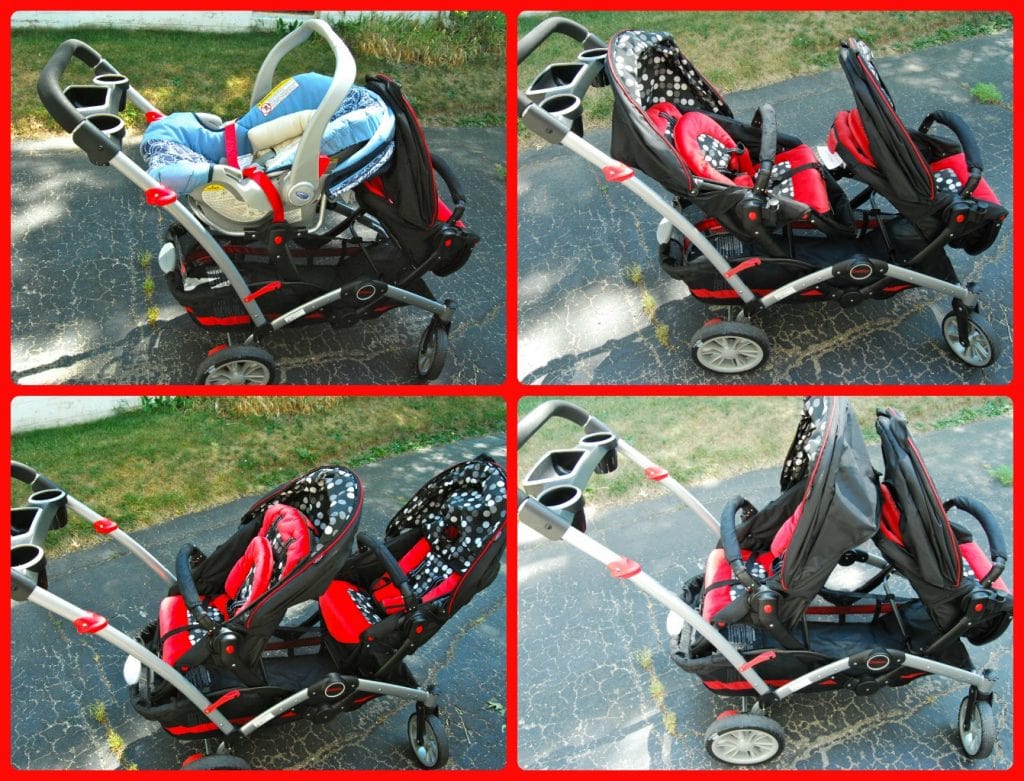 I was a little disappointed that I had to wait to take it for a spin.  We got home well after dark and it was past bedtime for the kiddos.  The next day something miraculous happened, all four of us went for a walk.  I think the one who was the most happy about this was the dog.  I have to admit that he has been a little neglected since the birth of my daughter.  I love that this stroller came with the car seat adapter.  Most of the ones I have been researching make you purchase it separately.  I will say that if you have twins and need to use it for two car seats you will have to purchase the second one.  My car seat worked perfectly with the stroller. Here is a list of car seats that will fit into the Optima Stroller:
Britax® B-Safe®
Graco® Safe Seat
Britax® Chaperone
Graco® SnugRide® Infant
Chicco® KeyFit
Graco® SnugRide® 30
Chicco® KeyFit 30
Graco® SnugRide® 32
Combi® Shuttle 33
Graco® SnugRide® 35
Cosco® First Ride DX
Maxi-Cosi® Mico™
Cosco® Starter
Peg Perego® Primo Viaggio
Evenflo® Discovery™
Peg Perego® Primo Viaggio SIP
Evenflo® Discovery 5™
Peg Perego® Primo Viaggio SIP 30/30
Evenflo® Embrace™
Safety 1st® Designer® 22
Evenflo® Embrace™ 5
Safety 1st® onBoard™ 35
Evenflo® Embrace™ 5 LX
Safety 1st® onBoard™ 35 AIR
Evenflo® Serenade™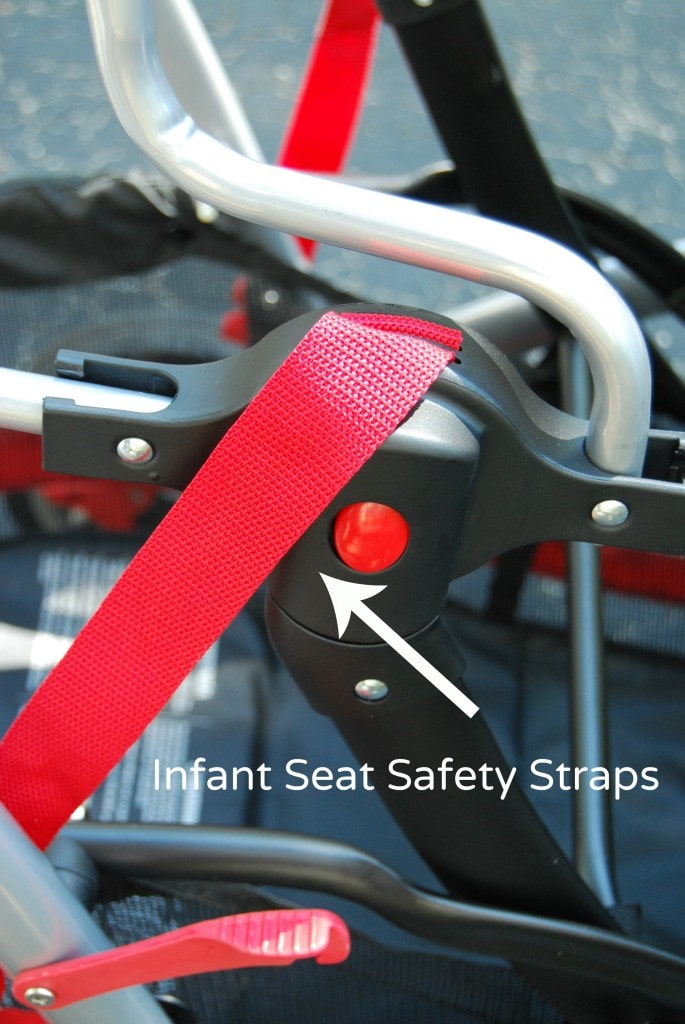 I love how smooth this stroller is.  Most double strollers are big and bulky, but this one was simple to maneuver.  I didn't find it difficult to push it and hold onto the dog's leash at the same time.  I love being able to have the back seat rear facing and the front seat forward facing.  I could keep an eye on Caroline in her car seat and Jonah could look out and see everything on our walk.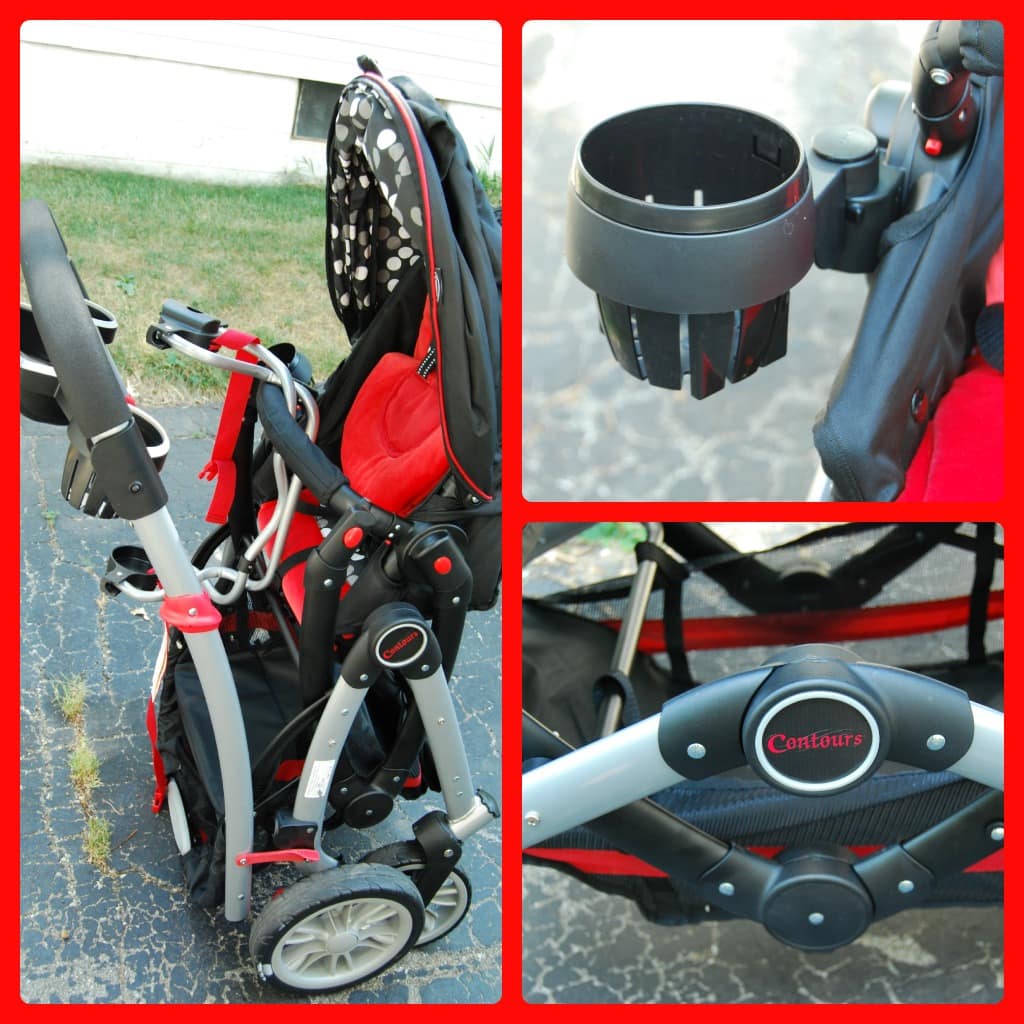 Jonah's favorite feature was the cup holders.  He immediately asked for his thermos of juice for the walk.  Since the initial walk, he has used his cup holder to hold some of his toys when he doesn't have a beverage.  Its funny how excited he was about the stroller.  I don't really see him get animated about baby gear, but he loved this one!
The Kolcraft Contours Optima Tandem Stroller can be configured in six different ways; children can both face parent, face each other, face forward, back to back, front seat only (which allows large storage in the back), or use with an infant car seat! I have never seen such options with a stroller before. Switching the seats out is a very simple process.  All you need to do is press and hold the red buttons on either side of the seat and pull up!  The infant seat adapter is just as easy to install as well!
As you can imagine with a tandem stroller, it does take up a lot of space, but Kolcraft has made it easy to fold this one up and store.  It actually will stand upright so you don't have to lean it against the wall.  The only criticism that I have for this stroller is that I wish you would be able to roll it when it is folded up.   It only weighs 36.8 pounds (which is fantastic for a double) but it is very bulky to carry.  We store our strollers in our basement when we are not using them and carrying this stroller up and down the stairs is a chore.  It does fit in the back of my car with a little room to spare so I love that!
The Optima features a height-adjustable 5-point safety harness & padded infant head rest and sleeves that make the stroller both safe and comfortable for our little ones.
Overall, I couldn't be happier with this stroller. My dog is happy that he gets to go for walks again with all of us!  I am happy that I can bring the kids out with me when I am exercising.  My husband is happy because I am happy!  And Jonah is happy because he now has a cup holder.  What more could you ask for?
The Kolcraft Contours Optima Tandem Stroller retails for $299.99.  You can learn more about the stroller on Kolcraft's website.
My dog Eli would like to thank Kolcraft for sending us this stroller for purposes of this review.  All opinions are mine. I would like to thank them too!