I think early mornings are becoming my favorite time of the day on the weekends.  I usually will wake up with the kids in the wee hours of the morning and get them some breakfast.  After breakfast, I sit down with a cup of coffee and enjoy the quietness while they play or watch a cartoon. I love being able to sit down and relax and enjoy life before the errands start.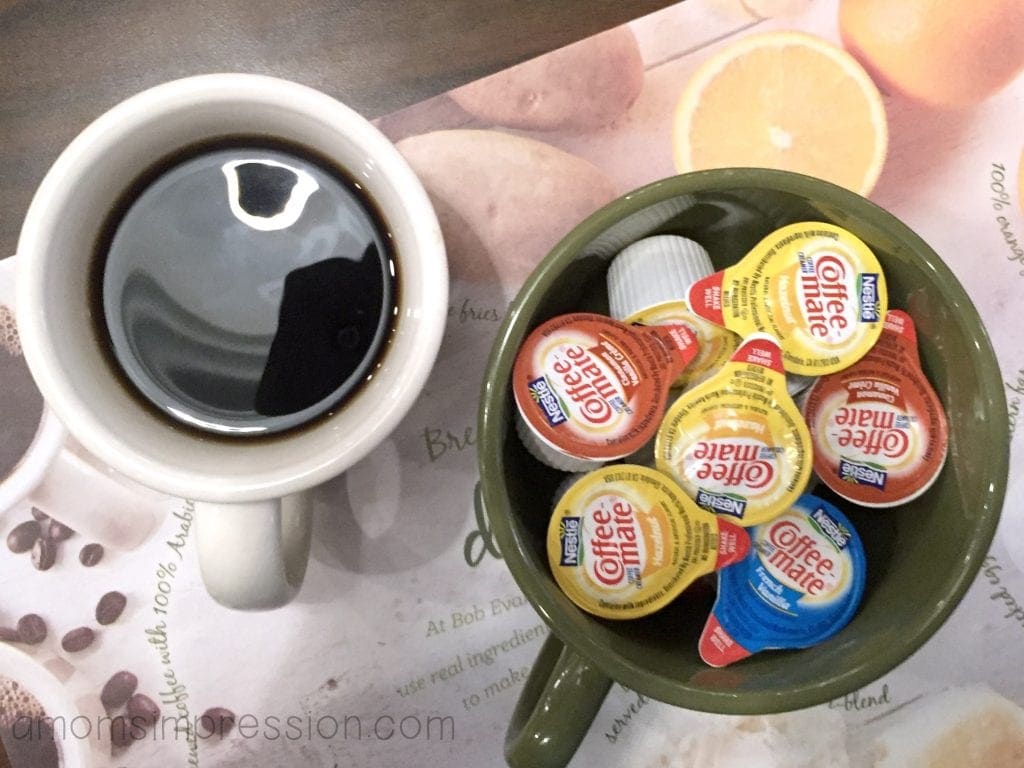 I have written a couple of time in the past month or so about my wonderful experiences discovering Bob Evans Restaurant as a place to eat dinner.  We had been very impressed with their fresh Broasted Chicken meals.  These meals are made with fresh "Broasted" chicken that is never frozen.  I had always thought of Bob Evans as a breakfast option but was pleasantly surprised that they can knock dinner out of the park as well.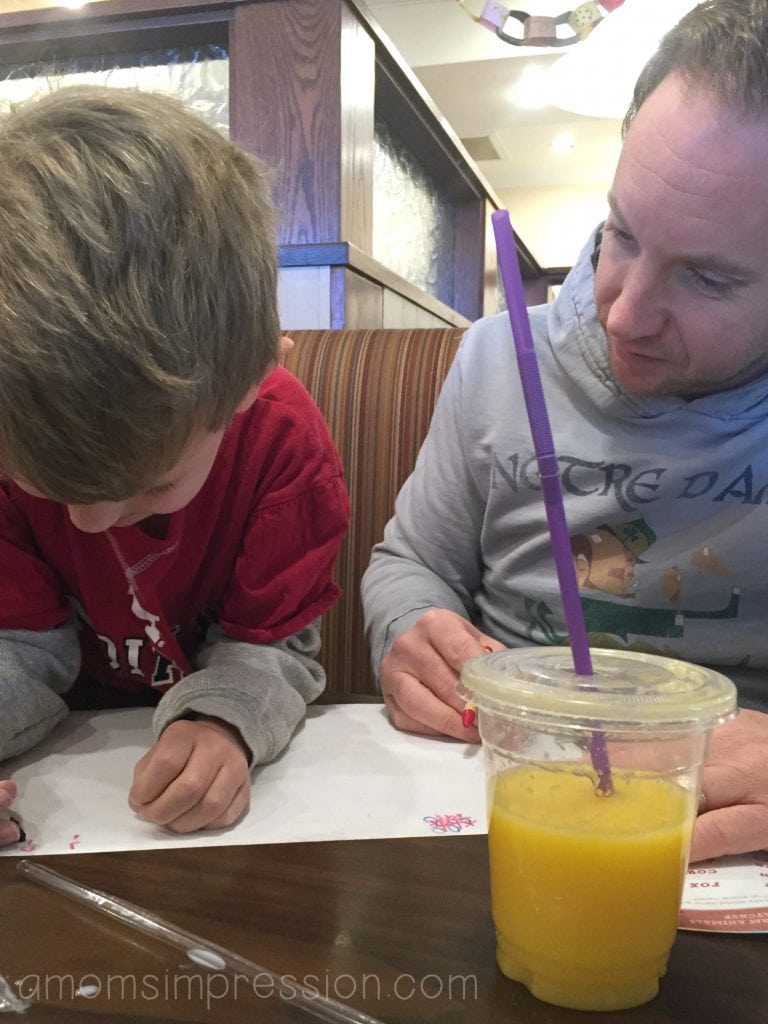 Now that I know how well they can do at dinnertime, I was excited to visit Bob Evans to have some breakfast!  I love breakfast at all hours of the day. In fact, my family is such a huge lover of breakfast, we make breakfast at home a couple of nights a month for dinner!  My husband is also a HUGE fan of biscuits and sausage gravy and I had heard that Bob Evans' version of this breakfast staple can't be beat.  He said that he had never had the chance to try it before.  I couldn't wait to try the new Breakfast Blend Coffee with my favorite flavored, hazelnut creamer.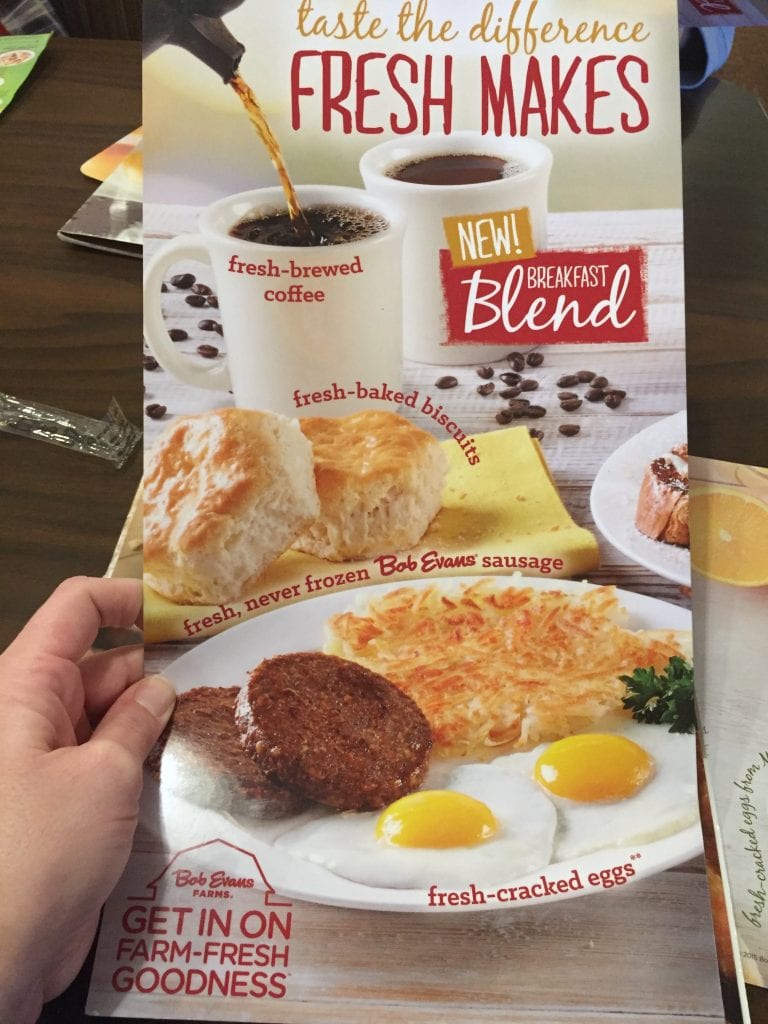 A couple of weekends ago we visited Bob Evans in the morning before heading out to do some holiday shopping. We sat down and started to look over the breakfast menu.  There was no surprise what the kids were going to get:  pancakes!  I decided on the Farmer's Choice Breakfast.  Two eggs (their eggs are gathered fresh daily), some sausage and hash browns made from potatoes that are chopped and sliced fresh.   I also got a slice of banana bread (I think I am not officially addicted to this bread) it was moist and delicious, my daughter helped me gobble it up.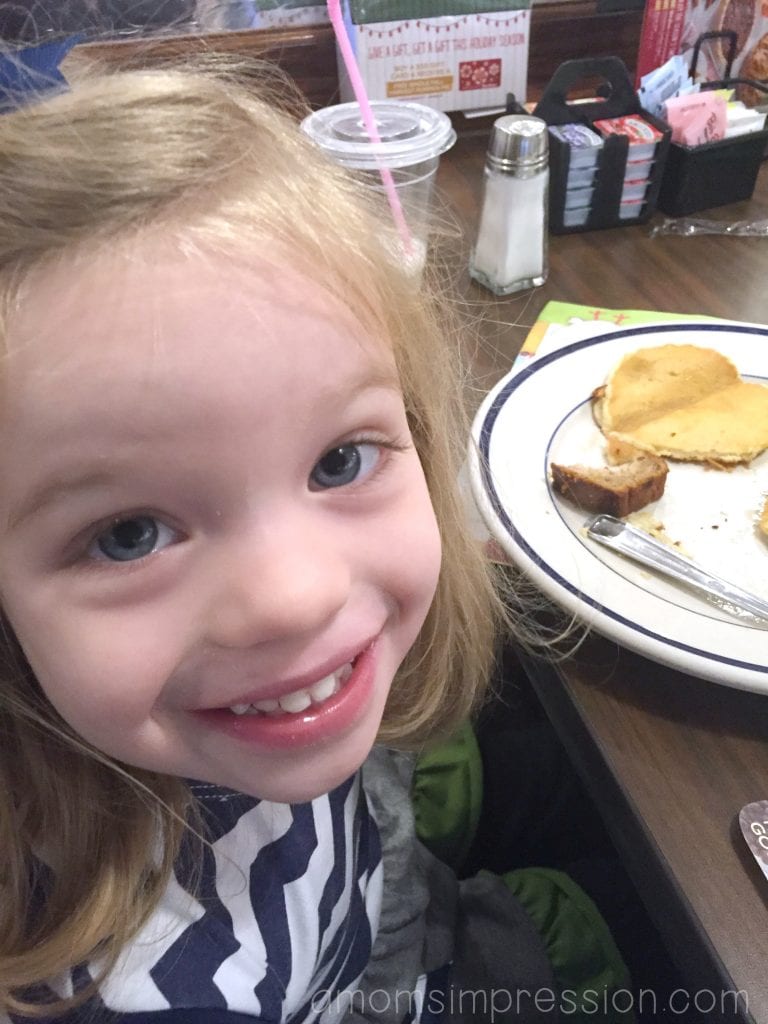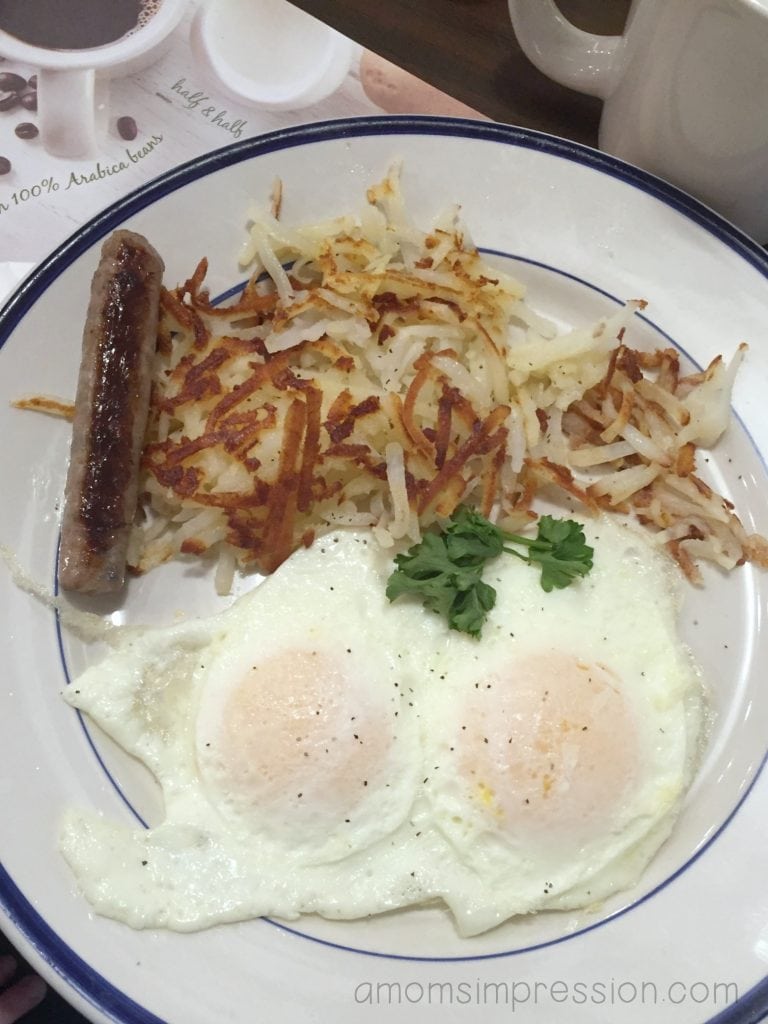 My husband got the same thing, the Farmer's Choice Breakfast, except he got a slice of ham.  For his bread option he (of course) got the biscuits with some sausage gravy.  Their buttermilk biscuits are baked fresh daily and the sausage gravy was thick, rich and delicious.  He thought long and hard about getting their Apple Cinnamon Brioche French Toast.  It is two slices of freshly baked brioche bread that is topped with cinnamon apples, baked streusel crumble, cream cheese icing, powdered sugar and a whipped topping.  Whoa!  Nothing says "Happy Holidays" like THAT breakfast.  Maybe next time I'll talk him into pulling the trigger on it because he really thought that sounded good.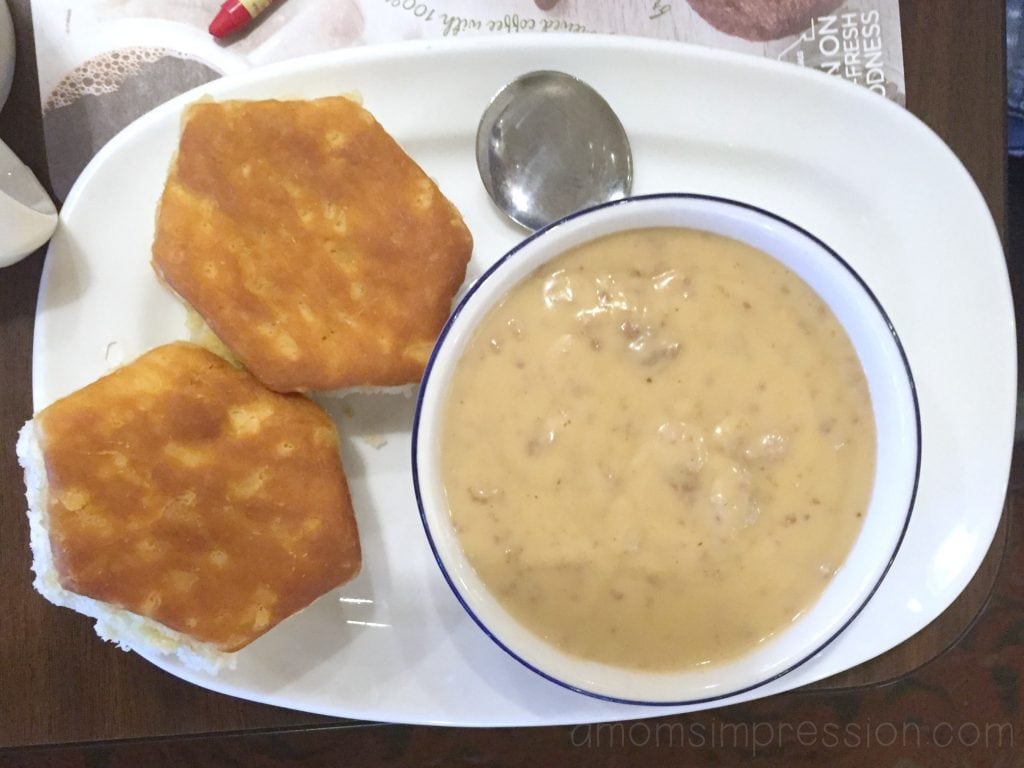 I have enjoyed my visits to Bob Evans for dinner and breakfast.  I was reminded about how great a family restaurant  they are as well. My kids love choosing their favorite color straw and browsing through the kids meal.  They always find something to get excited about.  It is the perfect time of year to bring your family to your local Bob Evans for a nice, warm, hearty fresh made breakfast!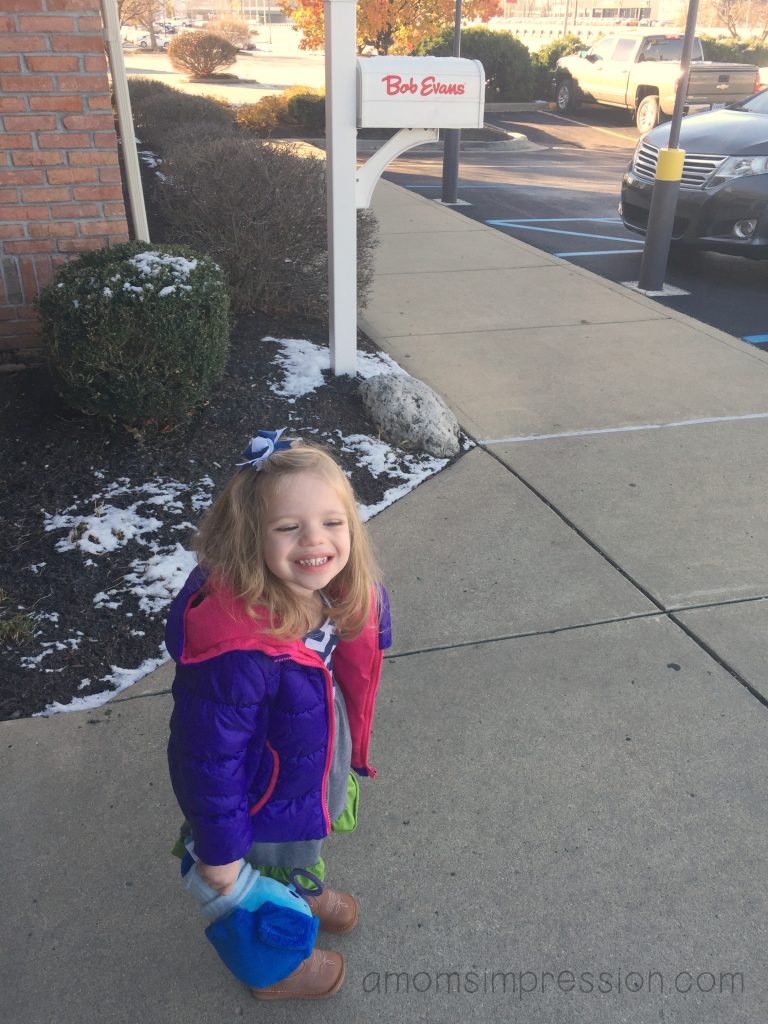 You can find out more about Bob Evans Breakfast options on their website.  Be sure to check your local restaurant for availability.
A huge thank you to Bob Evans for hosting our family for breakfast!