This creamy garlic parmesan noodles recipe is perfect to make on busy weekday nights for the family. With simple ingredients made in under 20 minutes and in one pot, your kids are going to love the cheesy creamy taste and you will love the easy cleanup!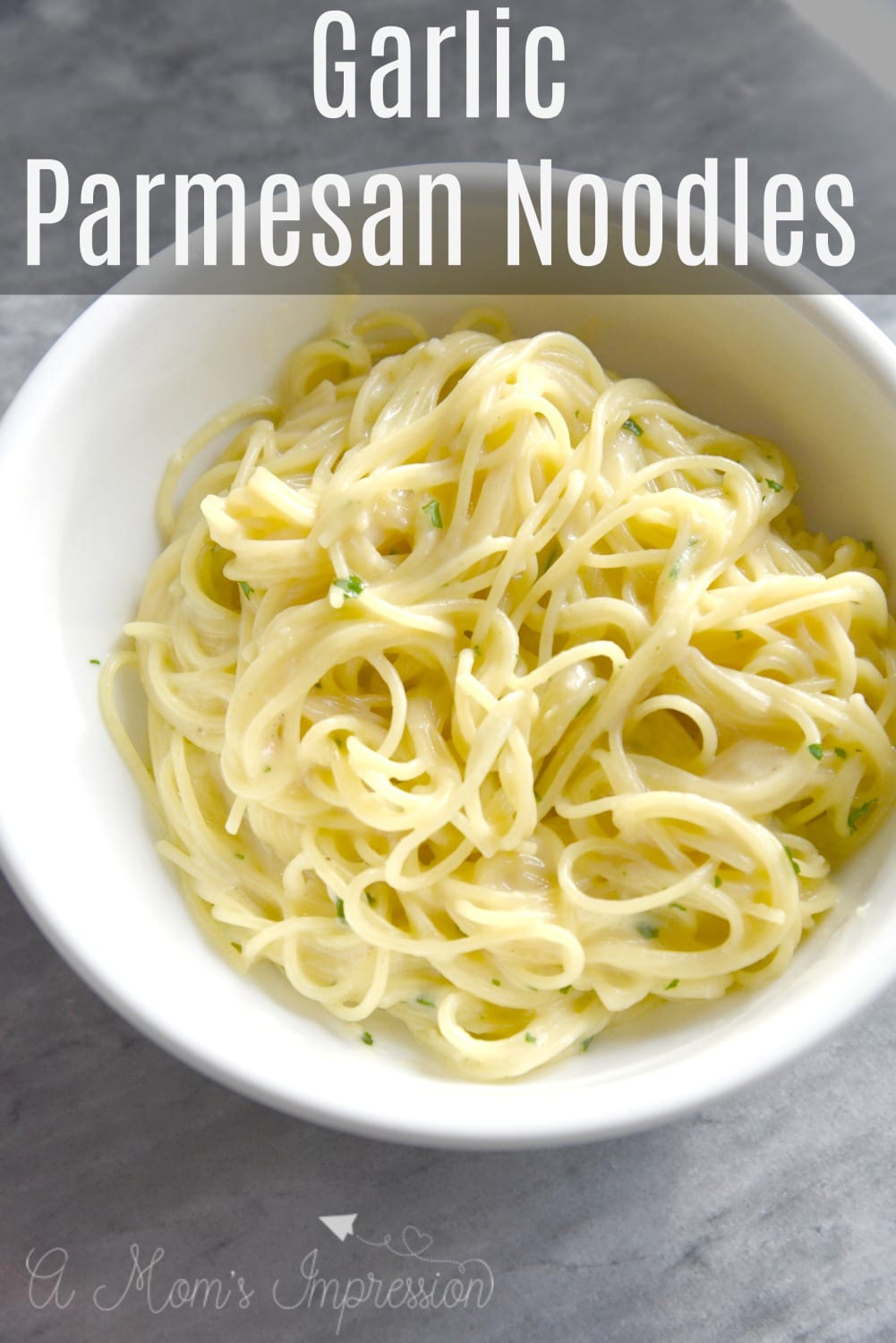 Why You'll Love This Recipe
These Garlic Parmesan Noodles are gonna be a game changer in your weekly meal planning!
It's a lot like Alfredo, but not nearly as heavy! But it still has that delicious rich flavor! And, have I mentioned how quick and easy it is yet! I have? Oh, sorry! I really want to get this across!
I realized the other day that my life isn't going to get any less busy. As my kids are getting older they are adding more and more activities into their schedules and I am running around trying to keep up. I do love the hustle and bustle of a busy life, but sometimes it makes dinner a little more difficult to get on the plate. I end up turning to a few meals that I know I can make quickly, the problem is that my family and I get bored of the same old thing.
I love this super simple type of recipe with just a few ingredients. And, I'm willing to be, you probably already have these ingredients in your pantry! I know I can get it made quickly, it's super kid friendly and I know it will please even the pickiest of eaters!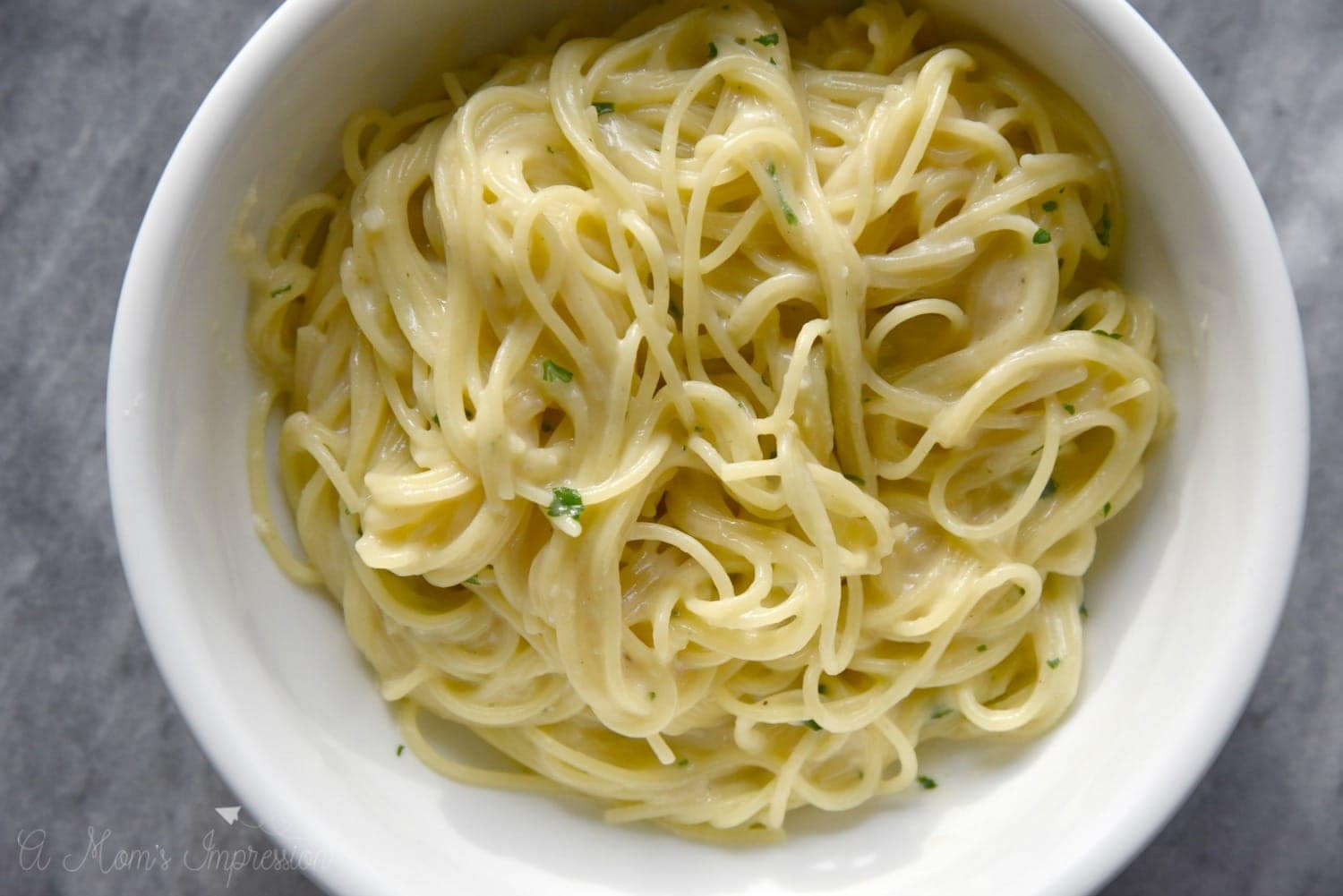 One-Pot Garlic Parmesan Noodles Video Tutorial
While the kids are now back in school, the summer isn't over! We have a cookout planned for this weekend and entertaining hasn't stopped. I created these super simple one-pot garlic parmesan noodles in under 20 minutes with the help of Dorot Garden crushed garlic, but you can substitute regular fresh garlic and it will be just as tasty.
Check out my fun little video!
See how simple it is to make a delicious one-pot pasta in minutes. Each cube of the crushed garlic is the equivalent of one clove of fresh garlic, just prepare the recipe the same way I show you and the result is a creamy bowl of garlic noodles!
Garlic Parmesan Noodles
EXTRA VIRGIN OLIVE OIL – We always suggest using a quality EVOO. Don't get the cheap stuff at the store!
BUTTER – We use unsalted butter. But you can use salted if you'd like. You just may need to add less salt later.
CRUSHED GARLIC – We actually used Dorot Gardens fresh portioned garlic. It's a super big time saver! But you can crush and mince your own fresh garlic!
CHICKEN STOCK – You can certainly use vegetable stock, which would make this dish completely vegetarian friendly.
PASTA –  We think Angel Hair Pasta works amazingly in this dish. But you can also use Fettucini, Linguine, Spaghetti, Penne, Macaroni or Rotini pasta!
PARMESAN CHEESE – Please use freshly grated parmesan cheese in this recipe.
HALF AND HALF – Adds the perfect amount of creaminess to this dish. You can substitute for another type of dairy if you'd like. 2% milk or even almond milk. Just not that this will influence the texture of the dish.
SALT AND PEPPER – To taste.
PARSLEY – Fresh, chopped parsley to taste.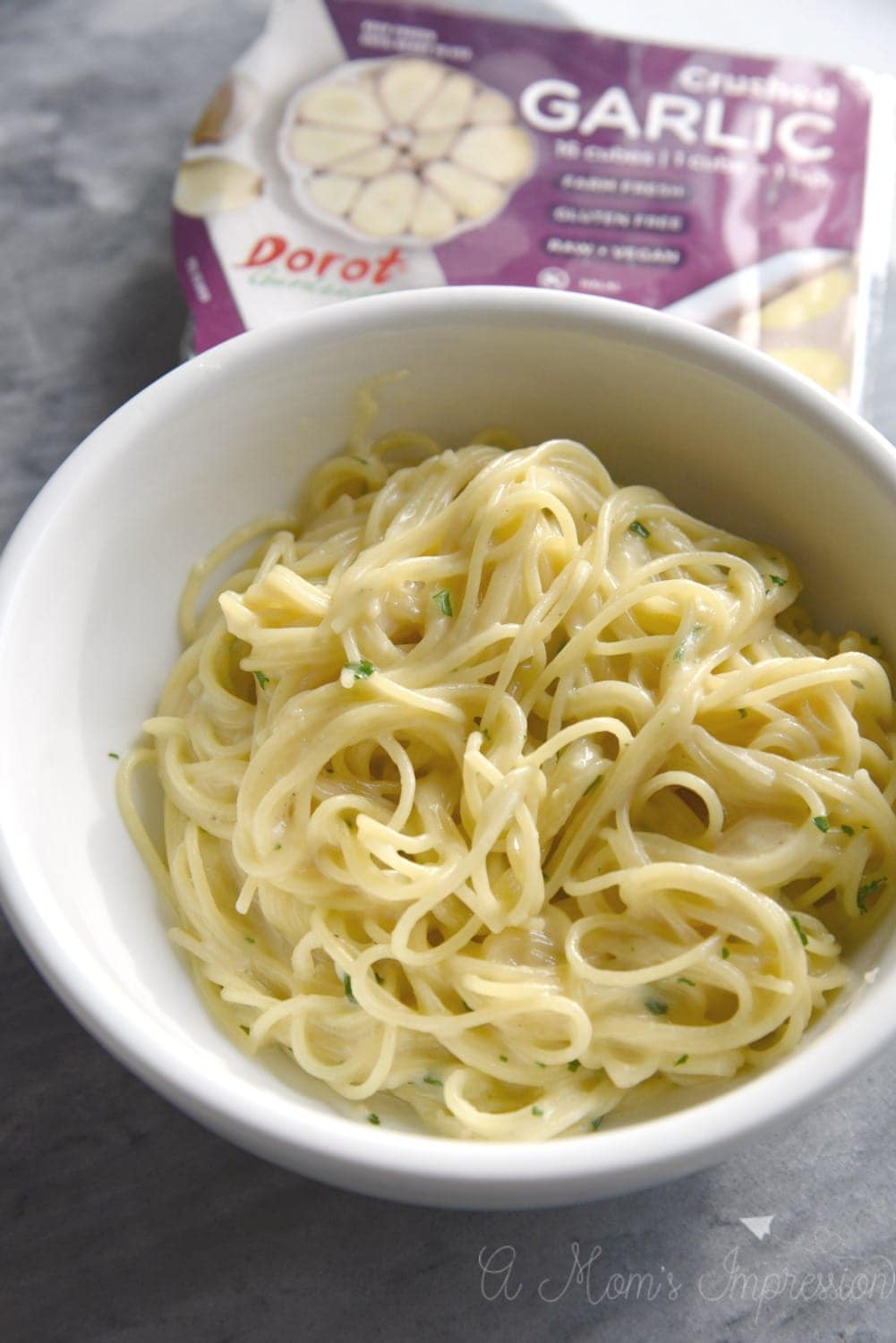 Storage and Leftovers
You can keep your leftovers in an airtight container in your refrigerator for 3-5 days. This recipe reheats fantastic in the microwave! You may just want to add a little splash of water or (better yet!) butter before reheating it.
I would not freeze Garlic Parmesan Noodles.
Notes, Tips and Variations
DO YOU NEED TO RINSE THE NOODLES? – Sometimes it is necessary to rinse the starch off of pasta before cooking. That is not the case with this recipe. Just throw the noodles right into the pot!
ADD HEAT – I love adding a little heat to just about everything. This dish is no exception. You can sprinkle some red pepper flakes in there. Or even slice some jalapenos and cook them with the pasta.
ADD PROTEIN – Looking to make this dish stretch a little further? You can always add chicken. Simply cook the chicken separately, dice or cut into strips and then add in with the pasta as it finishes cooking. You could also add some cooked shrimp.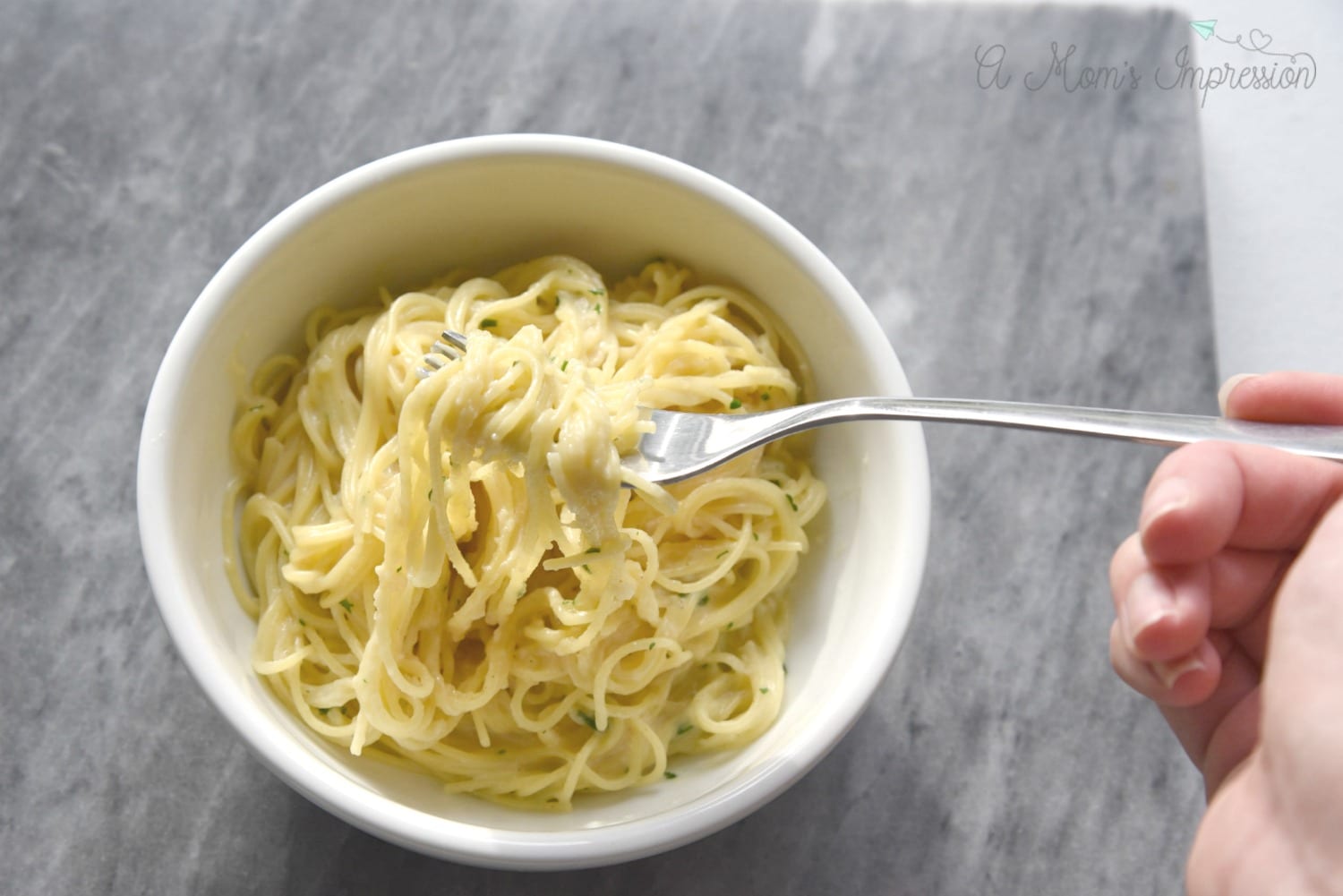 We hope you enjoy this recipe for Garlic Parmesan Noodles! We'd love to hear how it turned out in the comments section below!
LOOKING FOR MORE PASTA RECIPES? CHECK OUT: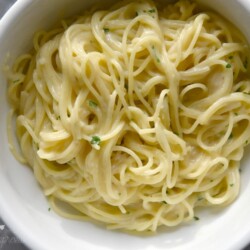 This creamy garlic parmesan noodles recipe is perfect to make on busy weekday nights for the family. Made in under 20 minutes and in one pot, your kids are going to love the cheesy taste and you are going to love the easy cleanup!
Ingredients
4

teaspoons

olive oil

2

Tablespoons

butter

5

Cubes Dorot Crushed Garlic

3

cups

chicken stock

8

oz

angel hair pasta

1

cup

freshly grated Parmesan cheese

3/4

cup

half and half

1/2

teaspoon

salt

1/4

teaspoon

pepper

fresh chopped parsley

to taste
Instructions
Heat a large saucepan over medium heat and add olive oil and butter. Allow to melt and then add your Dorot crushed garlic cubes followed by salt and pepper. Stir together until garlic is warmed through.

Add chicken stock directly to your saucepan.

Turn heat up to high and bring to a boil.

When boiling, add your angel hair pasta and cook according to the package directions.

When pasta is done cooking take your pan off the heat and add half of the parmesan cheese. Stir until completely melted and then add the other half of the cheese. Keep stirring until creamy and completely melted.

Once the cheese has melted add your half and half stirring to incorporate. You may need to adjust the amount according to how creamy you want your pasta to be.

Garnish with your chopped parsley.

Enjoy
Nutritional information is an estimate and provided to you as a courtesy. You should calculate the nutritional information with the actual ingredients used in your recipe using your preferred nutrition calculator.
Sharing of this recipe is encouraged and appreciated. Copying of full recipe to any social media is prohibited.