Are you ready for a brand new adventure with old friends? The sequel to the highest grossing animated film of all time is here! Frozen 2 releases into theaters tomorrow November 22nd! Does it live up to all the hype? Read on to find out!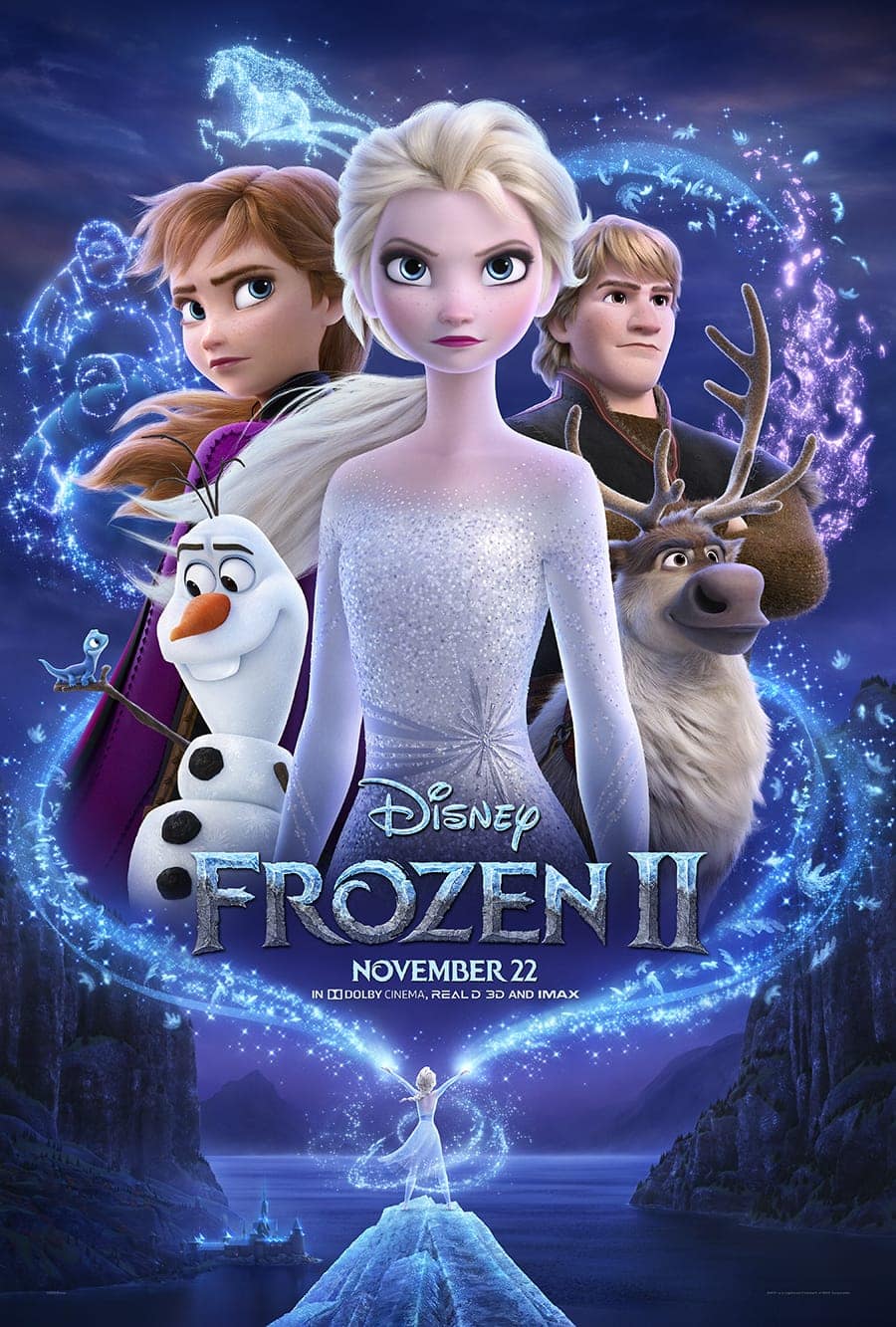 Six years ago yesterday, I walked the red carpet for Frozen. It was an experience of a lifetime and I will never forget it. I remember the first time I learned that Disney was making The Snow Queen into an animated film. It was during the Wreck It Ralph press day when we took a tour of the Disney Animation building and we saw some of the initial sketches. I remember thinking to myself that a snowman as a sidekick was going to be a huge flop. I am still laughing every time I think about it.
It was about an hour into the premiere that I knew Disney had created something special.
Six years later they are finally releasing a sequel. I can only imagine the pressure that would come with doing another Frozen movie, after all it is the highest-grossing animated film of all time. It has a lot to live up to.
Frozen 2 Synopsis
Why was Elsa born with magical powers? The answer is calling her and threatening her kingdom. Together with Anna, Kristoff, Olaf and Sven, she'll set out on a dangerous but remarkable journey. In "Frozen," Elsa feared her powers were too much for the world. In "Frozen 2," she must hope they are enough. 
Frozen 2 starts with Elsa and Anna as kids, listening to their dad tell a story about an enchanted forest. You gather right away that this story is more than just a fairy tale, but the young kids don't realize this. Fast forward to the present and we see how our favorite Arendelle citizens are doing.
Of course, everything isn't always perfect and Elsa starts hearing voices calling to her, she tries to ignore them but we all know how that usually ends up. Suddenly, Arendelle isn't safe anymore and it is up to our heroes to save it once more!
Meeting New Friends
There are a couple of new sidekicks, Gale (the wind) and Bruni the salamander who is absolutely cute. They don't play a huge part in the film, but are essential to the quest at hand. Bruni is going to make for some adorable Frozen II toys this holiday season, fair warning parents!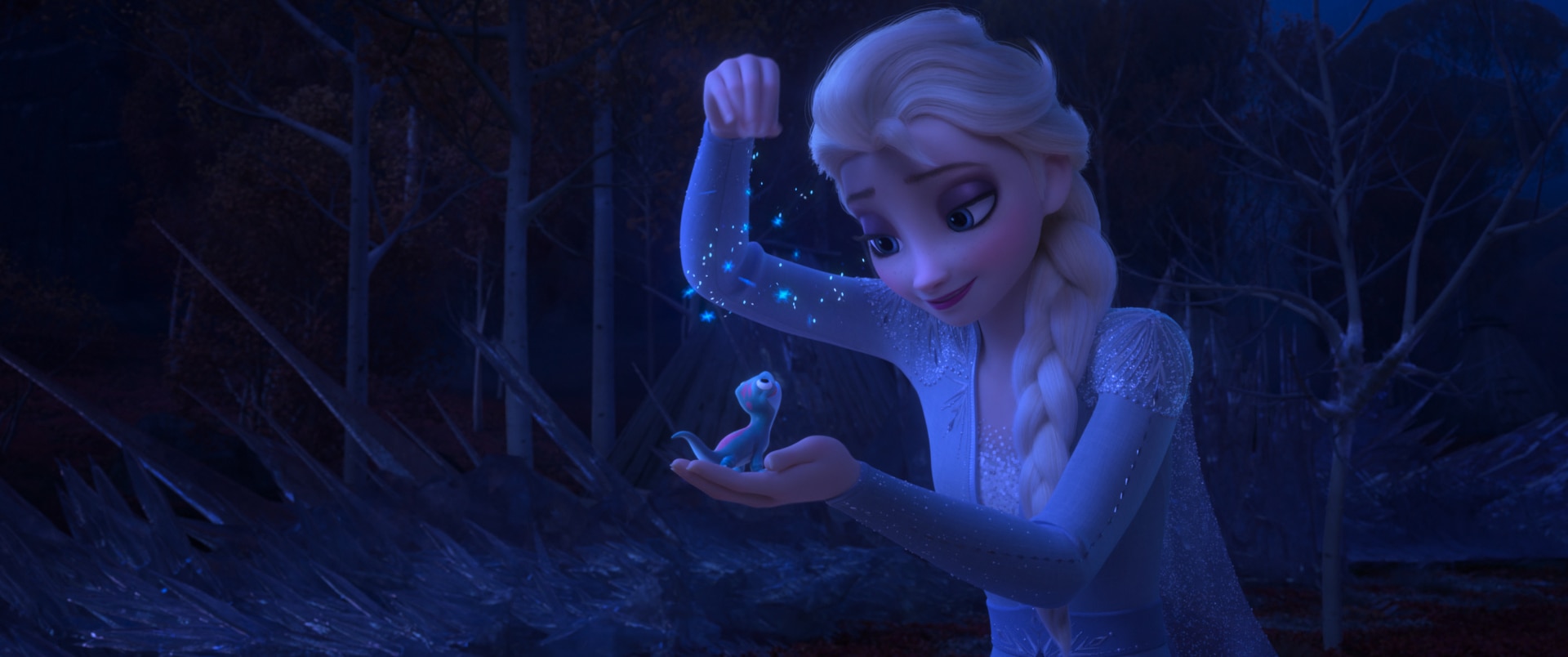 I don't want to spoil the new human friends we meet in the forest, but I think that they bring a nice addition to the story. The new characters remind us that family isn't always who or what we remember and loyalties are tested in this new film.
My Thoughts
There are all kinds of wonderful messages in this film that I want my kids to hear. Olaf is confused and growing up and dealing with all kinds of emotions that our kids deal with every day. It is nice to have a character talk about this things in a manner that kids can relate to. He was my favorite character in this story, I have never heard my daughter laugh so much and so loud during a movie before than with Olaf this time around.
The sisterhood bond is present in this film just as strongly as the first one. I love that family is the central love story in the Frozen franchise and that the romantic love plays a back seat. It is refreshing in a princess movie and again, something I want my kids to be exposed to.
Most of the questions I have been asked from family and friends is about the music. Is the music as good as the first film? What is the new "Let It Go" song? I can tell you that in my opinion the music was really, really good, but when I left the movie theater I started humming, "Do you want to Build a Snowman" from the first film.
That should tell you something.
The music is really good, but it isn't as good as the first film.  I do love that every character has a great song of their own to sing. Olaf's was especially a hit with the kids. I personally loved Kristoff's ballad in the middle of the woods. And there is an Elsa song that I'm sure you will hear a lot, but not as much as "Let it Go".
Overall, I thought Frozen 2 was a fantastic movie that stands on its own. If you want me to compare it to the original then I would have to say that it falls a little short but that doesn't mean that it wasn't a good movie. It was funnier than the first one, yet darker. It made me laugh, it made me cry, and any animated movie that can stir up those kind of emotions in 90 minutes is a great movie!
Is this Film Kid-Friendly?
If you noticed this Disney animated film is rated PG. I think it is rated PG for a reason. There is a lot of personal loss that gets discussed in this film. There is a scene between Anna and Olaf that I was sobbing in, so while there isn't any bad language, it is a very emotional film and I think that is why the PG rating is valid.
There is also a part of the movie with some rock giants that scared my 7 year old a tiny bit. She is a little sensitive, so if you have sensitive kids too that is something to be aware of. It was just a couple scenes of the movie that affected her, most of the time she was laughing hysterically!
Frozen 2 is flying into theaters tomorrow November 22nd.
Thank you to Disney Studios for inviting my family to a screening of the film.
For more movie fun check out the Cinemark Summer Movie Clubhouse!