So how does one come up with a story about the emotions inside your head?  In April I met with Inside Out Co-Director Ronnie del Carmen & Story Supervisor Josh Cooley about how the story of Riley and her emotions became the newest Pixar animated film.  The process from the script to the final product is  long and very tedious but you are going to love the result when Inside Out opens in theaters this Friday!  The talented staff at Pixar used their own experiences to come up with the story, they even ended up doodling each other as the characters.
In animation it all begins with a story.  The first step in creating the movie is to tell the story verbally.  All the animators sit together in a room and read the story verbally.  If they liked it then they type it out and put it into pictures (story boards).   Ronnie del Carmen and Josh Cooley demonstrated  what a meeting  would look like where they walked through a story board.  They were the voices of the characters.
Story boards have been used since the beginning of animation and while the scenes are now drawn digitally, the process is pretty much the same.  Using small drawings by animators the animators find out if they care about the scene and if they do, it will be placed in the story.  They will go through each sequence a few hundred times!
The characters began with basic shapes and went through a ton of transformations.  Ronnie del Carmen and Josh Cooley told us that the hardest character to bring to life was Joy.  It is hard to make a character who is happy all the time seem genuine.  They said that Amy Poller really helped with bringing that character to life!
The demonstration didn't end there. They even showed us how to draw the emotions!  Here is my take on Anger…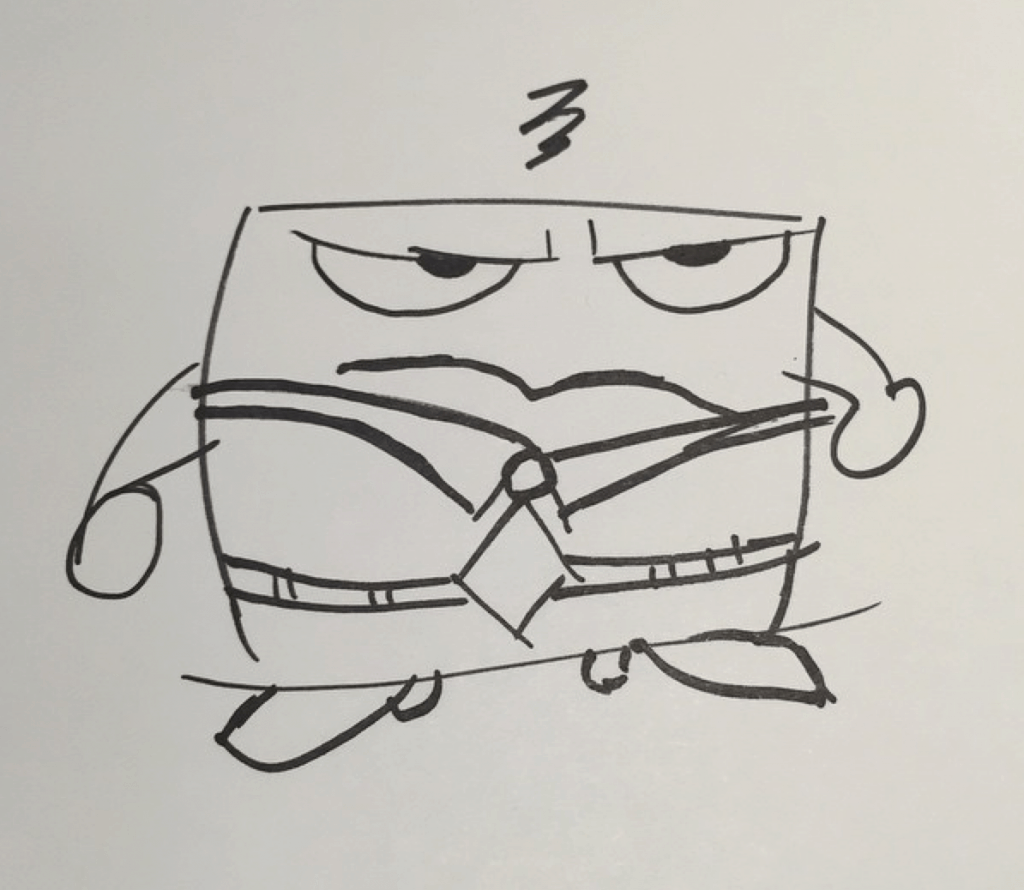 While I may not be the next big animator for Pixar, I think I captured his essence okay.
While Ronnie del Carmen and Josh Cooley told us that they weren't sure how kids were going to respond to the story, after watching the first hour of it I can tell you that it is going to be a huge hit with kids and adults alike!  I have already planned my visit to the movies this Friday, have you?
I am going to leave you with the trailer to Inside Out and hope you go and see it with your family this weekend!

Mark your calendars for June 19 when Inside Out hits theaters everywhere!
Be sure to check out all my behind the scenes coverage of Inside Out, click here!
A huge thank you to Disney for flying me out to SF and covering my hotel during the #InsideOutEvent!