You don't have to take all the fun out of the holidays in order to focus on healthy eating this season.  There are some yummy ways to get the nutrients that your body needs.
This post was sponsored by Optimum Nutrition as part of an Influencer Activation and all opinions expressed in my post are my own.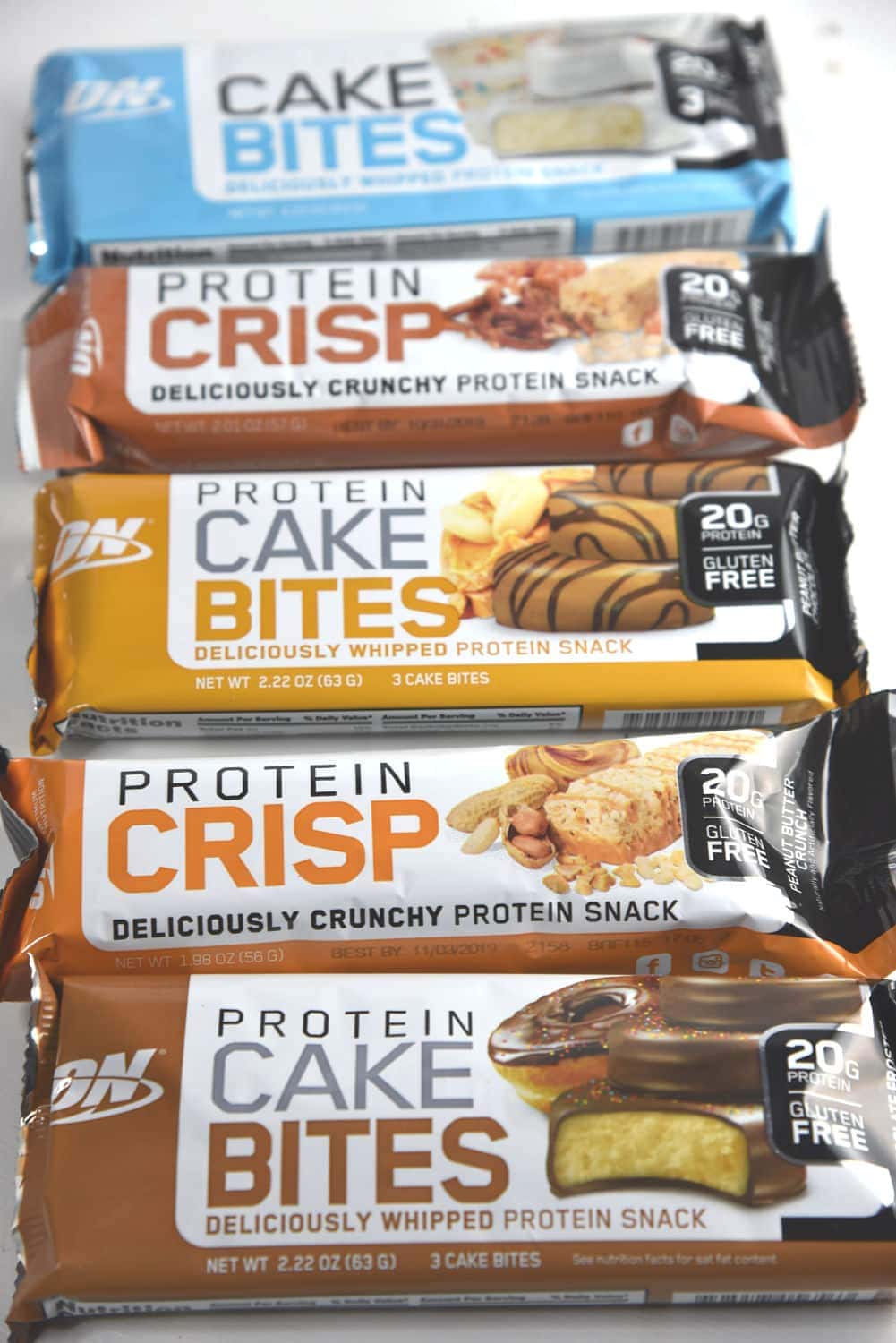 Eating Healthy During The Holidays
When I think of the holidays, a lot of wonderful things come to mind.  Fun, family, decorations and gifts are all part of what I love about this season.  But if I'm being honest, one of the things that I love most about this time of year is the food.  First, we have Halloween.  My house is filled to the brim with candy-coated treats that always seem to be within arms reach.  Then, just a couple of weeks later, we find ourselves at the dinner table with family and friends for the feast of all feasts:  Thanksgiving!   Turkey, dressing, mashed potatoes, green bean casserole (my favorite) and pumpkin pie.  All of this is closely followed by Christmas, which gives us plenty of opportunities to eat more candy, cookies and another huge Christmas dinner.    But we aren't finished yet.  Nope. New Year's Eve is right around the corner for one more night of poor dietary choices.  Needless to say, a lot of us go into the new year a couple of pounds heavier than we were at the end of the summer!  I suppose that is what New Years resolutions are for!
My Goal This Holiday Season
This year, I really am going to focus on eating a little bit healthier.  In reality, it won't be that much of a sacrifice.  I think the key to success is having a solid plan in place.  Except for those big feasts I mentioned above, the meals aren't what really gets you during the holidays.  It is all the snacks that are available in between.  It is the Christmas cookies and Halloween candy.  They lay there on the counter and in the pantries, quietly calling your name.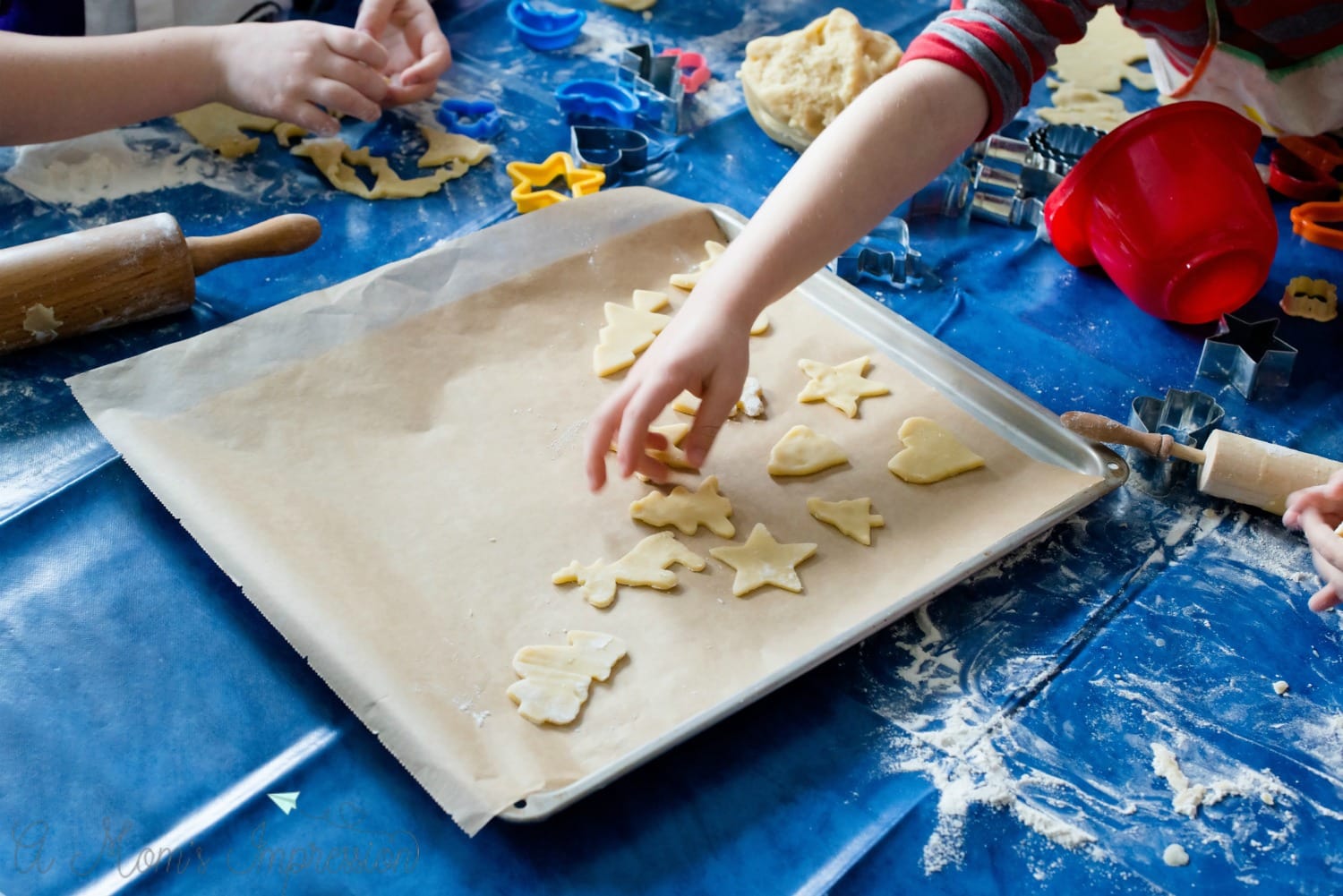 So, this year, my plan for healthy eating is going to be focused around my snacking. I just need a plan.  I need something to replace all of the temptations that I know will be lying around my home.
We are all guilty of wandering through our kitchen and perusing to find a between-meal snack.  Or maybe you stroll back to your break room and gaze at the options in the vending machine.  This is often when the mistakes happen.  If this sounds like you, I have an option that will give you a tasty snack while still focusing on health and wellness.
Optimum Nutrition
Optimum Nutrition has a wide variety of products that will help you maintain your goals of wellness and health this season. From their protein cake bites and protein crisps to their protein almonds, Optimum Nutrition will be my go-to snacking option during the holidays.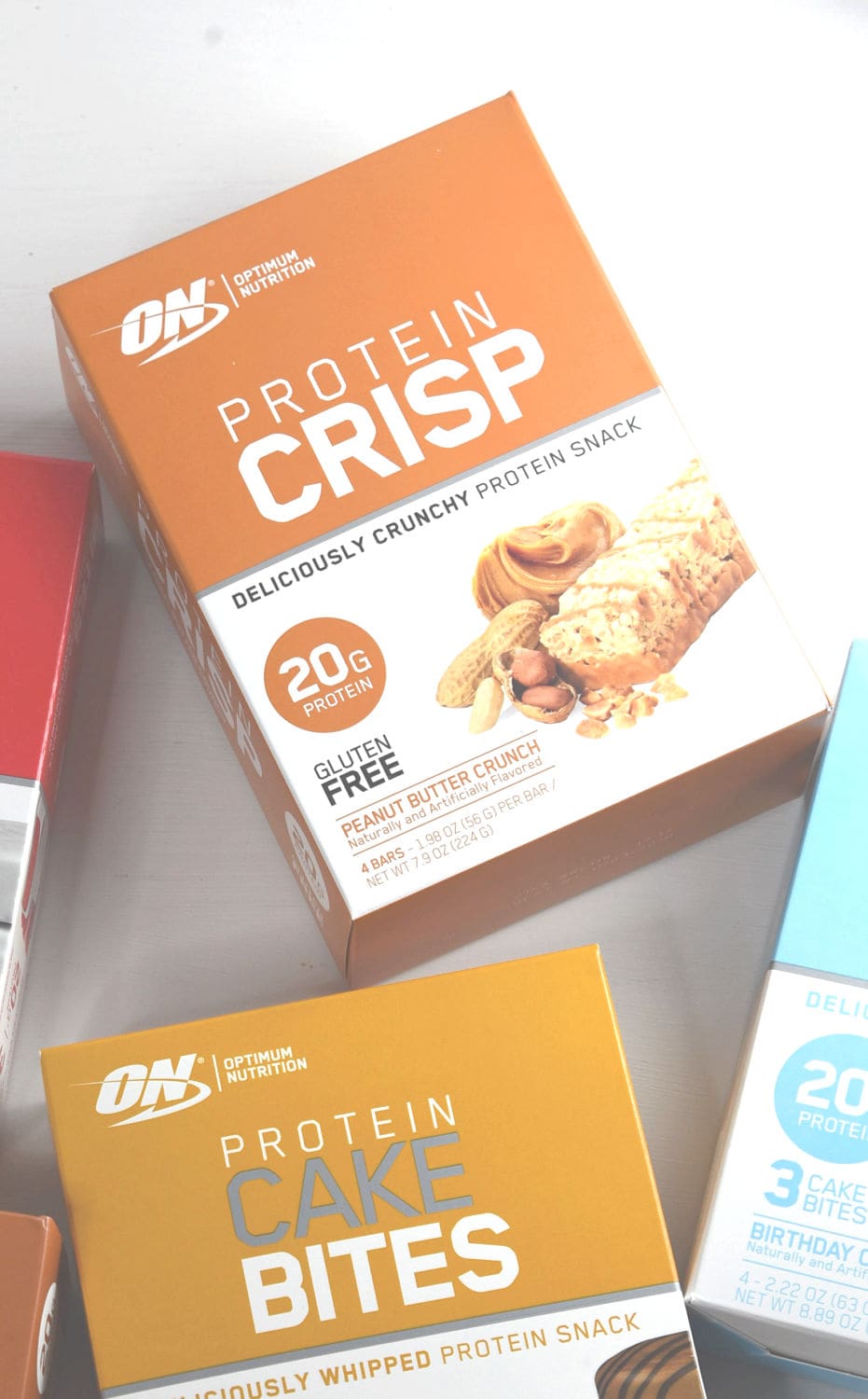 First of all, all of their products just look delicious.  Their cake bite options include Red Velvet, Birthday Cake, Chocolate Frosted Donut and Peanut Butter Chocolate.  With 20 grams of protein and only 2-3 grams of sugar per serving, who needs Christmas cookies this year?  These cake bites are also great options for my two kids as an after-school snack.  They always come home hungry looking and I feel great about giving them these options.  My son's favorite is Chocolate Frosted Donut and my daughter loves the Birthday Cake.  She loves her sprinkles!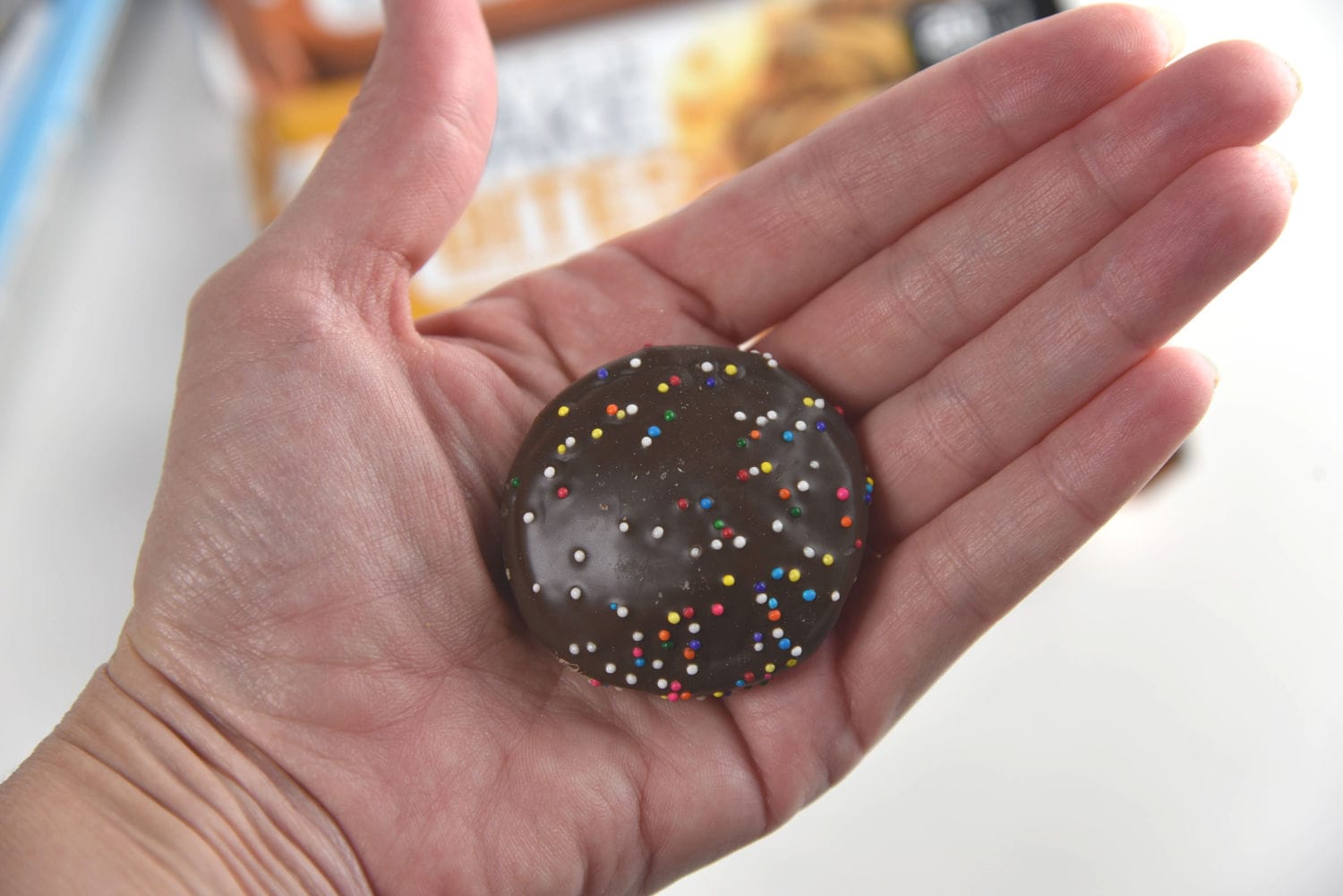 My favorite option from Optimum Nutrition is the Protein Almonds.  This is the perfect snack for me.  They come in two flavors, Dark Chocolate Truffle, and Cinnamon Roll.  I absolutely love the Dark Chocolate Truffle.  These have 10 grams of protein and only 1 gram of sugar per serving.  I love that I can just grab a handful of them and go or put them in a ziplock baggie for travel.  This is the ultimate on-the-go snack.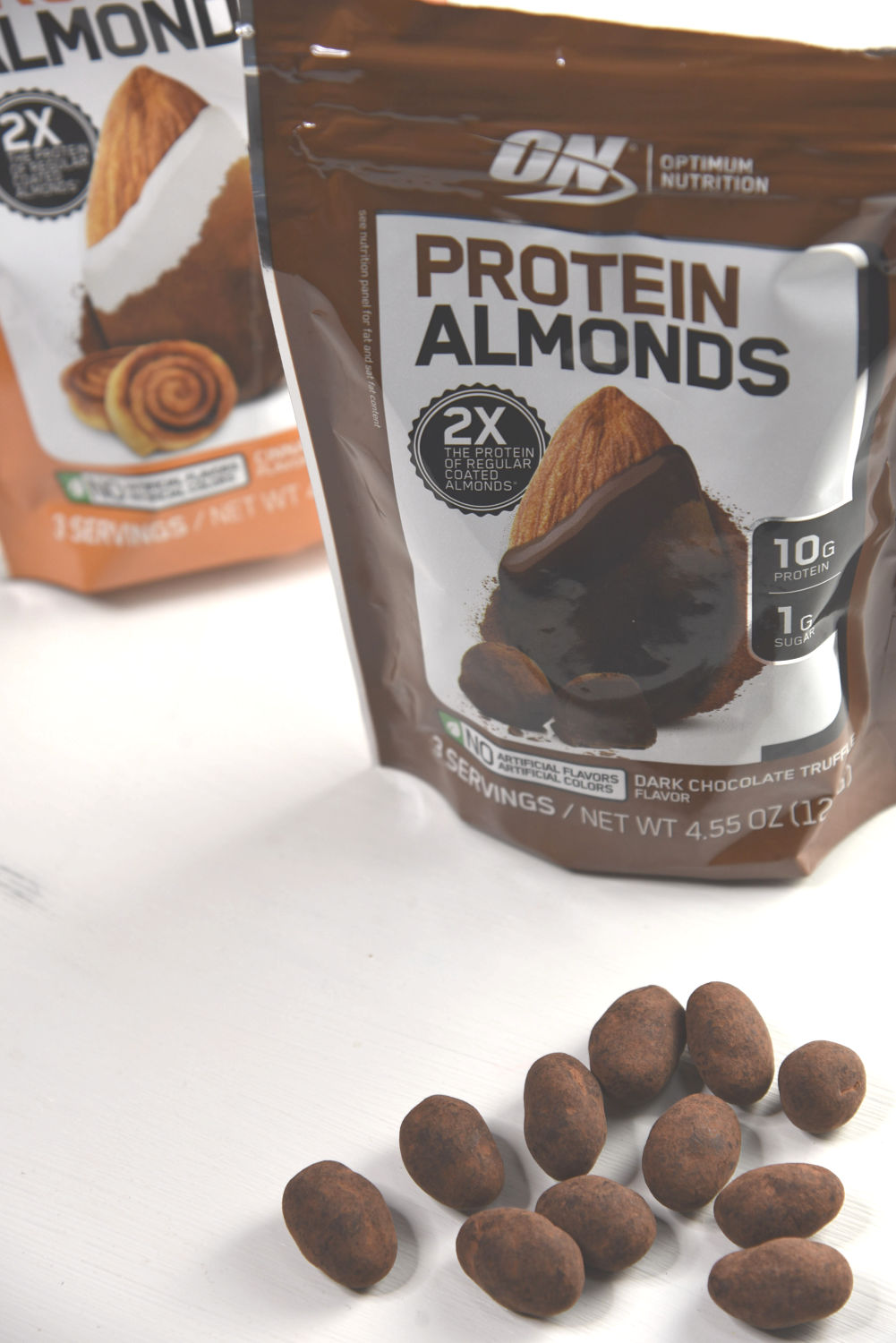 My son also really likes Protein Crisps.  His favorite is Peanut Butter Crunch.  These are great in the car on the way to his soccer games.  With 20 grams of protein and only 6-7 grams of fat per bar, they will give him the energy he needs to get through practice and make it to dinner.
Where can you buy Optimum Nutrition Products
We always make sure we stock up on our Optimum Nutrition products when we do our weekly grocery shopping at Walmart.  We love shopping at Walmart because of their every day low prices, great selection and helpful staff.  Walmart is also great because you can save time by doing your shopping online and opting for curbside pickup.  Just head to Walmart's website to find out more information on their available Optimum Nutrition products.
So, Merry Christmas, Happy Holidays and good luck on your healthy eating.  This year, let's leave all the cookies for Santa.