This is a sponsored post written on behalf of Affirm, Inc. All opinions are my own.
As I have encroached into my 40s I know for sure now that I am lucky to have my beautiful and inspiring wife and also proud to have my amazing children.  Even though I know these things to be true, it is still very important to me that I keep some of things that I am passionate about in the forefront of my day to day life.  I think that we all have these things.  But, unfortunately, as families and careers and responsibilities take off, sometimes they get buried.  Playing music is something that been imperative for me to do in my spare time since I was a teenager.  I absolutely love playing guitar.  Being creative is a wonderful release for me, I have made a ton of lifelong friends and I am addicted to the rush of standing on stage in front of a crowd performing.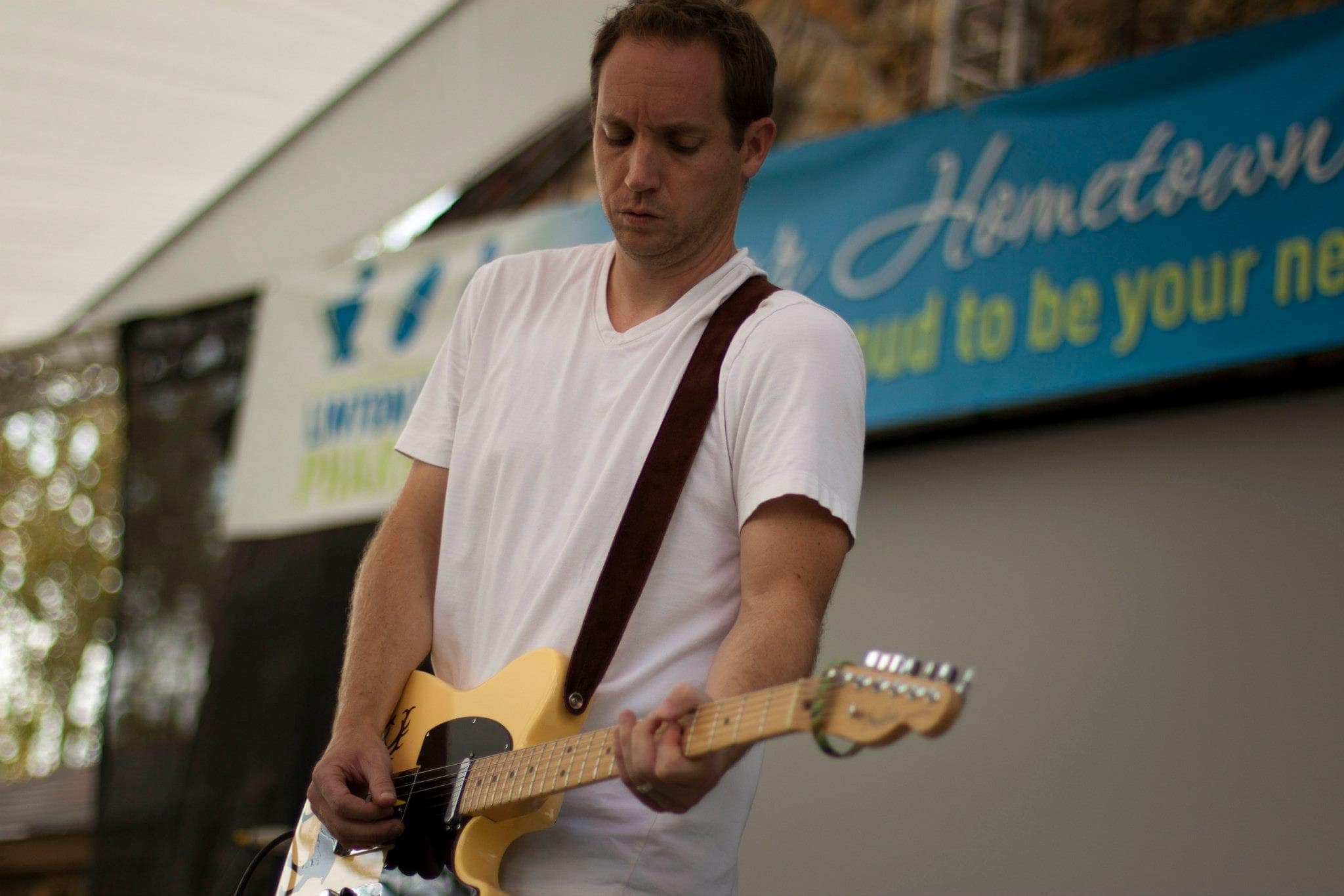 I have been very fortunate to marry a woman who lets me keep music in my life and has never said a bad word about a weekday band practice or a late night gig at a bar.  She knows it is an important part of who I am.  She accepts it and supports it.
This time of year is a very busy season for my bandmates and I.  This is when a lot of the bars around town really start booking a lot of shows for the summer.  Although many bars have live music year round, here is the Midwest it really gets busier in the warmer weather when patios and beer gardens begin to open.
I have recently joined two brand new bands that have a lot of potential and I am extremely excited to get them out in public to perform.  I just had one problem.  My effects pedals for my guitar rig are outdated and in disrepair.  Some of them don't work very well anymore and some of them don't work at all.  I am currently borrowing two pedals from a friend and will need to give them back to him soon.  Guitar effects pedals are an important part of the sound I am able to provide the band I play with. They are also very expensive (but SOOOO cool). I was estimating that it would take about $500 to update my pedal board as needed. I needed to find an easy way to finance music equipment. Ughhhhh….
One of my favorite online shopping vendors is Reverb.com.  If you are in need of music gear (or even if you aren't and you just like drooling at cool stuff!), this should be the first place that you look.  It is a sleek and efficient site that makes finding the perfect addition to your gear so easy.  So when I heard that Reverb.com was now using Affirm, the new consumer credit program co-founded by Max Levchin (co-founder of PayPal), I figured this was a great opportunity to give it a try.
Finance Music Equipment the Easy Way
Affirm is trying to change the attitude a lot of us have about traditional credit.  We all fear hidden fees, compounding interest and fine print that would take a lawyer to explain to us.  Affirm is trying to be as completely honest and upfront about what you are entering into with them as possible.  They are trying to take the complexity of consumer credit and make it simple.
Signing up for an account with Affirm was incredibly easy.  We just went to Affirm.com and filled out the information requested, which was pretty basic stuff (name, email, date of birth, last 4 of your ssn, home address and phone number).  It was literally that quick.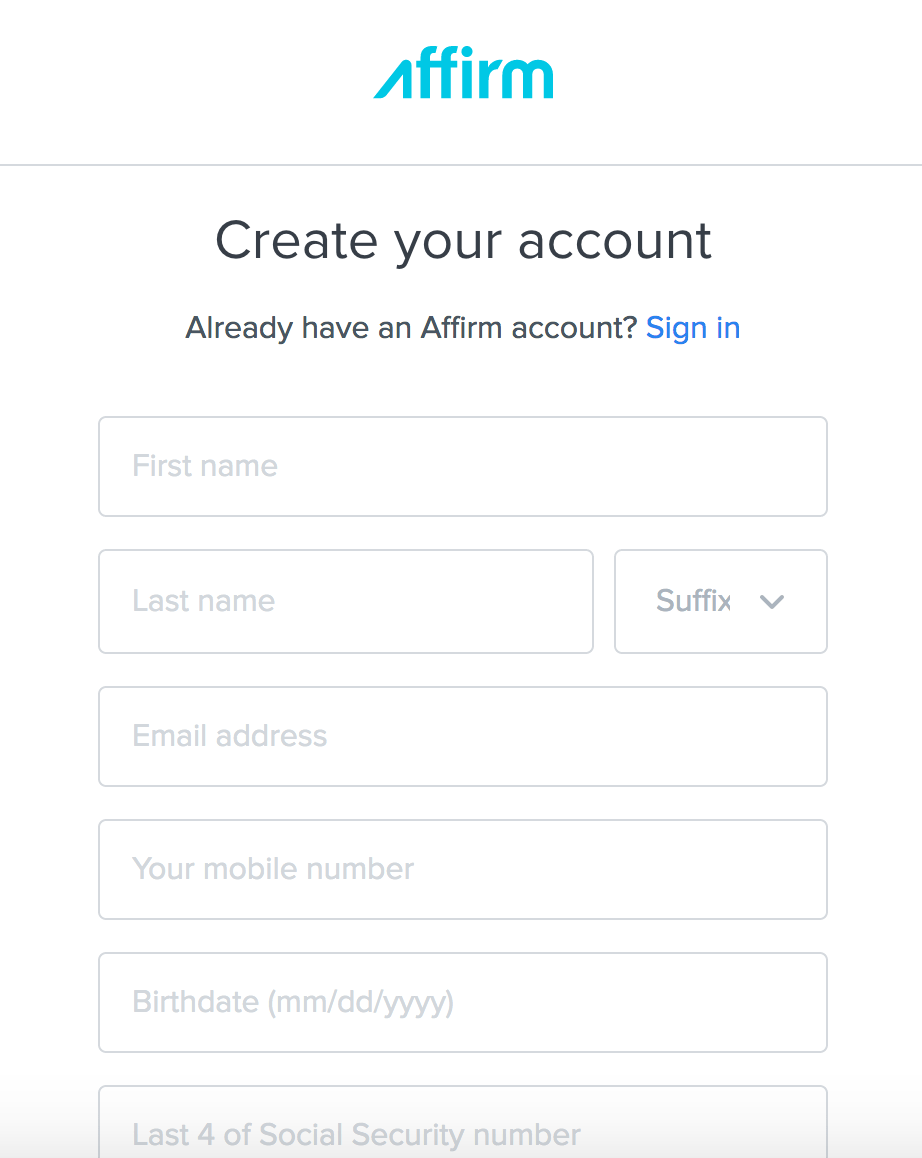 Once I set up and account with Affirm, it was time to shop!  I went back to Reverb.com and started picking out the pedals that I wanted to buy.  Once you select your product and it is time to check out, you just select to pay with Affirm and enter in your user name and password for your Affirm account.  It will then tell you whether your purchase clears with them.  I should note here, because it took me a bit to figure this out, that at Reverb.com, each individual item I bought needed to cost more than $150 to qualify to be purchased with Affirm.  So, I could not use Affirm to buy 3 pedals each costing $100 and totaling $300.  Even though the total was about $150, each item was not.  You have to check out each item individually and they each have to be over $150.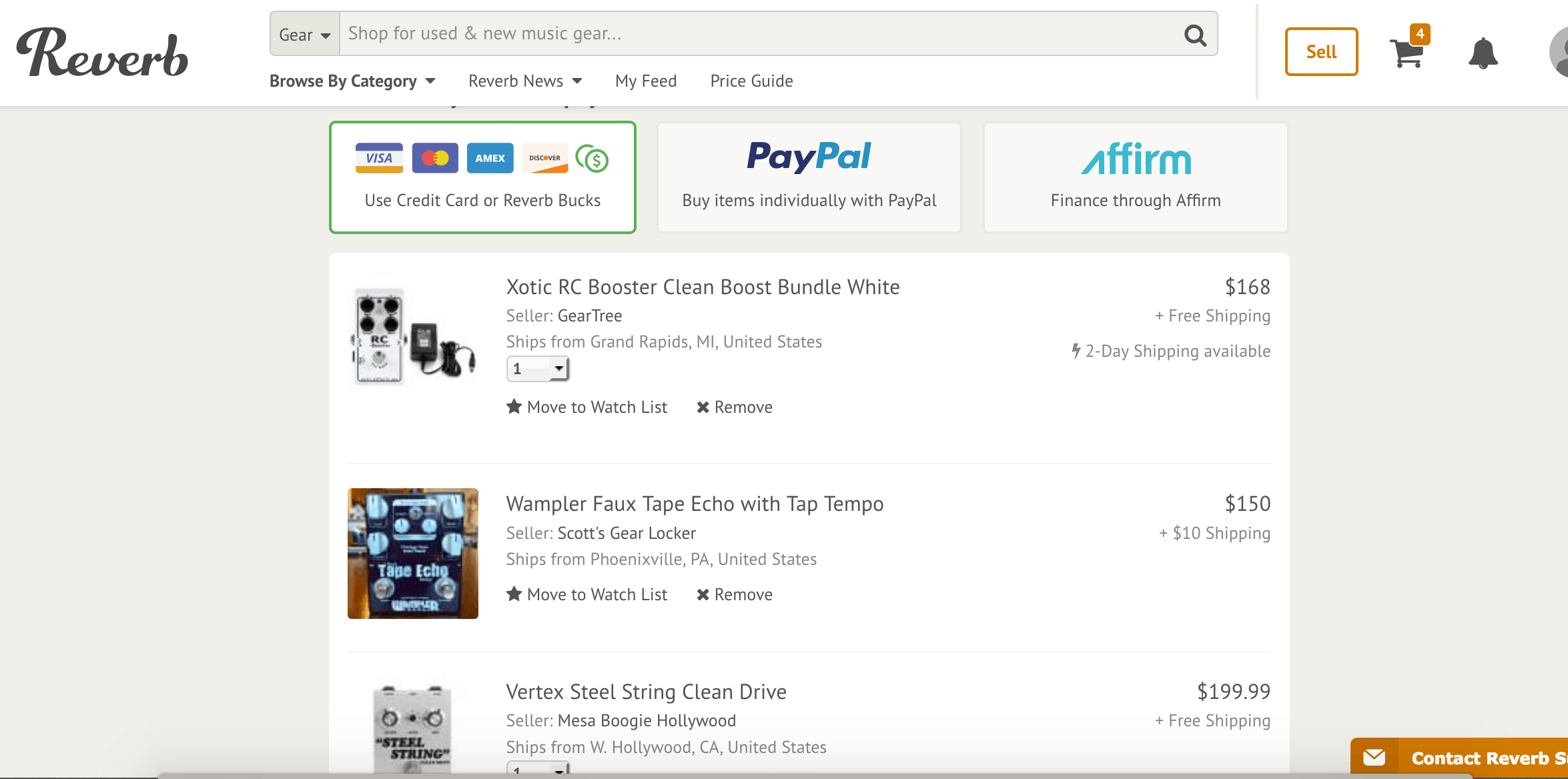 So how much was my line of credit?  Well, this is where Affirm deviates from most creditors.  There is no "revolving line of credit".  Customers can take out multiple loans at once and each one is created and treated separately.  When you first sign up for the account, Affirm does do a "soft" credit check to verify your identity and make sure you are eligible for the financing.  They state on their site that this check does not affect your credit score but that they do report your payment behavior to credit bureaus.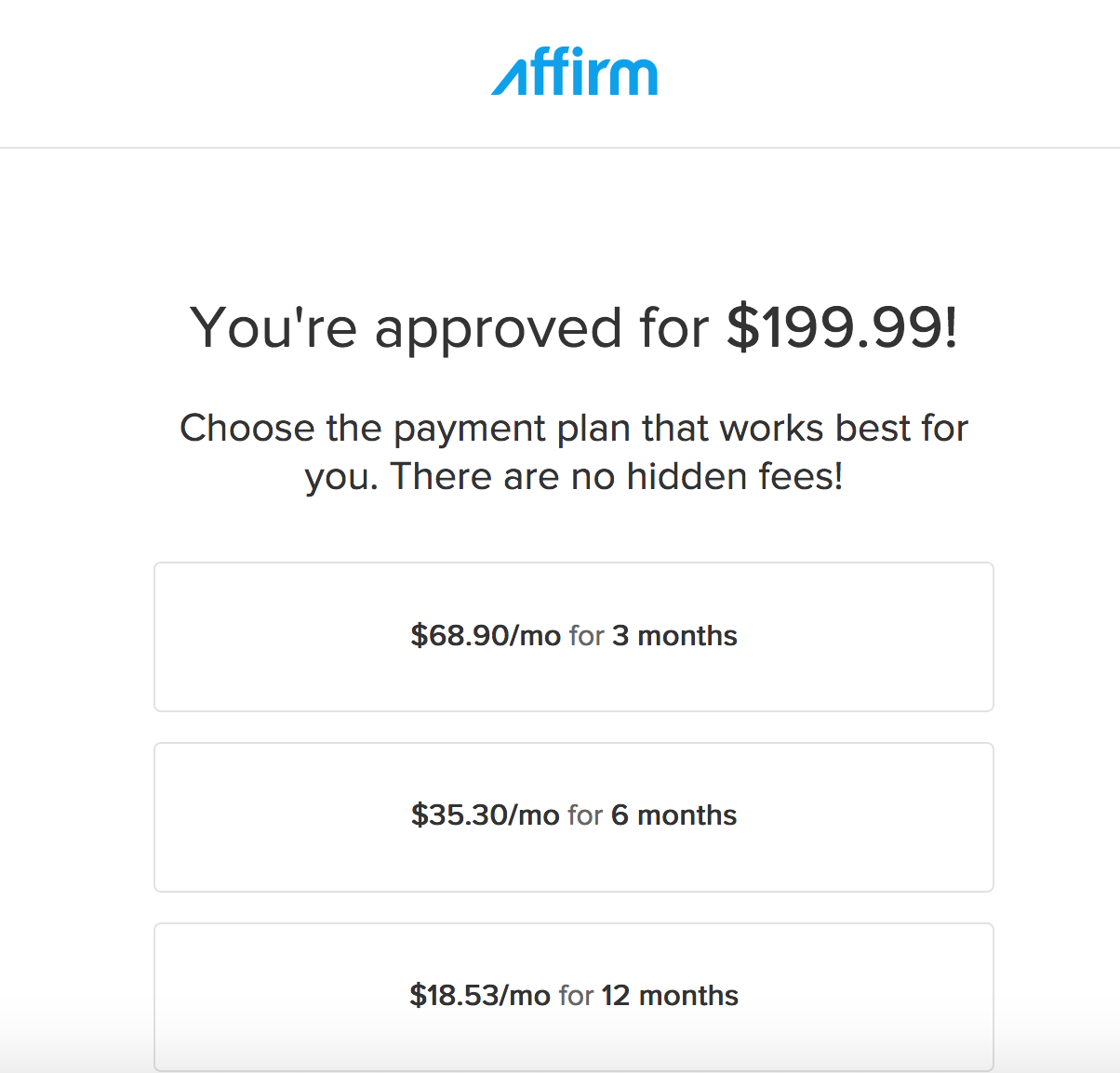 While my experience was extremely quick and very pain free, I literally hit a few buttons and the pedals were on their way to my home, it should be noted that not everyone may have this exact experience.  Depending on your credit score and payment history, Affirm may not be able to approve you for financing of the full payment of the purchase.  In this case, you will be asked to make a down payment.  They may also need more information about your financial situation and ask that you link your online checking account during the loan application.  They will ask you for you login information to your checking account.  They state that they do not store this information but simply pass these credentials to your bank via a secure service.  Again, this was not our experience, and I'm not sure what your financial history/situation has to look like for these steps to be necessary.  But it is important to make note of this in case you are prompted for this information.
Paying with Affirm
So.  What now?  What is my interest?  How do I pay my bills?  When is my first payment due?  What if I am late?  These are all good questions.  Affirm loans vary between 10%-30% APR, with some select vendors offering 0% APR.  My first payment will be due exactly one calendar month from when my loan was processed.   This finance charge is the only fee for using Affirm. There are no late fees.  There are no charges for paying your balance off early.  If you can't make a payment on time, just make it as soon as you can.  Again, there are no late fees.  Although these actions will be reported to the credit bureau and may influence your ability to get future loans from Affirm.  When you make a purchase over $100, you can choose a payment option of 3, 6 or 12 months.  For purchases between $50-$99.99, you can pay over 3 or 6 months.  Again, I had to make a purchase of over $150 to be able to use affirm, so I am guessing that threshold is something that Reverb.com set up, not Affirm. It appears that you can make purchases for less than $150 at other vendors that Affirm works with.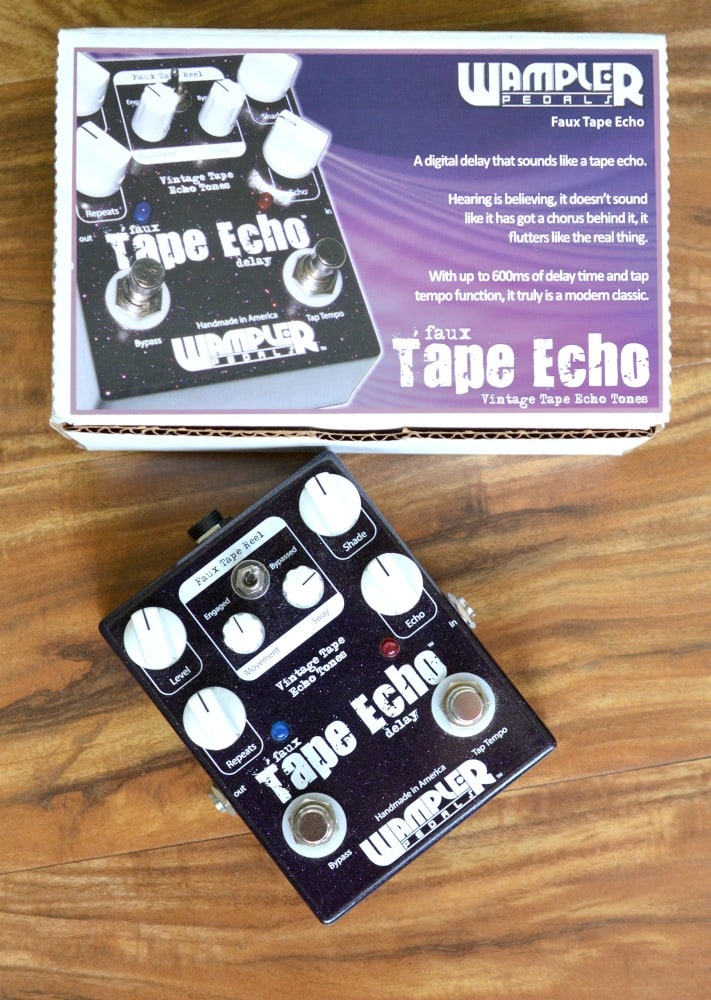 My experience with Affirm was quick, easy and clear.  Yes, there is an interest rate and yes, they are in business to make money off of that interest rate.  But I appreciate they are trying to simplify the process and be up front about everything.  So, I have three brand new guitar pedals on their way to me right now.  My only concern at this point is getting them set up just the way I want them before my big gig on Saturday night!
This is a sponsored conversation written by me on behalf of Affirm, Inc. The opinions and text are all mine.