'Tis the season to blast off into the engaging, interactive world of Starlink: Battle for Atlas. This is a family-friendly adventure game from Ubisoft that both parents and their kids can play together.

The reviewer has been compensated in the form of a Best Buy Gift Card and/or received the product.
My husband always says that he grew up in the perfect era. By the time he was around 6-years-old, video game systems started making appearances in households all over the world. Starting with Atari and the original Nintendo we now have the mesmerizing, immersive gaming systems available today. It is almost like my husband and video games have grown up and matured together.
Now that we have kids of our own, he loves to play video games with our 9-year-old son. They spend countless hours playing with (and sometimes against) each other in various sports and adventure games. While it is amazing that some of these games have harnessed technology to make such amazing experiences, my husband and I are both always cautious to not expose our son to anything too mature or intense. So, we are always looking for fun video games that are safe for them both to play together.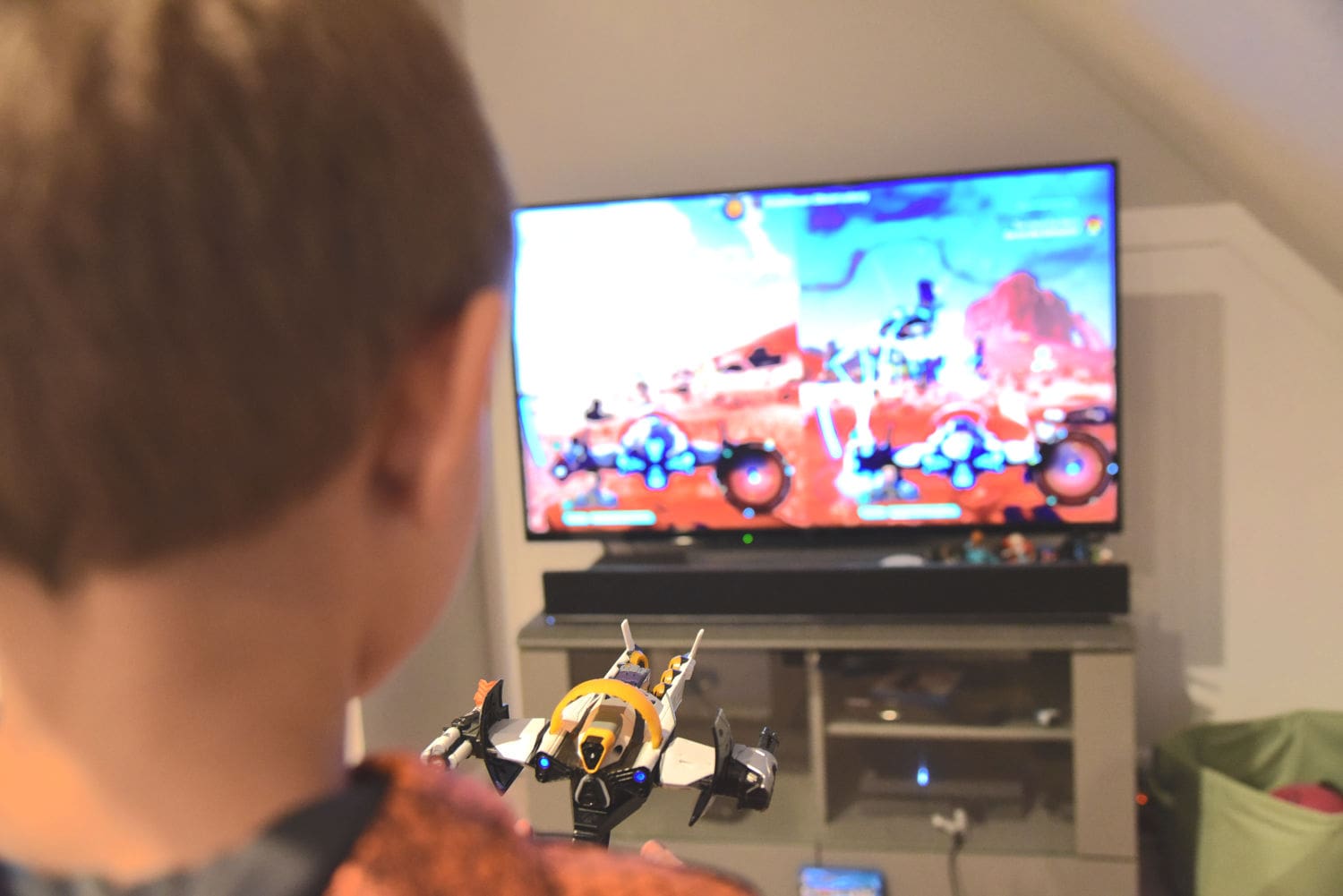 As our son has gotten a bit older, he has wanted more challenging video games. The "kids" games that he used to play just aren't doing it for him anymore. This is a challenging age range for kids and video games. You want them to be challenged and have fun, but you want to keep it appropriate for their age. It has sometimes been a struggle for us to find that perfect game.
This is why we were excited to try out the new title from Ubisoft, Starlink: Battle for Atlas.
Starlink: Battle For Atlas
After playing this game with his son for the past couple weeks, my husband says that this game is one of the best to come out in 2018 that adults and kids can play together. Starlink: Battle for Atlas is an action-adventure where you fight out in space and fictional planets to save the galaxy from an evil villain. Yes, this is a pretty familiar plot in a lot of video games that have come out before. But, where Starlink differs is the way you can customize your experience.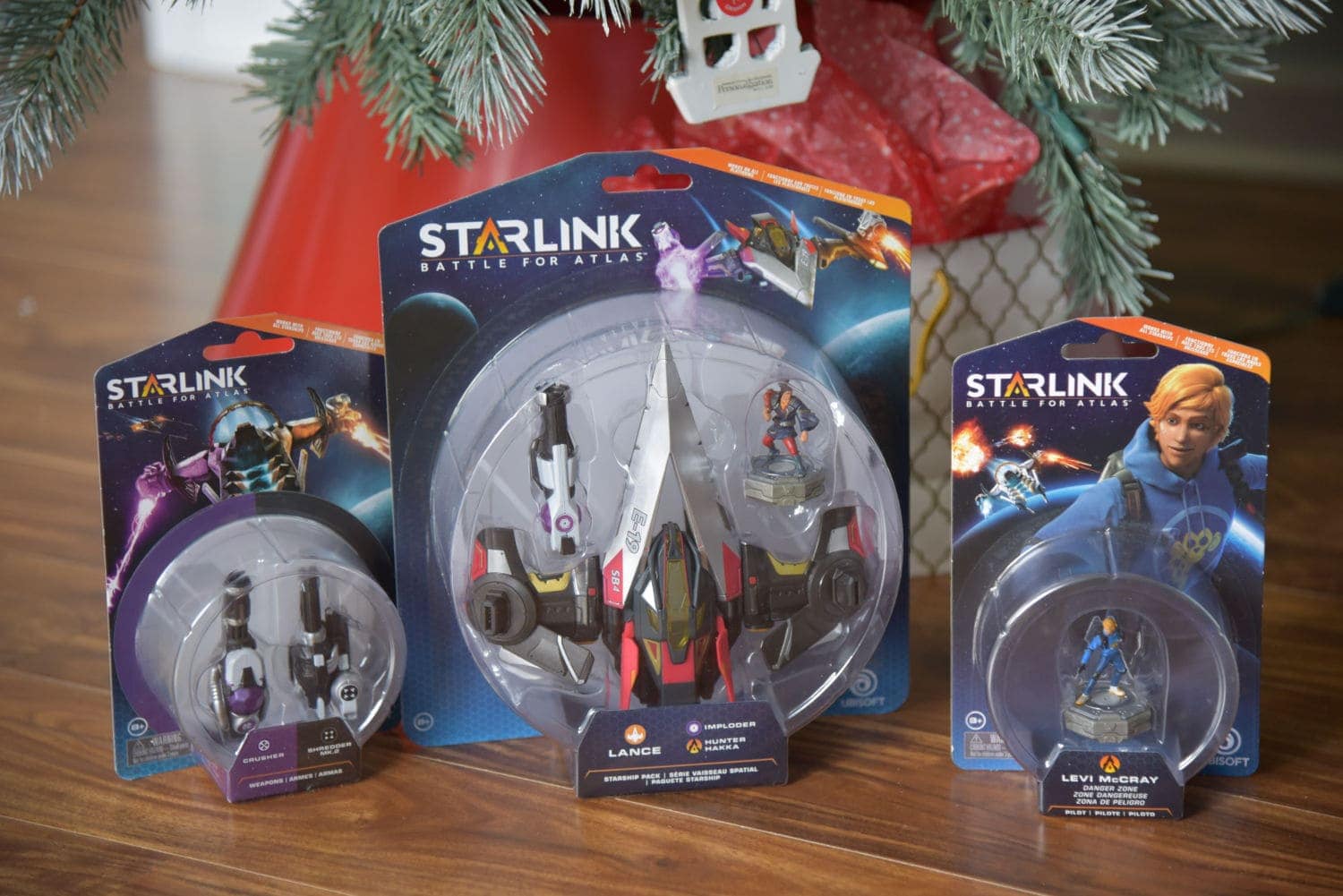 When you buy Starlink: Battle For Atlas, you don't just get the game, you also get the physical, modular spaceships, pilots and weapons that you will be using in the game. You can then customize your spaceship and your pilots to explore and battle in a huge open-world environment. We have been playing this game in our house for about a week and my husband and son have been having an absolute blast with it.
Real Toys In A Virtual World
The "toys" are well made and look really neat. You can attach them to your gaming controller and switch out weapons and pilots on the fly. As soon as you make changes in the real world, you see them show up in the game instantly. Different weapons work best for different enemies. Different pilots and spaceships have their own unique personalities and advantages. The narrative of the game also seamlessly (but slightly) shifts for each pilot.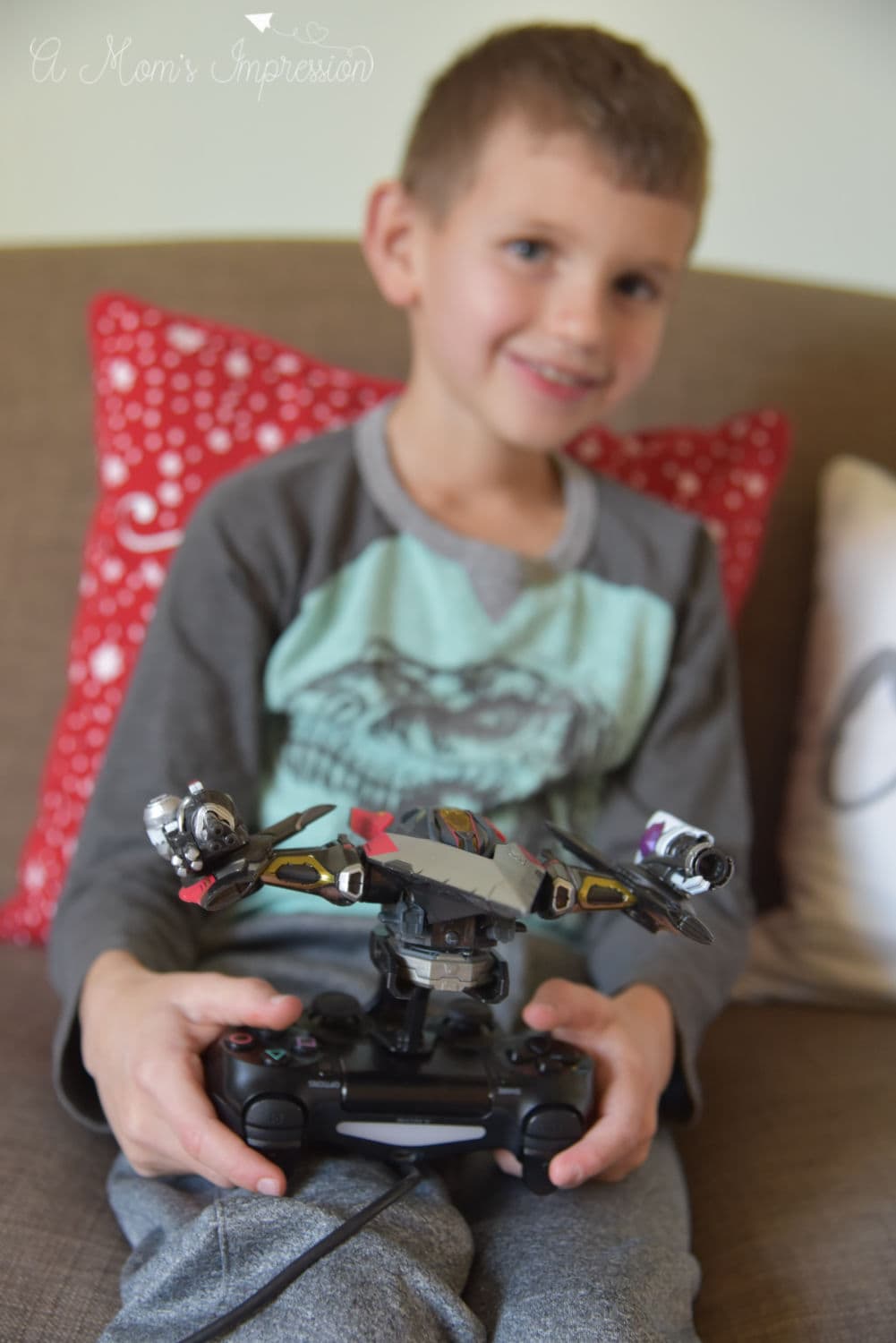 For purposes of this review, we received the Starlink: Battle for Atlas Starter Pack ($74.99), one weapon pack and one pilot pack. The starter pack includes one ship, one pilot and three different weapons. The weapons pack gave us two more weapons and the pilot pack game us one pilot and his ship. There are 9 pilots, 5 ships and 15 different weapons that are available to use in the game. All of these ships, pilots, and weapons can be mixed and matched for custom and often really cool results.
Digital Play
One of the smartest decisions that Ubisoft made was that as soon as you attach something to your controller, it gets "saved" in the game for 30 days. This way, you can also play the game strictly digitally if you don't want to keep grabbing pieces of plastic every time you want to make a change. In practice, that becomes a little cumbersome after the initial novelty of it wears off. My husband aid that it's much easier to press a couple buttons on a controller when you are in the middle of an intergalactic battle.

Starlink: Battle For Atlas Review
While the experience of Starlink is fine to play in solo mode, what really made this game a hit in our house was the split-screen local co-op mode that he was able to use with our son. Starlink: Battle for Atlas is an open world game full of 7 vast, rich and unique planets. Each planet has its own identity. You can literally go anywhere you want anytime you want. If you are on a planet and start flying straight up in the sky, you will end up in space. There is no break or loading screen in the game. This gives the game a very immersive feeling that you are in complete control of the narrative.
In fact, my husband said the world is so big that it was a bit overwhelming at first. Starlink just kind of throws you into the story without a lot of background information or a clear goal. Things were a little confusion early on in the game but my husband said that they fairly quickly figured out who the good guys were, who the bad guys were and what they needed to do to bring freedom to the galaxy.
The graphics are stunning and the planets are all unique and gorgeous in their own way. It is one of those great games that makes you feel like you could spend hours exploring and still not see everything. A game that gives you the sense that there is a secret behind every corner, if only you were too look. The controls of the starships are easy to understand and very intuitive. My 9-year-old had no problem learning the ins and outs of the game controls and he was a great wingman for my husband!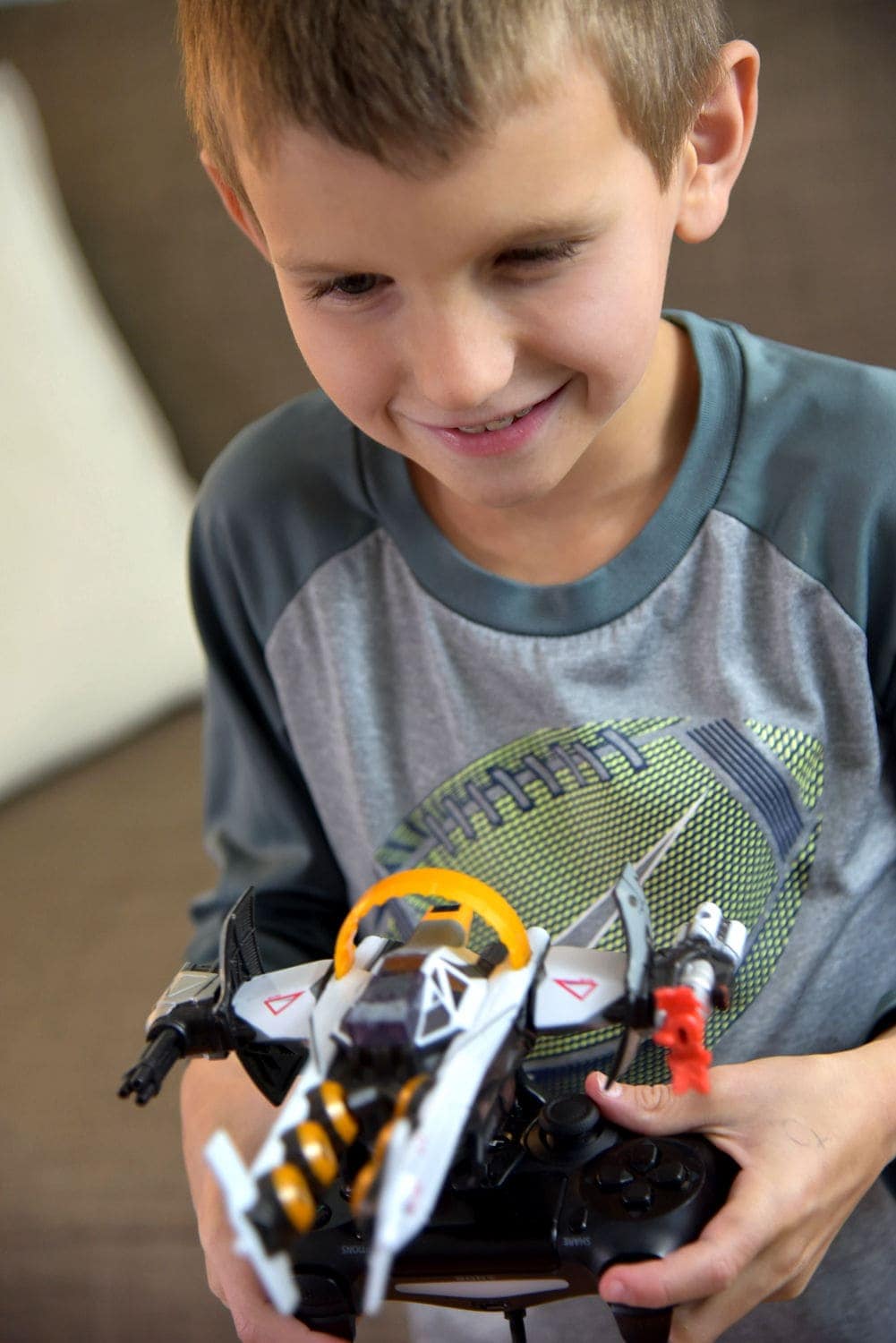 My husband says that while this is a spectacular game to play with our son, he probably wouldn't play it too much by himself. Some of the missions can get a little tedious, repetitive and old. There are missions to protect something, collect something, weaken and then defeat a boss, etc. This game structure is well worn and my husband has been playing video games for 35 years. He has done all of this before. But, this game is perfect to play with our child. It is the exact level of fun, engagement, challenge and appropriate content for his age-range.
While all the possibilities of combining weapons, pilots and ships are exciting, unfortunately, everything is sold separately from the Starter Pack. At a retail price of $75, I think some consumers would be a little disappointed that they only get a fraction of the possible characters and items to play within the game. There is no way to "earn" them in the game. You have to buy (with real money) a new weapon if you want it. While you can complete Starlink with the weapons provided in the Starter Pack, most action adventure games reward you new weapons as the game progresses. This keeps things fresh, fun and motivational. While you can "upgrade" your existing weapon in Starlink, these changes are minimal and not nearly as fun as getting a new weapon.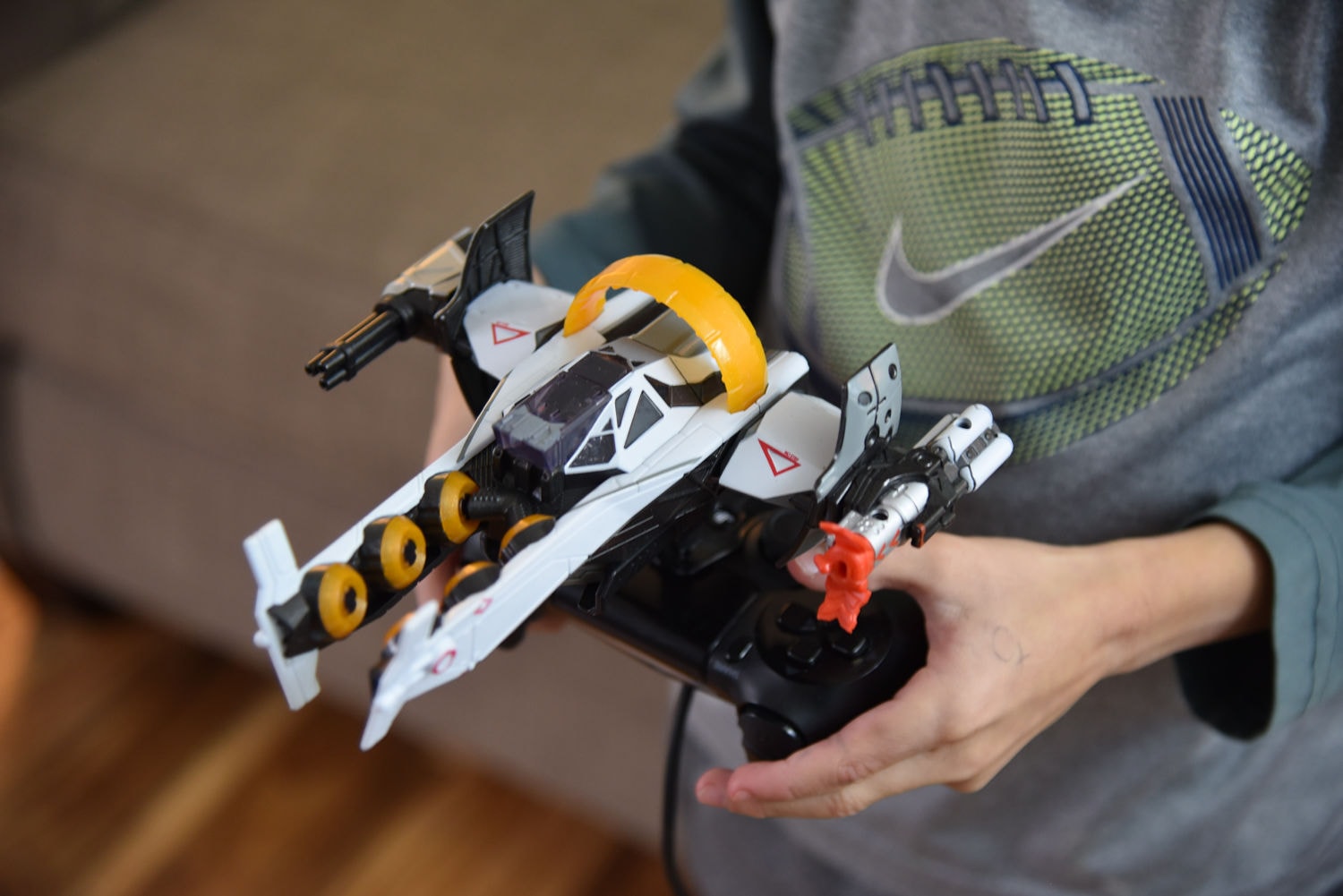 You can buy the other components in physical or digital form. You can purchase these online or from Best Buy at prices ranging from $7.99-$24.99. But after spending $75 already, I'm not sure some players will be willing to fork over any more cash.
Starlink: Battle For Atlas Is Available At Best Buy For An Amazing Deal
Starlink: Battle for Atlas is available for the Xbox One and Nintendo Switch and Play Station 4. For this review, we played it on Play Station 4. For fans of the popular Star Fox games on Nintendo, I'd recommend getting the Switch version. This would come with the famous pilot Fox McCloud, his Arwing starship and exclusive Star Fox missions.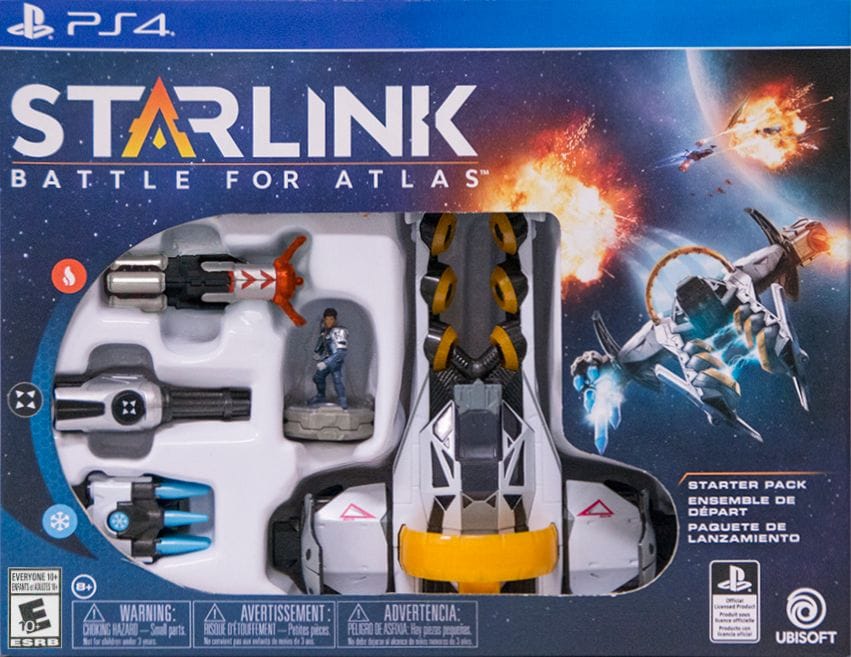 Head to your local Best Buy or bestbuy.com to grab a copy as soon as possible. Between 12/16 and 12/22 Best Buy is currently offering an amazing deal of $35.00 off of the Starter Pack and 30% off Starlink toys! This is a fantastic deal that you don't want to miss!
This is a great game to play by yourself with a friend or as a family, so I certainly recommend this as a Christmas gift this year. What better way to blast into the New Year than to save the universe?