There is nothing better than grilling out on a warm summer day.  Now that the weather is cooling down a little and it isn't scorching hot every day, we are enjoying grilling outdoors.  Because school has started, I have a limited amount of time in the evenings to cook dinner.  Kraft has helped keep both my time management and taste buds happy with time saving products like KRAFT Fresh Take. 
KRAFT Fresh Take comes in six flavor varieties including: Southwest Three Cheese, Savory Four Cheese, Rosemary and Roasted Garlic, Italian Parmesan, Chili Lime and Panko, and Cheddar Jack and Bacon.  I have tried several of these flavors and have been very happy with what I ended up with.  Right now my favorite it the Chili Lime and Panko!  We eat a lot of chicken and to be honest, it gets a little old after a while.  We try to be healthy and stay away from ground red meat.  After eating ground chicken and ground turkey for the past few years, I find it very difficult to go back to regular hamburgers.  I found this Bruschetta Burger recipe on KRAFT Fresh Take and noticed that is uses ground chicken.  I knew I had to try it!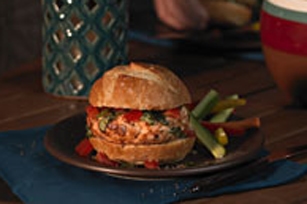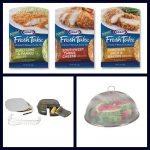 Explore the Unexpected with KRAFT Fresh Take
Ingredients
1

lb.

ground chicken breast

1

pkg.

6 oz. FRESH TAKE Rosemary & Roasted Garlic Recipe Cheese Breadcrumb Mix

2

Tbsp.

water

1

large tomato

chopped

2

Tbsp.

chopped fresh basil

1

Tbsp.

olive oil

4

hamburger buns
Instructions
Heat your grill to medium heat.

Combine the first 3 ingredients just until blended; shape into 4 (1/2-inch-thick) patties.

Grill patties 6 to 8 min. on each side or until done (165ºF). Meanwhile, combine all remaining ingredients except buns.

Assemble the buns with burgers and tomato mixture.
This burger was so much more flavorful than our normal Chicken Burgers.  With all the time I saved putting it together, my son and I were able to put a floor puzzle together while Daddy was grilling our dinner!  What a perfect way to spend a great summer evening!
For more recipe ideas using KRAFT Fresh Take visit their website! You can also keep up with the latest news using the #KraftFreshTake hashtag on Twitter and Pinterest.
Win It
Kraft would love to give away a great prize package to one lucky reader!
Prize Pack includes (1) Kraft Fresh Take free product coupon, (1) Quirky Porter BBQ Prep & Serve Tray, and (1) Fox Run Mesh Food Cover!
a Rafflecopter giveaway

Kraft Foods is providing the prizes for this program at no cost to me and has provided me with a gift of equal value for review.  This program is not administered or sponsored by Kraft Foods or its affiliates, but solely by A Mom's Impression.