There are many different thermometers on the market. It can get a little confusing for new parents. I read many Exergen Temporal Scanner Infrared thermometer reviews online and today I am sharing my experience with this new technology.
My biggest fear as a new mom is being able to tell if my son is sick or not. I prepared myself for motherhood by reading about parenting from the "experts".  As any mom can tell you, reading about and actually experiencing parenthood are two very different things.
I was so anxious, at the beginning, about every sound my son made.  Is he hurt?  Is he sick? Is he hungry? How do I comfort my child if he has a cold or the flu?
Luckily for me, my son has been a relatively healthy baby (minus all the skin issues).
Before we left the hospital the nurse taught us how to take his temperature using two different methods, under the arm and rectally.  I was okay with the underarm method, but I really didn't want to ever have to take BJ's temperature rectally.
Well, now I don't have to!
There is a "kinder, gentler and more exact thermometer" available on the market that captures your temperature by running it across the forehead, and I am very excited to post a review on it.
Exergen TemporalScanner Thermometer
The Exergen TemporalScanner is the world's first and only infrared thermometer that measures your body temperature by taking a reading from the temporal artery found on your forehead. When you run the Temporal Thermometer across the forehead the thermometer takes 1,000 reading per second, selects the most accurate and displays it digitally. It does this in just two seconds! Can you say it is less invasive than the old rectal way?  There is no more waiting for a digital thermometer under your child's arm, or in your mouth, waiting for the beep.  I hate sitting still with a thermometer under my tongue waiting to find out if I have a high temperature or not.  This is much easier, and faster!
Here are some FAQ from Exergen's website that I found very useful:
What does the TemporalScanner measure?

With a gentle stroke of the forehead it captures the naturally emitted heat from the skin over the temporal artery, taking 1,000 readings per second, selecting the most accurate. With its patented Arterial Heat Balance system the TemporalScanner measures ambient temperatures, mathematically replaces the small temperature loss from cooling at the skin, and displays an accurate arterial temperature.

Why is it more accurate than measuring ear temperature?

A major reason ear thermometers are considered inaccurate by medical professionals is because the positioning of the probe in the ear canal is inconsistent, thus creating inconsistent readings and frequently missing fevers. The temporal artery thermometer scans the forehead area for the temporal artery and it is almost impossible to miss the artery during a scan. Also, the person whose temperature is being taken does not like something inserted in their ear, making good positioning even more difficult. The gentle scan across the forehead is comfortable and not objectionable. The TemporalScanner has been proven more accurate than ear thermometers by a Harvard Medical School study.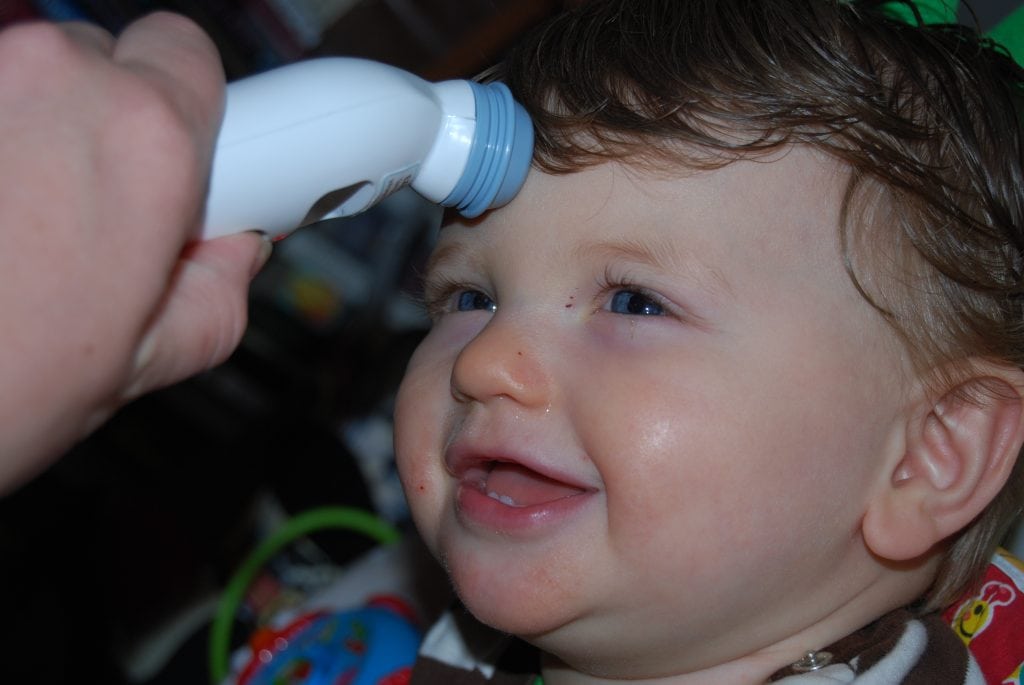 Exergen Temporal Scanner Infrared Thermometer Reviews
The TemporalScanner came to our house at a really useful time.
BJ has been suffering from a cold and I think he is getting his top teeth in.  The first couple of times I used the  TemporalScanner was a learning experience.  It takes some practice to figure out how to use it.
After practicing on myself, my husband, the dog, and finally BJ I felt very confident in using the product (I actually love using it, I had a lot of fun. The dog didn't appreciate my excitement or the scan of his forehead).
A little advice, take the cap off of the TemporalScanner before you use it (I know..duh, but I was so excited to try it out).
BJ was a little afraid of the TemporalScanner the first time I used it on him.  He got used to it and now he loves it when mommy takes his temperature.
I love that this product is environmentally friendly by using infrared technology instead of mercury. Overall, this is one of my favorite products that I have in my house. I absolutely love it and highly recommend it to anyone looking for an accurate thermometer for their family.
Buy It:
You can purchase the Exergen TemporalScanner at Wal-Mart, Walgreens, Costco, Babies R Us, Toys R Us, and Sam's Clubs nationwide. Contact Exergen for an additional store near you.
I received a TemporalScanner from Exergen to facilitate this review. All opinions are 100% mine.