I think that my favorite interviews at a press junket happen when I talk with the Directors of animated films.  I say that because an animated film is pitched several years before we see the finished product.  The Director is often the person who pitched the film.  It is their baby.  As we know, proud parents beam from ear to ear when showing off their babies and Directors Byron Howard & Rich Moore were no different when talking about Zootopia.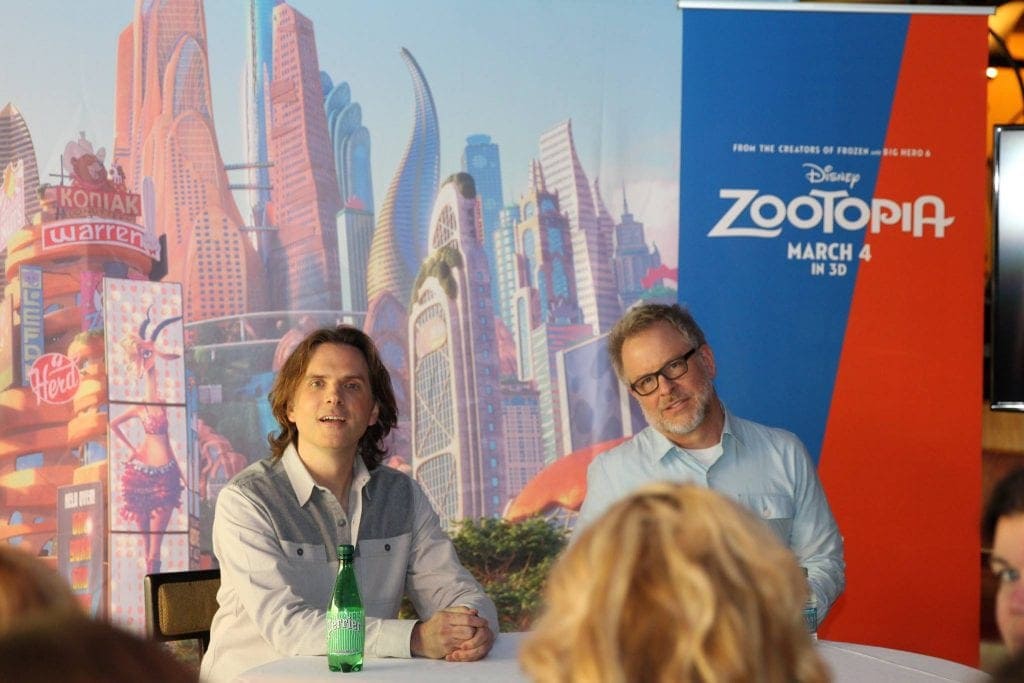 Bryon Howard first pitched his idea for an anthropomorphic animal movie to John Lasseter several years ago.  He talked to us about the process of pitching a movie to Lasseter.  When you go in to pitch an idea you usually go with several ideas, at least 3, so that John can get an idea of what you are passionate about.  Howard pitched him several ideas that all had something to do with talking animals.  Seeing as how Disney has had an amazing career of animal movies, Lasseter was very excited about the pitch.  So excited that Howard mentioned this: 
And he (John Lasseter)  said, I will do anything to support a film that features animals running around in tiny clothing.  He loved the idea of doing this.  He got so excited, he hugged me and he picked me up off the ground.
I don't know about you, but if John Lasseter is excited about a pitch, you know it is going to be a good one! Disney hadn't done an animal movie in awhile and animation and CG have gotten so good that it you will be amazed by all the detail work they were able to do with these animals.  For the first time they were able to groom them like they would be in the wild.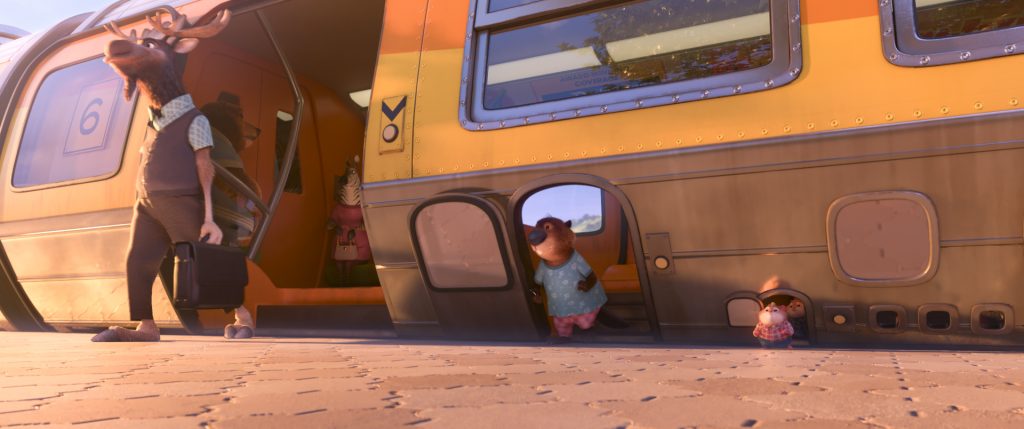 Disney does its research when it comes to all their movies, even the animated ones.  Howard and Moore's research started at Disney's Animal Kingdom.  They came to the resort to study the animals up close and get an idea of animal mobility and movement.  After they left Animal Kingdom they headed to Africa to see the animals in the wild.  They talked about all the different animals and even gave us some insight into the ones that were very difficult to anthropomorphize.
Byron Howard: There were a lot of them that were challenging.  Judy's landlord, who's an armadillo. It was a question of how does that character get her clothes on?  Over the shell?
Rich Moore: Did it have to go over the shell?  Does it go over the shell?  Does she just kinda look like a strange hunchback?
The research that they did helped them when it came to giving personalities and human like qualities to the animals.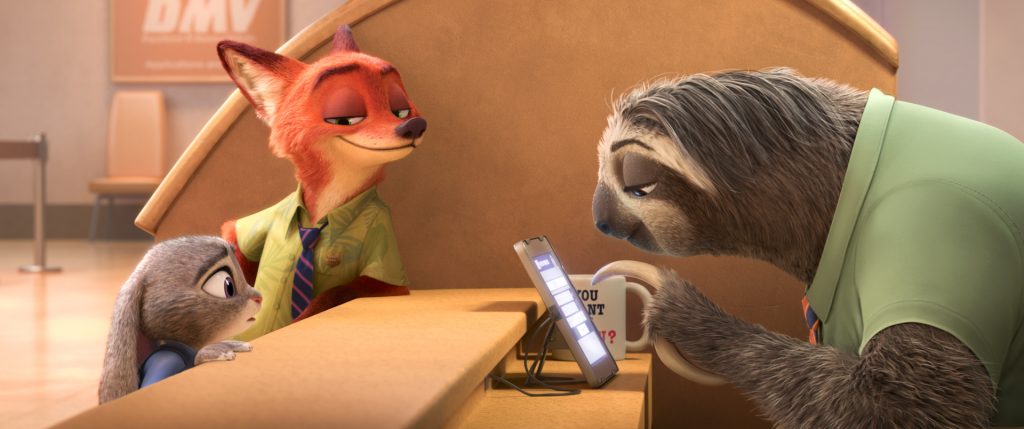 Creating a world of animals that act like humans was a lot of fun.  The Sloths at the DMV was the result of a brainstorm session where Howard, Moore and some other crew members were thinking about all the different jobs that animals would be good at.
It was one of these things where everyone was quiet for a moment.  And thought like, has this been done before?  You know, it seems like such an obvious joke.  And we quickly went to the Internet and like, sloth at the DMV. – Rich Moore
Speaking of sloths, we found out that Kristen Bell was texted by casting director James Roberts and asked if she would be willing to do the 2 word line that Pricilla the sloth says in the movie.  She is a huge fan of sloths so she agreed!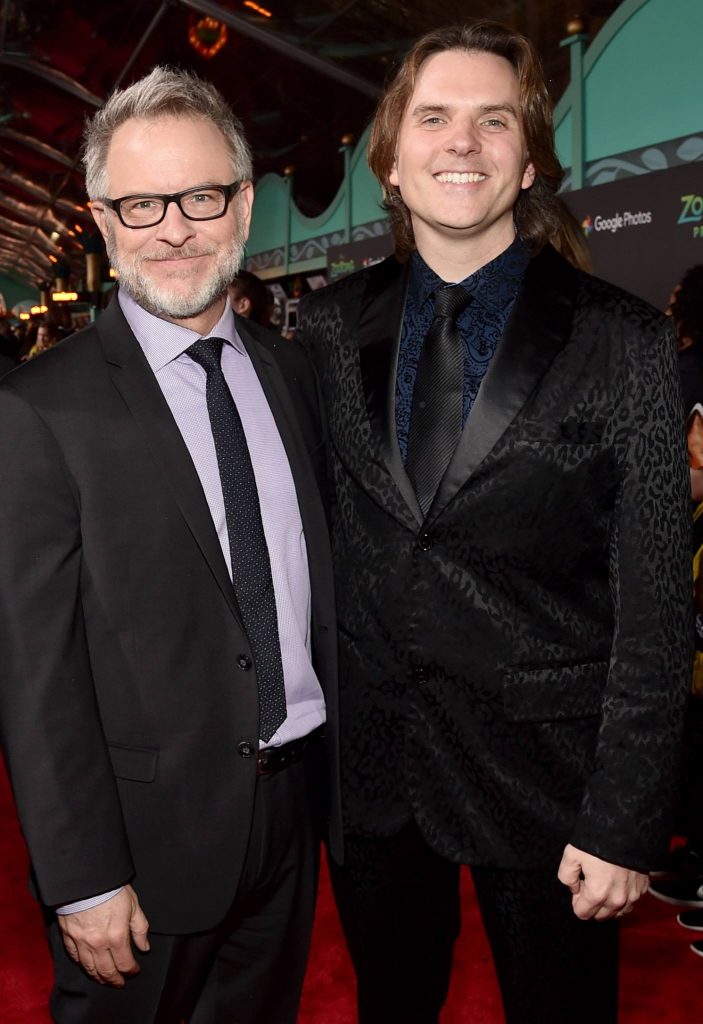 Zootopia is everything that Directors Byron Howard & Rich Moore promised it would be.  A great animal movie that delights not only children but adults as well.  The topics and issues that are prevalent in this movie relate to adults just as much as they do for kids.  It was important to both Howard and Moore that this film related not just to kids but to adults as well.  There was a scene in the movie where Judy Hops (voiced by Ginnifer Goodwin) is bullied as a young child.  This scene is important later on in life when Judy becomes a police officer and has to deal with even more adult issues.  The Bully scene is relatable to both kids and adults, we have all been there and witnessed it.  By including these topics that span our lives they were able to make this movie relevant to all generations. There is something in it for each person, even some adult humor!
You and your family can watch Zootopia on the big screen starting this Friday, March 4th!
In case you missed the Sloth trailer:

Be sure to follow Zootopia on their social channels to get the latest clips and news from your favorite Zootopia citizens:
For more exclusive coverage from the #ZootopiaEvent come back every day this week!  You can read my exclusive interview with Jason Bateman here!
A huge thank you to Disney for flying me out to Orlando for the #ZootopiaEvent and for my amazing room at the Animal Kingdom Lodge.  All opinions are 100% mine.