Have you heard about Zootopia?  The adorable new movie stars Jason Bateman as a sly fox. Come read my Exclusive Interview with him!
Exclusive Interview with Jason Bateman: Zootopia
Can you imagine what it would be like to play a character in a movie and have no idea what he looked like? That was the case with Jason Bateman when he agreed to play the part of Nick Wilde, the sly fox in the upcoming Disney animated movie Zootopia.  Last week, while on the Zootopia Media event, 24 other bloggers and I had the chance to sit down with Jason to talk about his role in the movie as well as what it is like to be a father in the movie industry.  I learned a few things about Jason Bateman and may have developed a small crush along the way.
Chatting with Jason Bateman
Jason opened up our conversation with a bit of a talk about having to have a lot of faith in Disney animators.  This was his first full length animated movie and not being able to use his facial expressions and gestures was different for him.
With this, obviously you just have your voice to use and then you hope that the animators that you pass that line reading off to are going to make the character do something that either supports what you've done or offset it or juxtapose it.  It's kind of a cocktail to make somebody laugh with something.  You don't realize how many little components there are.  I don't mean to sound like some kind of a comedy scientist but when you tell a joke or a story there's inflection and then there's facial gestures and it's a pretty strange thing to just hope that the rest of the recipe gets cooked in the right way.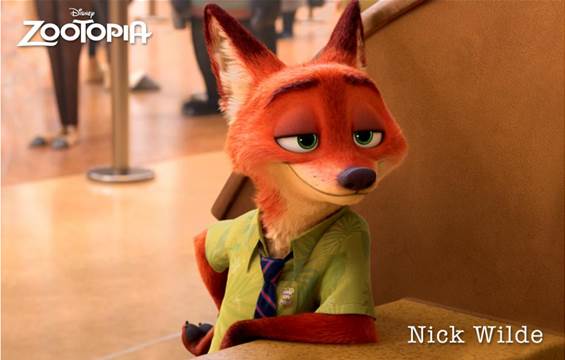 Being a dad has played a huge part of Jason's life.  He is excited to do a film that he could show his daughters (ages 9 and 4) since they are too young to watch anything else he has performed.  He is excited that this is a film that both he and his daughters can enjoy together.  There is a little of everything in this film.  I will have my full review up on Friday, but I will tell you that it is very smart and addresses many hard to talk about topics with young children.
In this one (Zootopia) there are some really great issues.  I don't know if my nine year old really picks up on some of the nuance and sophistication of kind of these heady, highbrow issues in here yet, but I'll bet you some of it kind of permeates.  When the coin finally does drop maybe when she's another year older or something when we're watching it for the 20th time at home, it's a nice tool for me as a dad to talk about racism or xenophobia or fear mongering or bullying… It's a nice tool for me as a parent, I like that.
As a teacher, I like it as well.  These are tough topics to talk about with our young kids.  Disney approached these subjects in a way that kids could understand.  I know that I will be having some good conversations with my almost 7 year old after we go see it this weekend.
The film has so many different facets to talk about.  While we were interviewing Jason, we focused on Judy Hops' family and we asked him if he could relate to their fears of letting their child go to a big city when the country was all she knew.  Jason had a great answer to that question:
If you're like me you hope and pray that you're not going to be the kind of parent that when they are allowed to and should leave the house that you are going to be paralyzed with this fear. I have another nine years left, at least with Francesca, to get myself ready to be confident that she's got a good enough decision maker on her shoulders to go out there and navigate the inevitable challenges.  Think about all the stuff that you guys have been exposed to that your parents never dreamed that you would be and you being good people didn't really willingly get into dangerous situations but it just happens.  So, I'm really trying to be okay with the fact that I can't keep her in a bubble and I can't control her her whole life.  The only kind of peace that I can give myself is that,  I'm confident that she knows how to make good decisions, that's my job.  I will keep working hard to build her as good a car as possible so she can drive through it okay.
I'm so glad that Disney recognized Jason's talent and cast him as the role of Nick Wilde.  His personality fits the sly, lovable fox that we all end up rooting for. Jason says that he chooses roles that he is well suited for and that he can relate to.  Knowing that, you can guess why Nick is one of my favorite characters in the movie!
You can meet Nick Wilde, voiced by Jason Bateman in the new Disney animated film Zootopia this Friday when it hits theaters nationwide.  Bring your kids, they will love it!
Be sure to follow Zootopia on their social channels to get the latest clips and news from your favorite Zootopia citizens and stay tuned for more exclusive interviews with other cast and crew of Disney's Zootopia!
A huge thank you to Disney for flying me out to Orlando for the #ZootopiaEvent and for my amazing room at the Animal Kingdom Lodge.  All opinions are 100% mine.