A few months ago Epson introduced the new Expression® Premium XP-810 and XP-610 Small-in-One™ printers, designed for today's busy families and photo enthusiasts. These models leverage Epson MicroPiezo® printing technology and Claria® Premium inks to produce consumer-rated unbeatable quality prints with an ultra-slim design and ultra-powerful performance. They also include Wi-Fi CERTIFIED™ n, Wi-Fi Direct™, and Epson Connect™ for easy wireless printing from a tablet, smartphone or computer from literally anywhere in the world.
I was fortunate to receive a Epson Expression Premium XP-610 Small-in-One Printer to review and  we have been enjoying it over the past month and a half.  My husband and I are both teachers (I teach first grade and he is an adjunct professor at a local university) so we have been giving this little unit a run for its money since it arrived.  My husband prints out a lot of term papers so the two-sided printing feature has helped us save on paper costs.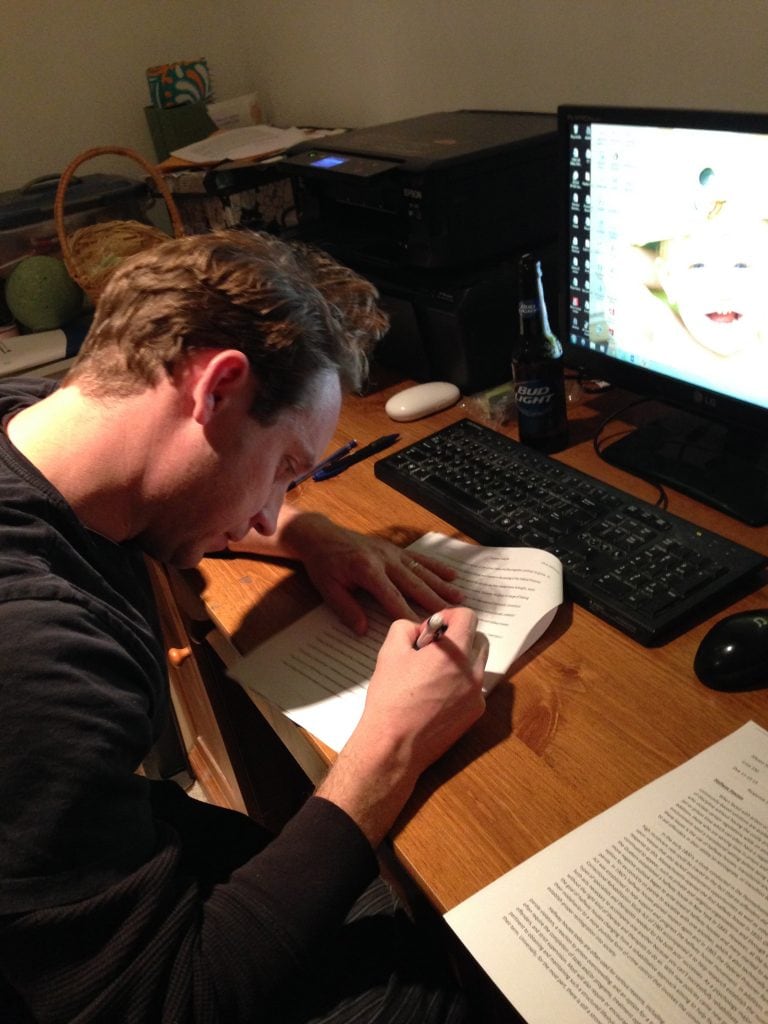 The Expression XP-810 and XP-610 are designed as complete wireless solutions, featuring built-in Wi-Fi CERTIFIED™ n3and Wi-Fi Direct™ for network-free printing.  Both models are always ready to print, offering built-in memory card slots for PC-free printing, automatic two-sided printing to save paper4, easy-to-use creative tools such as a dedicated photo tray and direct CD/DVD printing, as well as built-in auto photo correction tools.
Set up couldn't be easier.  I actually set up my laptop first without a hitch.  My husband has had a hard time connecting to our old printer through his PC so he would have to email me things to print in the past.  He was able to connect wirelessly to the printer with his PC easily.  Now he can print directly from his PC and skip the emailing step he has enjoyed. The directions have a QR code to scan to download an app onto your smartphone so you can print from any mobile device.  This has come in handy when I find a coupon that I want to print out when I am visiting the deal blogs that I love to go to.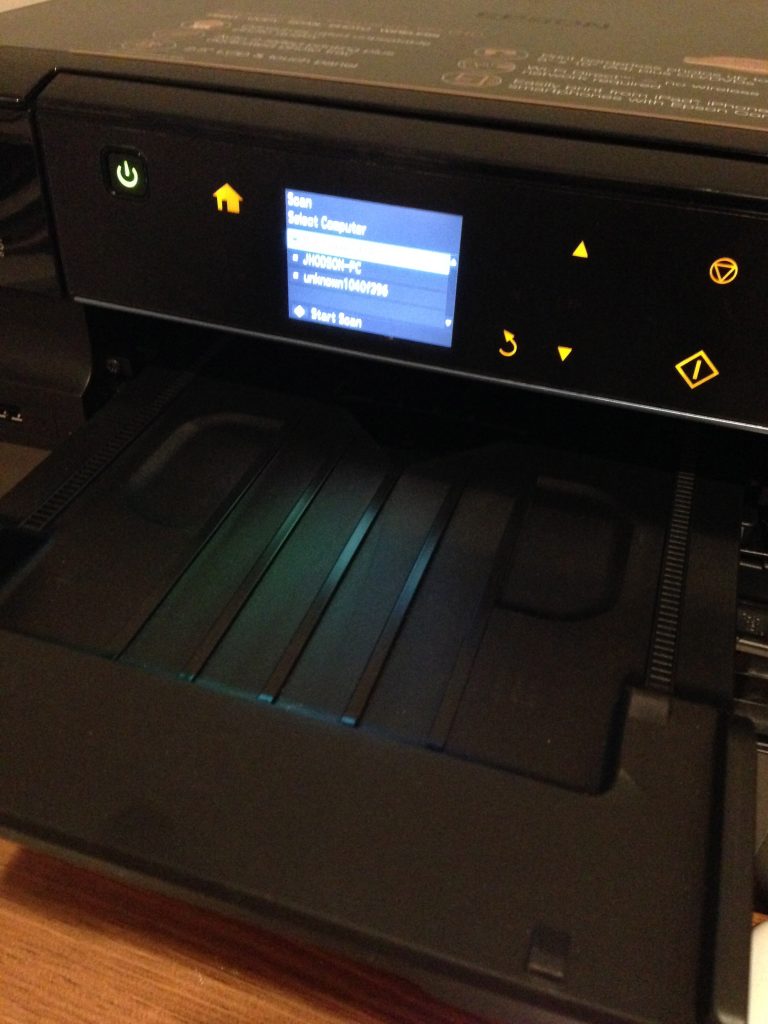 One of my major issues with home printers is the ink cartridges.  Running out of ink after a month isn't okay with me.  Those cartridges can be in upwards of $30 or more apiece.  I am happy to say that in the month and half that we have been using this printer, I have not had to replace any of the cartridges.  In fact, it came with an extra set of all of them.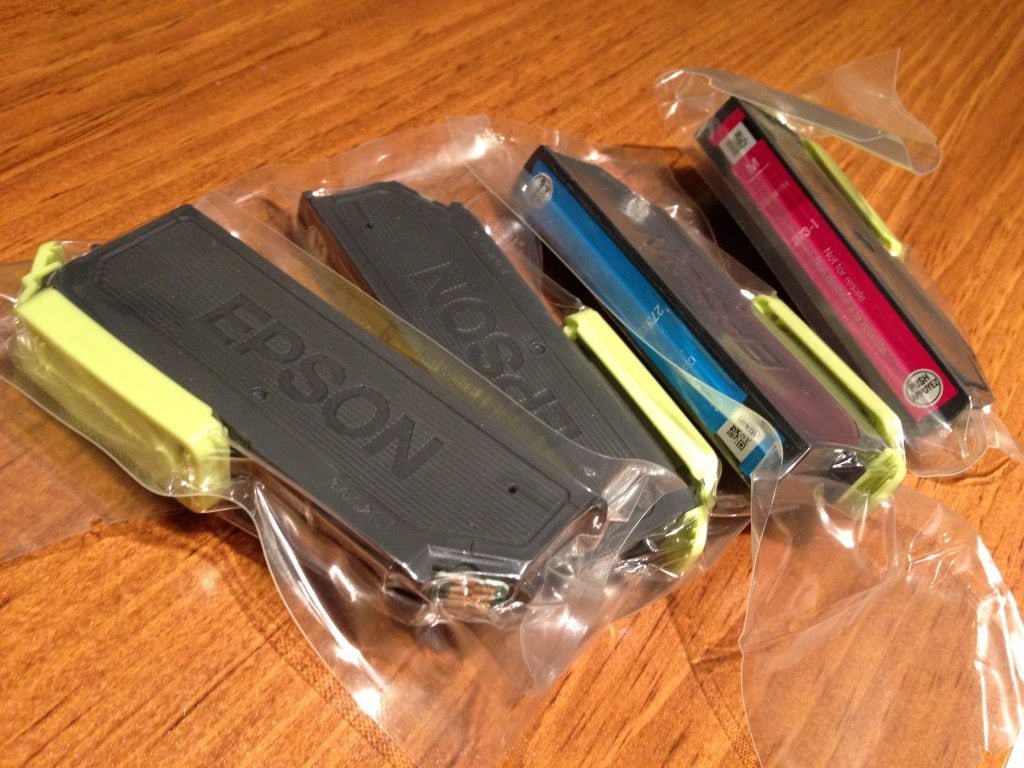 The Epson Expression Premium has four different ink cartridges.  I kinda like this because I can replace only the ones that I need when I need to.  They are super simple to install, just a click is all it takes.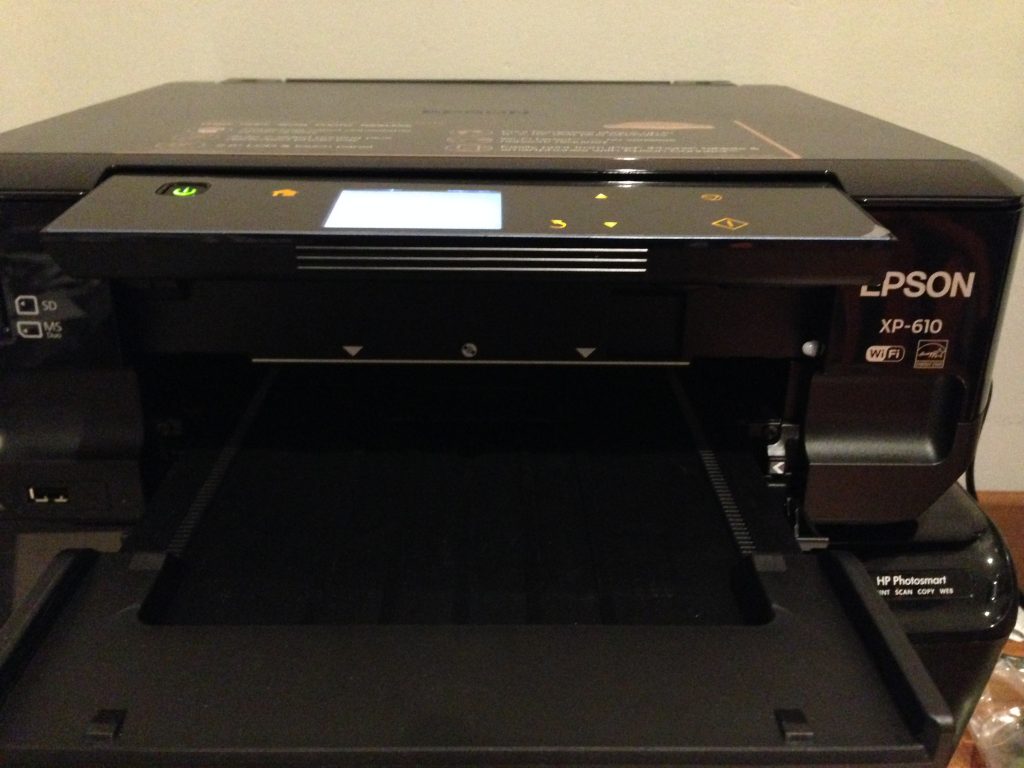 You can see a couple different output trays in the picture above.  That is because this printer can print directly on blank CD's!  There was a few included in the box!  There is also a separate tray for photo paper as well.
Here are some features of the Epson Expression Premium XP-610:
·         Epson Connect – easily print and scan from anywhere with Epson Email Print, Epson iPrint™ mobile app, and  EpsonRemote Print
·         Print speeds of 14 ISO ppm for black and 11 ISO ppm for color and 13 ppm black and 10 ISO ppm color for the XP-810 and XP-610 respectively6
·         Print borderless 4" x 6" photos –  in as fast as 12 seconds7 (XP-810)
·         High-quality scanning up to 2400 dpi (XP-610) and 400 dpi (XP-810)
·         PC-free photo printing with card slots and built-in photo correction that automatically corrects digital images, including advanced face detection and color correction
·         Eco-friendly features, including ENERGY STAR® qualified, support of recycled paper, RoHS compliant and designed to be recycled8
·         Built in Ethernet networking (XP-810)
·         Individual ink cartridges to replace only the color needed; standard and high-capacity (XL) black and color ink cartridges accommodate various printing needs
The Epson Expression Premium XP-610 ($149.99*) and Epson Expression XP-810 ($229.99*) will be available in mid-September through major retailer stores nationwide. For more information, please visit www.epson.com.