Emily Blunt plays the beloved nanny in Mary Poppins Returns. As part of the press event last month 24 other bloggers and I had the chance to sit down with her and talk about her role in the film.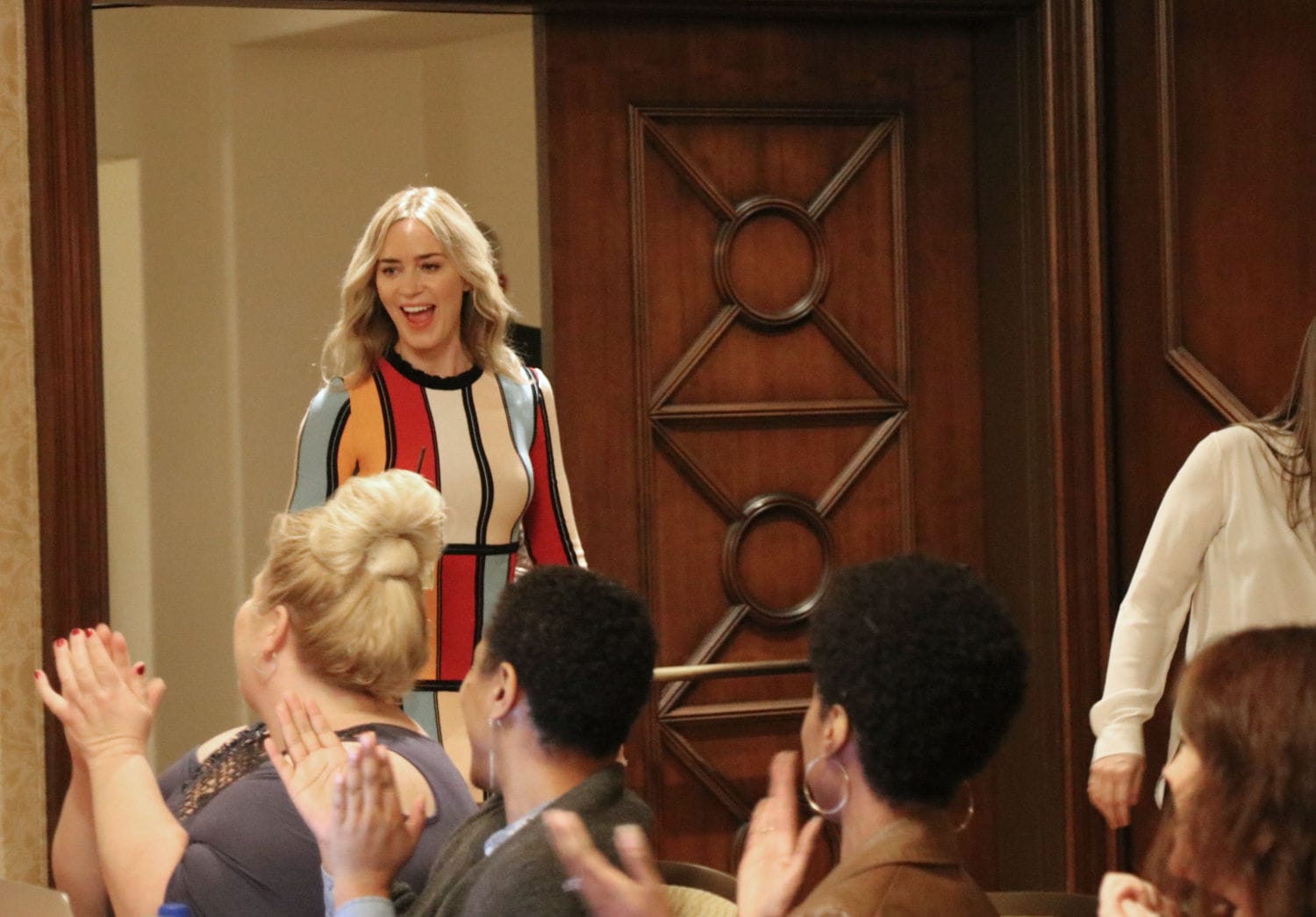 A huge thank you to Disney Studios for flying me out to LA for the press event.
Imagine having the task of bringing back one of the most iconic characters in Disney's history. Emily Blunt told us that when she told people she would be reprising the role they literally gasped and said "Oh My God." She told us that the way she had to approach the role was just to get over herself and tackle it like any other role she has played.
This thought process worked very well for her, in fact, last week she earned a Golden Globe nomination for Best Actress in a Motion Picture – Musical or Comedy for her portrayal as Mary Poppins.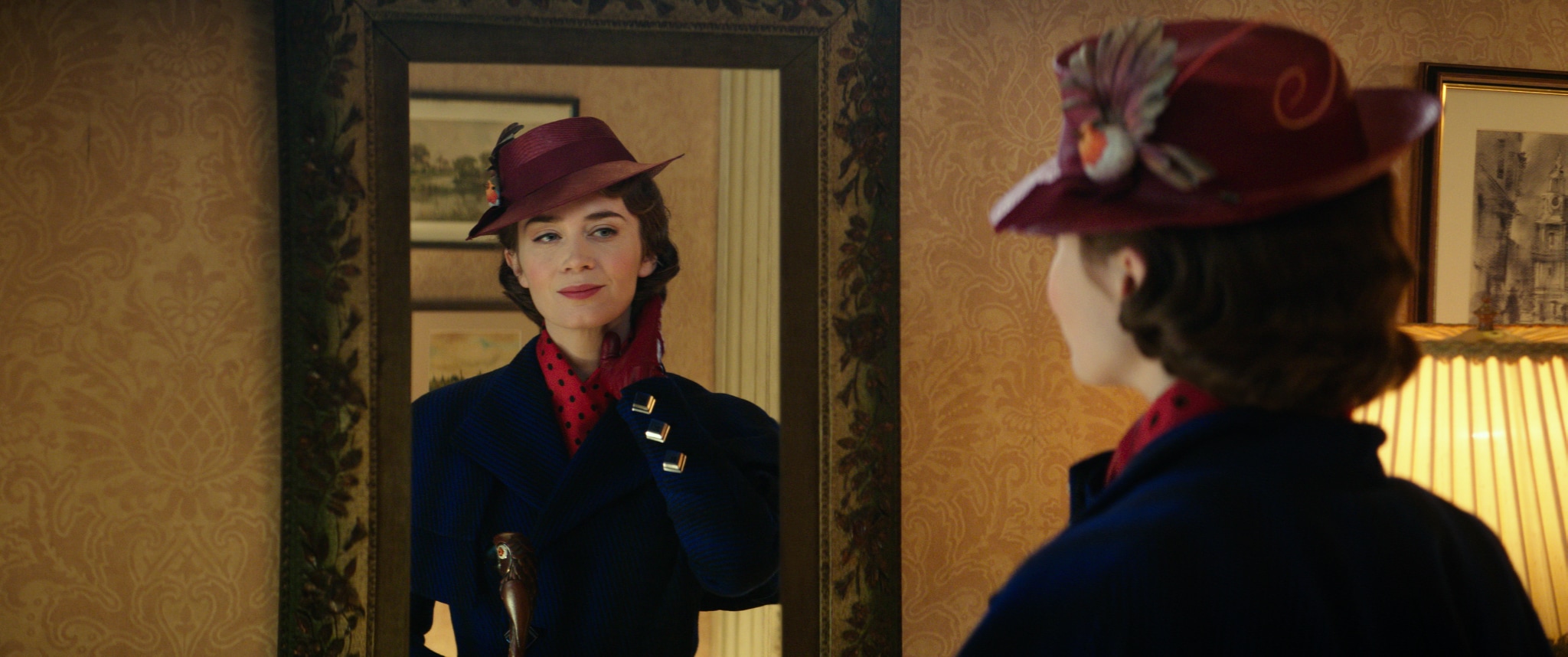 Her enthusiasm for the film was intoxicating. She talked to us about the songs, the dancing, her costumes, and how she fell in love with this eccentric character she came to understand from the beloved books by P.L. Travers.
The Costumes
Costume designer Sandy Powell created so many amazing looks for Emily to wear during the film. There were so many dazzling creations that we just had to ask Emily which one was her favorite.
I have to say I really loved the red suit with the skirt that kind of flowed out when I danced with 30 Lamplighters,.  I remember Rob Marshall really wanted like a Ginger Rogers type of look to that and it's not actually accurate for the time period to have a skirt that opened up like that.  So that's where Sandy Powell, the great Sandy Powell created all those very tight pleats so that it looked very chic and sort of straight lined.  And then when I turned, the whole skirt kind of opened up and she's just so exciting to work with, Sandy Powell.
That scene in the movie is quite extraordinary and I have to say that her outfit was perfect for it.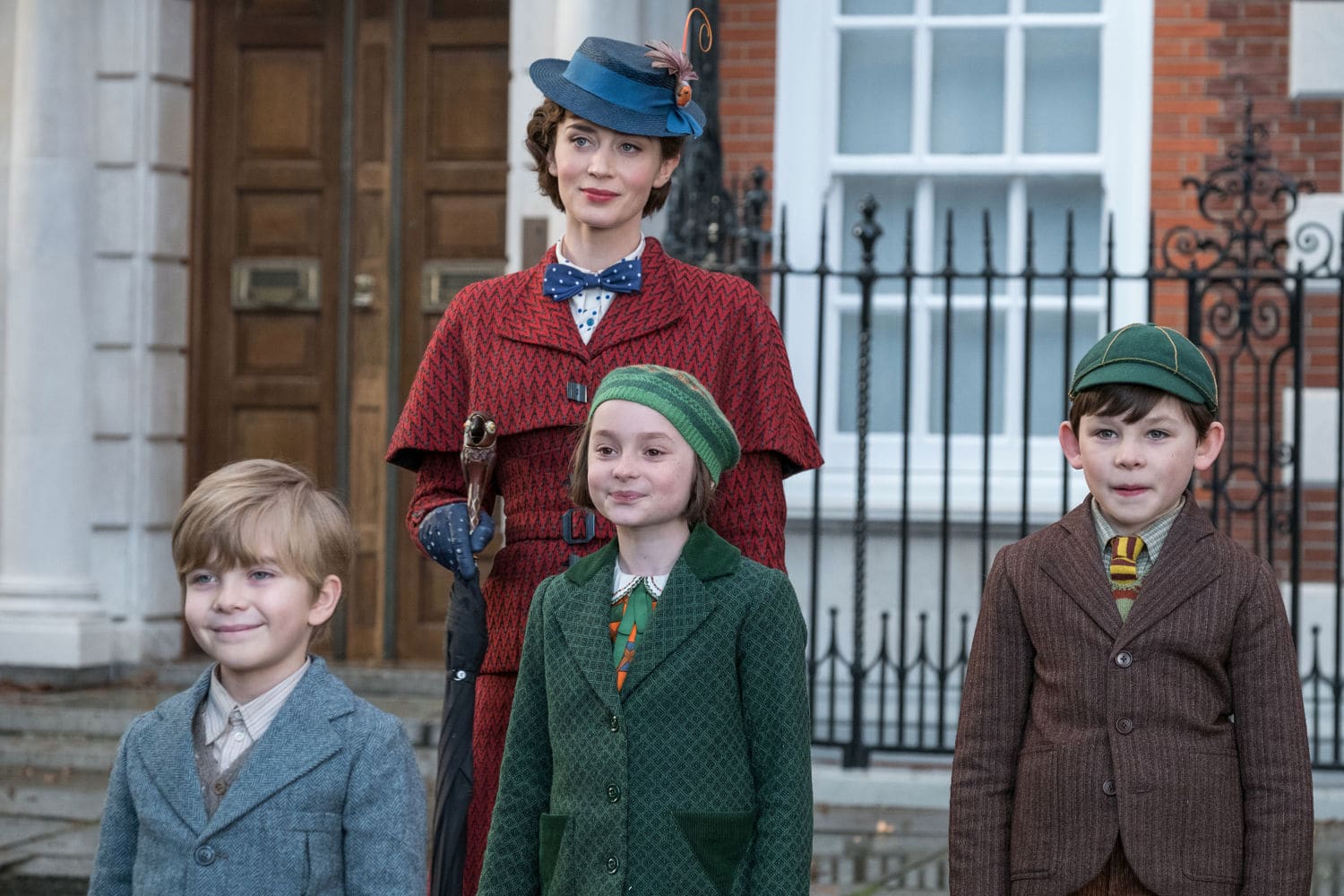 The Songs
Composers Marc Shaiman & Scott Wittman created some unbelievable songs for this film.  As you can imagine the pressure must have been intense, but these two stepped up to the plate and knocked it out of the park.  There were so many delicious songs that we had to know if Emily had a favorite one that she performed in the film.
God there were so many that I loved.  I love the poignancy of the Ballad that I sing to the kids cause it's sort of her revealing her most tender side cause she's such a weird eccentric lady and she's stern and shows great humanity and shows great depth because she comes into their lives to heal and to bring order to chaos and reintroduce the idea of Magic but she doesn't let you know that so it's sort of exciting to play someone who's in command of the environment and yet pretends kind of not to be. And expects nothing in return so I would say that scene with the kids was really moving.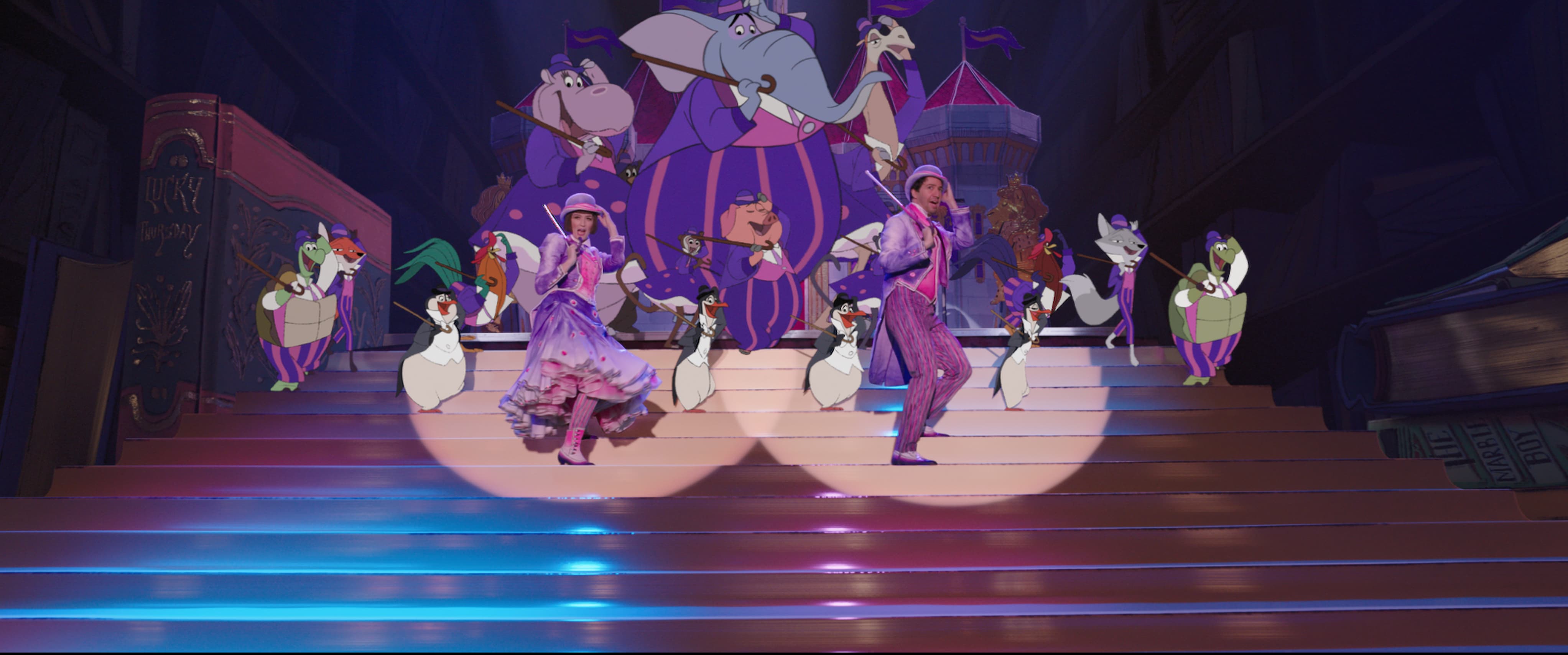 She also went on to talk about her big dance number with Lin Manuel Miranda and how much fun she had doing that performance as well. She said she had never done one of those big show-stopping dancing Hollywood numbers before but she felt comfortable because of how incredible director Rob Marshall and his choreographers were.  She also felt very comfortable with Lin Manuel.
I feel like Lin Manuel and I were sort of on a par with dancing abilities so we were in it to get there, Thank God.  If I had been dancing like Justin Timberlake, that would have been really embarrassing.
The Character
As mentioned before, playing such an iconic character that millions of people have grown up with can be a bit difficult. Emily said that she approached the role by reading the original books and playing her much closer to how she is in the books. Emily told us that in the books she is incredibly rude and vain and funny and enigmatic and weird.
She's sort of bizarre and layered and so for me, it was sort of how do I find those cracks of humanity in a super human and where are me?  I said to Rob Marshall, I said the sternness, I really want all the sternness and this sort of imperious quality to her to drop when she goes into these Fantasias.  She should be like an adrenaline junkie and that sort of duality of the character.

You know, that when she goes into these adventures, you've got to see her childlike wonder and her thrill and enjoyment of it.  And then when it's over, she pretends none of it happened and she had nothing to do with it.  So it's like so cool playing someone with that duality to them.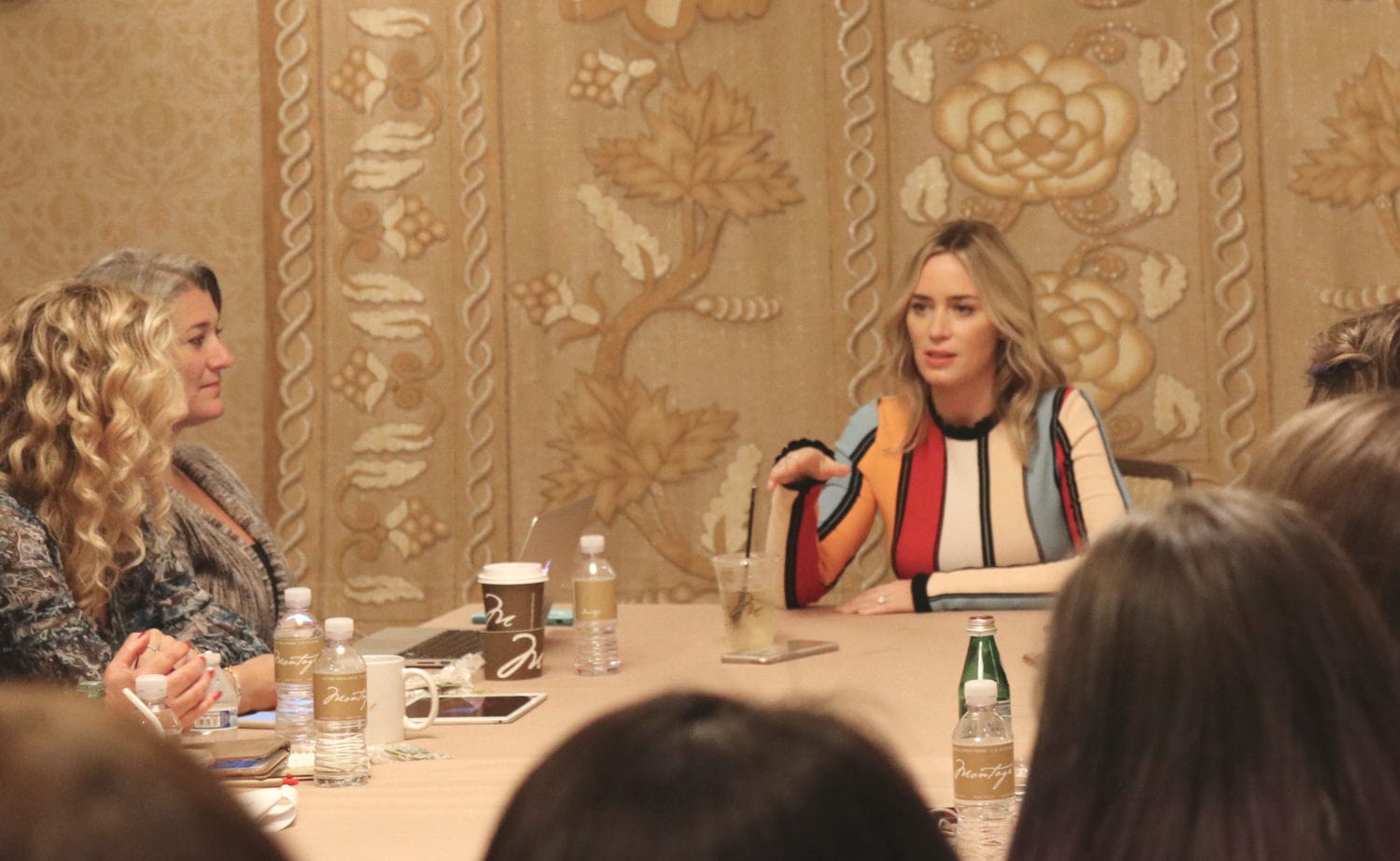 But she did have a couple of moments when she had those "Holy Smokes" I am Mary Poppins moments when filming. She talked about that initial arrival scene.
I would say the arrival scene where I am dangling 60 feet from a crane and Rob Marshall played the amazing orchestral music from the speakers, like blared it from the speakers so that it was very transporting and really exciting but I was kind of terrified at that.  I thought I was alright with heights and then I was up there and like I'm not. I remember hanging up there and looking down to Lin Manual-Miranda was like that big.  And I was like Oh My God. 

But I think that was the moment because I had the coat, the hat, the umbrella, the feet. The kite and that was when I, it was one of the only moments I allowed myself cause I kind of had to block out the fear of how iconic she was in taking this on for most of the shoot.  But that was the moment where I allowed myself that moment of I'm gonna vomit like it was really insane.  It was I was hit between the eyeballs with it. 
After she shot that scene she told us that one of the crew guys came up to her and told her that he got emotional watching that scene because it was like this person we have loved for 54 years is back!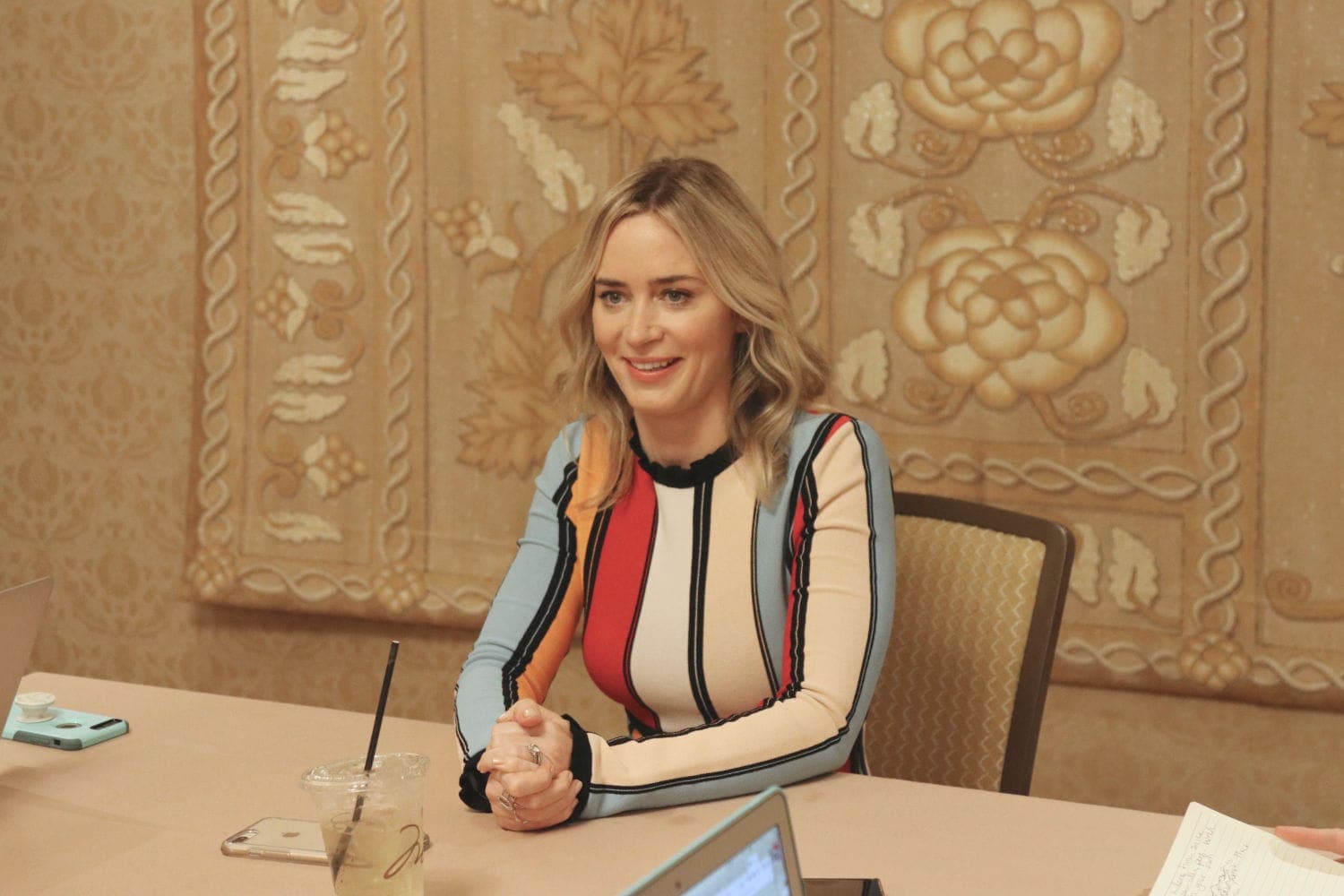 Emily also talked about a second time during filming when she had her Oh My God, I'm playing Mary Poppins moment. Dick Van Dyke has a small role in the film and Emily talked to us about sitting there during his monologue with Michael Banks.
We're all crowded around him and the music starts, and he finishes the monologue and in the scene, he crosses his arms and he looks up at me like that.  And I just remember looking at those iconic blue eyes and I was like Wow, that was so wild.
This was a really beautiful scene in the film, I can't wait for you all to see it!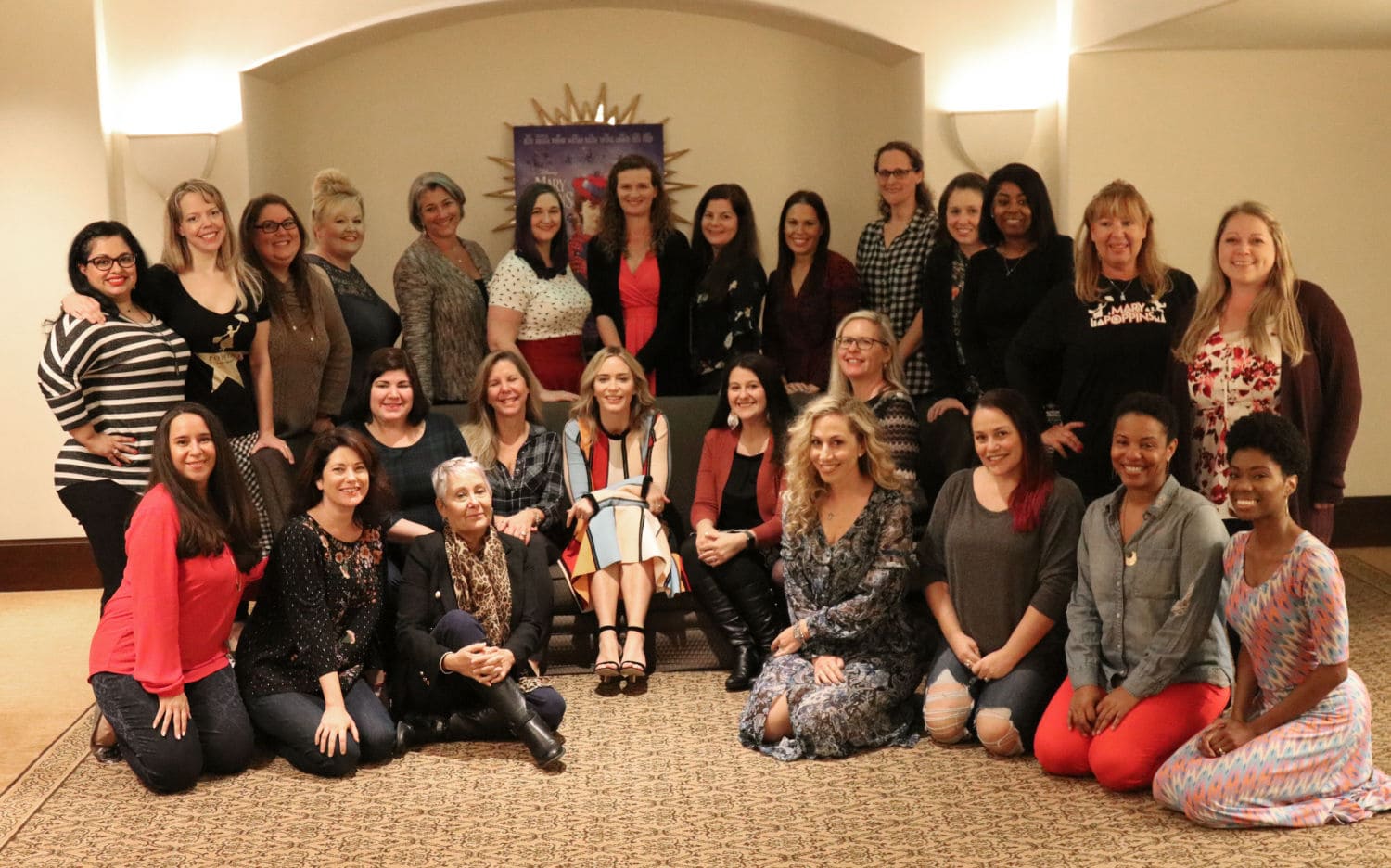 Mary Poppins Returns releases into theaters everywhere December 19th.
For more fun, Mary Poppins Returns coverage be sure to check out what it was like to walk the red carpet at the world premiere.
Also, get your Mary Poppins Returns Funko Pop Disney Collectibles from Entertainment Earth.  They make amazing stocking stuffers and are perfect for collectors.