I first discovered Elle Fanning when she stole the scene in J.J. Abrams Super 8.  I didn't know much about her, didn't know had a famous sibling, I just knew that she was going to be an amazing actress. After seeing her in her latest role as Princess Aurora in Disney's Maleficent, she is still living up to my expectations.  This girl is talented!
Last week I was able to sit down with Elle, with 24 other moms, and talk about her role as the latest Disney Princess.  She is eloquent and adorable, and I quickly understood why she was chosen to play Princess Aurora.  Elle opened up to us about being a princess, acting with lights and tennis balls, and acting the famous spinning wheel scene.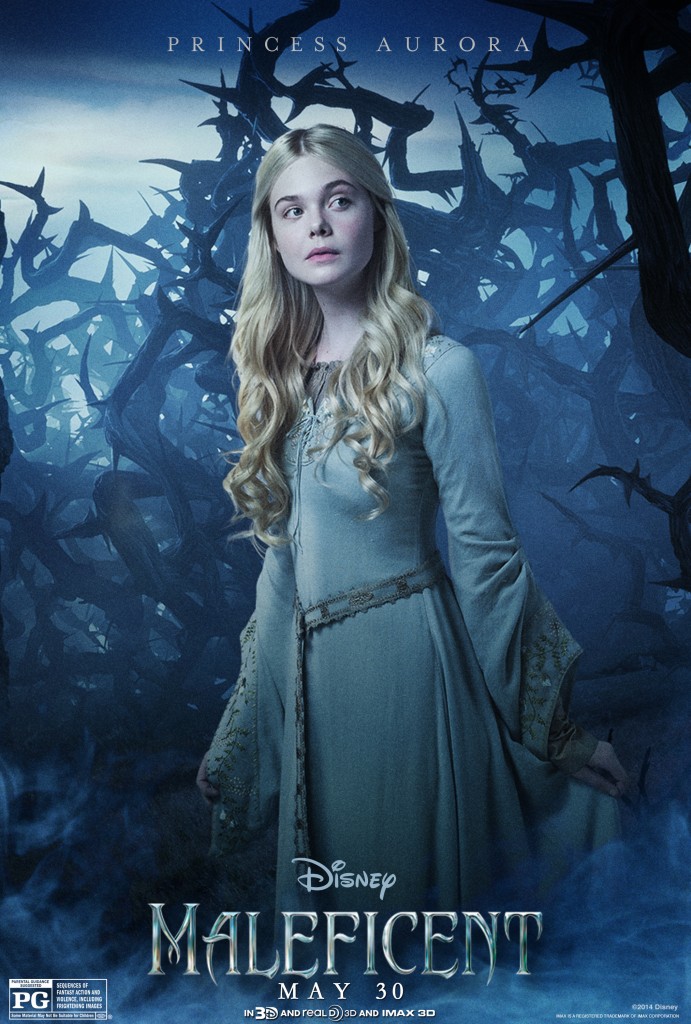 What's it like taking on the role of a Disney princess?
It was my dream. When anyone asks you  what I wanted to be when I grew up when I was little, I would say, "A Disney princess," 'cause that's the ultimate goal in life  for any  young girl. And especially Sleeping Beauty. She was always my favorite one 'cause, when you're little you see which ones you look like the most and she was the one that I looked like the most. So I would go to Disney store and I would buy her clothes and her shoes, so to get to play this is, it's really, the dream.

Did you feel any pressure living up to Sleepy Beauty's standards?
Yeah,  I watched the animated movie so many times and it's like you wanna do it justice.   So I did watch the animated film right before I started filming . She has a certain physicality 'cause she's drawn a certain way. And she holds her hands with these little gestures and her posture and her feet. So I tried to bring that charm to the role. But also there is, in ours there is a little more to her 'cause she's not just a delicate princess, you know. She  has some strength and she actually shows real emotion. She gets sad and feels betrayal and, a lot of secrets are hidden from her. So it was nice in ours that we could make her more human than just the cartoon.

I felt like she was so very innocent to the point of being naïve.  How different is the character from Elle?
Right. Well she is, um, she is that way 'cause she's been trapped. She's in this little cottage. She doesn't know outside world. She doesn't know the outside world — definitely very naïve in that way. Everything she's learned she's kind of had to learn on her own and I guess for me, I'm still as happy and as curious as she is, so I like to soak up a lot of information.  We're very similar in that way. But I guess, it is exaggerated as a fairy tale. So her naïveness is like to the point of so much. Whereas I don't think any child can be that sheltered like she was in, in our time.  I'm different in that way from her.

I think you made her very believable and you kept us very attached to her.
Thank you.  I tried to do that 'cause I know, it could get boring if it's oh, that girl is just the one who's happy and doesn't know anything, you know? But , I thought that to bring a sense to her that she's kind of desperate to learn and she's trying to figure things out, that'd be nice. And to show that she hasn't been taught to be scared yet. She doesn't know to be scared of things that look different.  So when she does see Maleficent, she's not scared of her, which is very strange for Maleficent 'cause  normally everyone's so terrified, but this little girl's not. I think that's what makes them have this bond that they do.

What was your favorite scene to shoot?
When I pricked my finger on the spindle 'cause it's such an iconic — I mean, when I think about the original, that's the scene I think of. And especially to film that scene, it was the very last day of filming that we did. Everything was building its way up to that monumental moment and I felt I wanted to do it right, everything has to be a certain way. 'Cause that scene impacted me a lot when I was little.  It scared me more than Maleficent did because of the way the lights were and it looked like Aurora was morphing into Maleficent, with that green and purple light. So I was like, "We have to have those lights." So they changed, made it more of a green hue and then I had the trance so I think it turned out, what I saw it turned out good, right?

Was it hard for you, without being able to see everything that was going on because of the special effects, to get where you needed to be in that moment?
It was more than I'd ever done before. You're on a set so there is a stage and things are built on it, but everything basically surrounding you, all the little fairies, those are just tennis balls or little lights. And there's green and blue screens that you're basically standing in, so you really have to imagine everything. It also can get a little technical too, but then you don't want your performance to be prohibited by the technicality of it. You want to make sure that you're still playing your character, but you still have to be aware of the hand that you're holding, but you're not holding a hand, it's air. So you have to make sure how would I hold it if it was there? Whenever you had a hair change or a wardrobe change, you stand on this turntable and stand completely still and they turn you inch by inch and scan your body. Then that makes a virtual you into a computer and then they can take that virtual you and put you onscreen. When I did all the floating and stuff, a lot of that they manipulated,  I don't know how it works but they did it.
After our interview, the delightful Elle took the time to take a picture with us!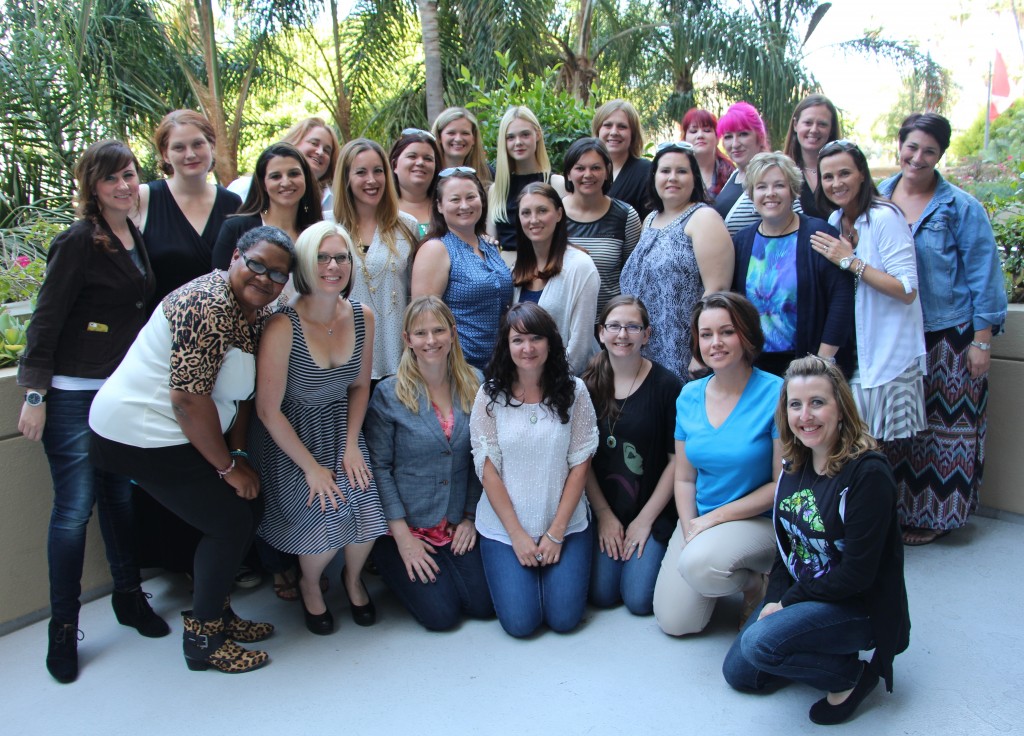 For more Maleficent Interviews read my Angelina Jolie feature and stay tuned this week with more from the cast and crew leading up to this Friday where Maleficent Opens Nationwide in theaters.
A huge thank you to Disney for  providing my flight and hotel during the #MaleficentEvent. All opinions are 100% mine
.