Choosing a stroller for your little one can be very confusing. There are so many options to consider.  Are you going to be jogging with it?  Do you need a car seat to fit inside it?  How compact do you need it to be?  It can be a little overwhelming for new parents.  I remember when we were registering for our baby shower and we weren't sure what to do.  We ended up registering for a travel system with a very large stroller.  We ended up getting an umbrella stroller later because the stroller was too large for everyday use.
I think companies have heard the outcry of large strollers and have answer with more compact options.  I would love to introduce you to one that I love: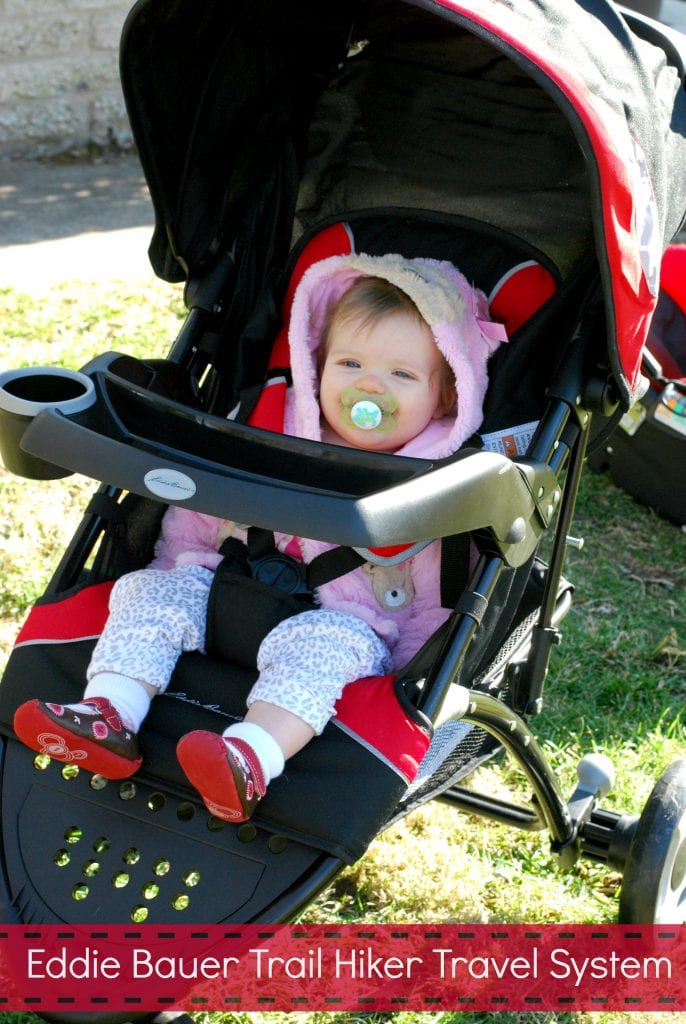 We were recently sent the Eddie Bauer 3-Wheel Travel system to test out, and both my husband and I were really impressed.  My daughter liked it as well.  Check out her precious little smile: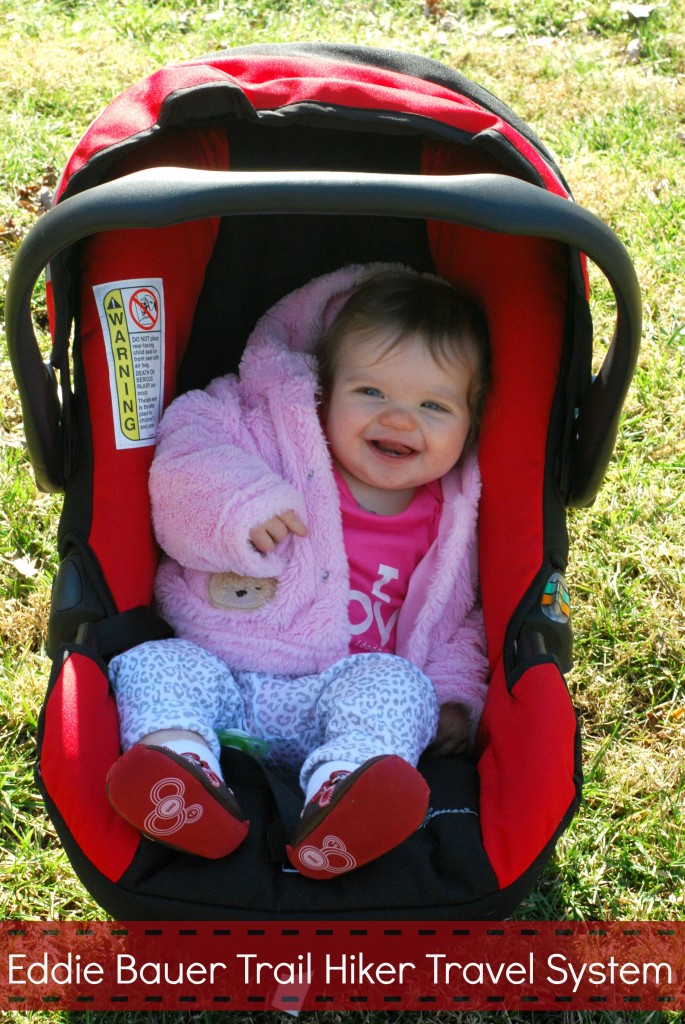 Before I get into my thoughts about the travel system, here is a little bit more about what to expect from the newest travel system from Eddie Bauer:
Choose your own path with the Eddie Bauer Trail Hiker 3-Wheel Travel System. The 3-wheel design provides superior maneuverability around tight corners that will get you and your little adventurer around easily.

This travel system also features our Top Rated infant car seat with Side Impact Protection and an extended use range of 4-35 pounds for a safer and more comfortable ride, whether in your car or attached to the stroller for a walk in the great outdoors.

Stroller

3-wheel design for superior maneuverability
Adjustable handle
Parent Assist tray with two cup holders and covered storage
Child tray with cup holder
Multi-position seat recline
Large storage basket
2-section adjustable canopy
5-point harness
One hand fold and stand

Infant Car Seat

Accommodates child up to 50 pounds
Rear-facing: 4-35 pounds and up to 32″
Side Impact Protection
Removable infant head support
Adjustable, stay-in-car base
QuickClick™ attaches car seat to stroller with one click: no extra parts required
Easy-to-read level indicator for quick and simple installation
LATCH equipped
Meets or exceeds Federal Safety Standards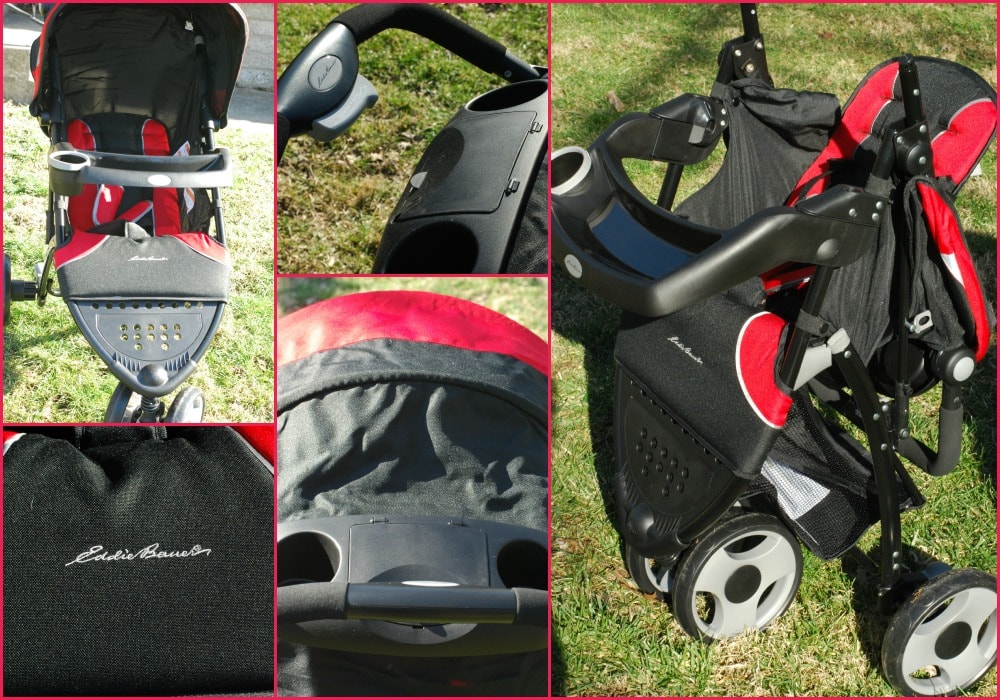 Our Thoughts
I will start at the beginning.  The system is a breeze to set up.  My husband has done a lot of putting together in the past few years and he told me this was by far the easiest product that I have reviewed that needed to be assembled.  Really all he did was attach the wheels.  As you can see from the picture above, the stroller can fold up into a very small stroller, thus making it easy to fit into small vehicles.
Another feature I love is the adjustable handle.  It will actually telescope out a little for those of us who may be a little taller than the average Joe.  If you are a very tall person, you will be thankful for this option!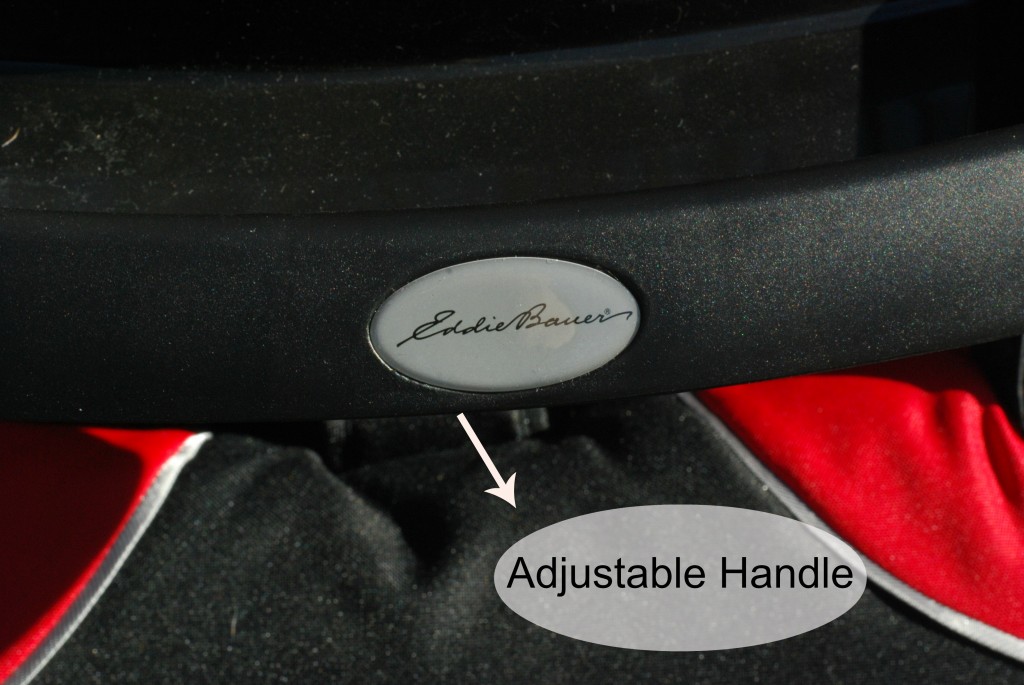 I love how large the under basket is.  While it is not enormous (which helps when it folds up) it gets the job done and holds everything that I need it to hold.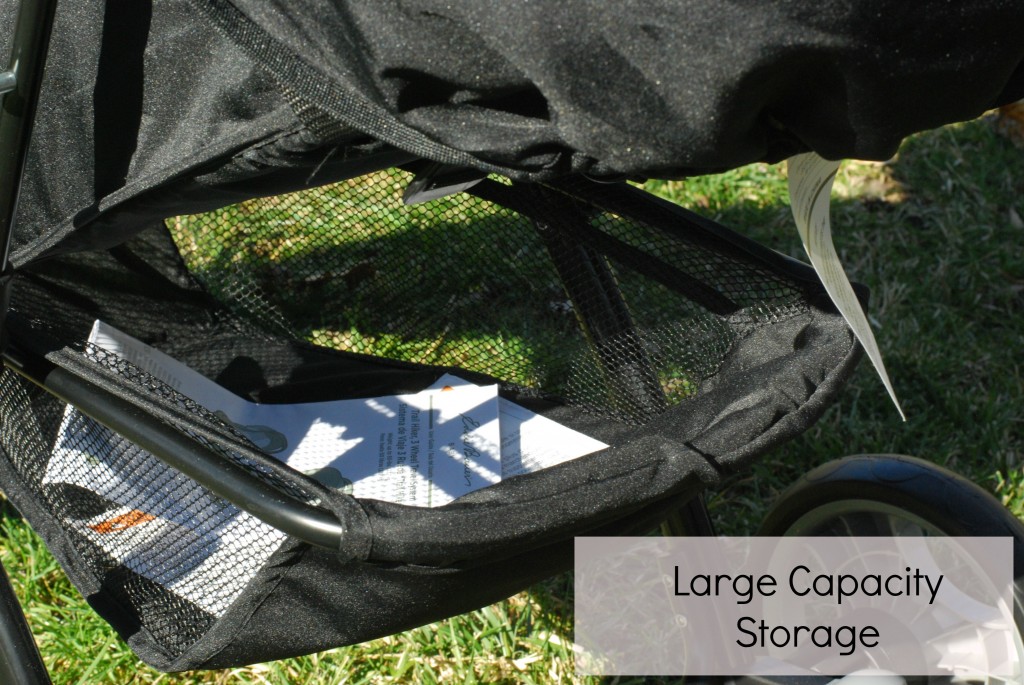 The system is very sleek looking.  I appreciate the clean lines and the bold colors.  If I had a magic wand, I would have told Eddie Bauer to also offer it in a bold purple or pink for all those little girls out there.  While red can work for either a boy or girl, this is my last baby and I would love to flaunt her girlie style.
The car seat is extremely lightweight compared to our old system.  I wish we had this earlier.  I never realized how heavy these infant seats are until I forgot my stroller and had to lug Caroline in her infant seat through the mall. The infant seat base installs easily and quickly into the car.
Really the only complaint that I have with the system are the straps on the stroller itself.  The first time I put Caroline in the stroller, I had a hard time getting the straps apart and connected again.  I can say that this gets easier every time you do it, but the first time was a little difficult and I have a lot of experience with these types of harnesses.
Overall, I love this system.  We have replaced our old one and will never look back.  I will be excited once winter is done and we can get out and do a little more hiking.  I can't wait to see what this baby can do on the trails!
Win It
One (1) lucky reader is going to win their own Eddie Bauer Trail Hiker 3- Wheel Travel System, ARV $249.99!
A huge thank you to Eddie Bauer who has provided me with the featured product for this review, I didn't receive any compensation for writing this article.  All opinions are 100% mine!