Dublin, Ohio is little Irish gem hidden within the Midwest. With its quaint historic downtown that offers fairy hunts, Irish pubs, sweet shops and shopping, Dublin is a great family-friendly destination. See how we spent our weekend during the annual Dublin St. Patrick's Day Parade and Blarney Bash.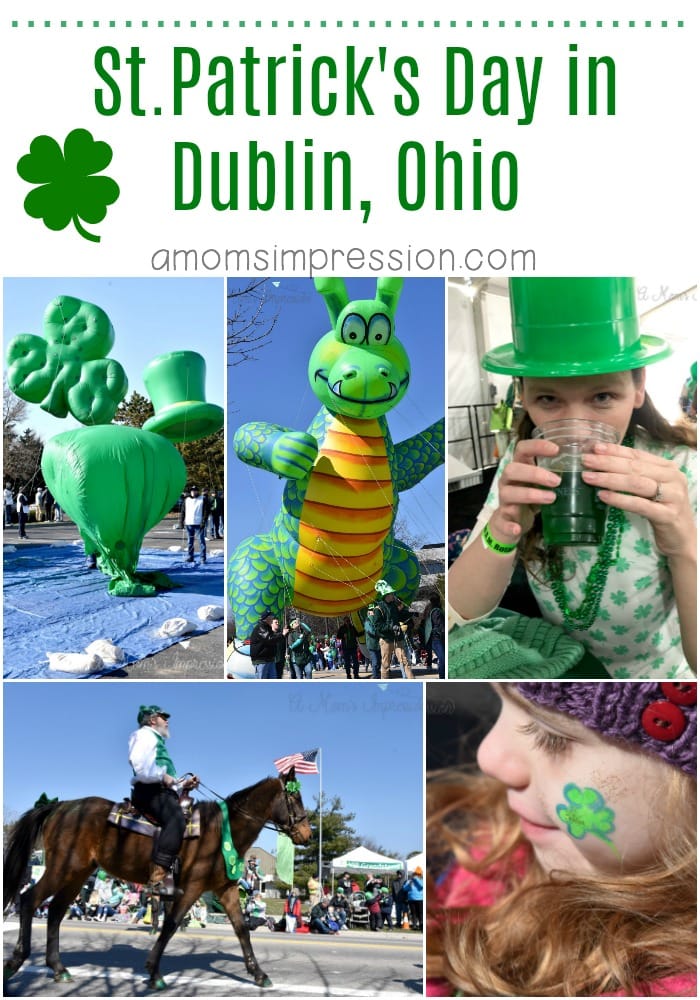 My family is always looking for fun trips to take on the weekend.  It is great to be able to leave after work on a Friday night and be back by Sunday afternoon but still feels like we have really experienced something outside our normal, routine life.
Living in the Midwest, there are many options to do this.  Nashville, Chicago and St. Louis are all wonderful cities that are easy enough to drive to from our front door.  But, we are always looking for another adventure.
When the city of Dublin, Ohio reached out to us and asked us if we would like come for a visit during their annual St. Patrick's Day celebration, we thought this was the perfect opportunity for our family to visit a new city.  So, we said, "yes"!
City of Dublin, Ohio
Dublin, Ohio is a moderate/small sized city on the Northwest side of Columbus, Ohio.  With a population of 45,000, it is one of those cities that is able to have that small town feel while still having all the amenities you would want if you were traveling there.  For instance, they have their own Mall, Movie Theater, a number of nice hotels and lots of dining options. But, if you drive to downtown Dublin, many of the buildings have plaques on the front labeling them as historic places.  More on this later.

Things to do in Dublin, Ohio
In addition to their annual St. Patrick's Day parade, Dublin has numerous family-friendly things to do. There are favorite attractions like the Columbus Zoo and Aquarium and Zoombezi Bay Water Park that are very popular with kids. If you love to play golf you could visit Muirfield Village Golf Club, home of the PGA's Memorial Golf Tournament.
Dublin has over 60 public parks including Indian Run Falls where your family can enjoy the walking trails and check out a beautiful waterfall.
There are many different public art installations in Dublin including the Giant Dancing Rabbits at Ballantrae Park and the Field of Corn exhibit with 109 human-sized ears of corn.  The Field of Corn was located near our hotel and the kids got a kick out of it!
I was very impressed by all the different family-friendly activities that Dublin has to offer.

Embassy Suites Dublin, Ohio
We stayed at the Embassy Suites.  This was a great hotel. Our room was very large and clean.  There is an indoor pool and exercise room. Also included in our stay was one of the best breakfast buffets I have ever had at any hotel and a happy hour every night that serves free drinks.  There is a hotel restaurant that has your usual pub style menu items. All of the staff was extremely kind and we don't have a single bad thing to say about this hotel.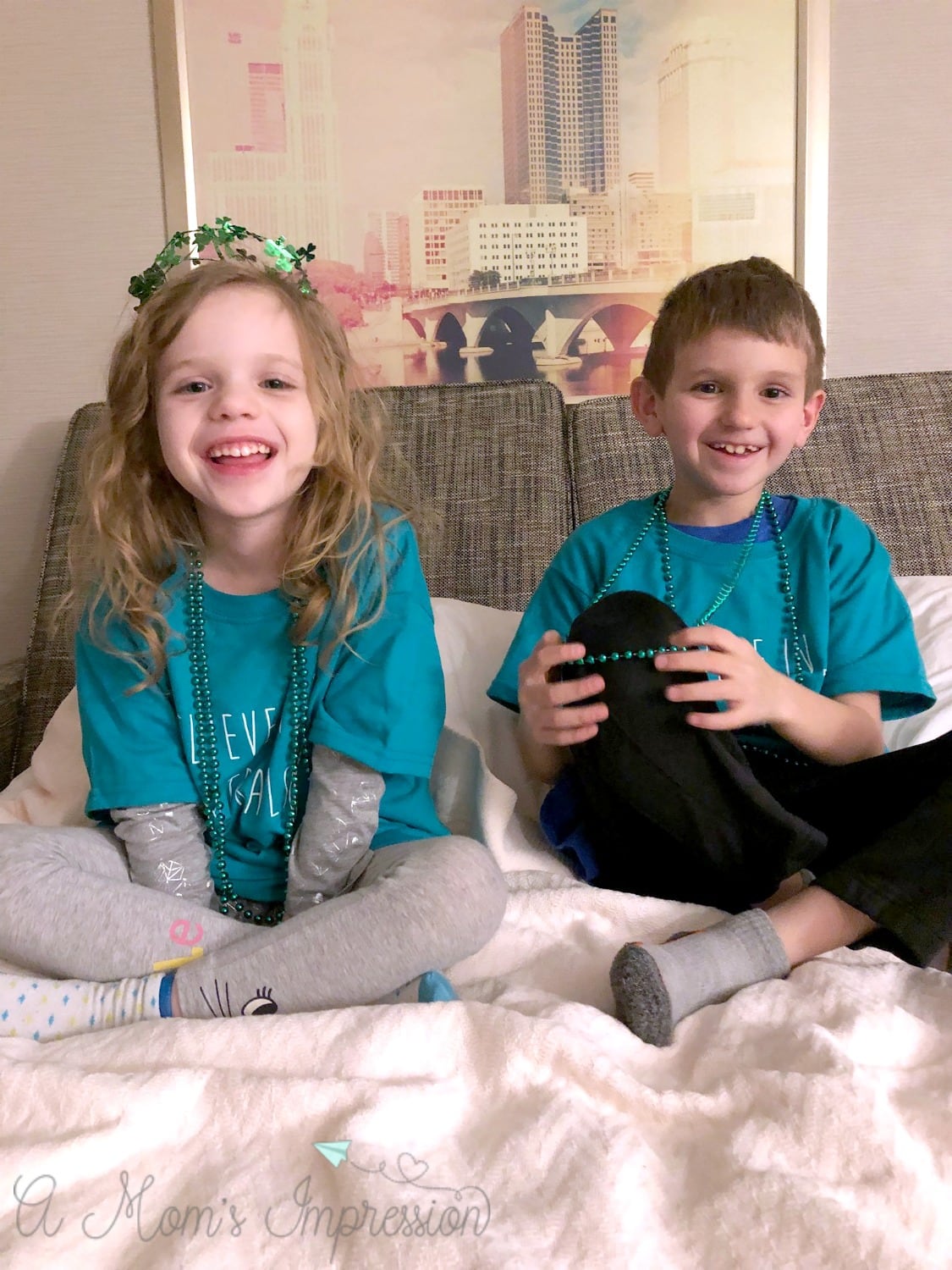 We went to bed on Friday night and woke up early for the breakfast buffet.  We had a busy day ahead of us and the hotel kindly posted the best times to hit breakfast to avoid the crowds.  Once we were finished with breakfast, it was time to head to the Inflation Celebration. Taking place from 10am-noon, this is where we can watch them inflate all of the floats and get a head start on our St. Patrick's Day festivities.

Taking place in the parking lot of the Graeter's Ice Cream just down the road from our hotel, we opted to drive there but, in hindsight, could have easily walked.  In fact, one of the great things about staying at the Embassy Suites is that all of the parade festivities are within walking distance.

Inflation Celebration
Before the St. Patrick's Day Parade, the city hosts an Inflation Celebration where the public can come and see how they inflate the big inflatables that are used throughout the parade.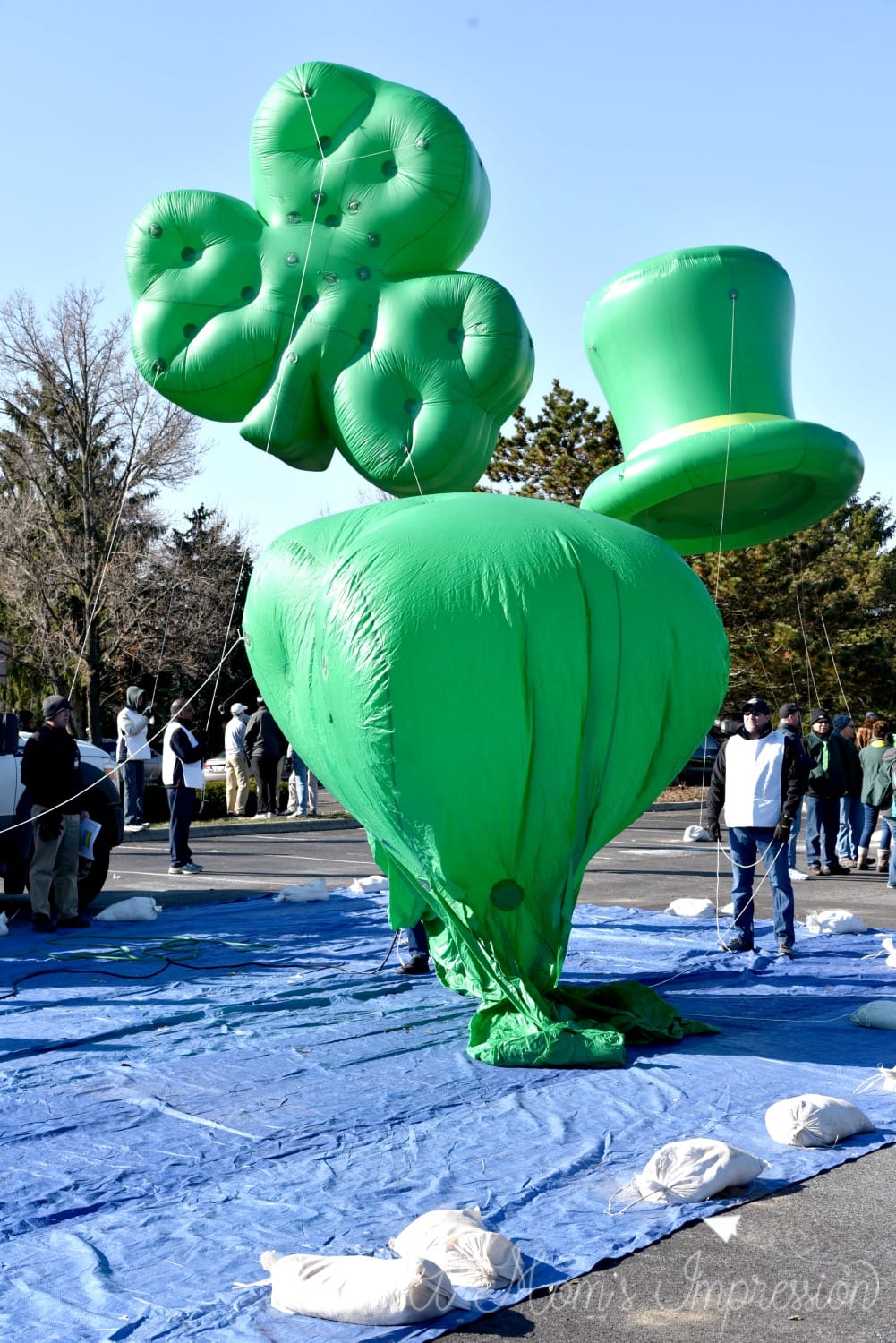 The Inflation Celebration was an absolute blast!  There were music, games, and treats for everyone. My daughter had her face painted, and my son enjoyed playing with the giant games they had available. If you visit our Instagram you can see many of the fun activities under our Travel highlights.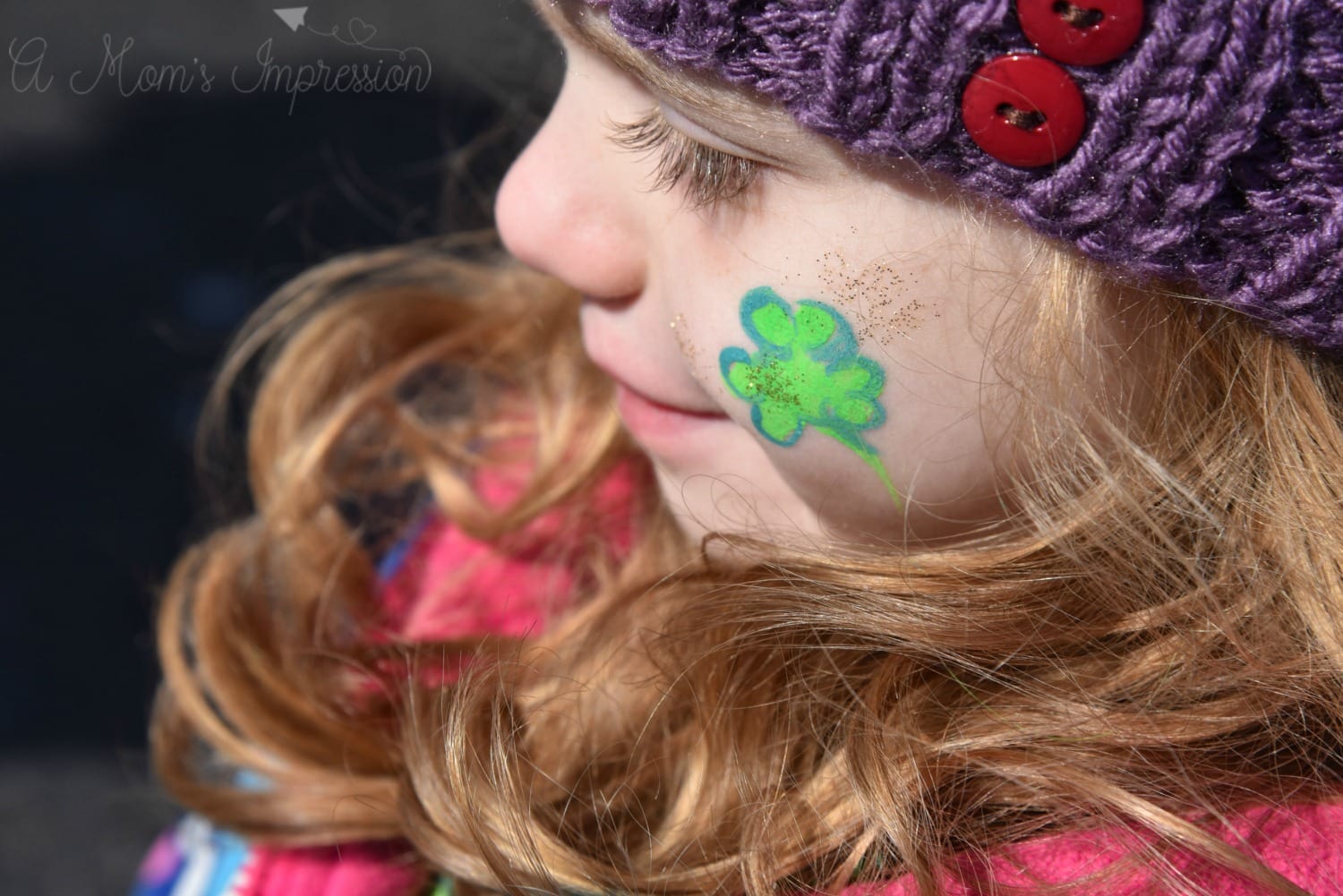 The staff on hand were all dressed in their St. Patrick's Day best and everyone was SO nice to us.  There isn't much of a "ceremony" of inflating the floats, they are just kind of doing it in the background. But that doesn't matter, we had so much fun there.  We stayed for the full two hours and my kids were never bored. It is saying something when you can keep an 8-year-old and a 5-year-old entertained for 2 hours in a parking lot!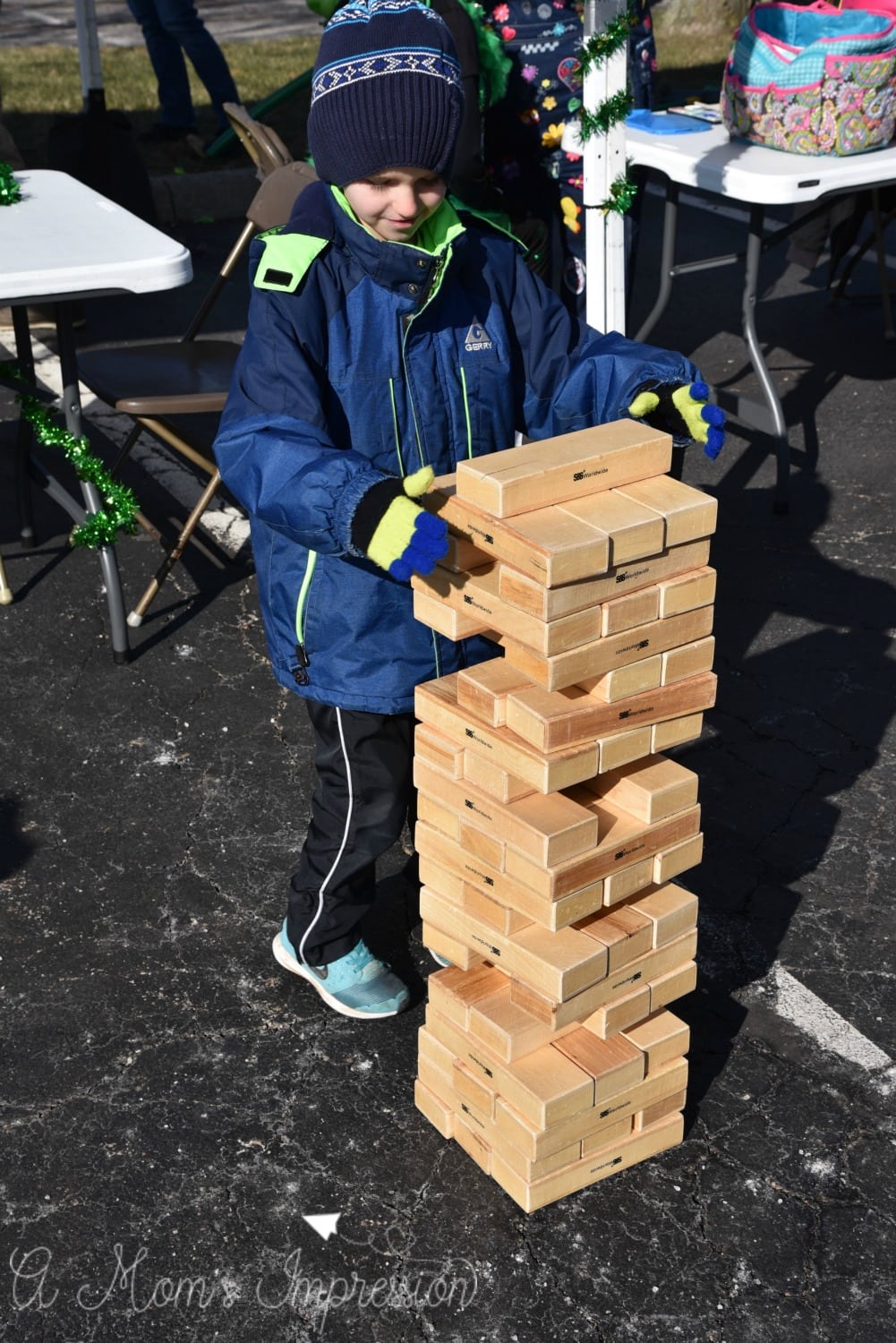 Dublin St Patrick's Day Parade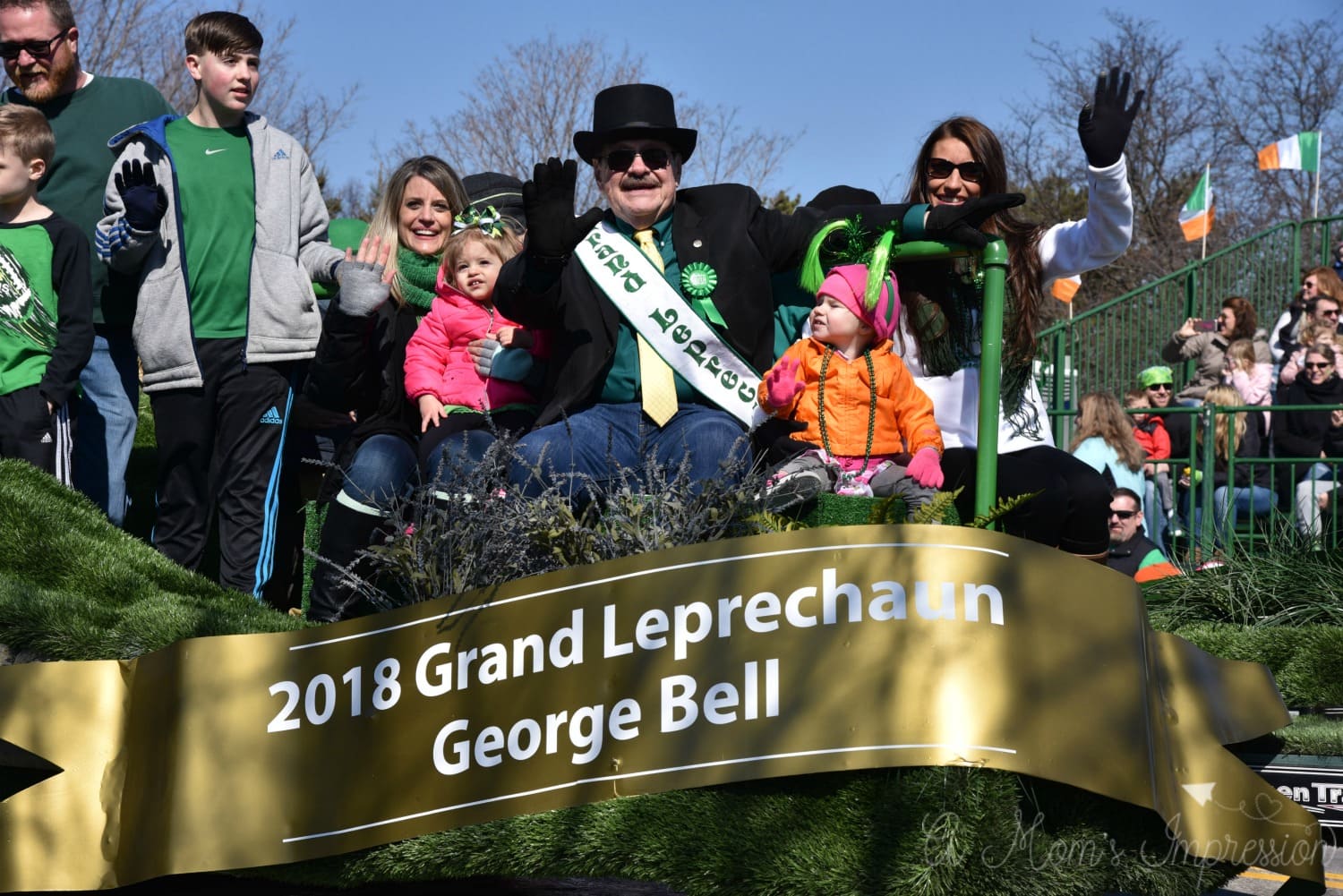 Once the Inflation Celebration was over, we headed to watch the parade.  We ended up finding some space on a curb towards the beginning of the parade.  A couple of suggestions: We didn't bring any lawn chairs so we had to sit on the curb.  I would definitely suggest bringing chairs! Also, we sat in the shade of a tree, it was a pretty cold day in Dublin this year but was very sunny.  I wouldn't suggest sitting in the shade! Also, lots of candy is given out during the parade, I would also suggest having bags for your kids to put the candy in.
The parade was fantastic.  It last about an hour and a half and we had a steady stream of St. Patrick's Day fun coming through.  The kids loved all the candy they got and my favorite part of the parade was seeing all the marching bands perform.  So much fun. It really had that "small town parade" feel that was very special.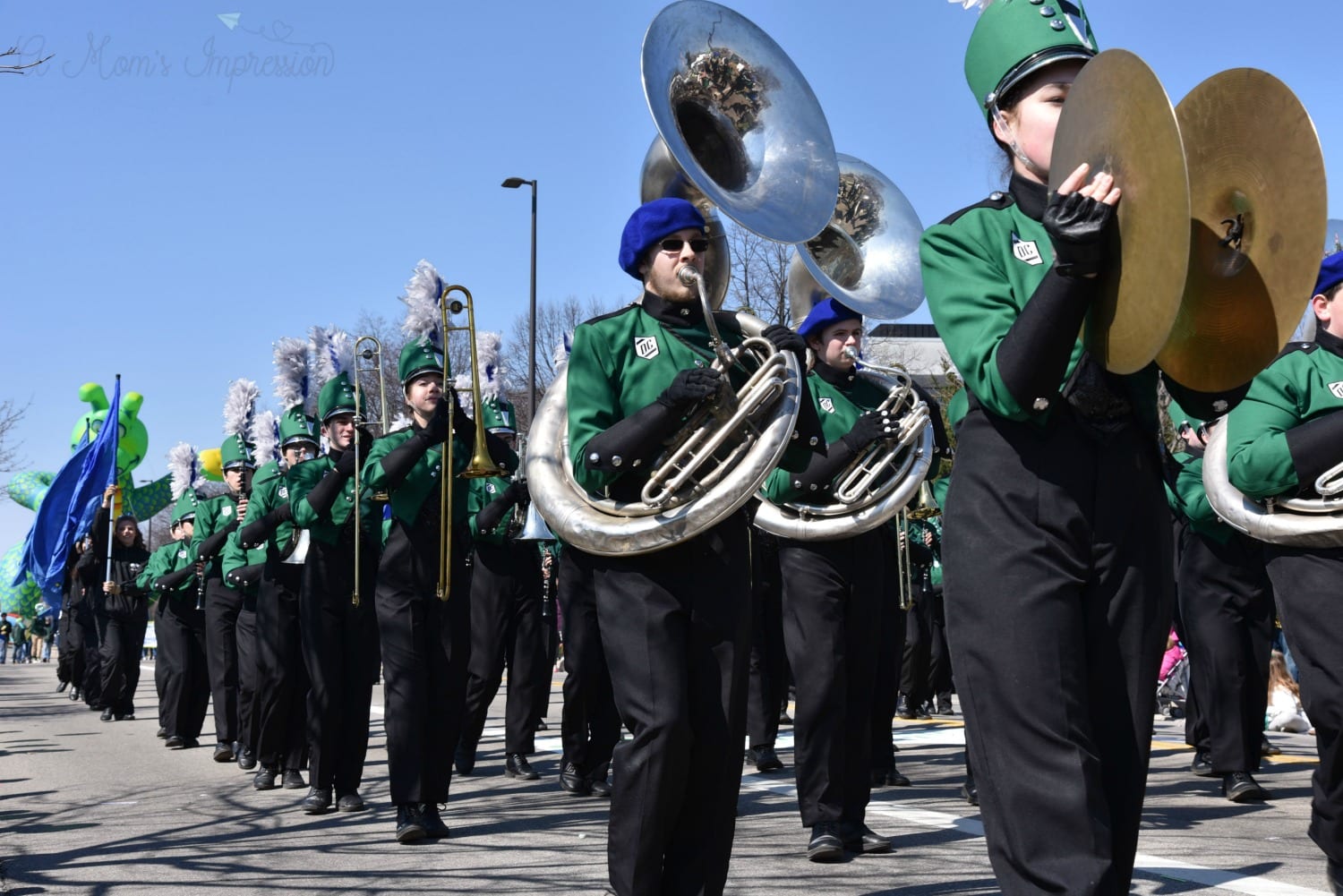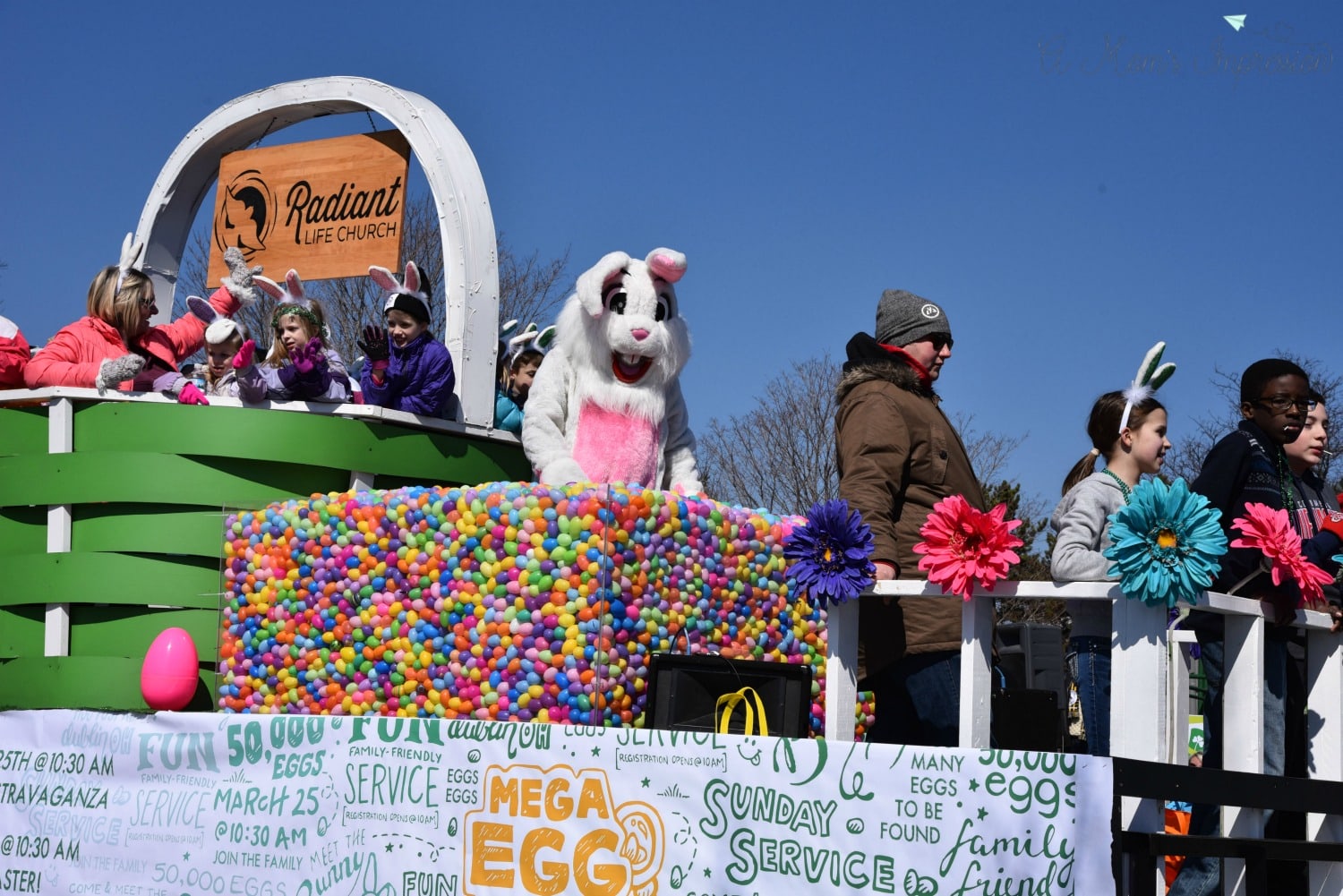 After the parade, we retreated back to our hotel room (we just walked this time) to decompress for a bit.  Our kids were troopers, but it had been a lot of walking and was pretty cold outside. So we needed to pump the breaks a little bit before we headed to the Blarney Bash.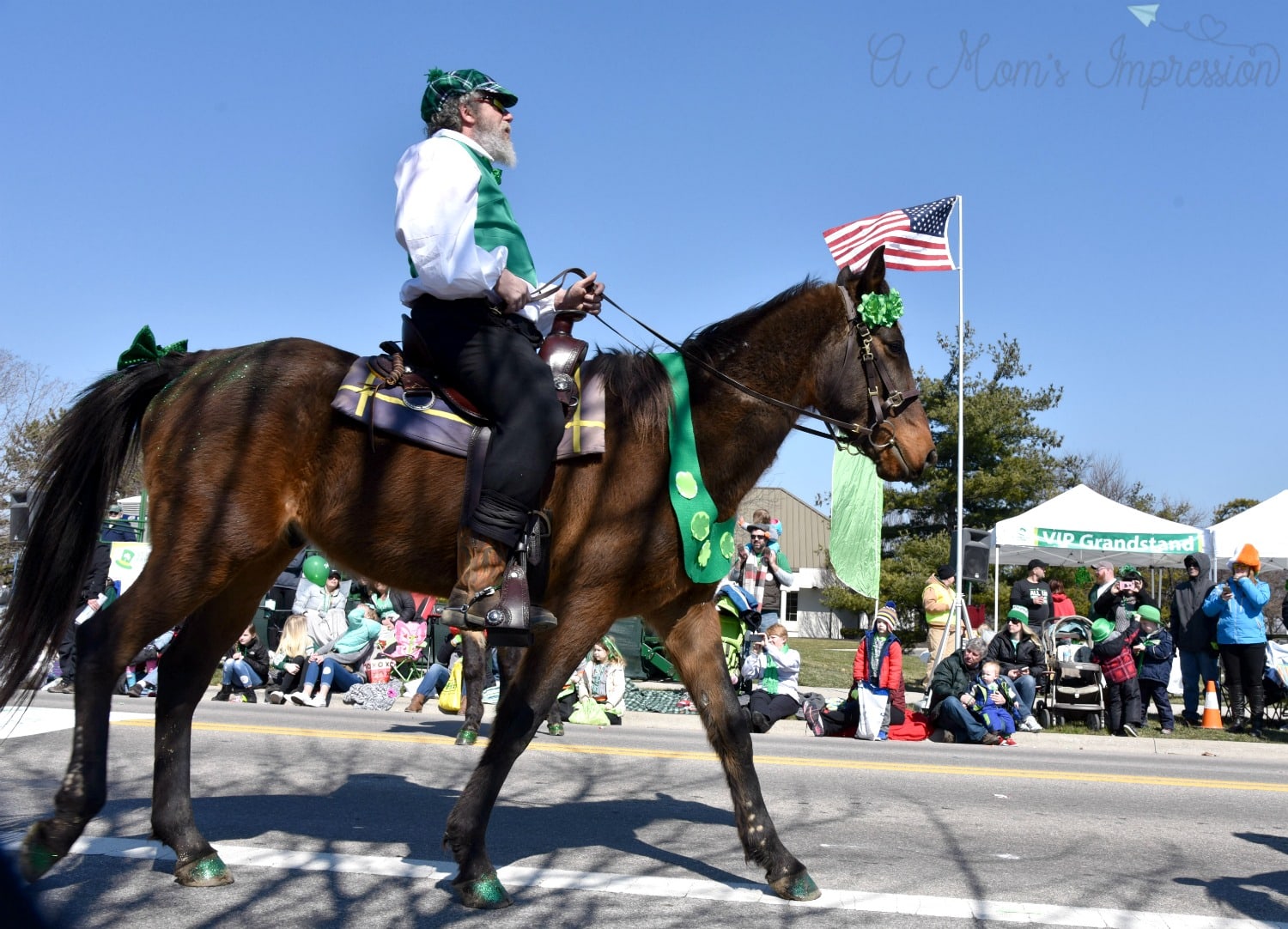 Blarney Bash
The annual Blarney Bash is a huge Irish celebration that takes place in a large tent near the Inflation Celebration.  Again, this was in an easy walking distance of our hotel. It is $10 for adults to get in and free for children 12 and under.  There is live music, games, food, and drink for the whole family. The food offerings were fish and chips, corn dogs and macaroni and cheese.  They also had an assortment of beer, from a green lager to Guinness. Yum!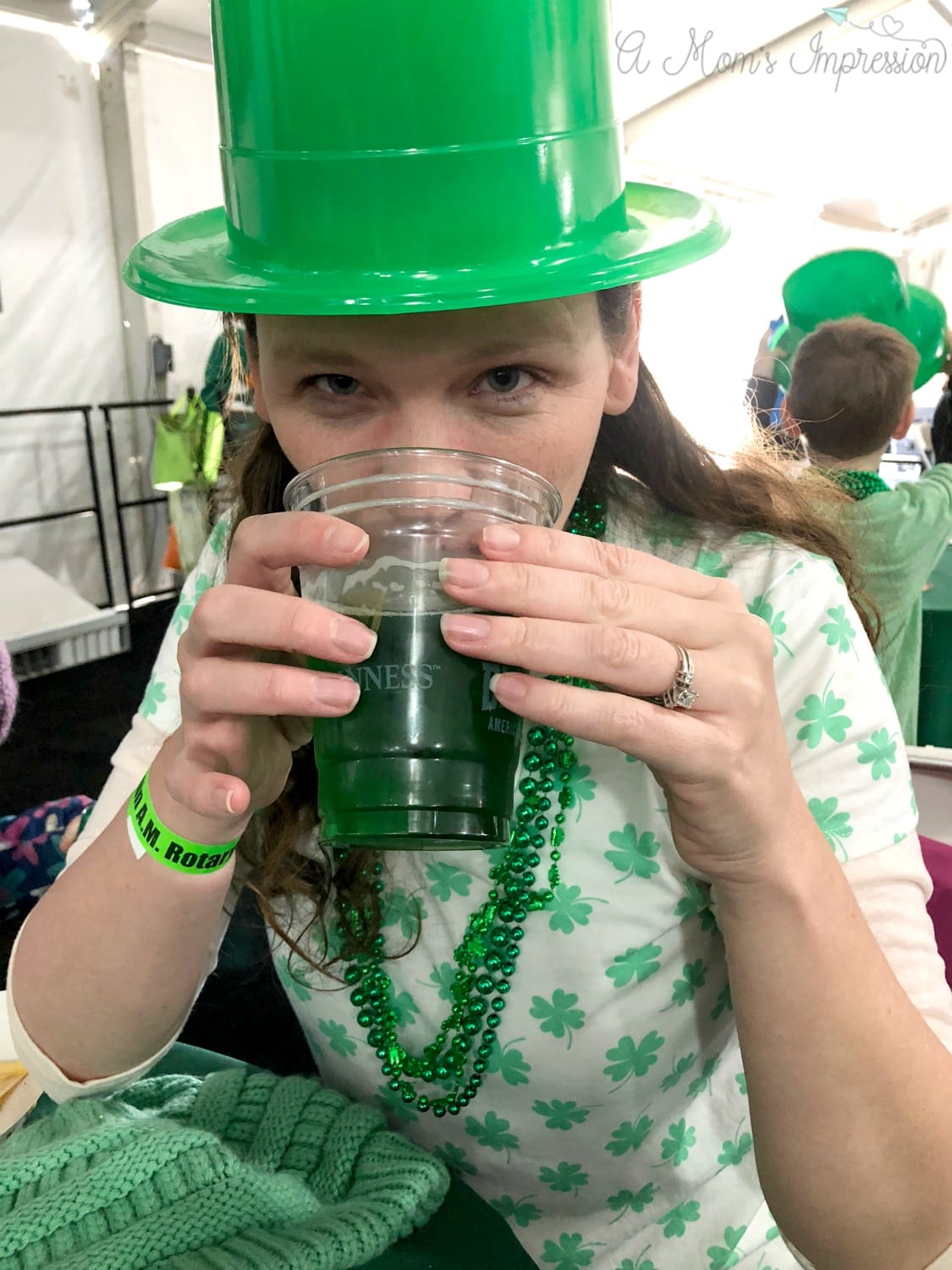 The tent was a nice touch to get in from out of the cold. Beware the tent is VERY loud during the live music performances. I enjoyed that they had a little something for everyone in the family. There was a fairy performance that my daughter loved, some robot activities that my son enjoyed and music that the adults appreciated.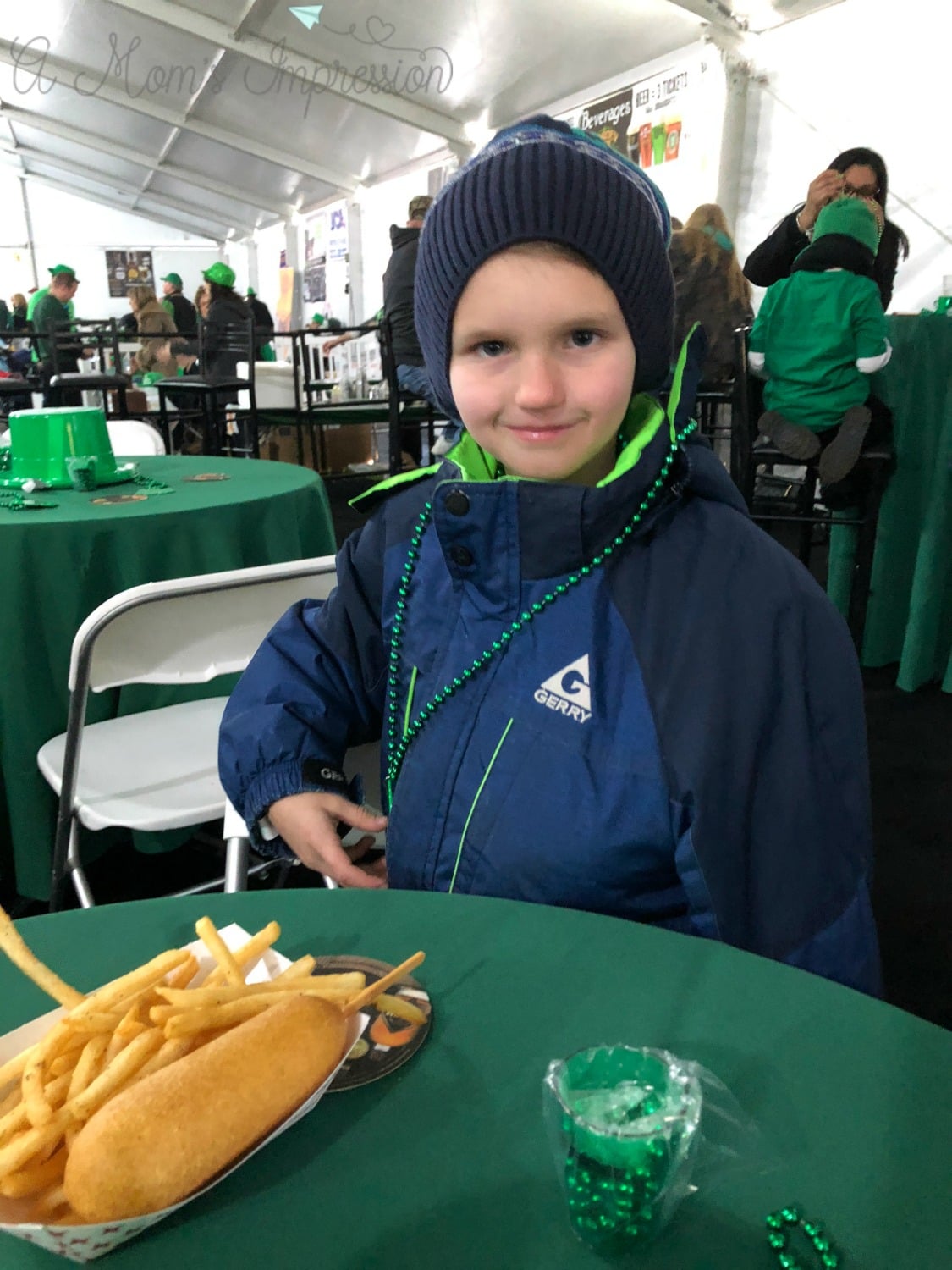 We had a great time a Blarney Bash, but it was time to move on to our last adventure for the day.
Dublin Irish Fairy Door Trail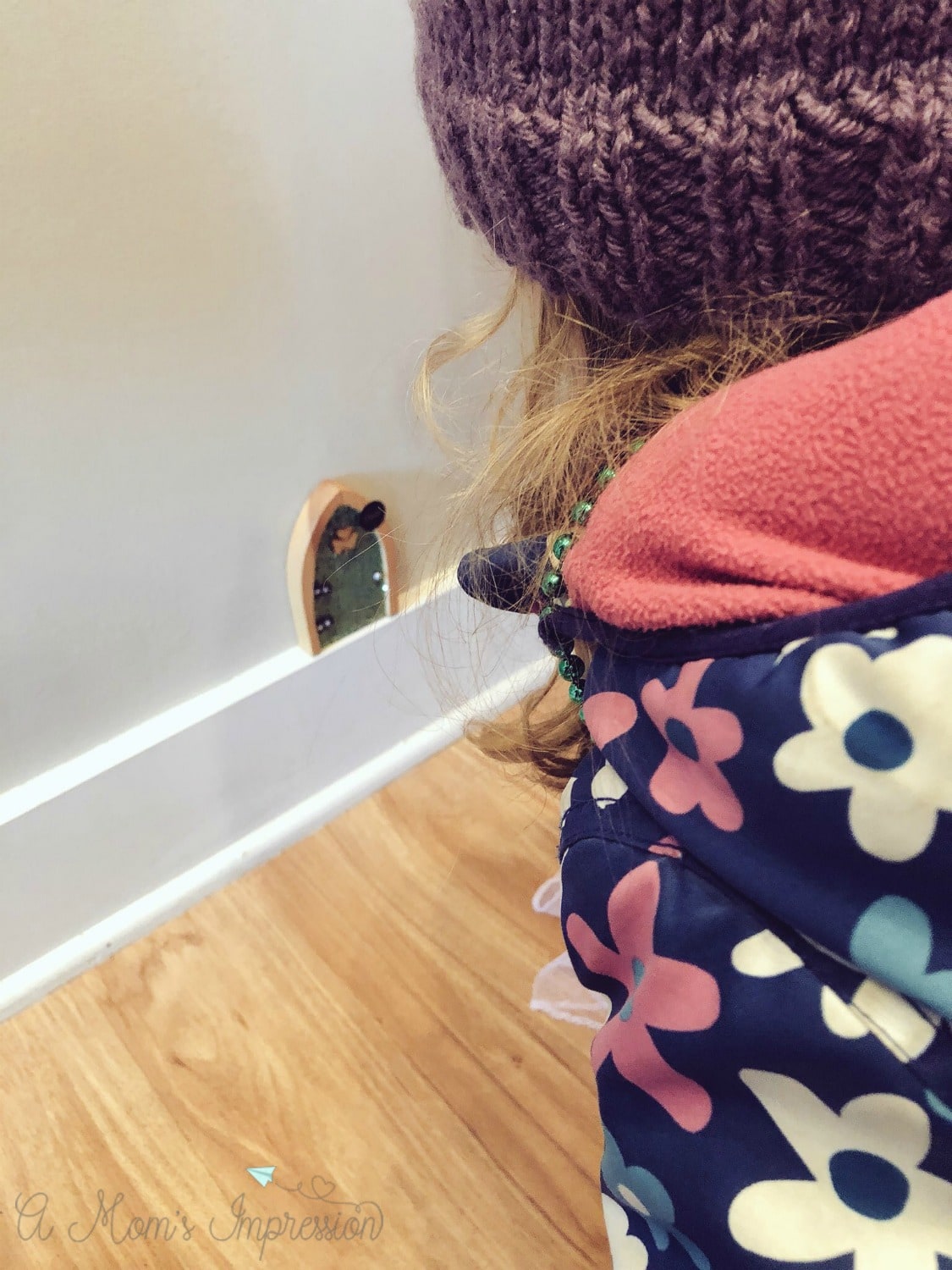 Downtown Dublin was the nations first town to have an Irish fairy door hunt. This is an absolutely incredible idea to get traffic in their lovely, quaint, downtown area.  We were given a map of the area and told which businesses have fairy doors in them. Then we have to go into the establishment and find the fairy door somewhere inside.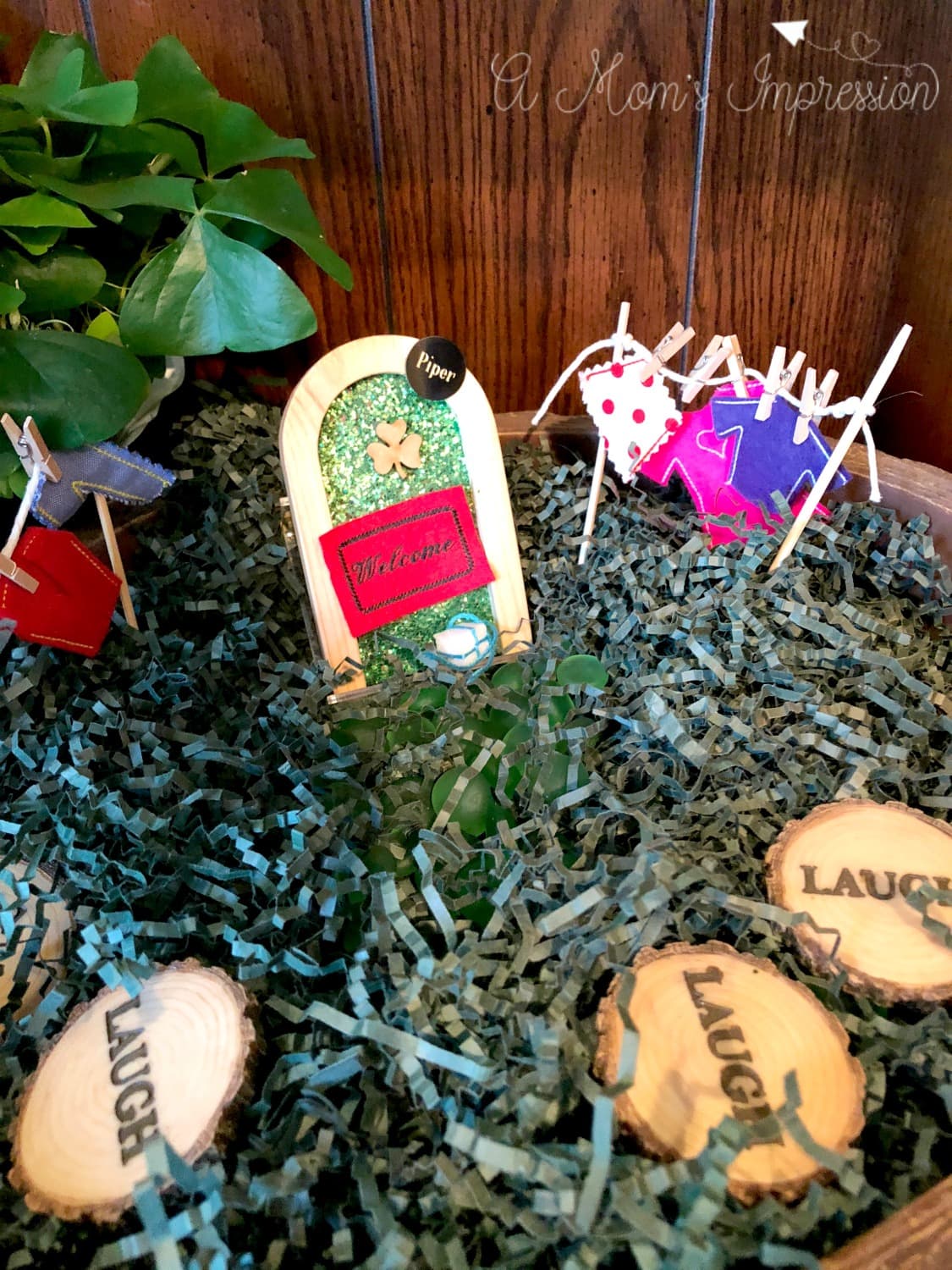 My children LOVED this. The doors themselves are pretty small, so you really have to walk around and look for it. Every store we went into, the owners and staff went out of our way to feel welcome.  If you find the names of all of the fairies and return your map to the Dublin Visitor & Information Center, you can get a free Fairy Trail t-shirt.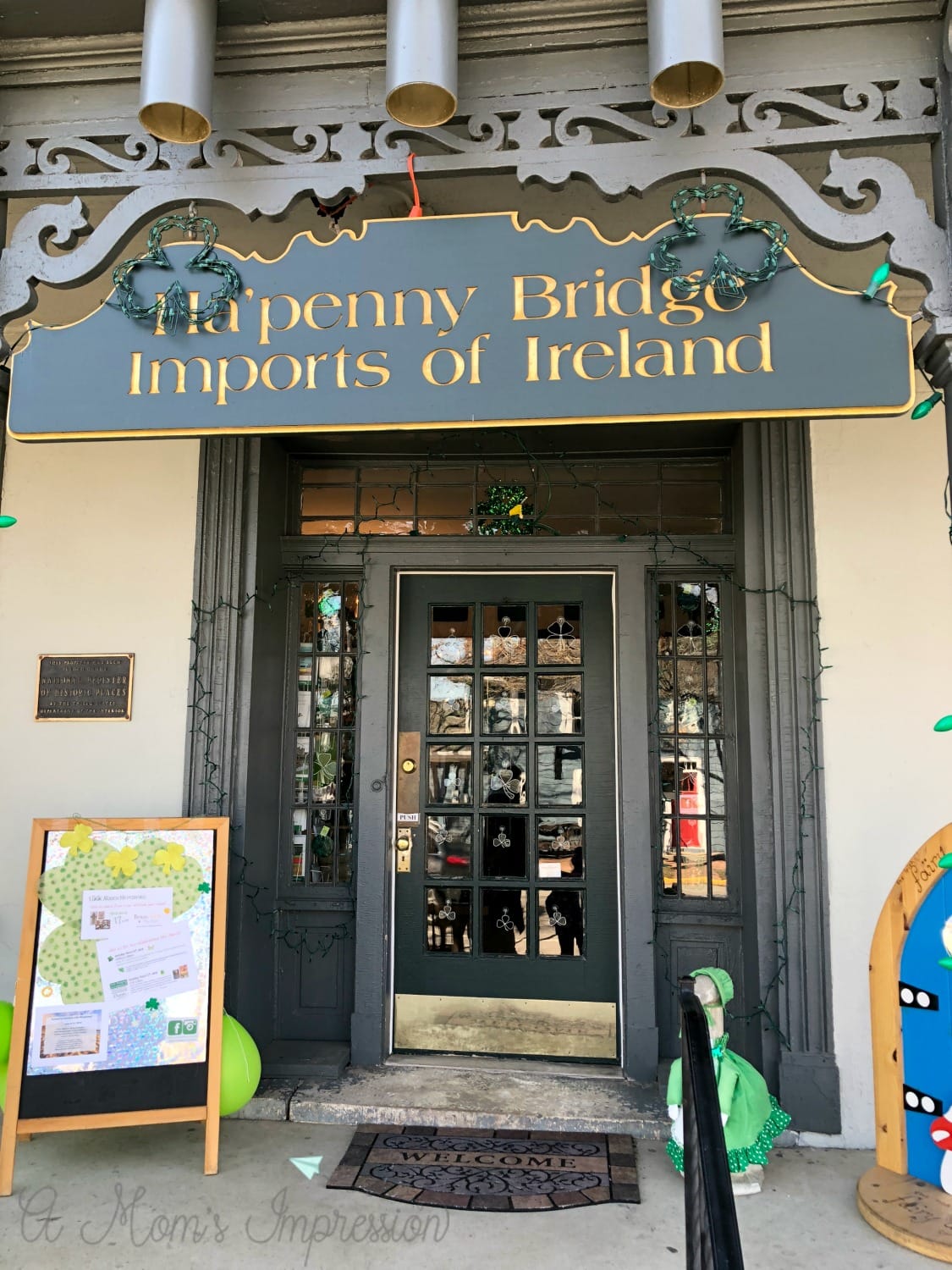 Our favorite stop was Ha'penny Bridge Imports of Ireland.  This is a family owned business of 35 years.  Housed in a historic home built in the 1830's, it has all the original floors, windows and fireplace.  This store is so cool and offers great gift ideas for anyone (or for yourself!). Once again, the staff was so kind and gave us a tour of the store and all of its history.   We were so glad we stopped by and, without the fairy door hunt, we might not have!
Dublin, Ohio Restaurants
With all the fairies found and accounted for, it was time to head back to the hotel.  We rested up again to get ready to go out to eat for dinner.
We love trying to find unique restaurants when we travel. With many people in town for the parade we learn a valuable lesson, get to the restaurants early. Our kids have a very short attention span so we have a hard time with long waits. We needed to make our reservations the night before, but we didn't think about it.  We tried to make reservations at several restaurants at the last minute but everyone was very booked.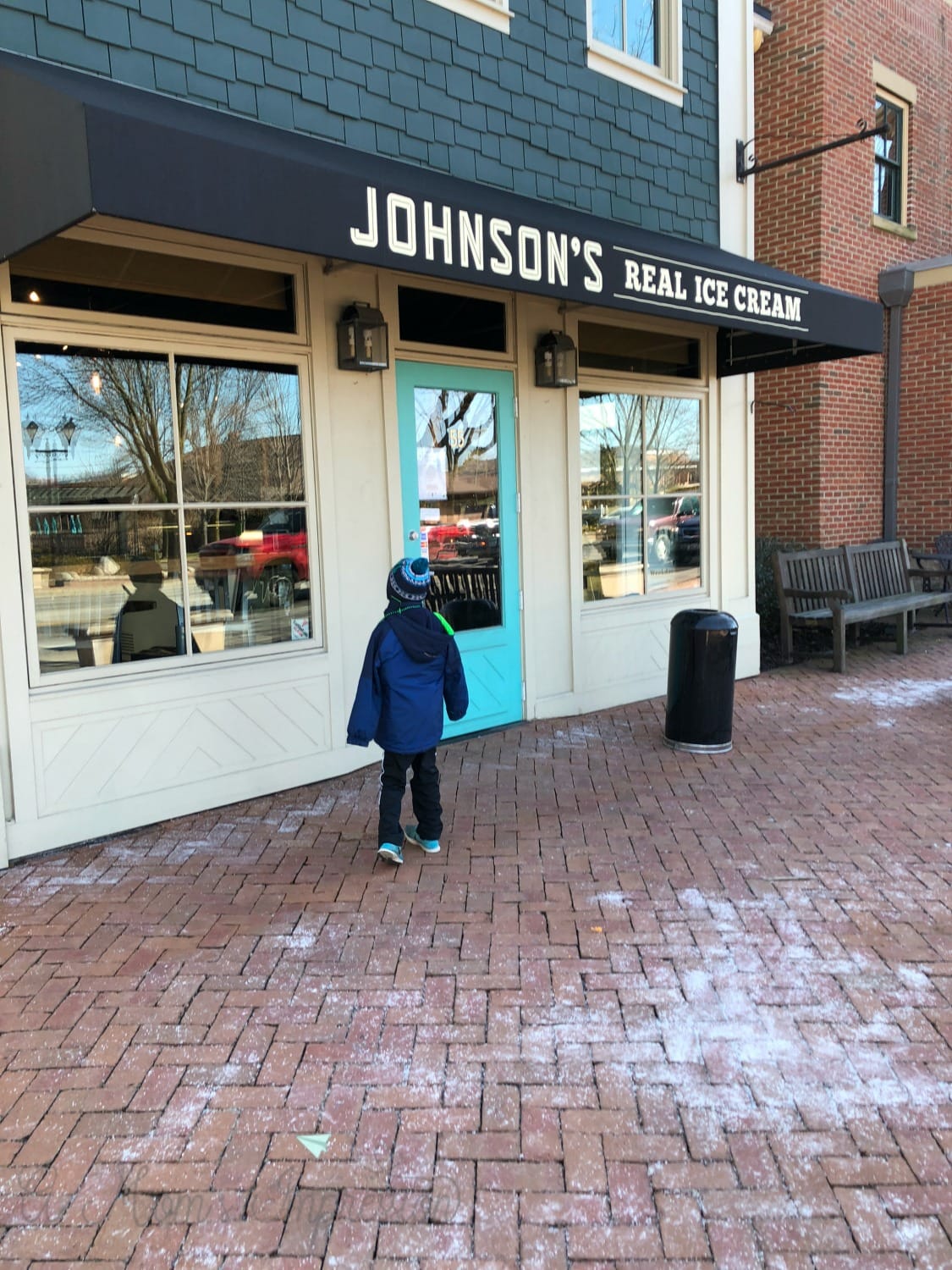 We did visit a couple of the sweet shops in downtown Dublin. There are several ice cream shops including Johnson's Handmade Ice Cream where we found a Fairy Door!
The Cupcakery had amazing looking gourmet cupcakes and we could have stayed there forever!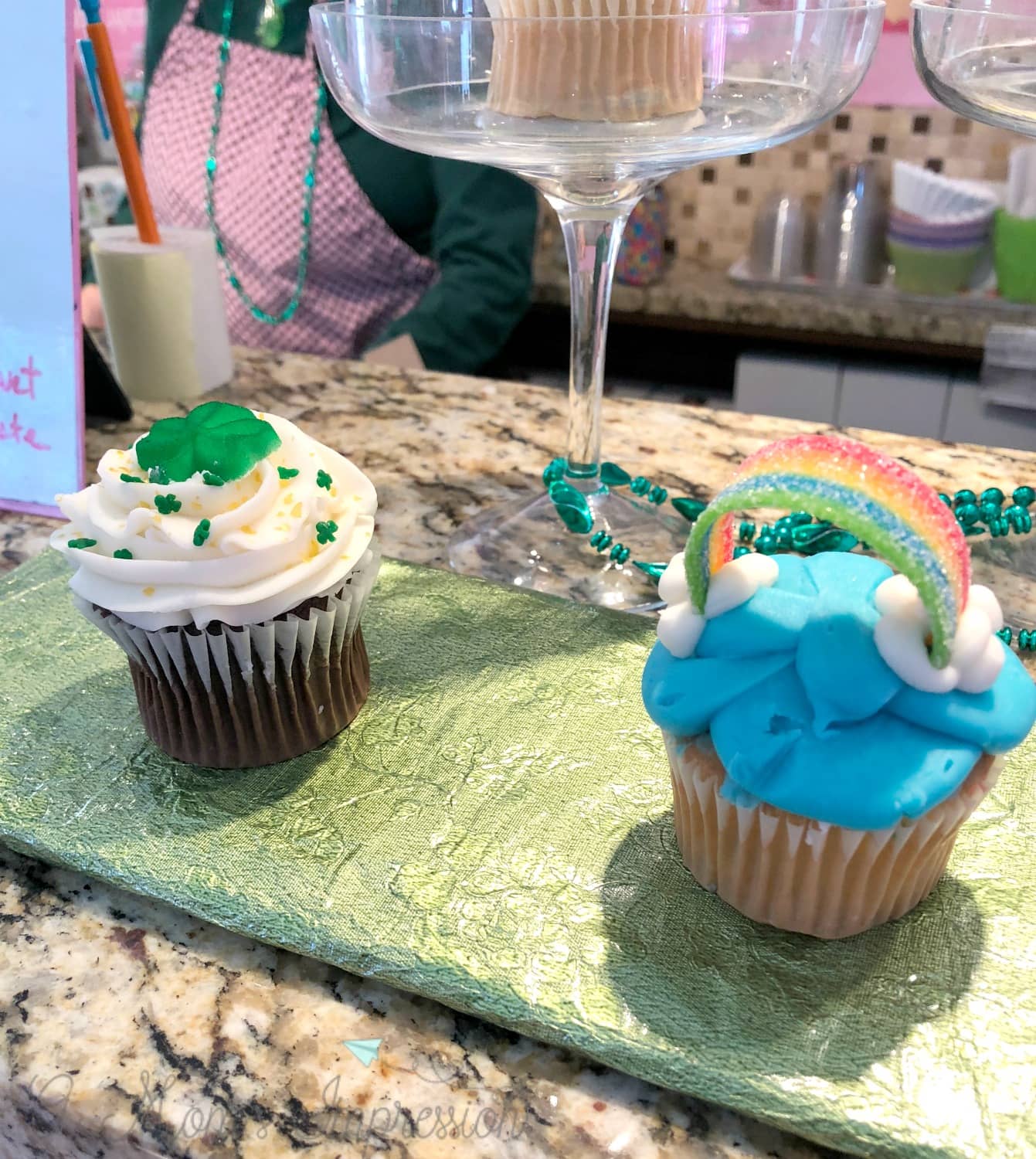 There were a lot of people in town and we were all (especially our kids) pretty tired at this point so we went to Max & Erma's down the street from the hotel. Next time we visit Dublin, we will make sure to have our Saturday dinner plans a little better hashed out!
Word to the wise, check out the Dublin Village Tavern, one of Historic Dublin's favorite watering holes. They have an Irish-inspired menu that is both tasty and affordable. My husband and I are making plans to come back for the Irish Festival, and we WILL be eating at the Dublin Village Tavern. 

Irish Festival Dublin, Ohio
We spent one last night in our wonderful hotel room, had another HUGE breakfast (my son can seriously put down some pancakes) and were on the road back to Indianapolis.  We will certainly be back to Dublin, most likely for the upcoming Dublin Irish Fest taking place August 3-5.  We were told by numerous Dublin natives that this is an event that you CANNOT miss.
Dublin: We will be back! Sláinte!
Disclosure: Thank you to the city of Dublin for hosting my family for the weekend.