This shop has been compensated by Collective Bias, Inc. and its advertiser. All opinions are mine alone. #InspireBigDreams #DreamBigPrincess #CollectiveBias
My daughter is on the cusp of being four-years-old.  This is a wonderful age.  It is where their vocabulary really takes off and their thoughts become more complex and nuanced.  In other words, she is becoming her own person.   As a parent, there is nothing more exciting than seeing your child's own personality start to bloom.  You see a little of you, a little of her daddy and a little of something that comes from some mysterious place.
One of the traits that is beginning to shine through is the fact that she is extremely strong willed.  While my son is glad to let you help  him with any task as long as it makes it easier, my daughter insists on doing everything herself.  She loves to try to get dressed and put her shoes on by herself.  She refuses to give up and refuses to let you help her.  This can be a little frustrating, especially when you are running late!  But, I can't help but admire her for her perserverence.  It is something that will certainly serve her well later in life.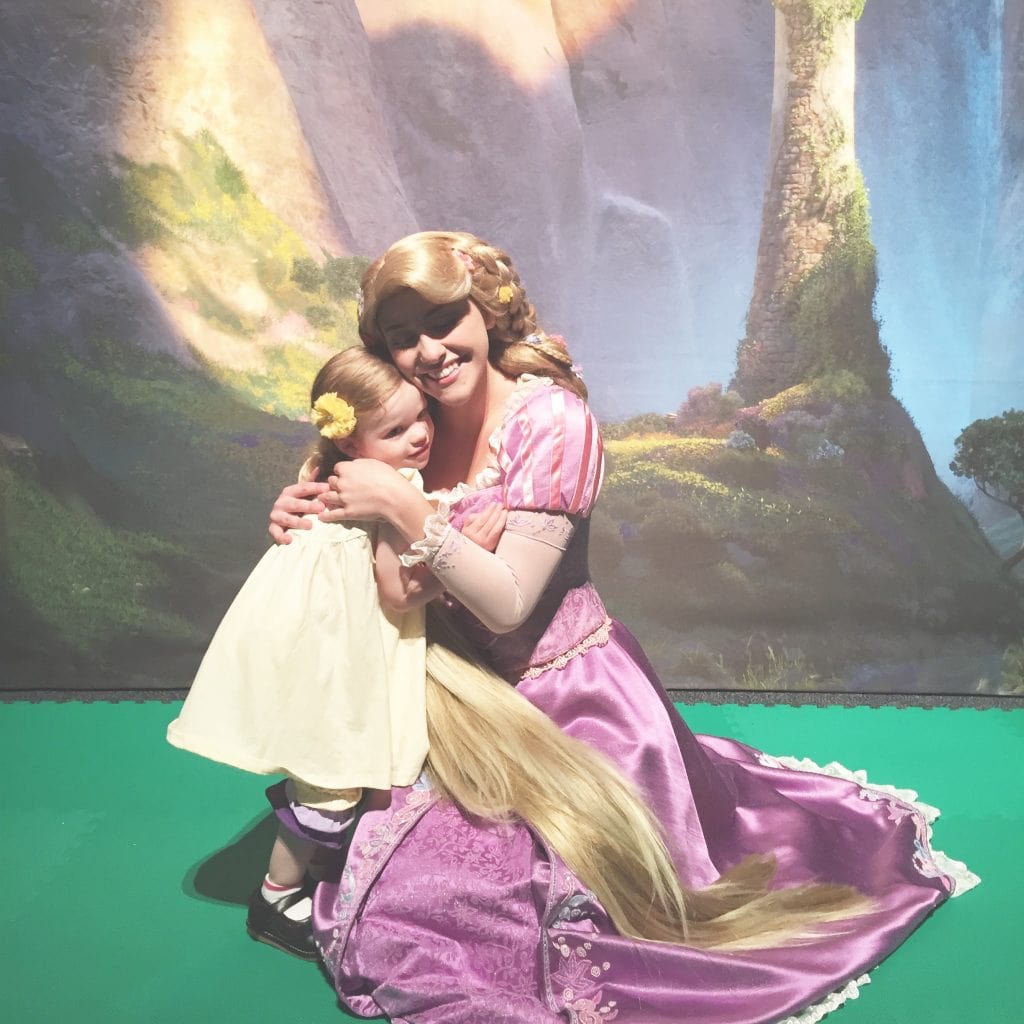 It doesn't matter to me at all what she grows up to be, as long as she has a passion for it and she does it with all of her heart.  From what I can see of her behavior so far, I won't expect anything else.  When she laughs, I feel it is coming from her very soul.  You get the same impression from her when she cries.  Everything she does, she does all the way.  For better or worse. That's my princess.
My husband and I encourage our girl to dream big just like the Disney Princesses she adores.  The princesses have a lot of the qualities that I hope my daughter will have as she grows up into adulthood.  They are kind, determined, and compassionate.
The other day, when shopping at Toys "R" Us, I saw a beautiful display of Disney Princess dolls.  The sign said, "Dream Big, Princess" in bright bold print.  Of course I had to stop and look.  The display showcase many new dolls by Hasbro and Jakks in colorful outfits.  I love the new look of the Hasbro princess dolls.  The focus is more on their face and clothing instead of their body shape and this mom appreciates it.  They also have all 11 princesses in the new Disney Princess Royal Shimmer line.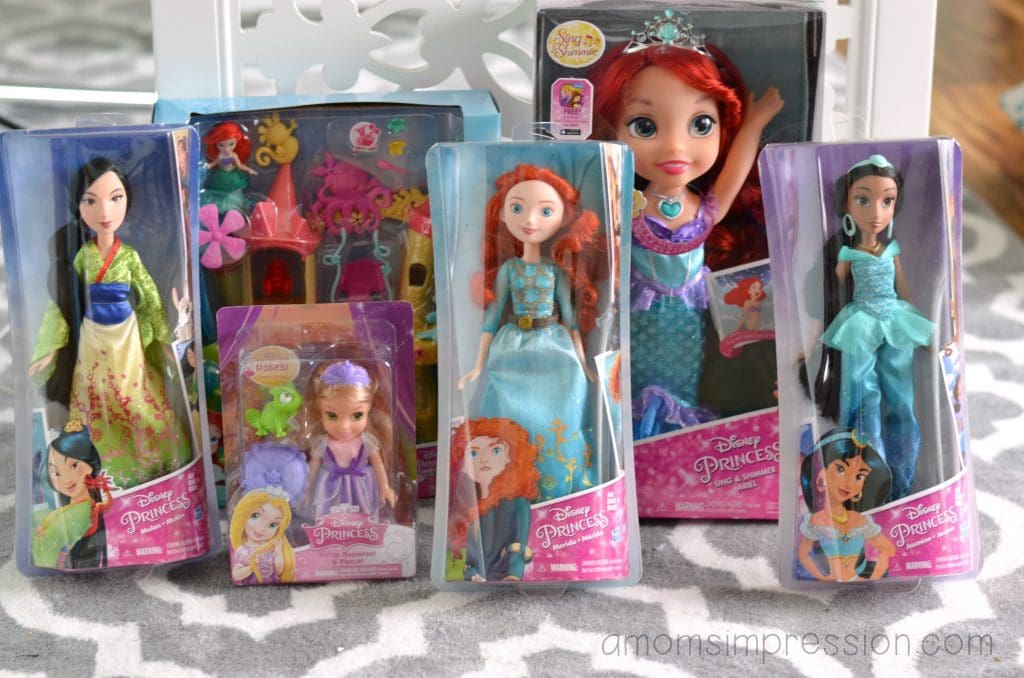 Just look at this lineup!  I think my personal favorite is the Sing & Shimmer with Princess Ariel doll! This toddler friends Ariel is dressed in a beautiful dress with a sparkling tiara and sings "Part of Your World" when you press her jeweled necklace, its one of my all time favorite Disney songs! 
I was inspired by the Dream Big, Princess campaign and wanted to create something meaningful that I could attach to my packages when I gift these dolls to my little one.  The princesses remind me of strong, inspiring women and so I thought it would be fun to create some trading cards.  These trading cards feature 4 remarkable women and their contributions to the world.  On each card I selected a Disney Princess that reminds me of that individual.  I know that my daughter will love learning about these four amazing women and my hope is that she will be inspired and want to do a little more research into them.  By associating them with one of her favorite princesses, she can help make connections to each of their personalities and why they are important women in our history.
You can print your own trading cards here or by clicking on the photo below.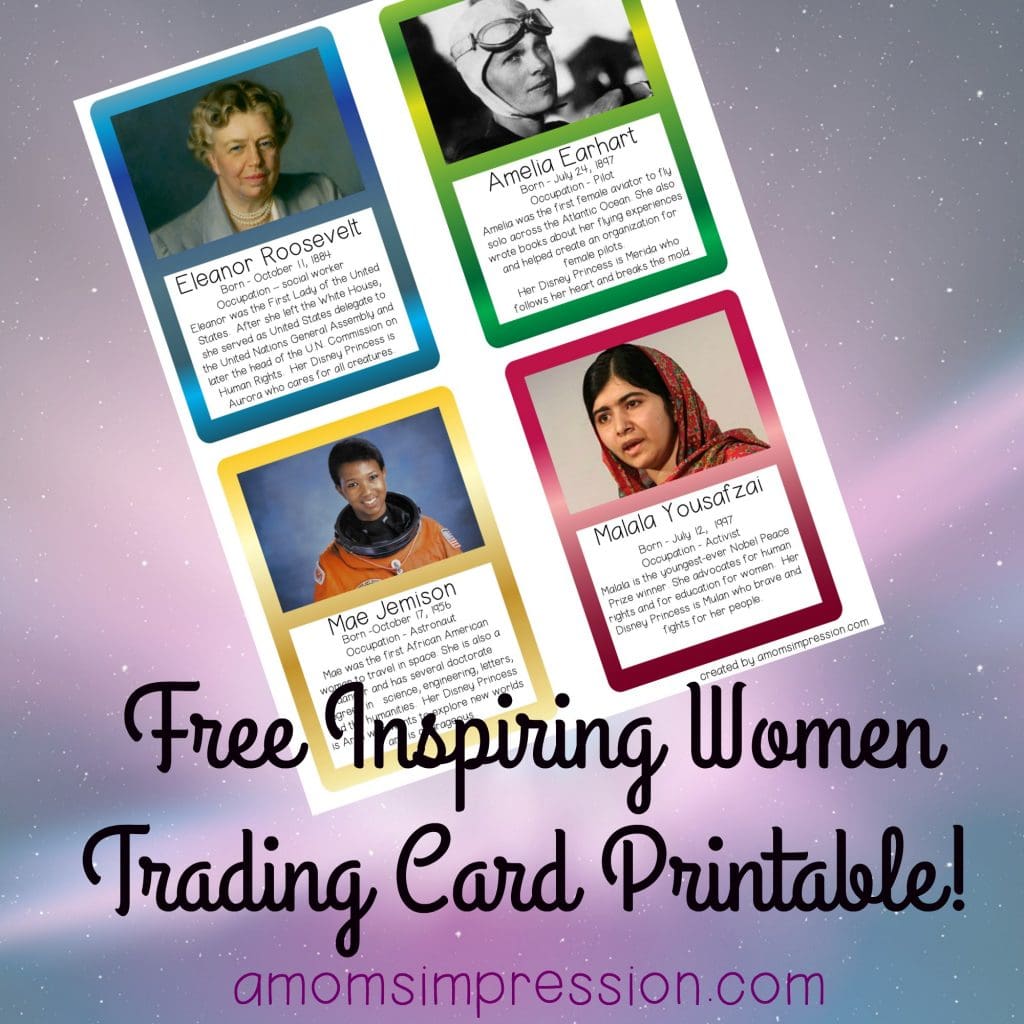 I simply print, cut out and then attached each card to a different package.  Now when she opens them she will see the card and we can read and learn about these historical women together.  There are a million ways you can use these cards.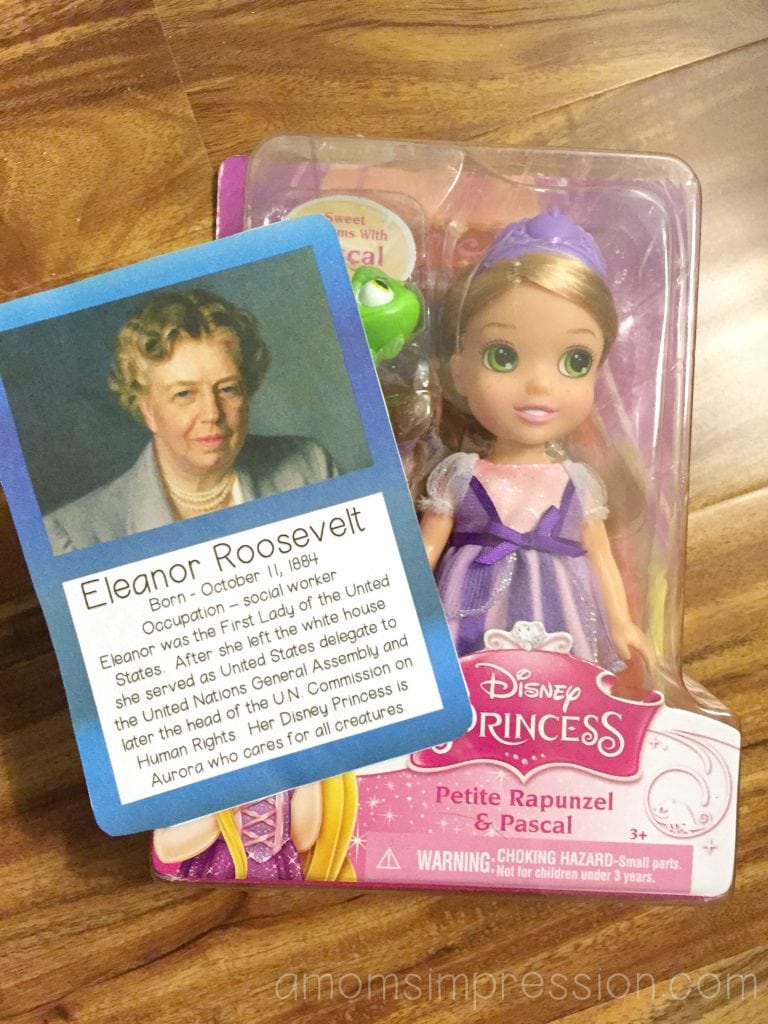 I attached my Eleanor card to the Rapunzel Jakks Pacific's Disney Princess Petite doll that is only available at Toys "R" US  and Toysrus.com.   These little princess dolls are going to be a huge hit with my little one.  She loves small little toys right now and this is going to appeal to her and her little hands.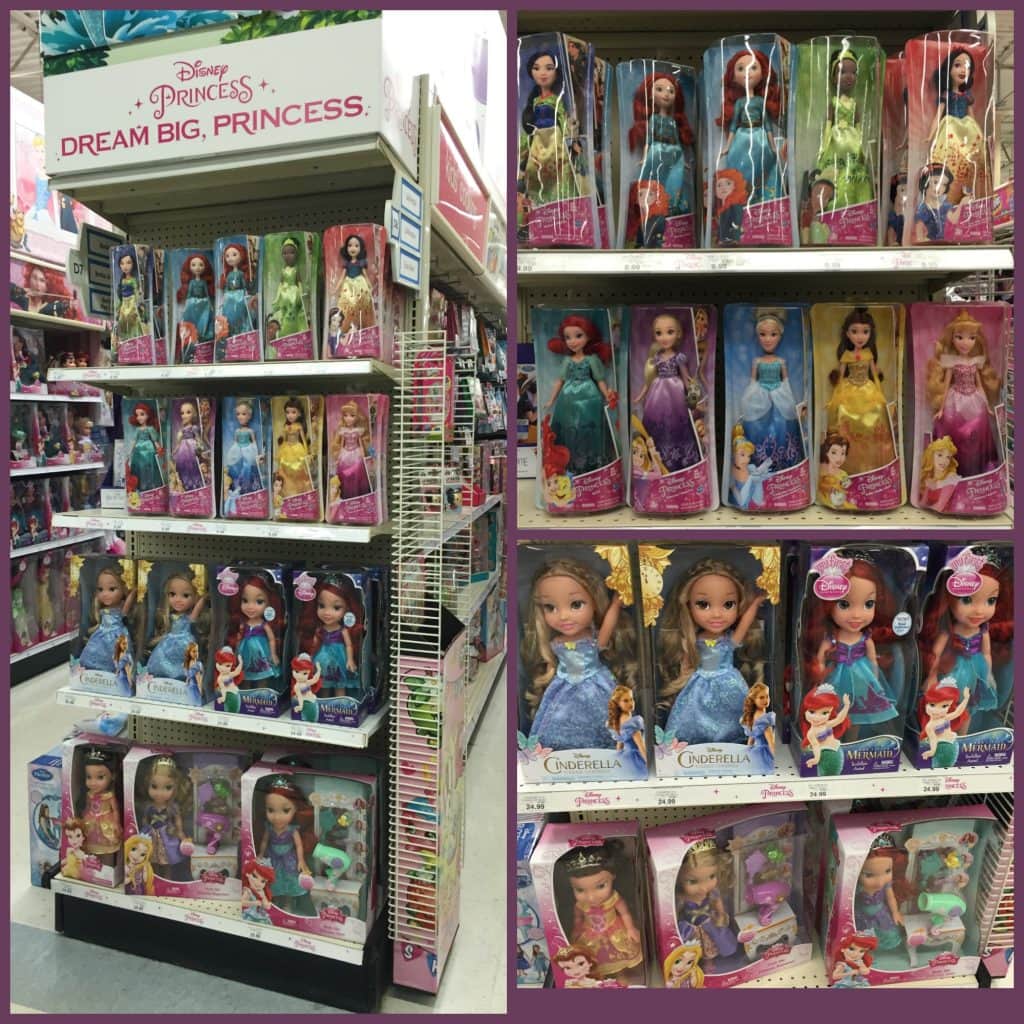 Visit your local Toys R US store to see the beautiful Disney Princess display.  I found it in on the end of the doll aisle.
I hope you and your little girl dream big and reach for the stars!