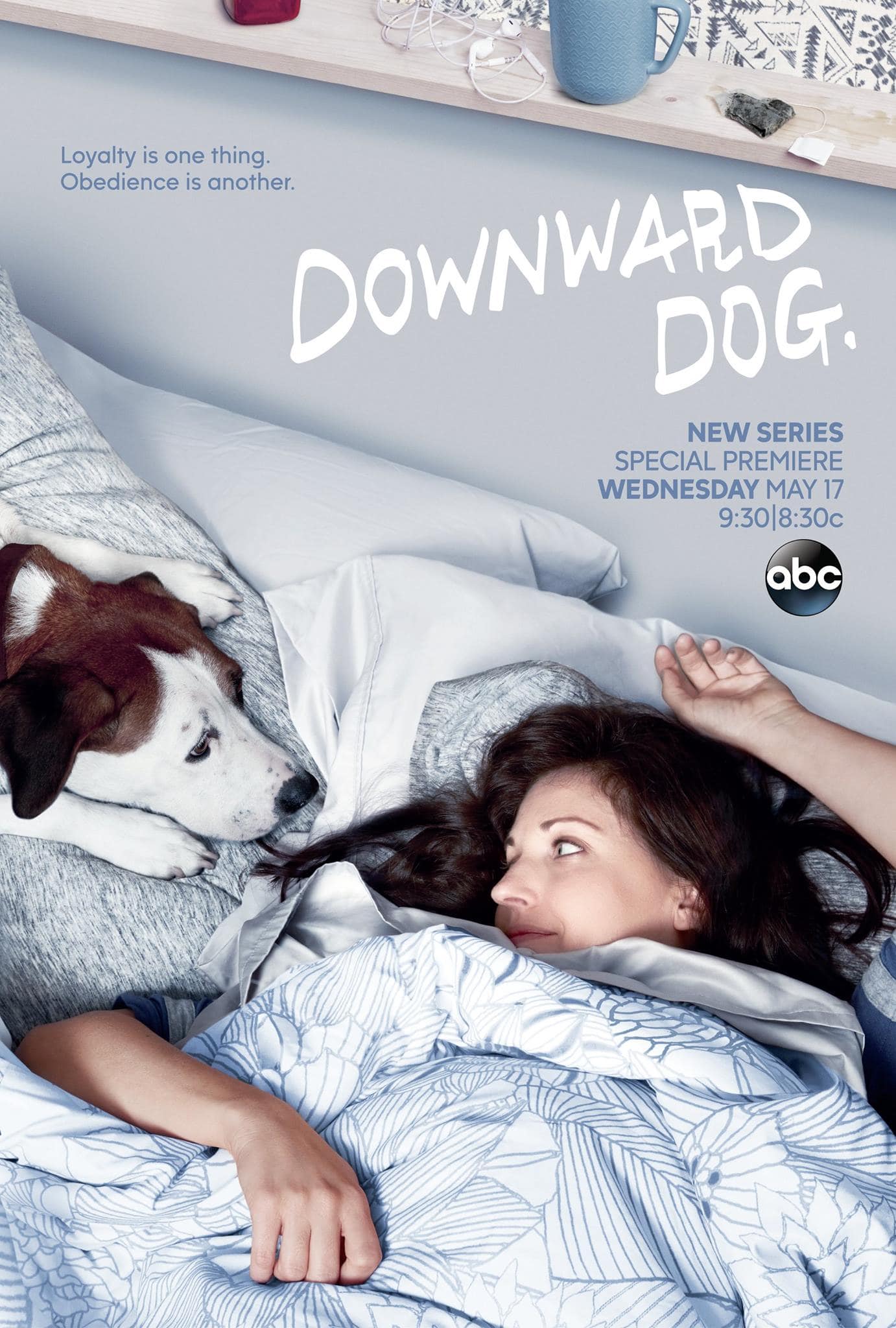 Imagine a life without your pet. For many of us that idea is unfathomable. Our pets are apart of our family. They are there for us when everyone else abandons us.  They listen when we cry. They celebrate when we are happy.  They are happy to see us when we walk in the door!  The relationship between you and your pet is extremely special.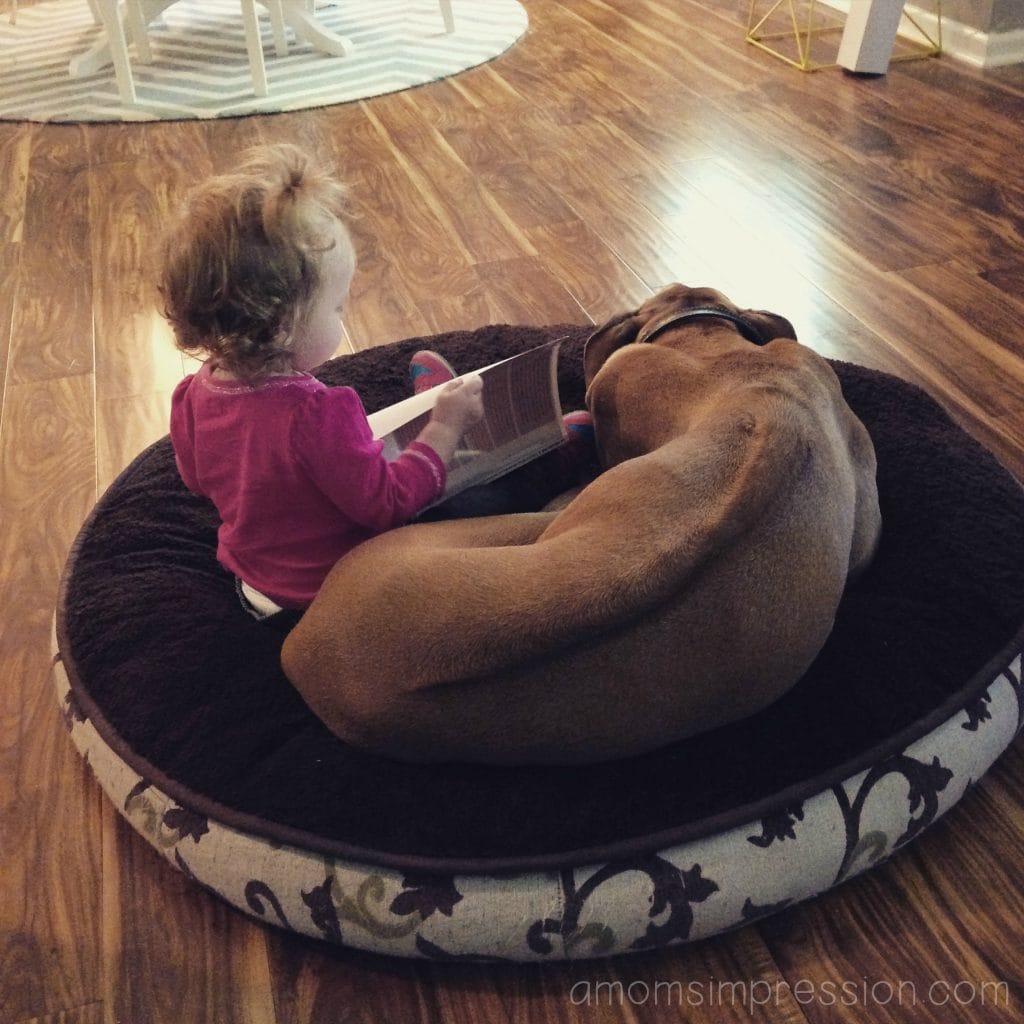 Starting tonight there is a show that explores the relationship between pets and their owners like no other show has done before.  Downward Dog premiers on ABC tonight at 9:30 pm EST following the season finale of Modern Family.
There is a talking dog in the show.
Don't be scared.  When I heard about the talking dog, I also thought that it would be cheesy and unrealistic.  I mean, I grew up with Mr. Ed the talking horse, talk about not realistic. But after watching a few episodes of Downward Dog last month on my Disney press trip, I became a HUGE fan of this show. In one episode I was streaming tears down my face because of the powerful relationship between this dog and his person. I promise you that you can relate to this show and the bond between pet and owner.
All About Downward Dog
Based on a web series, "Downward Dog" follows the day-to-day life of Nan (Emmy and Golden Globe-nominated Allison Tolman, "Fargo"), as told by her increasingly lonely and philosophical dog, Martin (voiced by Samm Hodges). Nan attempts to juggle her tumultuous personal life with a stressful career, unjustly supervised by her self-obsessed boss. It's a show about a dog and the girl he adores, and even at their worst, Nan and Martin just might be best for one another.
I sat down with Samm Hodges the co-creator and executive producer and Allison Tolman to talk about their new show.  I got a little inside look at the making of the show and learned a little more about the people who are bringing the story to life.
Learn all about How Downward Dog got started
Samm Hodges and Michael Killen created a web series about four years ago with a talking dog. Michael had been very successful with shows that include talking animals. They created the short films and put them on the Internet and it snowballed from there.
Allison told us that when she first got the script she looked up and said, "There is a talking dog in this!" but when she saw the shorts she "got it" and realized how heartwarming and down to earth the show is.
The show is unique in the way that it looks into the relationship between humans and their pets the way that no other show has been able to do. Alison said that her relationship with her pet is the most significant in her life. She has had her cat for 17 years and her cat grew up with her.
I think what is really special about it is that it's a love story that I think is universal for a lot of people. A lot of people are pet owners and love their animals but it's not something that we really focus on. We focus on romantic love or familial love, but nobody really talks about what a profound thing it is to love an animal. ~ Allison Tolman
Who is Martin?
Martin is Nan's dog. He tells the story from his point of view. Martin is played by a dog named Ned.  Ned was rescued from a Chicago shelter called Paws Chicago. He was rescued specifically to play the part of Martin.  He was rescued when he was about five years old and had only been trained for about six weeks when he started his role on Downward Dog. Allison told us that he still had some of that "rescue dog anxiety" when they shot the pilot and was a little jumpy. It was important to Samm for Martin to be a rescue dog.  He wanted Martin to be an everyday, mixed breed dog.
Ned plays the part of Martin brilliantly. His lack of experience makes him even more relatable. Martin loves his human, Nan.  Sometimes he has to remind her that he is her number one guy, but one thing is for sure, there is nobody more special to Martin than Nan.
"I literally can't quit her." -Martin
Downward Dog in a Nutshell
We asked Samm what he wanted people to take away from the show when they watch it.
Here's a girl who lives alone with her dog in Pittsburg. Martin's always asking kind of if he matters. Like do I matter? And for us I think it's about how these little characters outside of where we usually put the spotlight on and how much our lives do matter and how much — there's so much comedy and reality to that. ~Samm Hodges
Series Premiere
In tonight's show, "Pilot," Martin battles loneliness and the need for Nan's unconditional attention, while she struggles with a breakup and Martin's recent bad behavior as he reacts to her newly busy work schedule.
I think each episode gets better and better as the series goes on!  Here is the trailer for the show that gets you a little behind the scene look at the making of Downward Dog.

The series will move to its regular time period, Tuesday nights at 8:00–8:30 p.m. EDT, with its second episode, beginning May 23, on The ABC Television Network.
I hope you tune into tonight episode and also be sure to follow Downward Dog on their social channels.
Website | Facebook | Twitter | Instagram
For more ABC coverage check out My Dancing with the Stars Dance Lesson!
A huge thank you to Disney and ABC Studios for flying me out to LA for the #GotGVol2Event. All opinions are 100% mine.