Sponsored post by Mirum Shopper. All opinions are my own.
For me, I find buying gifts for the men in my life to be the most challenging.  I'm not sure why this is but I find myself asking for ideas from any source that I can find.  I was grateful to come upon this gift idea at Walgreens to help round out my gift list.
These Dove Men+Care and Axe holiday gift packs at Walgreens are filled with handy items for your man to see him through the next few weeks of parties, mixers and last-minute festivities. Give him the gift of confidence and a great lingering scent that you will both enjoy. These gift packs will help him stay feeling so fresh and so clean, even under one of those ridiculously ugly holiday sweaters!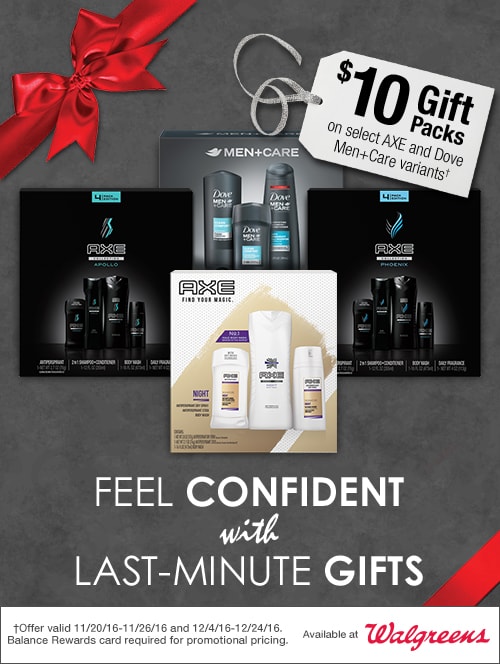 Stock up now at Walgreens, and set him up with his favorite scent in everything from deodorant to shampoo.  Of course Walgreens also has your budget in mind and you won't believe the amazing deals you can get on Axe and Dove Men+Care gift sets this month. From 12/11/16 – 12/26/16. Walgreens is featuring a $2 off coupon in stores that can be layered with $2 off coupon found online or in your local paper.
This will bring the price of the gift pack to $6!
This is how it will work; print off this $2 off any ONE (1) AXE or Dove Men+Care Gift Sets.  Then head to Walgreens and use the $2 off any ONE (1) AXE or Dove Men+Care Gift coupon that is available in the store (find this online or in your local paper, my Walgreens has copies of their weekly ads available in the store as well). Combine both of these coupons to use on the $10 gift packs on select AXE and Dove Men+Care variants and it will bring the price down to $6.  This is an amazing deal that the man in your life is sure to love!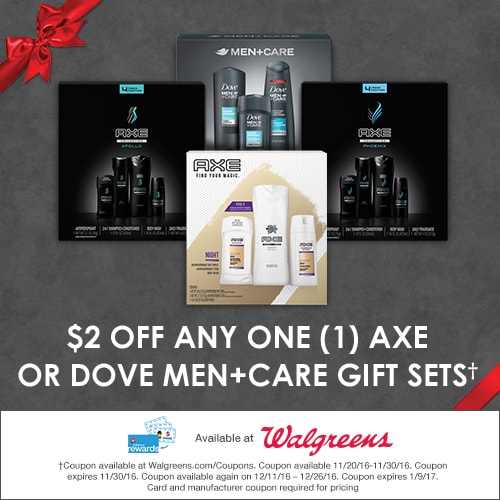 Head on over to Walgreens for this amazing offer!
Happy Holidays!