Raising a little girl is very hard these days.  Being a teacher I see the struggles little girls deal with on a daily basis.  Being a girl I have gone through them myself.  I want my little girl to have more self confidence  than I did as an adolescent.  I want her to be proud of what she looks like. Did you know that only 4 in 10 little girls with curly hair think their hair is beautiful.  Isn't that sad?  All the little girls in my life have beautiful naturally curly hair and they are all absolutely radiant.  The lack of confidence doesn't end in childhood, in fact only 10% of women in the U.S. with curly hair feel proud of their hair.  Seeing that there needed to be a shift in how women viewed their naturally curly hair, Dove Hair launched the "Love Your Curls" campaign to inspire future generations to embrace and love how wonderful their curly hair is.
Girls are more likely to feel beautiful and proud of their hair if people around them do.  Even as an adult I feel this same way.  Self confidence has a huge role in how one feels about their appearance.  When I feel like I look good, my mood is immediately elevated.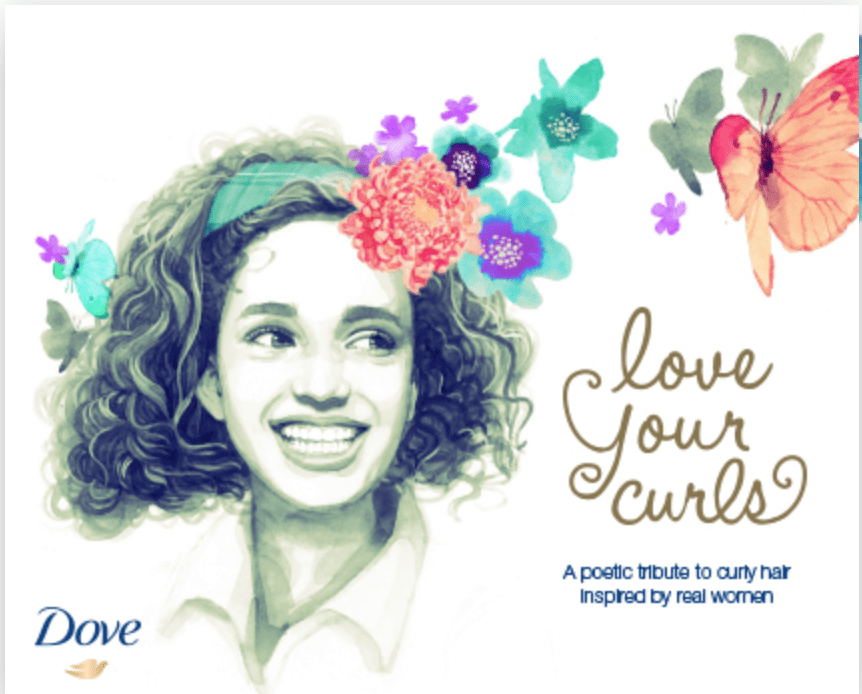 The NEW Love Your Curls book is a poetic tribute to curly hair. Dove Hair was inspired by the thousands of stories from women with curly hair and the poems in the book are inspired by these true stories.  Girls and women of all ages will be inspired by the message of the book.  Right now you can customize and download your own e-copy for free at http://promo.dove.us/loveyourcurls/. You can even share your book with your friends and family via your social media channels.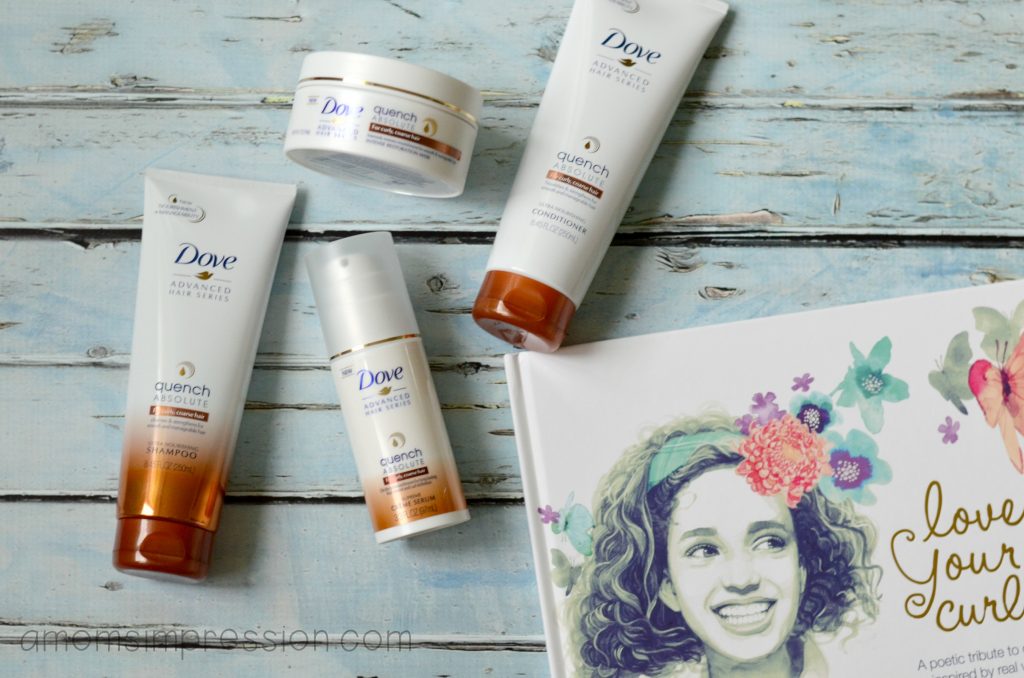 The NEW Dove Hair Quench Absolute products provides 4X more defined, natural curls that will nourish hair with its three part system.  I love these products because they are infused with protein, nutrients and Buriti Oil,  so they provide a nourished, smooth finish to your hair that calms the frizz.  I have naturally wavy hair and I have loved them just as much on me as I do for my daughter!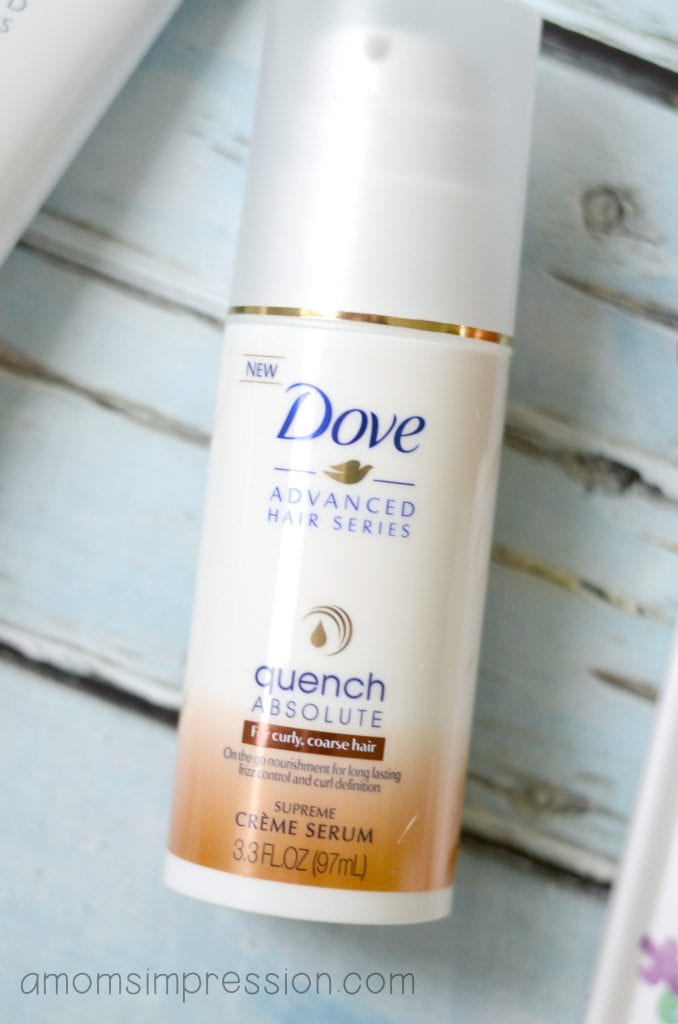 The Quench Absolute Creme Serum is my favorite product so far.  This thing will calm your hair like you wouldn't believe.  This serum is a leave-in product that you can use on wet or dry hair that is fast absorbing, lightweight and creamy.  It has quickly become a staple in my hair care routine!  In addition to the serum you can also pick up a shampoo, conditioner and a restoration mask created for curly haired people like my daughter and myself.
If you, your daughter, or a special little girl in your life is blessed with curly hair I hope you embrace this message from Dove.  Our daughters need to feel like their curls are just as wonderful as they are!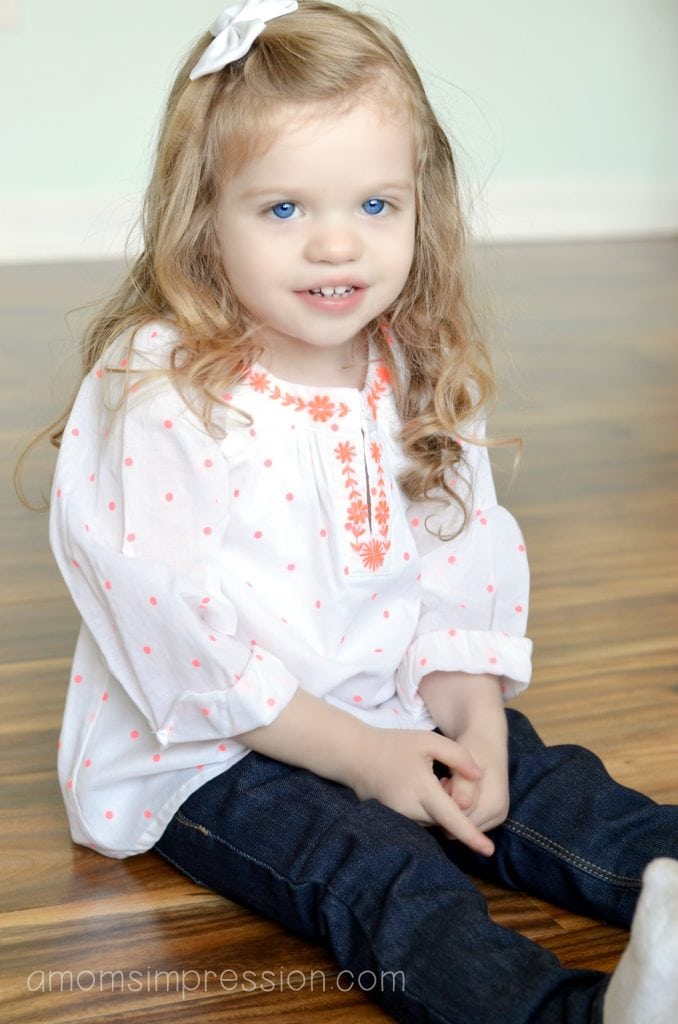 How do you treat your curly hair?
This post is sponsored by Dove Hair and The Motherhood.  All opinions are 100% mine!