For years, I've debated getting a home security camera. But I've had a lot of reservations and questions about them. Recently, I've been able to try out the Lorex 1080p HD Wireless Cameras and now I've got some answers!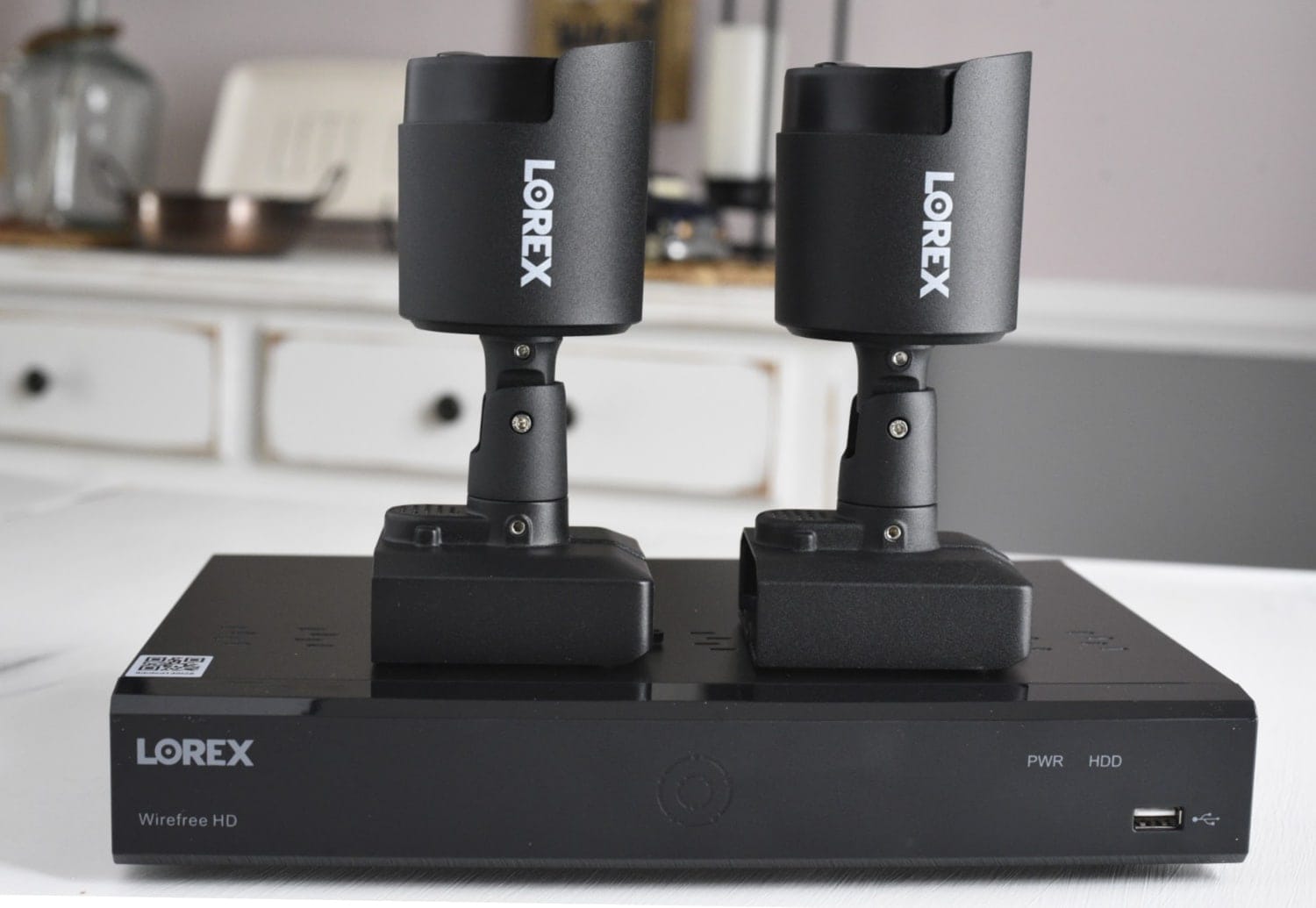 Thank you Lorex Technoloy Inc. for sponsoring this post.
Is My Home As Safe As I Thought It Was?
I remember, about 3 years ago, my husband left our garage door open overnight. The next morning, when I went to get into my car, I noticed the driver's side door was slightly ajar and our glove compartment was open. I quickly realized that we had been burglarized overnight. They didn't really take anything of value, but I felt so violated. I had always felt so safe in our neighborhood. That feeling was crushed instantly.
We have an attached garage and never lock the entryway into our home. We rely on the garage door for our security. So, the burglar could have easily just waltzed into our home in the middle of the night. That thought actually terrifies me.
Ever since then, I've been thinking about our home security. Obviously, the first step to increasing the security of our home would be to install security cameras. But, that decision has been plagued with questions: Do I really need one? How many do I need? How hard are they to set up? Won't there be a lot of unsightly wires? Where do I plug it in? Do I REALLY need a security camera?
Do You Need A Security Camera?
I had never really thought about the benefits of having a security camera. But, actually, besides general home security, there are several reasons that getting a security camera would make a lot of sense for all sorts of families:
Checking on things while out of town– Most cameras come with an app that lets monitor the feed from wherever you are. So you can check on your home while you are sitting on the beach!
Checking on your family– Are your kids old enough to be home alone? Did they get off the bus ok? Did they make it back from the neighbors house? Now you can make sure they are home safe with your camera.
Did that package get delivered?- Expecting a delivery? Now you can check to see if the package has been delivered or not from your camera feed even if you are at work. Many cameras have a microphone function that enables you to speak to the delivery person and give them instructions if needed.
Vacation Homes/Rentals- Do you have a second home that you need to keep an eye on from afar? Now you can make sure it is safe and secure at anytime. Or, do you have a rental property? Security cameras can be a great way to assist!

Lorex Home Security Cameras
Basically, no matter what your situation is, there are probably several reasons that getting a security camera would make sense. Recently, we got a chance to try out the 1080p HD Wireless Cameras from Lorex and a lot of the questions I've had about security cameras have been put to rest. Here is my experience.
What We Received:
The 1080p HD Wireless Cameras are available in 2, 4 or 6 pack bundles. For our home, we just needed the two cameras. Each bundle comes with it's own wireless receiver and Digital Video Recorder (DVR). The fact that it comes with it's own DVR is important, and I'll address that more below.  Every receiver can take up to 6 channels. So, this means while we are only using 2 right now, we can easily add 4 more later if we want/need to.
Everything was packaged safely and securely. Included was the one thing I always look for when getting a new product: the quick start installation guide! This gave me step-by-step instructions to install and pair my cameras.
Also included in the box were all the hardware, brackets, antennas, cables, a mouse and a remote control.

Completely Wireless Security Cameras
The one thing that deterred me most about getting security cameras over the years was the fact that I didn't want messy wires running all over my house. I honestly thought that they would need to be plugged in, somewhere… at some point. Right? Nope. These cameras are completely wireless. How does that work?
First, they are powered by a Lithium-Ion Battery that can last 4-6 months. This is possible because they stay in standby mode until they detect motion.  Once motion is detected, they begin recording. So, you only need to worry about recharging the battery a couple of times a year.
The cameras then communicate with the wireless receiver up to 600 feet away. So, no wires. No mess. No fuss.
How To Install The Lorex Security Cameras
The fact that they are wireless makes installation a breeze. Simply secure the mounting bracket to any steady surface and then attach the camera onto it. The bundle even comes with the proper size drill bit to put your wall anchors in! Just drill the holes, put in the anchors and screw the mount into place. My husband did this in about 3 minutes.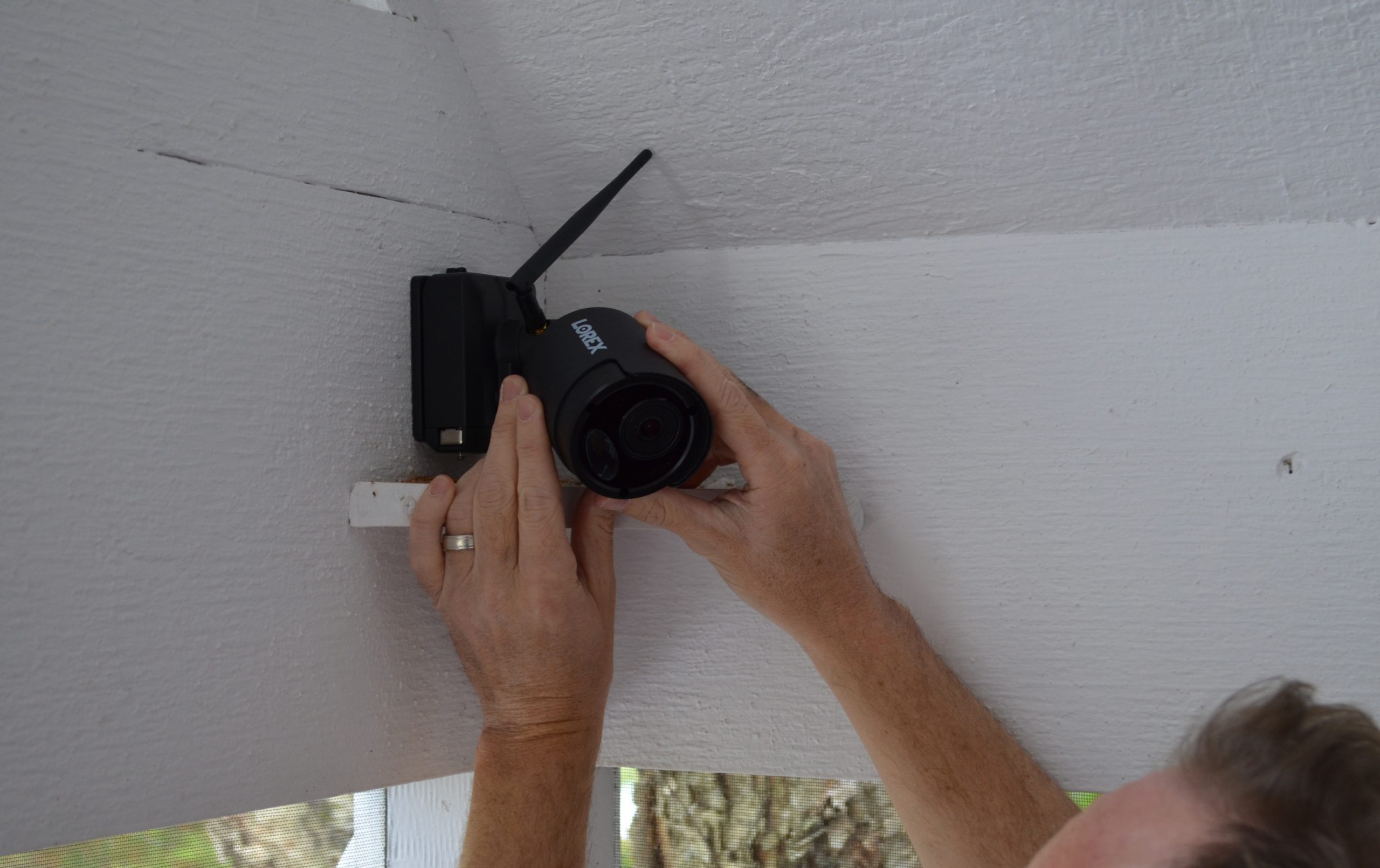 The cameras are fully adjustable to be aimed at any desired angle. You need to use a hex wrench (included) to adjust the cameras. My husband said that adjusting with the hex wrench was a little awkward and suggested that there could be an easier way to manipulate the camera (Butterfly nuts, etc..).
Inserting the lithium-ion battery into the camera was a breeze. We just literally snapped it into place. Then there was a beep that told us the camera was ready for action!
Lorex Security Camera Features
140 degree wide view: The 140 degree lens gives me a wide field of view and is perfect for doorways and areas with large fields of view.
Weatherproof: The camera itself is completely weatherproof, rated IP66. So it will be standing guard outside your home no matter how nasty the weather is!
Infrared Night Vision: It is also armed with infrared night vision that can record activity from up to 95 feet away.
2-Way Speaker and Microphone: With the two-way microphone and speaker, you both hear what is going on and also communicate through the camera. This is perfect for delivery person or even just being able to check on loved ones.
Lorex App: Monitor your feed from just about anywhere in the world. Get push notifications, check battery levels and adjust settings.
Lorex DVR system
I mentioned above that having a included in the bundle was important. This is why: Each bundle comes with a DVR that can store up to 1 terabyte of local storage. Other cameras systems store your recording in a cloud. Sometimes you have to pay a fee for this storage and, even if you don't, it is vulnerable to others accessing it. Having your data saved on your own physical hard drive in your home is more secure and will probably save you money. 1 terabyte of storage should plenty (about 2 years). If you need more space, Lorex offers an upgraded hard drive with 6 terabytes of storage for purchase.
You do NOT actually need the internet for these cameras to work. You can hook the DVR up to a monitor and access the recordings that way. But you will need the internet to use the app.
Connecting The Camera To The DVR
The instructions to install the wireless receiver and DVR were pretty straightforward. It says that the cameras should already be paired with the receiver and connect as soon as you put the battery in. My husband is fairly tech-savvy and set everything up. We installed the App into our phone and followed the instructions to connect to the system. This is where we ran into some snaps. The screen would get stuck "connecting". We tried doing this about 6 times with no luck. My husband even used the HDMI cable (also included) to hook the DVR directly up to our TV to use it as a monitor. Still nothing. We were able to see the home screen on the monitor, but no camera feeds.
Customer Support
We eventually were able to speak with someone from customer support on the phone. He said that our firmware was out of date. He had to gain remote access to my husbands computer and install new firmware into the system. He said that this sometimes happens and that the firmware should update automatically when you install it, but sometimes it doesn't and it needs to be done manually.
Once the firmware was updated, everything worked perfectly. We were able to access the feeds both on our monitor and through the app.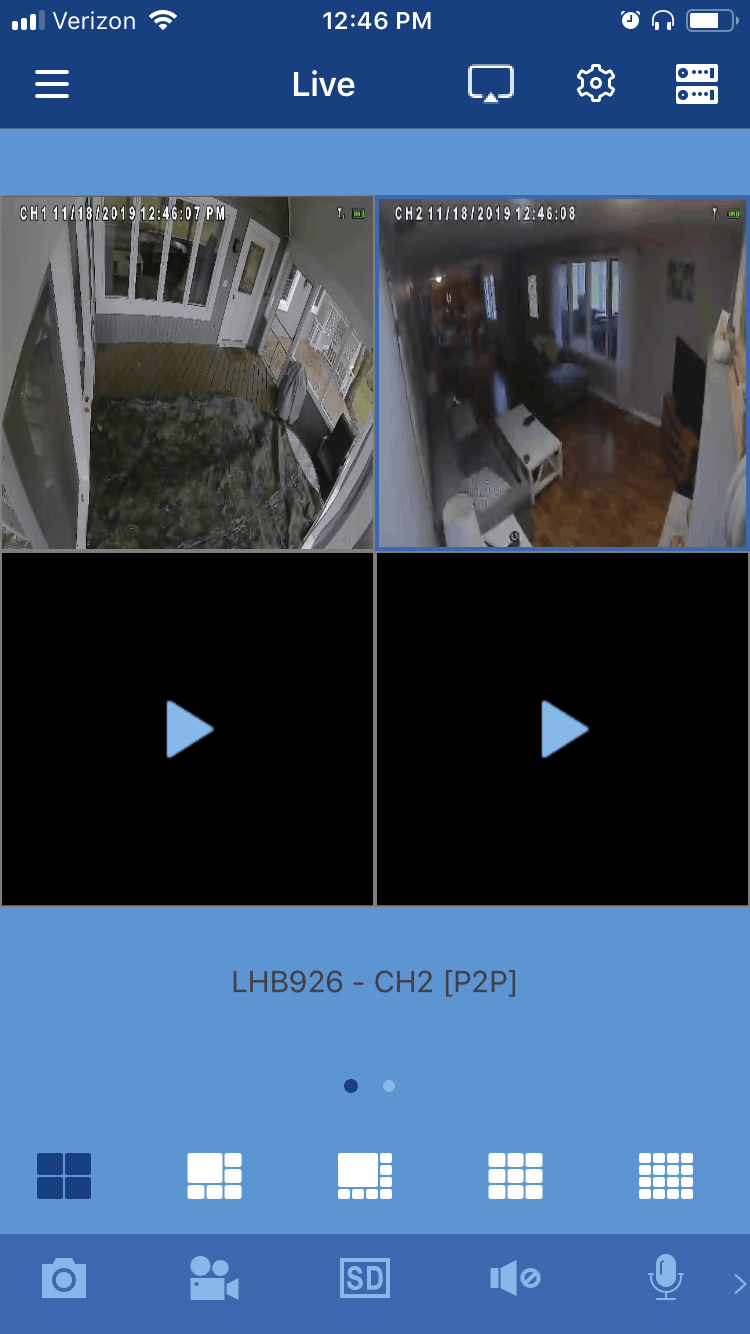 The Lorex Cirrus App
The Lorex Cirrus App lets you monitor and control your cameras from just about anywhere in the world from your phone. With the touch of a button, you can access live or recorded video, review recorded activity, communicate through the camera and check on the battery levels. Keeping tabs on the activity on the camera was SO easy. There is a convenient timeline that lets me easily see important events that the camera has recorded. I can also set it to send me push notifications. So, if it detects a certain movement at a certain time of the day, I'll be notified immediately. This is a great feature if you want to know if your kids have gotten home from school on time, a package has been delivered or if there is some kid walking into your open garage in the middle of the night!
The app will also tell you when your battery level is getting low. So your cameras will never miss a moment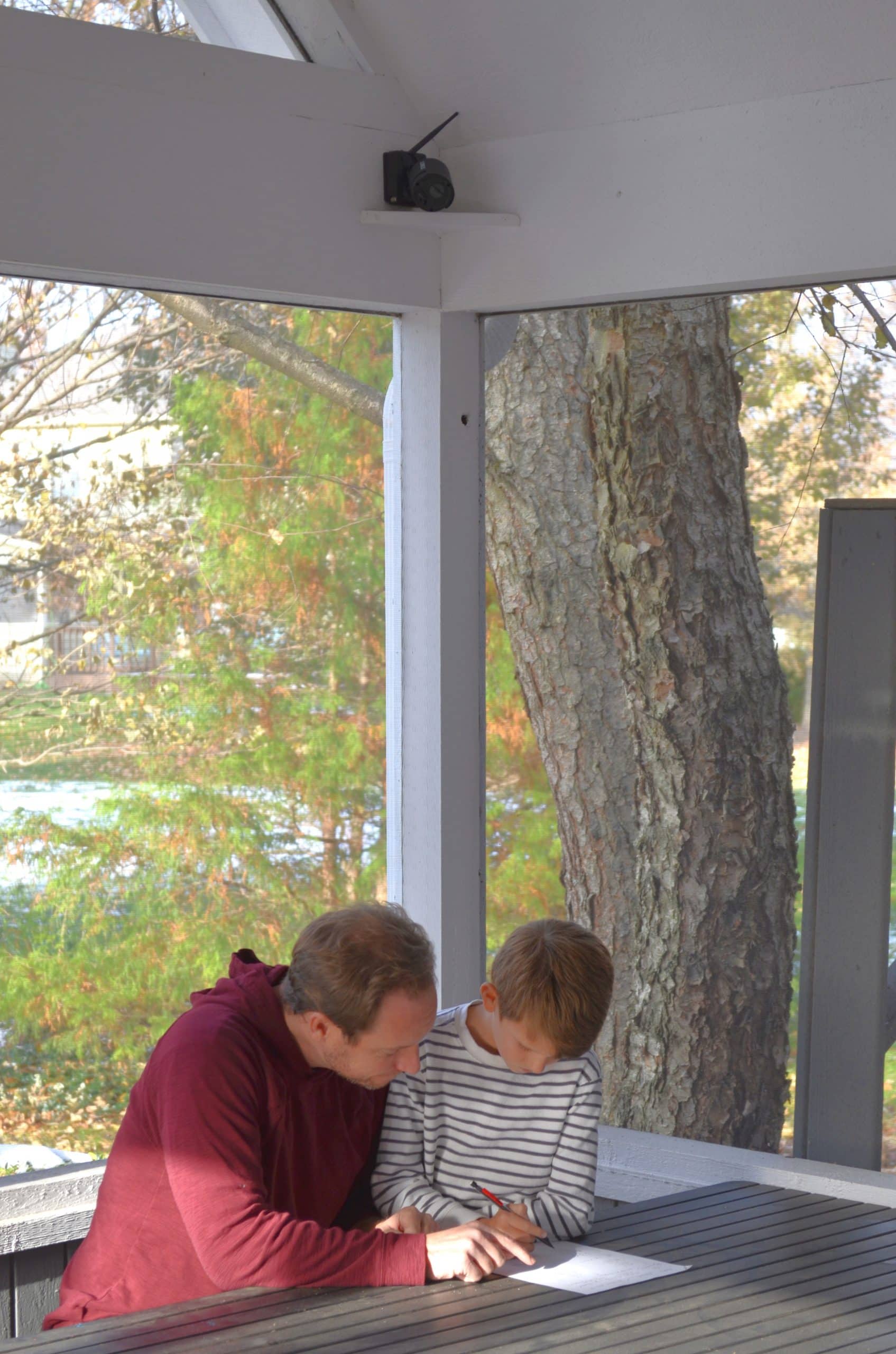 I thought security cameras were unsightly, messy and confusing to set up. I was wrong. If you are thinking about adding some security cameras to your home, please check out the Lorex line of cameras. They have so many different packages and bundles that can handle anything from a small home to a larger business.
I'm definitely feeling safer these days. My husband just needs to remember to keep that garage door closed!