Growing up, my brother and I loved to watch nature shows.  Back in the 80's, the big one was Mutual of Omaha's Wild Kingdom.  I was fascinated about the up close and personal interaction you could have with exotic animals a world away.  As film making and technology has advanced, so has the ability to get an even more intimate portrait of animals you would never dream of seeing in your backyard.
Fast-forward to a couple years ago when the Planet Earth series came out.  While watching their episode about mountain dwelling animals, I met (and was enraptured with) the Snow Leopard.  These beautiful and elusive creatures have only been seen rarely by very few people on this planet.  A film crew was able to get some shots of a couple of Snow Leopards for the series and I was hooked to these mysterious creatures.
So when I heard that Disneynature's new film, Born in China, was going to feature never-before-seen footage of Snow Leopards, I couldn't wait to see it.  I was given the opportunity to see the film a couple months ago and I can finally tell you all about it.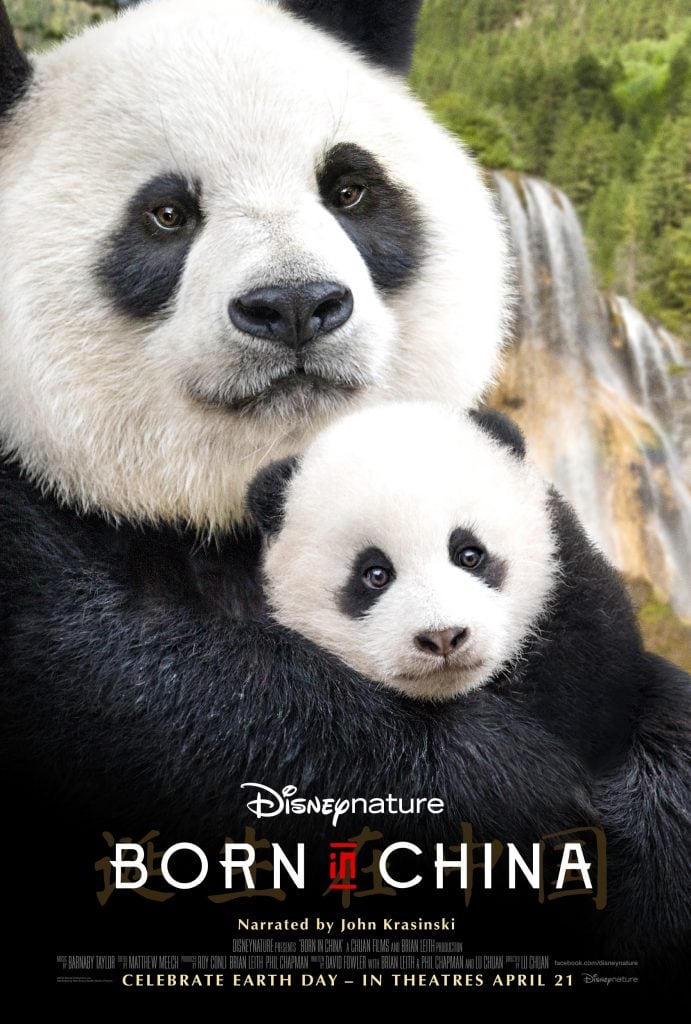 The film starts with an introduction to the country of China and the animals that inhabit it.  They do a great job showing the diverse landscape of China and how that influences the many different species of that can be found there.  It then begins to introduce you to the featured animals of the movie; The Red Crowned Crane, TaoTao the Golden Snub Nosed Monkey, an overprotective Panda named YaYa and her baby MeiMei, Chiru mothers and calves migrating during the spring, and a Snow Leopard named Dawa trying to survive with her newborn cubs in the harsh climate of the tallest plateau on the planet.
I would say that the three main "stars" of Born in China are the Golden Snub Nosed Monkey, The Panda and her baby, and The Snow Leopard and her cubs.  The cranes are beautifully filmed but there isn't much plot there.  The Chiru's journey is harrowing and quite unbelievable, but they all look and act the same.  It is with the other three animals that the filmmakers do a great job creating a story, full of plot, drama and heartbreak, that get us to invest in them.
With TaoTao, the Golden Snub Nosed Monkey, we get to watch as he goes from being a baby into adolescence and is trying to find his place in the community.  His is a journey of rejection, temptation, betrayal and, finally, redemption.  These monkeys are incredibly cinematic to film and there is always action on the screen whenever the movie returns to them.
YaYa, the Panda shows us an intimate look at these classic Chinese animals.  We get to see what being a mother means for these creatures and watch her baby struggle in the first stages of life.
It is with the Snow Leopards that Disneynature has truly done something magical.  They had to drive 8 days from Beijing.  The habitat of the Snow Leopard if 15,000 feet above sea level.  Oxygen is scarce and winds can exceed 40 miles per hour.  It is estimated that fewer than 4,000 Snow Leopards exist in this region and they are extremely elusive.  Combine all of this and it is a major feat to get even a couple frames of these animals on film.  But Disneynature was able to get the most amazing footage of a first time mom and her cubs trying to survive in one of the most unforgivable environments on the planet.  As her cubs are still learning the way of the world, they and their mother are forced out of their territory by rival leopards.  With food scarce and no hunting grounds, Born in China gives us an unflinching look at how hard life can be, even for predators.
The film was beautiful.  It was funny.  It was sad.  It was educational. Disney has once again found something that you can do with your children and everyone can walk away entertained fulfilled.  These filmmakers really moved mountains (well, okay, climbed mountains) to get some of this footage.  Don't miss the opportunity to go out and see this movie with your whole family.

BORN IN CHINA is rated G and opens in theatres everywhere April 21st!
For more information and activities visit Disneynature on Facebook, Twitter, Tumbler and Instagram.
You should also visit the official BORN IN CHINA website.
A huge thank you to Disney for hosting my family for a  screening of the movie.