Walt Disney founded his company in Los Angeles over 90 years ago. Since then, the Disney universe has steadily given us countless stories, characters and adventures that have made us laugh, cry and everything in between.
Disney has excelled at creating so many different and distinct worlds that are so rich and vibrant that you can immerse yourself into them and lose yourself for just a little while. I am thinking of Alice and Wonderland, Ariel and her undersea adventures or the brilliantly designed and executed world of our emotions in the latest Inside Out.
Lately, they have also been acquiring other worlds to introduce us to all over again. Worlds such as Star Wars and Marvel.   What if not only you could jump into and interact in these individual worlds, but you could bring all of the worlds together into one big universe?
Now you can! We recently got Disney Infinity 3.0 for our PlayStation 4 and this is exactly what it is. Disney Infinity 3.0 is more than just a video game. It is a portal into a world where you can interact with almost a century's worth of Disney characters and environment.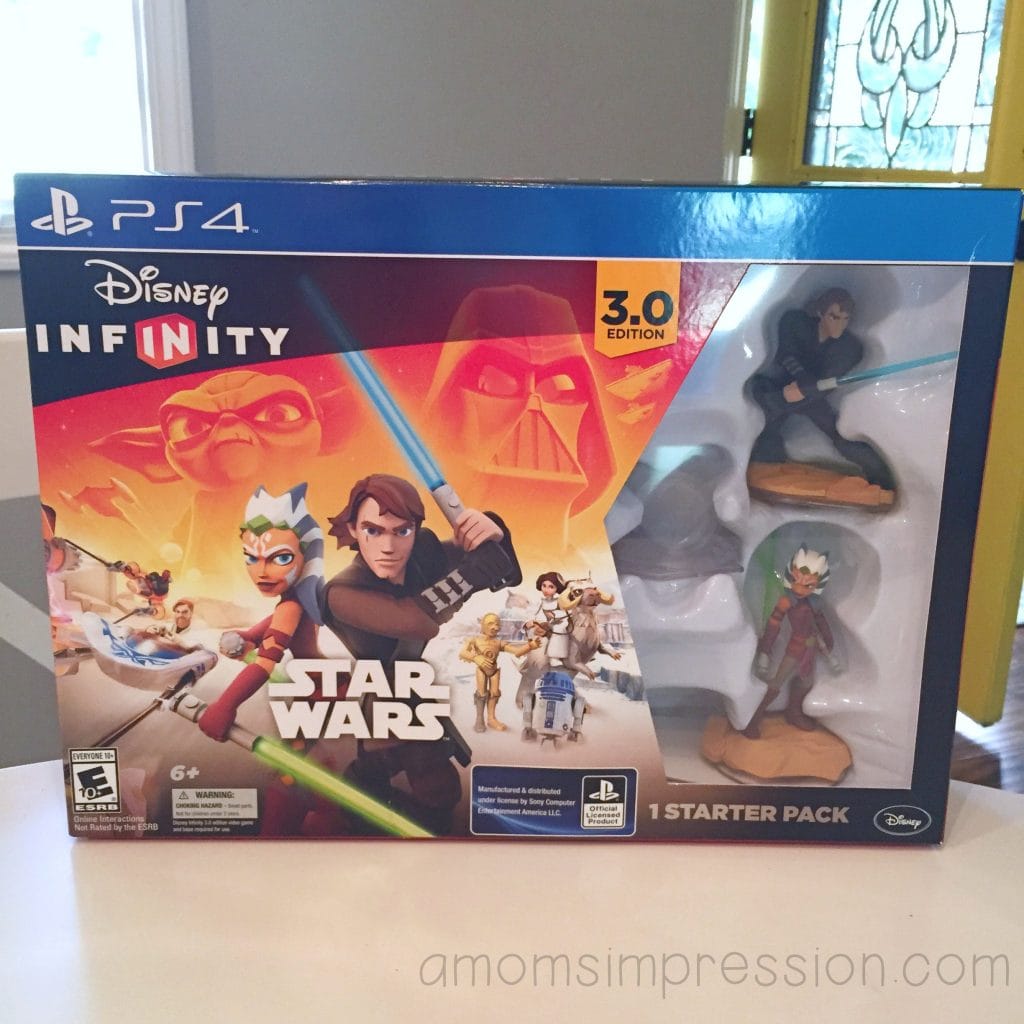 We got the Disney Infinity 3.0 Starter Pack. This comes with a copy of the game, a Disney Infinity 3.0 game base, Star Wars Twilight of the Republic Play Set Piece, a web code card, and two figures. The figures are Anakin Skywalker and Ahsoka Tano.
So how does it work? Just put the game in the console, plug the base into the console and put your figures onto the base. You will dropped off in the Toy Box Hub. This is an interactive world that will help to introduce you to the world of Disney Infinity. And there is a lot to be introduced to. My son and I have been playing this game for about 9 days now and I still feel like I have figured out about 30% of what I can do with this game. This is not because it is too hard to figure out, it is the fact that there is SO MUCH to explore. Let me put it this way, it has walked the perfect line between keep a 38-year-old adult like myself engaged and curious while also being easy enough to play for my 6-year-old son. That is not an easy feat.
If you don't want to be the Star Wars characters, there are a ton of other characters you can buy separately and put on the base. Once they are on the base, they get teleported into the world that you are playing. Everything can interact with everything. We have figures for a Wii version of Disney Infinity that we got years ago. Those figures work on the PlayStation 4 version! So, for instance, last night I was Sully (from Monsters Incorporated) and I was fighting my son who was Minnie Mouse while running around in Phineas and Ferb's backyard.   This is what I mean by this game merging all the Disney Worlds together! We had Jack Sparrow and Elsa shooting down Tie Fighters in a space base the other night!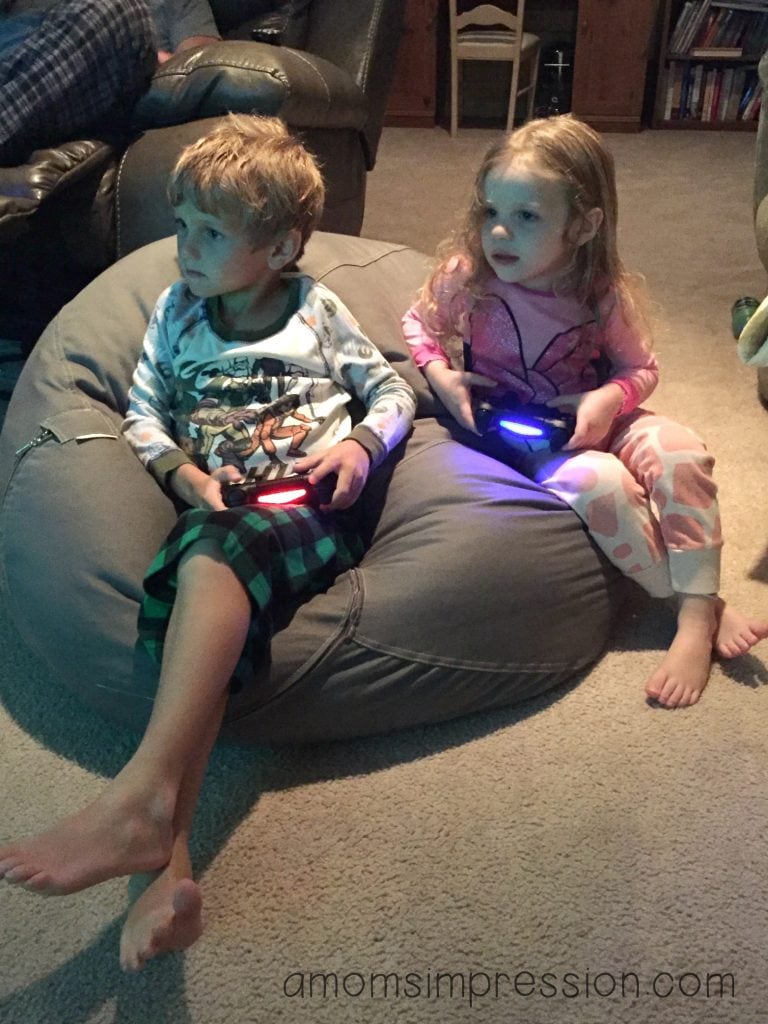 I mentioned that my son and I were fighting up above. A word about that: You can fight and there are guns in the game, but I can't really call it violence. No one really dies and it is all pretty good humored.
There are endless things to do and create in the Toy Box Hub, but you can also go into a Toy Box, which really just a black slate for you to create any world you would like to create. This is where the game really opens up and this is where my son and I are currently trying to learn more. It has been slow going because all my son really wants to do is be Minnie Mouse and throw his purse at me. I'm not sure what's going on there…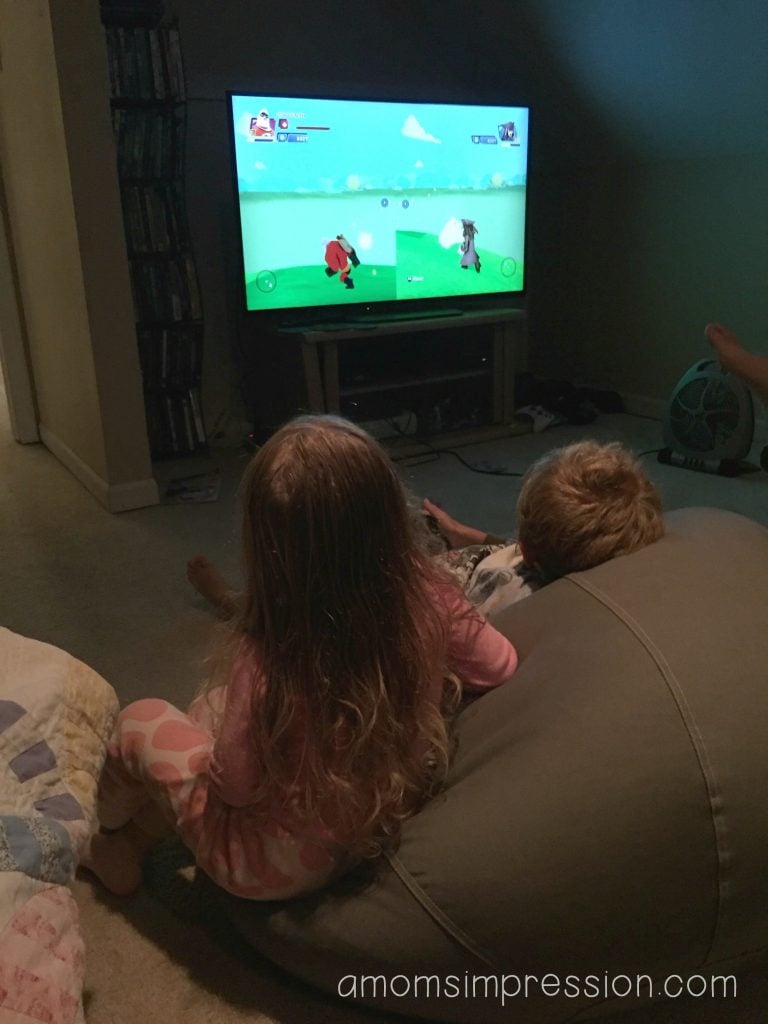 In addition to all of this, the Starter Pack came with a Play Set, which is the Star Wars Twilight of the Republic. This is a more standard game that you can play in the Star Wars world. My son and I have completed the first couple levels and have had a lot of fun on that as well.
After about 20 hours of playing this game, I still feel like I am unqualified to write this post. There is just so much in there to see and do and I have only scratched the surface. But I can tell you this: Disney has once more achieved what they have been doing for decades. They have found a way for a parent and child to share an experience and create memories together. My son and I have will countless hours of fun with this game. And it will be a whole lot more fun once I figure out how to dodge that purse that he keeps slinging at me!
You can purchase the Infinity 3.0 starter kit on Amazon or at retailers nationwide!
A huge thank you to Disney Interactive for sending us the Starter Pack to facilitate this post!  All opinions are 100% mine.