After his six-year-old daughter asked him to make a kids movie for once, Marc Forster began thinking of making a Winnie the Pooh film.  His vision, Christopher Robin, released into theaters last week. While in LA a few weeks ago, I sat down with Marc to talk about Disney's newest film. 
A big thank you to Disney Studios for flying me out to LA to attend the Christopher Robin Premiere.
Casting Christopher Robin
Assembling a cast for this type of movie is critical. There are characters that we are all familiar with but in a brand new story and live-action. Marc talked about his casting choice for Christopher and why he had Ewan McGregor in mind from the beginning.
Ewan and I worked together, like in 2004 and we stayed friends for a long time and been looking to do something together and he just has, you know, comedically and dramatically, he's so good…  he's so likable and so lovely, you want to just connect with him.

It was really crucial to have an actor who has that sort of likability because otherwise, you suddenly don't connect with him or don't want to root for him. 
Christopher Robin All Grown Up
I love the idea for behind Christopher Robin. As I am getting older I am finding myself losing track of what is important. Sometimes I wish I had some childhood friends who could bring me back to reality and show me that I need to slow down.
We asked Marc how the idea for making this movie started. He told us a story of being on a plane with his daughter as she was watching a pooh cartoon and she turned to him and asked him to make a movie that she could watch. Up until that point, most of Marc's movies were for grownups and she longed for a movie she could see that her father made. He joked that he should do a Pooh movie and three years later he made Christopher Robin.
Re-Imagining Winnie the Pooh
A lot of research went into bringing Pooh into a live-action story. They decided to bring Pooh back to the mid-twenties when he was created and when Christopher Robin played with him in the Hundred Acre Woods. Then they fast forwarded the movie post-war in the early fifties. It was the first time when people in England had paid vacation so it fits in nicely with the story that Christopher worked at Winslow Luggage.
Marc said he and that Michael Kutsche, the character designer, based the Hundred Acre Woods characters in Shephard's early drawings and the first black and white animation drawings from Disney. They went through a lot of combinations of materials to find the right look for the characters.
It took us a couple months to get it right. I wanted them to all feel hugged and loved.  That they were not like, act new, new sort of stuffed animals off the shelf. That they felt really, that the boy played with them and there was sort of a history between them.
I think the end result was perfect!
The Metaphor You Don't Want to Miss
Marc told us that he likes metaphors. One of the big ones in the movie is when Christopher's daughter leaves the drawing for him.  When she finds the original drawing, said hands it to her father and says, "I didn't realize you could draw as well." It was a way that they could connect.
Later in the movie, Christopher slams his hand on the table and a jar of honey falls down all over the drawing. Marc says that the honey is supposed to then wake up Pooh and that is when we see him in The Hundred Acre Woods.
The idea was that when he actually sees the drawings, that's sort of when they come back in is consciousness and that's sort of like when the animals come, sort of come alive again.
The Ending Credits
When you see Christopher Robin make sure you stay for the entire ending credit scene. Marc asked legendary composer Richard Sherman to write a song for Christopher Robin but he came back with three! While they only needed one for the beginning of the movie, the other songs were so incredible that Marc just had to put them in.
So Marc thought it would be great to show some of the extras as well as Richard Sherman on the beach. They were shooting the train station set and right next to it was the beach so Marc said he was going to go over there to the beach and shoot this scene.
All came spontaneous to me to put the four chairs next to a guys and put  the animals in there and then, and then ultimately, that all came literally within five minutes. Like, put the four chairs and then we did like, one take of that and that's the guy, the two actors sit there eating the ice cream.
But the movie was missing one famous quote that needed to be there!
Marc had shown the film to one of his friends and his friend told him that his favorite Eeyore quote.  "Thank you for noticing me." It's not in the movie.
 I said oh, we have to put the, that quote in the movie, so I'm going through the movie and I can't find the right spot.  I'm going to the end part where they sit, all the four of them and I have Eeyore go, "thank you for noticing me" as the last line.

Does Marc have a Favorite Scene in the Movie?
While he didn't say it was his favorite, directors often don't, he told us one of the scenes he absolutely loved!
I think for me one of the scenes which I love is the, the center scene when, when Ewan McGregor sits down next to Pooh and explains to him, he sort of, you know, isn't himself anymore and, and he apologized to him.  Ultimately seeing that hug and then Pooh says, you're squeezing me again.
Take Aways from Christopher Robin
What message does Marc hope everyone takes home from the film?
 I think it's so important to have hope, joy and, and really it's about love and Pooh is about love and reconnecting with the people you love. We are all guilty of that, everybody works so much today that to find that balance between work and the people you care for and ultimately, we all don't spend, I mean, I'm just gonna talk for myself.  I don't want to talk for everybody here, but I think that mainly the generalization is we don't spend enough time or attention to the people we love.

And it's, I think that's really why we're here for is to connect with one another.
I think that is one reason I love the Winnie the Pooh films. When you boil it all down, it's about connections. It is about time spent with the people you love! I am so grateful that Marc and Disney captured that that Pooh magic in Christopher Robin.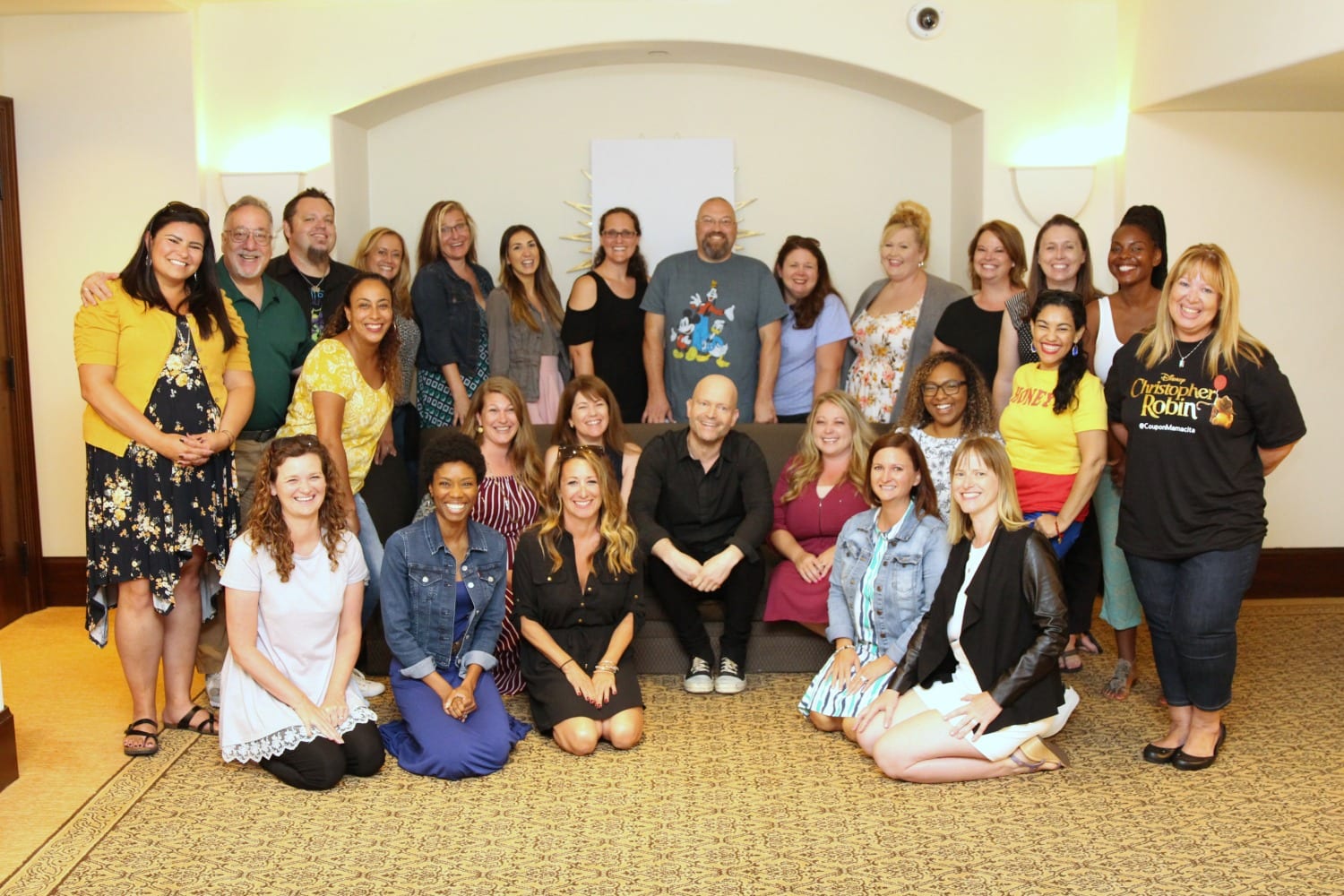 For more fun coverage of Christopher Robin please read my spoiler-free review of the movie, my experience at the red carpet premiere, interview with Ewan McGregor, interview with the voice of Pooh, Jim Cummings, interview with Bronte Carmichael, as well as my interview with Hayley Atwell.
Make plans to see the film with your family, Christopher Robin is in theaters NOW!
For all the latest news be sure to follow Disney and Christopher Robin on your social channels
I invite you to check out our Facebook, Twitter, and Instagram channels where I posted more pictures and experiences from my time in LA at the Christopher Robin Press Event.