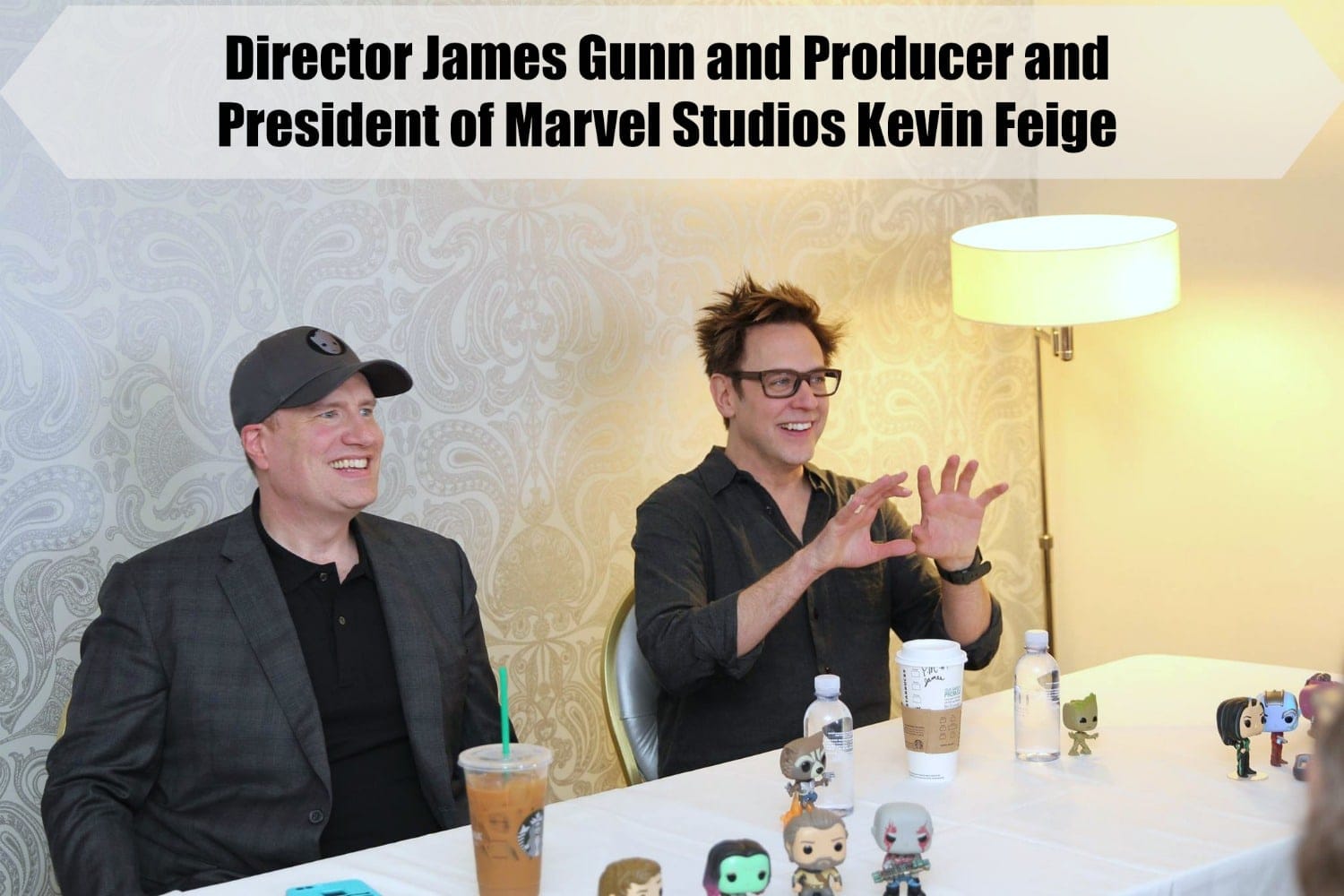 My favorite part of interview days is meeting with the director and producer of a film.  These guys are the "parents" and the film is their baby.  Whenever I get the chance to talk with them they are so excited and eager to hear about our thoughts and to tell you what they needed to do to make the film a success.  The passion and excitement is very contagious. Last month when I sat down with the director of Guardians of the Galaxy Vol.2 James Gunn and the producer and president of Marvel Studios Kevin Feige, I was fascinated about their stories about the making of the film.   I mean, you know your going to get some good stuff when James Gunn walks into the room and immediately tells you…
 My favorite part of making the Guardians movie is meeting with the Mommy Bloggers. That's no joke. That's 100% true.
… and Kevin Feige agrees!
James and Kevin did let us in on some scoops about the music, how they pick a director, and who the voice of Mainframe is.
The Music
The Guardian's of the Galaxy movies are known for their amazing music.  Seeing as I was born in the Seventies, I love all the music in the first film and we asked about how James finds and chooses the music in the films.
James: I have a list of about 500 songs, which I think of as, like, Guardians-type songs that Meredith Quill might really love.  When I'm going through and I'm writing the script, I put the songs into the script where they seem to fit.  And sometimes I don't have a song that seems right on that list, and so I have to go out and search and listen to a bunch of stuff, and see what I like.  But eventually, it's all basically baked into the organic story of what's happening in a movie, in the same way you put sugar in a cake.

There was one song that came from Twitter.

Kevin:   Which?

James:   Wham Bam.  I had never heard that song.  There's nothing I get more tweets about than "you oughta put this song in Guardians of the Galaxy."  But those are the nice ones.  The mean ones were, "If you don't put this song in Guardian of the Galaxy, I'll never talk to you again."  I'm like, "Okay, don't talk to me." They're always songs that I know really well, because I've studied my Seventies music, especially since starting this series. Somebody sent this song by this band called Silver, called "Wham Bam."  And I'm like, "I've never — what is that song?"  And I went and I played it, and I'm like, "This is a really cool, total Seventies pop song that is so different."  And then I was like, "Is this, like, a fake song?"  I thought it was a modern band with, like, a retro vibe.  Had to go and do some research on it, and found out that it really existed, and then I put it in the movie.  So, I wish I knew who that Twitter person was, and maybe —

Kevin:    Somebody could find it.  That's a fun idea.

Kevin:    What's so amazing, and it was like this on the first one, and held to it on the second one, a lot of screenwriters put song suggestions into their scripts, and almost none of those songs end up in the actual movie.  James did that, I think even maybe on an outline in the first movie, and certainly in an outline on the second movie.  On the first one, it was like, "Oh, that's cute.  He thinks these songs are gonna be in the movie.  We'll see."  Every single song.  It's not just the movie.  But what's perfect for the movie.  Then on part two, I knew better.  So, would listen to the song as I'm reading the outline, and then later the script.  And that sort of pool of songs that he has comes in handy.  There's a Guardians of the Galaxy theme park ride that is opening soon at California Adventure that features songs that James suggested as well, and a few other places coming up in the future.

There's a Guardians of the Galaxy theme park ride that is opening soon at California Adventure that features songs that James suggested as well, and a few other places coming up in the future.

James:    That's a hot scoop.

Kevin:    There'll be songs in the Guardians ride.

James:    Yeah.  Chosen by us.
The Guardian's in the new Avengers Movie
As it has been well talked about, the Guardians of the Galaxy will be a part of the new Avengers movie slated for next year. We tried to get an inside scoop but were unsuccessful. We did ask about how they were going to successfully integrate the Guardians into that franchise.
Kevin: As with all of the connectivity between our characters on various films, you have to be careful about it.  I mean, we never want it to just seem like characters are popping their heads out of windows and saying "Hello" and then going back in.

James:    It's a whole movie of Stan Lee cameos.

Kevin:    Believe me, it'd be easier to do it that way, but it's — but it wouldn't be as satisfying.  So a big role, a small role, regardless of the actual screen time that any single character has, and I think you've seen this in the Avengers films, and in Civil War last year, it'll be very meaningful and very important to the story that we're telling.  That film's shooting right now and we've already shot a lot of those interactions, and it's very exciting.
Big Scoops
Who is the voice of Mainframe?
James: Miley Cyrus.  A scoop.  That's a real hot scoop.  Yeah.  Miley Cyrus has a cameo in the movie.

Kevin:    Mainframe's the talking metal head at the end.

James: I'm a hundred percent serious.  I was watching The Voice, and I'm like, "She's so likeable."  And her voice is awesome.  I'm like, "She's got the best voice."  And then I wrote this thing and I went in and I said, "Kevin, what do you think about casting Miley Cyrus as the voice of Mainframe?"  And he was like, "Well, I'll see if we can get her."

Kevin:    Yep.
James:    And then I got her to do it.
Speaking of cameos, obviously, it's a family film, your parents were in it too, right?
James:    Yes.  My parents.  My parents are in it.  My brother.  My brother's wife.  My two nephews and my niece are all in that scene.  Yeah, you know, I kill a lot of my family members.  It's not quite "aww."  It's more like, ya know, "grr."   That's my parents.  That's my dad, they're credited in the credits as "weird old man" and "weird old man's mistress."  Which my mom loved.  My mom loved it.
Hand Picking Directors for Marvel Films
Kevin is pretty amazing when it comes to picking the right directors for each of his films.  We asked him about his process and how James got the directing role in the first Guardians.
Kevin:  Well, there are a lot of meetings, and it's really — it's a leap of faith, to some regard.  And a lot of it is, "is the vibe — and do we want to spend, you know, in a worst-case scenario, three years together, and in a best-case scenario, you know, ten years together?  12?"  We have a great team at Marvel Studios.  And in the case of Guardians it was executive producer Jeremy Latcham and now executive producer Jonathan Schwartz who did the first round of meetings, and they were the first people James met with.  And sort of pitched the notion of this weird space movie with raccoons and trees.  And as James — what was it?   You were driving home after that meeting?

James:    Yeah, they pitched that idea to me, and I was driving home after the meeting, and when I said goodbye to them I thought they were making a huge mistake. I'm like, "You guys have done a great job so far as Marvel, but, you know this is Bugs Bunny in the middle of the Avengers, and you're gonna look like idiots."

And so I kind of smiled and shook their hand and I went home, and I didn't really think I was going to take the gig, or that wasn't being offered the gig, but I didn't think I was going to pursue it in any way.  And then on the way home, it like, it hit me.  It really, really hit me, and it was like seeing the first poster in my head on the way home, and I realized what this movie could be, and how it could bring color and heart into a big, franchise film, and create the kind of space opera that I've wanted to do my entire life, so that's how it started.

It's weird.  In the first Guardians movie, the Guardians say, you know, "Maybe it's time to actually give a shit about something."

And this is being completely honest. It's like, I had a lot of success doing things in Hollywood, and I always considered that my strength was that I didn't really give a sh*t.  Like,  I would go in and I would pitch something, and I'm like, "Well, if I get the job, then I'm gonna get money.  But if I don't get the job, then I don't have to work for a little while, and you know, I'm very lazy."  This fact that I didn't care, I always thought it was my strength.  And for the first time in my life, I really — I really wanted the Guardians of the Galaxy gig.  That honestly had never happened to me before.  I had never done it.  And so it was a new experience for me in caring, and it's so funny because that's exactly what the Guardians are about.

That same thing!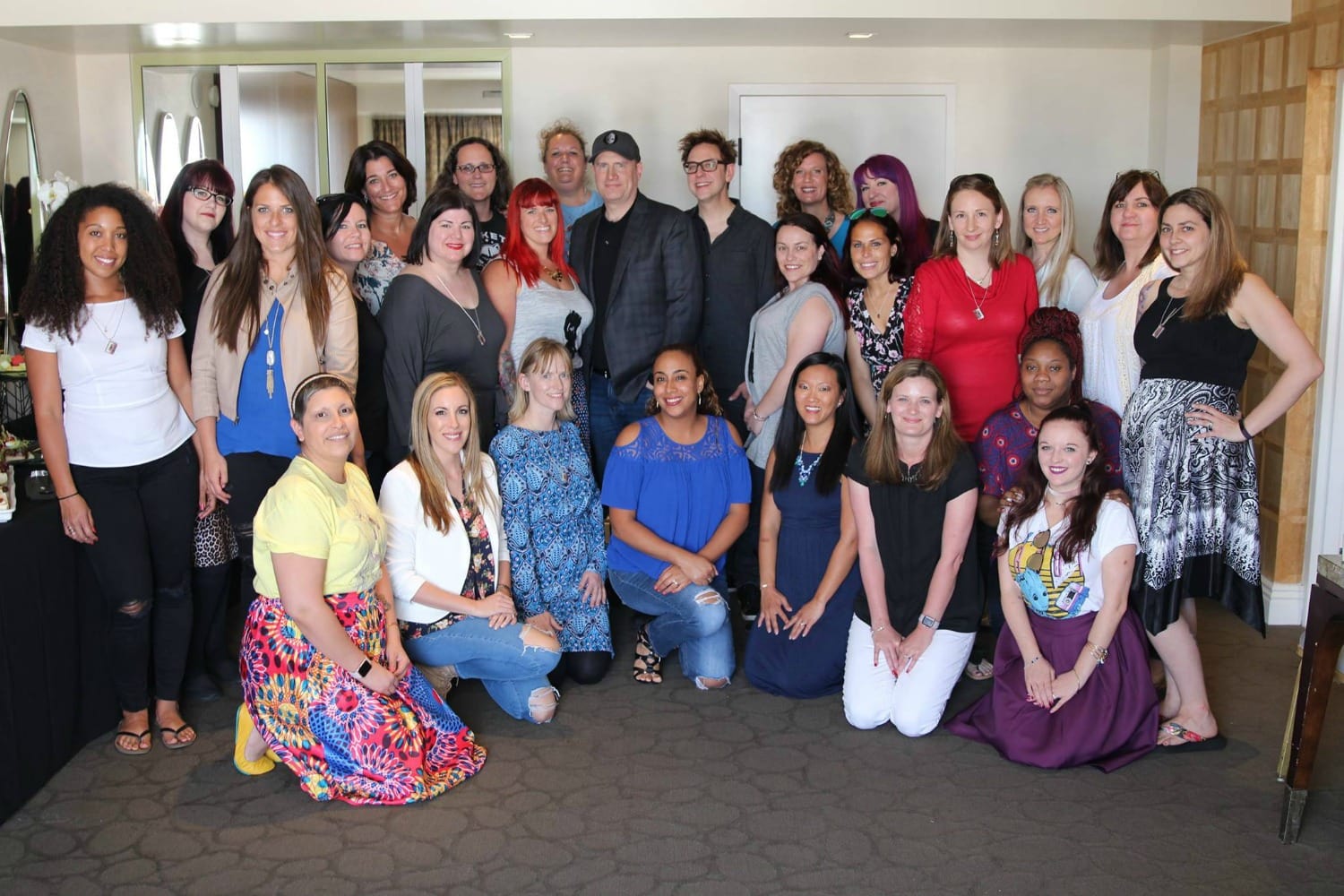 Guardians of the Galaxy Vol.2 is in theaters now, buy your tickets today!
For up to date information about the newest Marvel blockbuster be sure to follow the Guardians of the Galaxy Vol. 2 on their social channels and use the hashtag #GotGVol2.
Facebook | Twitter | Pinterest | YouTube |Website
I will be back tomorrow with my last exclusive interview with Michael Rooker ("Yondu") & Sean Gunn ("Kraglin")!
Be sure to check out my other posts from the #GotGVol2Event

Exclusive Interview with Chris Pratt
Spoiler Alert – The Interview Where Kurt Russell Talks About Playing Ego A Living Planet
Exclusive Interview with Zoe Saldana
Exclusive Interview with Dave Bautista
Interview with Karen Gillan, Pom Klementieff & Elizabeth Debicki
Guardians of the Galaxy Vol.2 Review and Purple Carpet Experience
I'm Walking the Red Carpet at the Guardians of the Galaxy Vol.2 Premiere
My Dancing with the Stars Dance Lesson
Descendants 2 New Trailer and Music Video
Radio Disney Music Awards Viewing Party Ideas
Photo Credit for Interview pictures: Louise Bishop / MomStart.com
A huge thank you to Disney and ABC Studios for flying me out to LA for the #GotGVol2Event. All opinions are 100% mine.