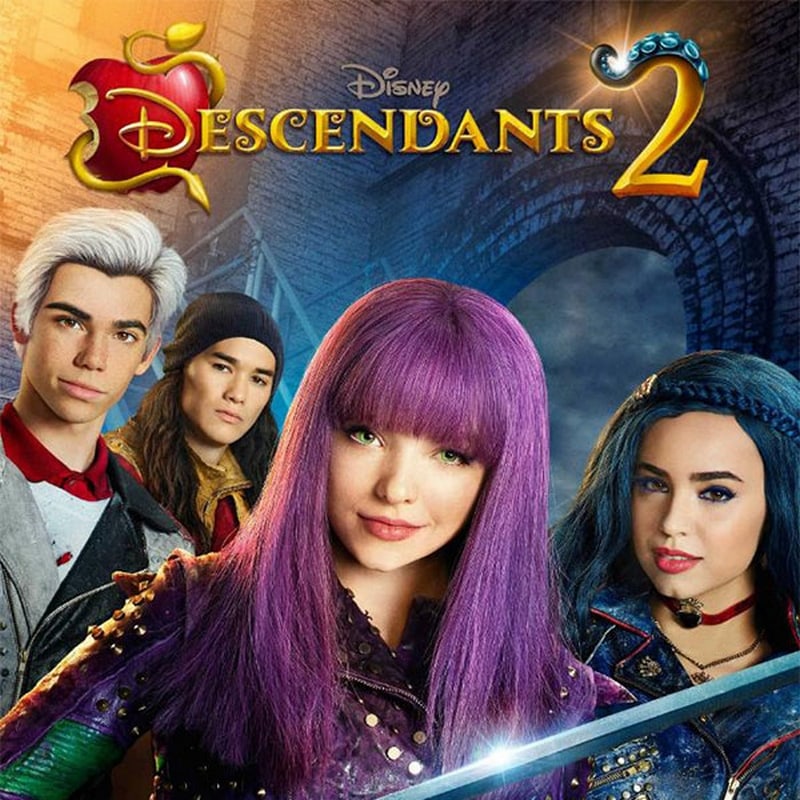 The Villian Kids are back in a very big way. If you are like me than you are anxiously awaiting the premiere of Descendants 2 this Friday! I fell in love with these characters when the first movie aired two years ago and I couldn't be more excited to see what they have been up to.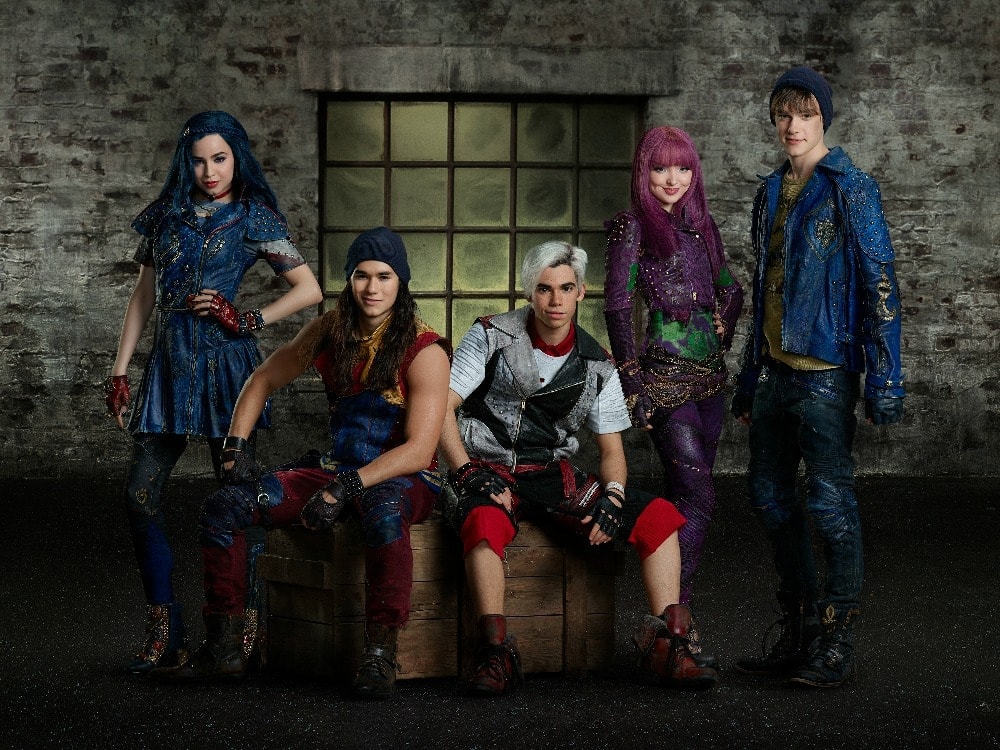 Back in April, I had the amazing opportunity to sit down with the cast and crew of Descendants 2 to get the inside scoop on what we can expect in the new film releasing on 6 different channels this Friday evening. We were treated to some inside glimpses of the movie and exclusive interviews with the stars of the film Dove Cameron, Sophia Carson, Cameron Boyce, BooBoo Stewart and China Anne McClain.  We were also able to talk with Emmy Award-winning director Kenny Ortega, executive producer Wendy Japhet, and Screenwriter Sara Parriott.
I know we are all anxiously awaiting the film to get an update on our favorite villain kids and to see how their life in Auradon is going. I got the inside scoop on what we can expect from the four main VKs in the new film.
Our main character, Mal played by Dove Cameron, is having a little bit of an identity crisis.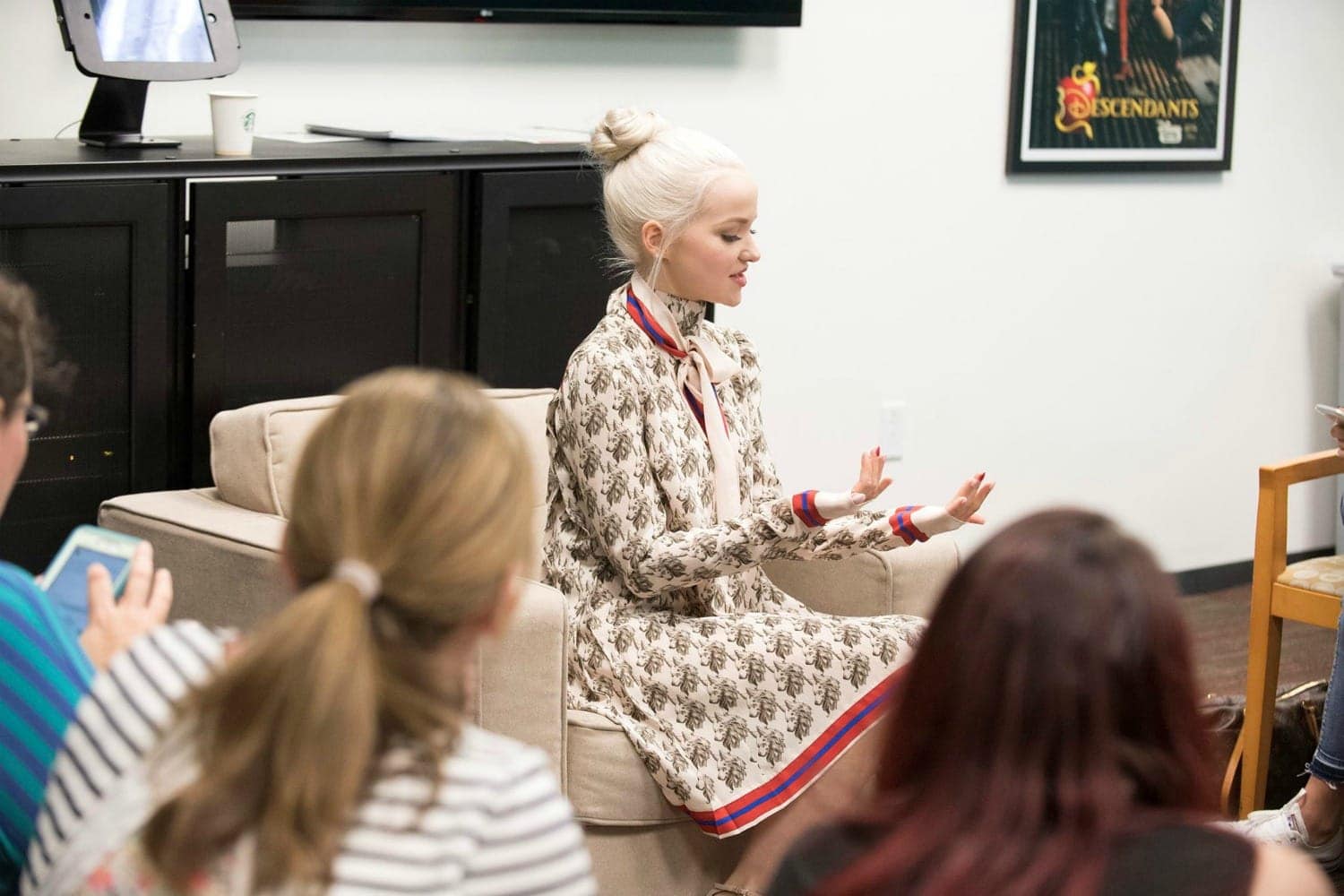 Dove told us that in the second movie when we pick back up…
Mal now knows what it feels like to be authentically loved and to have a space held for her to be supported. Just like any other human, you gravitate towards whatever you're used to, and so she has no idea how to deal with that. It's almost impacting her negatively, because she's thinking, "Oh, I only know how to build up my walls. I don't even know how to function without my walls." Now she has to start over and find what is (her authentic identity) for the first time in her life. Throughout the movie she goes through a lot of incarnations of what she thinks Mal is, and doesn't really find herself until the end.
Dove also gave us a little inside scoop on another character to watch out for this Friday!
One of my favorite storylines actually isn't my own, it's Lonnie's, and you'll see that when the movie comes. She has this beautiful, empowering message for girls that gets me every time I see the movie. I want to say, "Yes! Lonnie!"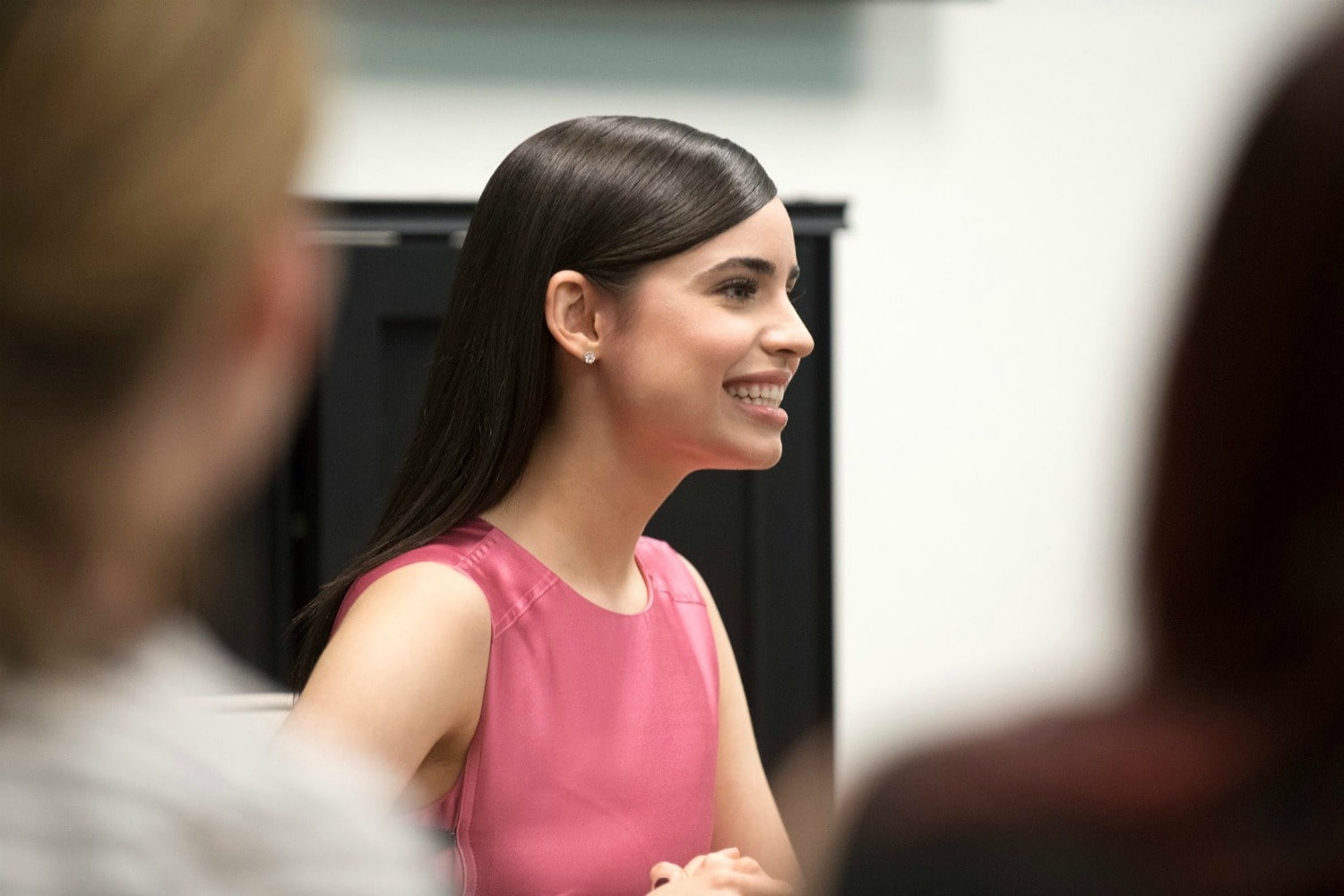 Mal's right-hand girl and bestie Evie had a big transformation in the first film.  Sofia Caron gave us a little insight to Evie's role in the new film.
In the second movie, Evie has really grown into herself. She is strong and independent. She's smart. She's a fashion designer. She has made her dream come true without a prince and she's become a leader. At the same time, her best friend Mal, [who is like] her sister, is lost and really confused. Their relationship is really beautiful and important and it's a story of girl power, which I love.
Sofia also gave us a little nugget about Evie and Doug's relationship!
You're going to be really happy, with their relationship, in this movie. They're business partners. Doug, who's really good with numbers is helping her organize the business side and the financials of it all. At the same time, they're together and Evie's so happy because Doug loves her just the way she is. She loves him for who he is and it's a really beautiful, sweet relationship and he just adores her.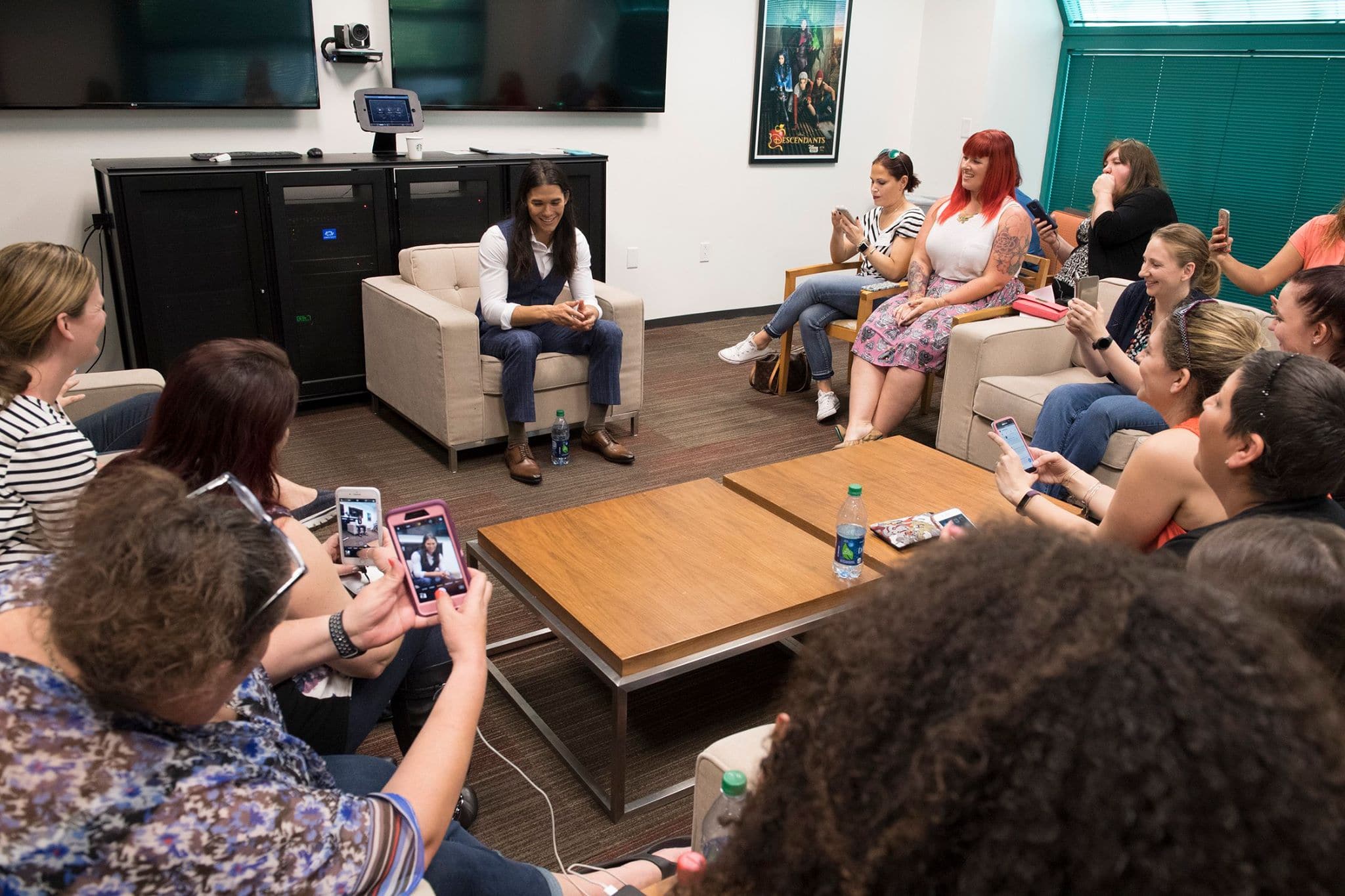 Boo Boo Stwart told us that Jay's story in the film is intertwined a lot with a new character, Lonnie – the daughter of Mulan.
There's a really nice, subtle storyline that Jay has with the character Lonnie. He's the captain of the Swords & Shields fencing team and it's in the rule book that it's a guy sport. Lonnie shows up and pushes him to let her be on the team. As far as rules go, Jay has to decide between sticking to tradition or breaking the rules and being kicked off the team and losing his title. So he has to accept change and his decision there is a nice storyline.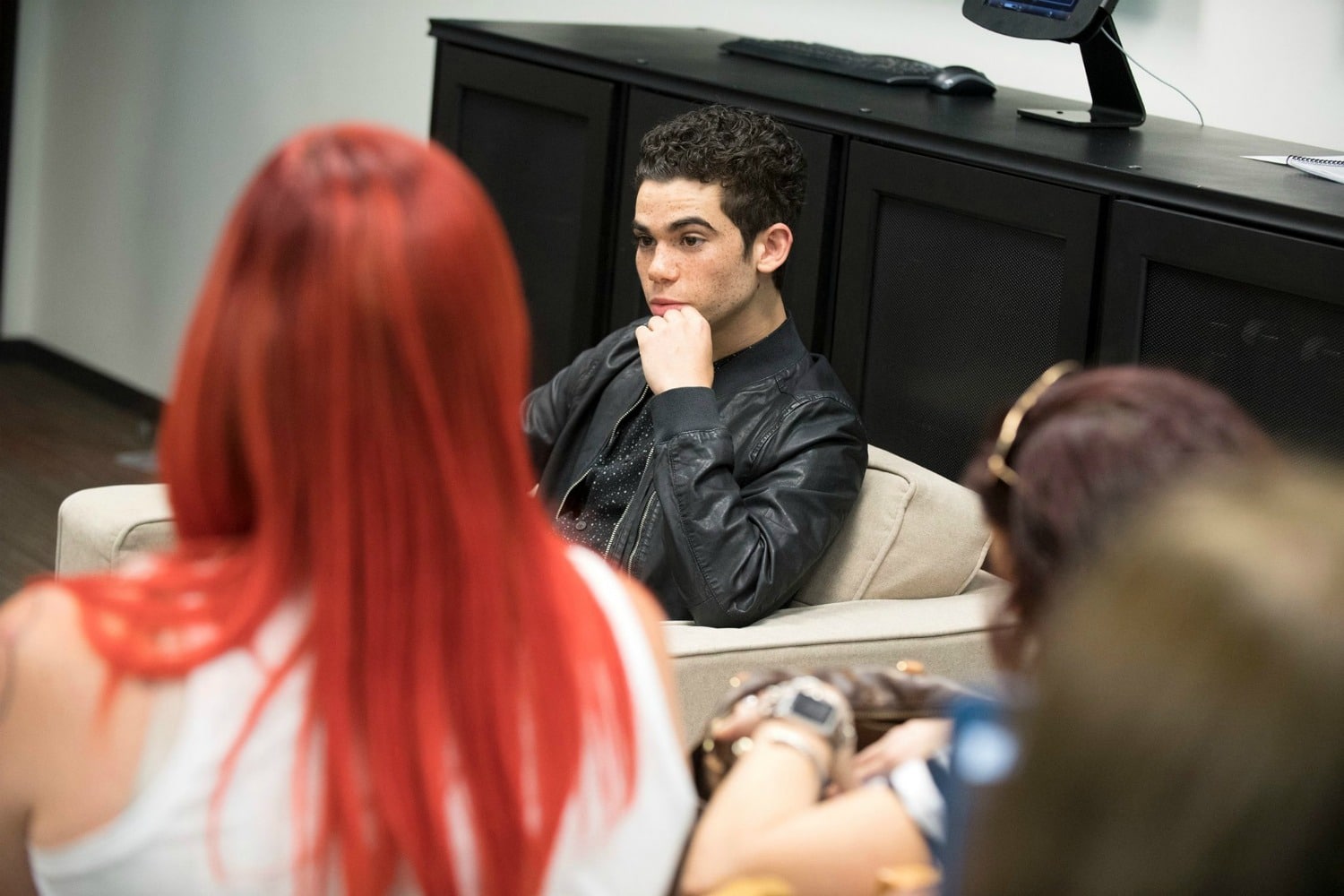 Cameron's character, Carlos finds his place in the second film.
 In the second movie Carlos finds out how he can bring something to the table for the team, and it's different than everybody else. Obviously Jay's the muscle and Mal is the brains, and Carlos figures out that he's a sensitive guy. He realizes that he can use that sensitivity to bring the whole group together and it's pretty cool.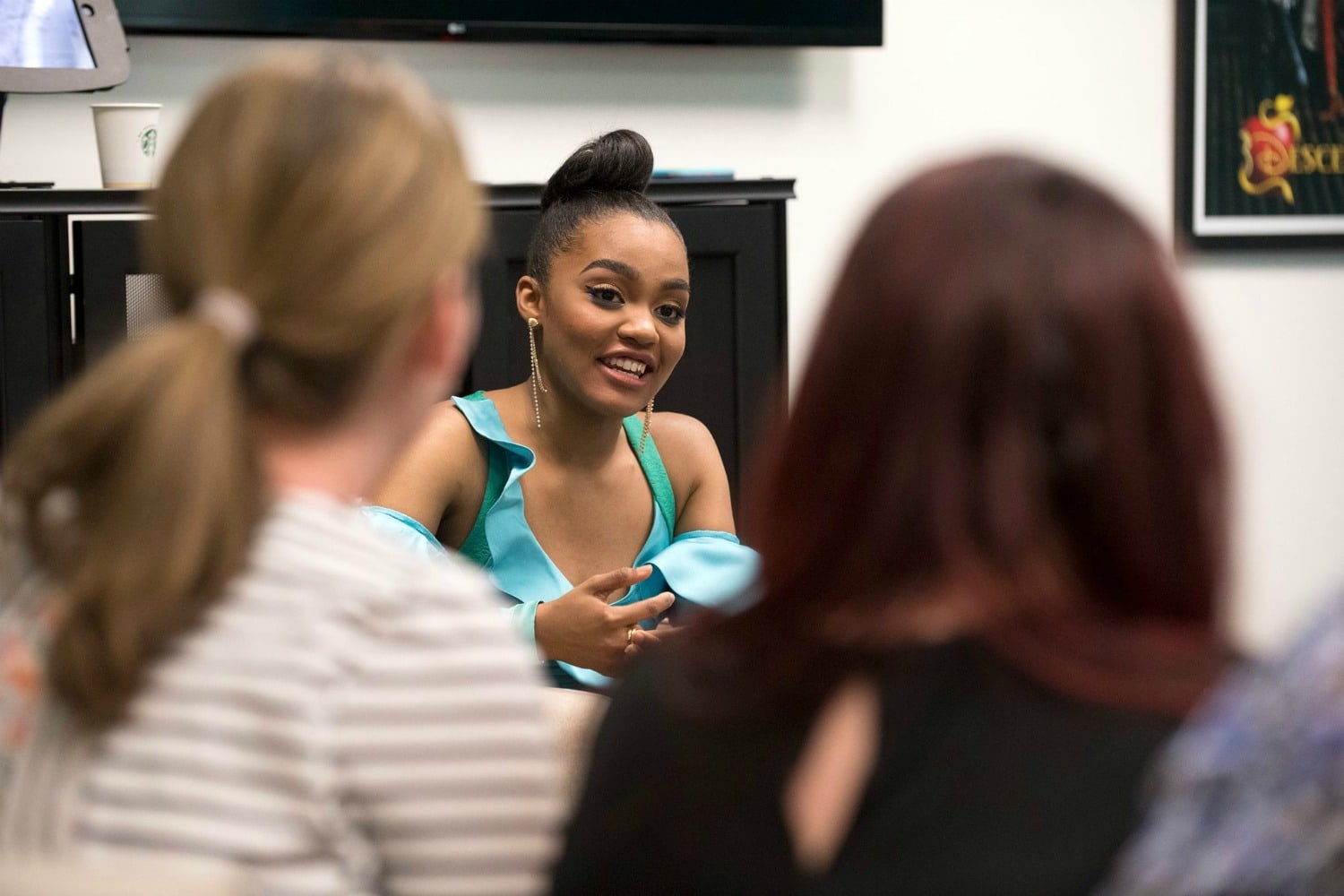 We meet some new characters in Descendants 2. China Anne McClain plays Uma the "villain" in the new film.  She is the daughter of Ursula and is a little bitter about not being chosen as one of the villain kids to go to Auradon.  When Mal shows back up on the Isle of the Lost, she makes her life very difficult. China Anne prepared herself for her role in a unique way…
Ursula is one of my favorite movie villains ever. She has so much attitude. In preparation, I watched "The Little Mermaid" about 20 times before I went to Vancouver to shoot. I was looking at her mannerisms, how she talked and everything that she said, and that helped me a lot on set.
I think that you are going to love this new character.  I was able to see a couple clips that she was in and it was very exciting. There is a musical number that features China Anne and Thomas Doherty (Harry Hook) that is going to blow you out of the water, it's so good!
Let's be honest, one of the best things about the films are the amazing outfits that the VKs wear.  They inspired a new look two years ago, and this year they are bringing the fashion back in a big way!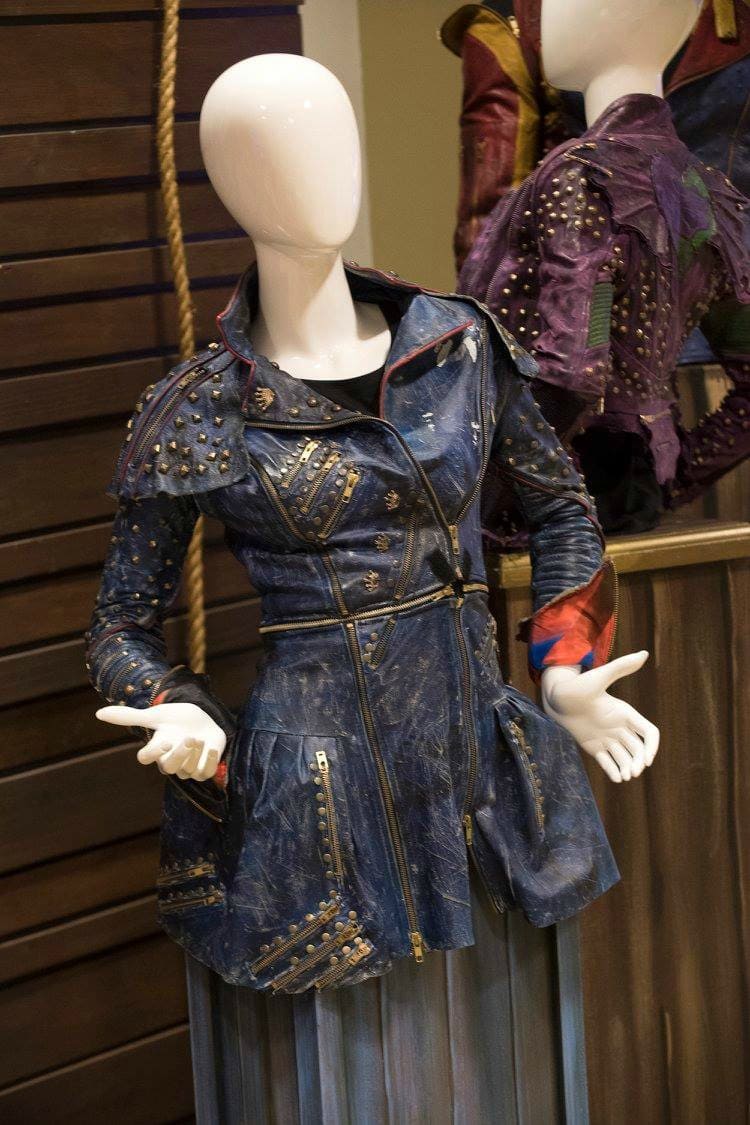 Designer Kara Saun created some amazing new costumes for the new movie that are going to blow you away and inspire some new looks for the fall.

I just went full couture for "Descendants 2," from the accessories to the silhouettes. The fashion for "Descendants 2" is really about the story of the kids and where they are now. They're in Auradon and so it's really my job to show how they've transitioned and how they've matured.
There are only two more days until we can all see Descendants 2 for the first time! The anticipation is there and I can hardly wait.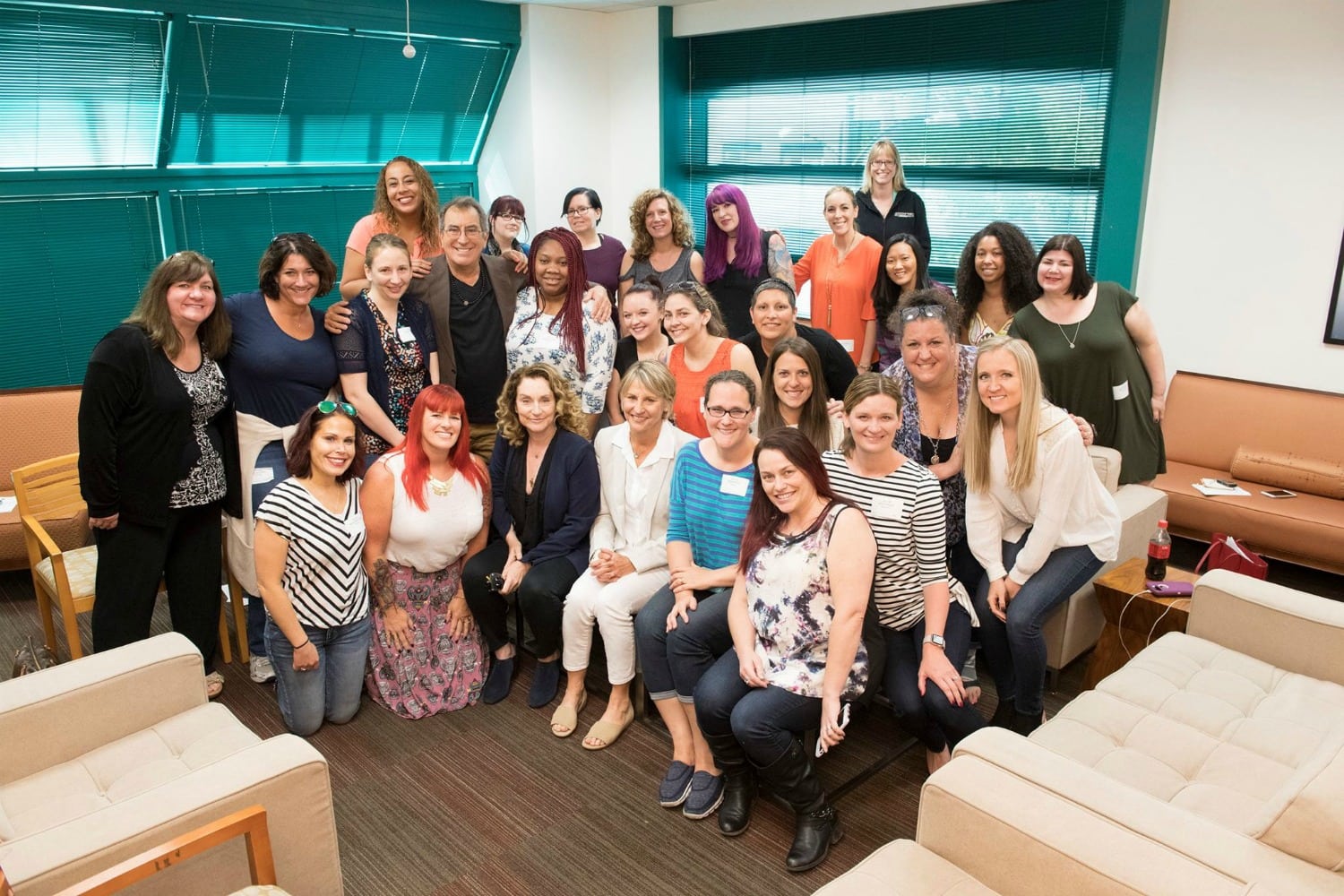 I think Director Kenny Ortega sums the movie up nicely when he talks about how wonderful the second film is going to be:
Not just because I directed it but because it entertains me.  I laugh and I'm moved and I'm touched, and I think the big surprise here is that the Disney Channel has a movie for everyone!
Descendants 2 will premiere in an unprecedented, far-reaching programming event featuring a simultaneous premiere across five networks within the Disney|ABC Television Group including Disney Channel, ABC, Disney XD, Freeform and Lifetime on FRIDAY, JULY 21 (8:00 p.m. EDT).  Don't forget to check out the newest trailer and music video Ways to Be Wicked!
A huge thank you to Disney and ABC Studios for flying me out to LA for the #GotGVol2Event and #Descendants2Event. All opinions are 100% mine.