Do you have a little princess at your house?  My little girl loves her disney princesses and so naturally Sofia is top on her list.  Last year she was Sofia for halloween and the love affair continues.  We love her show and the sweet lessons that it teaches my daughter.  Sofia is kind, and fair and helps teach my daughter how to be caring.   Her adventures on Disney Jr. are fun to watch but often we wish that we could bring them with us on the road, or at the doctor's office.  Now that her adventures are on DVD we can!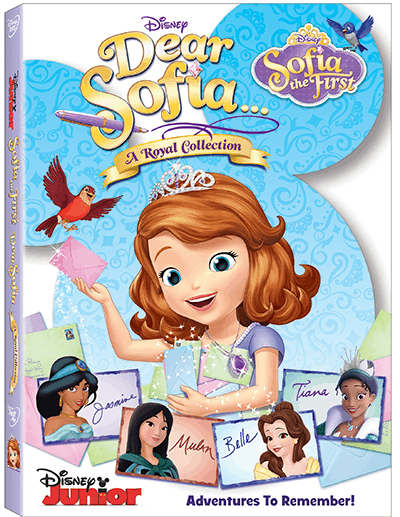 Get ready for Disney Princess magic with Sofia the First and her friends in DEAR SOFIA: A ROYAL COLLECTION That came out on DVD September 29th! It's packed with over 6 adventure-filled episodes guest-starring Jasmine, Mulan, Belle, and Tiana! This brand new DVD also comes with a FREE Sophia Themed Stationary Kit!

Join Sofia as she receives guidance from Disney Princesses and goes on a daring adventure with Mulan in the Kingdom of Wei Ling, soars through the skies with Jasmine on a magic carpet ride, and discovers important lessons about friendship and life's true gifts from Belle and Tiana. Packed with endless fun, music and heart – plus two additional episodes – "Dear Sofia: A Royal Collection" is a not-to-be-missed celebration highlighting the qualities that make a true princess – honesty, loyalty, compassion and grace.
Dear Sofia: A Royal Collection includes 6 adventure-filled episodes, plus a FREE Sofia-themed stationary set for kids to write a hand-written letter to Sofia. Each child who submits a letter will receive a response back from Sofia in the mail.
You can purchase Dear Sofia: A Royal Collection on amazon for $12.22.  This makes a great stocking stuffer for your little princess!
A huge thank you to Click Communications for sending us a review copy.