Have you ever wondered what it takes to make an animated film? Let me tell you that there is more to it than you might think. I have the inside scoop on everything you need to know about the newest Disney animated movie Ralph Breaks the Internet, in theaters November 21st.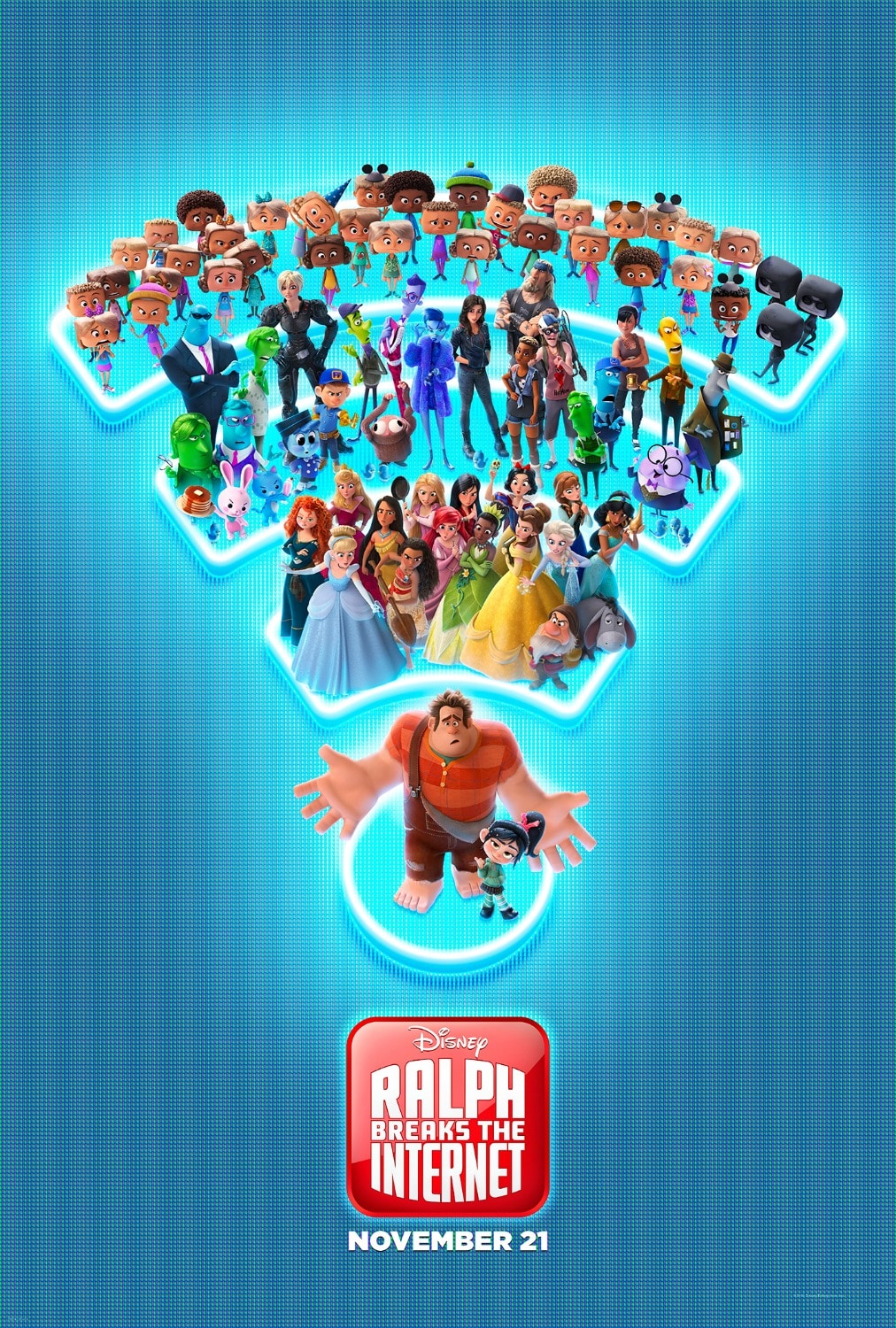 Thank you to Disney for flying me out to LA for the media day!
When I watch a great animated movie, I find myself getting lost in the story.  When it is over and my family starts talking about the movie, my husband starts talking about camera angles and visuals. My kids start talking about their favorite characters. I start realizing that the best-animated films have all of these concepts, a great storyline, characters you fall in love with, and stunning visuals.
A few months ago, I was invited by Disney to attend the Ralph Breaks the Internet Media Day and I was able to get up close and personal with the creative minds behind the newest Disney Animated film.  We were treated to talks with the animators, story designers, set designers who worked on the film.
I am excited to bring a little bit of this experience to you today!
The Story
We Started our day with Josie Trinidad (Head of Story), Jason Hand (Story Artist) and Natalie Nourigat (Story Artist) as they talked us through a storyboard and about the process of developing a storyline for a film.
It starts with the director's vision. They have a basic idea of what they want the story to be about. They meet with the story artists and then the story artists work together to craft the storyline. The story department has their hands in the creative process from start to finish. In fact, when it is all said and done they will have crafted 283,839 total storyboards for Ralph Breaks the Internet!
When thinking about Ralph and Vanellope and what they wanted the characters to do in this film, Josie, Jason and Natalie knew that somehow they wanted their characters to go viral in some way.
They tried different ways of having Ralph go viral including unboxing videos, a meme generator, having Ralph do videos where he does gags and gets hurt a lot. They ended up having Ralph recreate some of the viral videos that we are all familiar with and I can't wait to see what ends up in the film.
One of my favorite pieces of advice we got is when they told us that everyone comes up with ideas that aren't very good and you can't let it get personal.  Even bad ideas can lead to good ones!
The Characters
After we talked with the story department we moved on to learning about the characters in the film. We sat down with Cory Loftis (Production Designer), Dave Komorowski (Head of Characters and Technical Animation), Renato dos Anjos (Head of Animation) and Moe El-Ali (Crowds' Supervisor) to learn about the people we will see in the new adventure.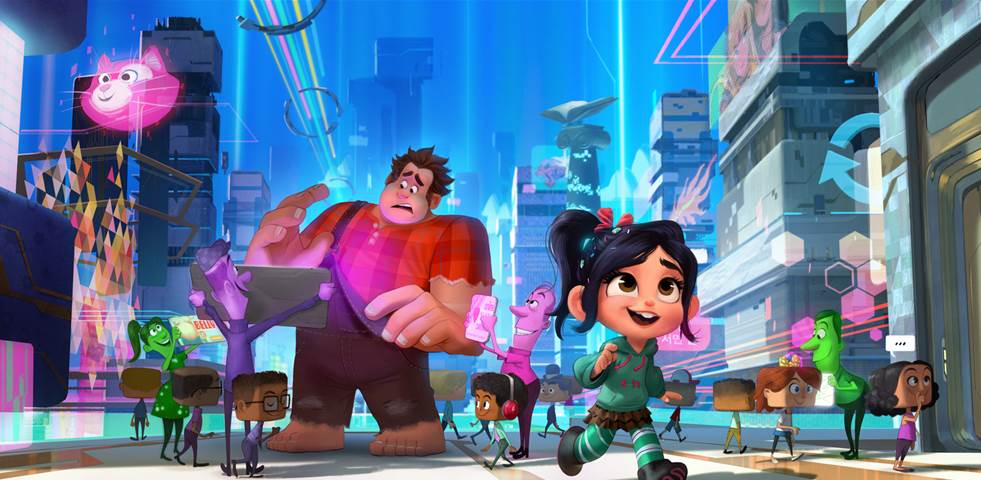 Immediately when I saw the trailer for Ralph Breaks the Internet I noticed that there were a lot of characters in it. For comparison in the Disney animated film Bolt, there were 57 characters. In Zootopia, a completely made up world, there was 182 characters. In the first Wreck it Ralph movie there was 223 characters.  In this new film, there are 434 characters.  Once you add variants of these characters and different color swings there are over 500,000 different options of characters that they created for this movie!
So who are these people?
Disney wanted to distinguish between those individuals who reside inside the Internet and those who were just visiting. In the film, we are visually able to tell the difference between the two.
Net Users – Internet users of you and me. These people are portrayed as an avatar of the user, with a square head. We are placed into the Internet when we log onto our computer. These characters have very limited facial features and emotions.
Side note: I really hope when the film comes out that Disney creates a Net User app where we can create our own who looks like us!
Netizens – Full-time citizens of the Internet offer guidance as you search. They come in all shapes and forms. These are the people that live inside the Internet. They show more emotions and have a wider range of facial features than Net Users.
New Characters
There are two new Netizen characters that we learned about, Yesss and Knowsmore.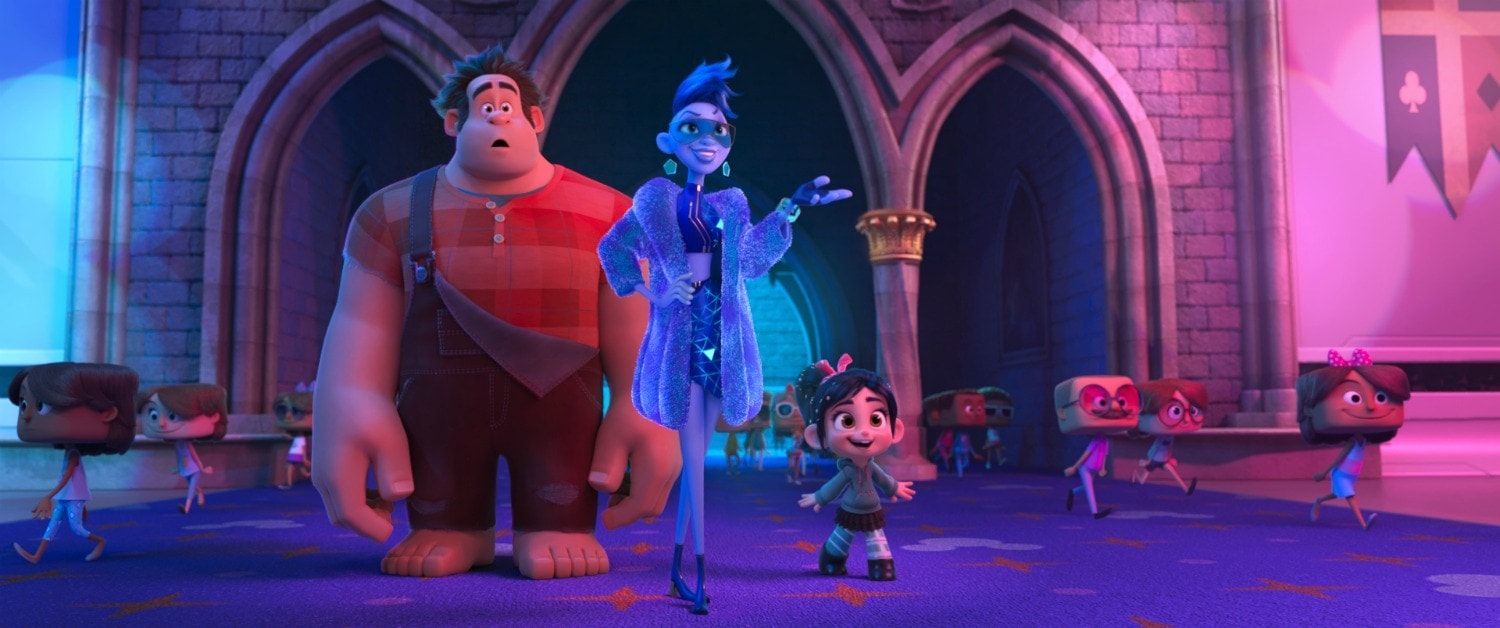 'Yesss is an algorithm, a type of Buzz Feed meets Youtube. She is very trendy knows everything that is up and coming. Yesss was originally a child… like an older sibling to Venellope, but after they developed her story they realized that she runs a business so they changed her to an adult. Yesss constantly changes her outfit and hairstyle according to the trends.
We also learned about Knowsmore. Knowsmore is his own brand, as his name insinuates, he is an encyclopedia of sorts like a search engine. To make this character unique his eyes are hand drawn, everything else about him is CG!
The Set Design
Finally, we sat down with Matthias Lechner (Art Director, environments), Larry Wu (Head of Environments) and Ernie Petti (Technical Supervisor) who were tasked with bringing the world of the Internet into a believable, visual place.
It started with research. They went to One Wilshire Blvd, the building in downtown LA that houses all of the connections for any and all Internet communications for all of North America. Inside that building was miles of wires and 10s of thousands of servers that connect North America to the Internet. They observed the fiber optic hubs and even sliced through a cable to see what it looked like.
That is how they came up with the designs for the Internet hub.
They took a lot of inspirations from both the physical hardware and websites they frequently visit to create the world that we will see in the film. When you see Ralph Breaks the Internet be sure to keep an eye out for all the details like the traffic lights, international signage, and under construction signs.  They were extremely creative with the world that they created. There are so many places to look for easter eggs in this film.
Another concept that they created was the Deep Web, a place for discarded stuff and seedy places. Think hackers, viruses and seedy places. They visualized it well, I think you will appreciate how they represented it.
Putting Everything Together
So many different departments have to do their part to make a finished product.  Check out this short little video showing a scene going from a storyboard to a finished product.

Now think about how that is just one little scene and how they do this for every scene in a full-length animated film.  It is pretty amazing, no wonder it took four years to make the sequel!
RALPH BREAKS THE INTERNET arrives in theatres everywhere on November 21st!
If you missed my interview with the director, writer and producers of Ralph Breaks the Internet be sure to check it out. Next month I am able to share even more of my experience at the Ralph Breaks the Internet media event so come back, you won't want to miss it!