I participated in a Blogger Activation on behalf of Mom Central Consulting (#MC) for Cardstore.com. I received complimentarycards and a promotional item as a thank you for participating.
Wow!  February is here already and its almost time to start thinking about Valentine's Day.  I loved Valentine's Day as a kid.  I would carefully pick out the perfect card for everyone in my class, addressing the envelopes carefully.  I loved reading the ones that I got from my friends and trying to figure out who sent the mysterious ones.  I want my kids to be excited and love Valentine's Day just as much as I did when I was a kid so I went to Cardstore.com to create custom cards just for them!
I found this perfect one for Caroline:
I am so excited for her to open this up!  She has this obsession with Elmo these days and I know she is going to carry this around with her wherever she goes.  Cardstore.com has lots of personalized Valentine's Day cards for the kids.  In addition to some of our favorite characters, they also carry funny and sentimental cards that are perfect for that special someone on your list.  They will even send them directly to your recipient.
My husband and I don't usually do a lot for each other on Valentine's Day, instead we focus on the kids.  My husband is an amazing dad and partner and he has really gone above and beyond this year sending me flowers for no reason and just helping out overall.  I wanted to surprise him with a custom card of his very own that I know he would appreciate.  When I was looking around Cardstore.com I found this perfect custom card that I know he will love: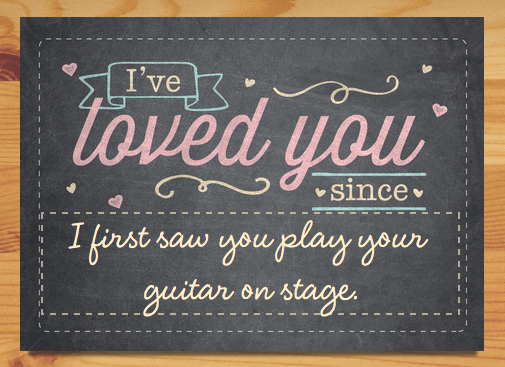 While my husband isn't normally a fan of a sentimental card, I know he is going to love this.  Being able to add our little story to the card is going to remind him of the first time we met and fell in love.  Its perfect, not too sappy, and just emotional enough to make him smile!  I started tearing up as I was creating it remember the magical moment I realized that he was THE ONE!
I loved getting creative and ordering specialized Valentine's Cards from Cardstore.com.  The entire process is simple and fun, it will only take minutes once you find the perfect card. If you want to ensure that your loved ones get theirs before Valentine's Day you must hurry, orders need to be placed by the 6th to guarantee deliver before the big day.