I love, love, love cooking for Thanksgiving!  I admit that I over plan and over think what I will be bringing each and every year.  I have already began thinking of the perfect dish to make while I am with my family in Idaho this year.  Someday I would love to be in charge of the turkey, or even host Thanksgiving at my house, but for now I am going to stick to side dishes and desserts.
I have been working real hard trying to get back into my pre-baby shape.  As much as I love stuffing myself on Thanksgiving, I want to try to cut out as much fat and calories as I can without sacrificing flavor.  That is where Country Crock comes in.  Country Crock has 70% less saturated fat, 30% fewer calories than butter and no cholesterol!  While I am a huge butter fan, I know that I won't be missing much by substituting some of the butter in my recipes with Country Crock.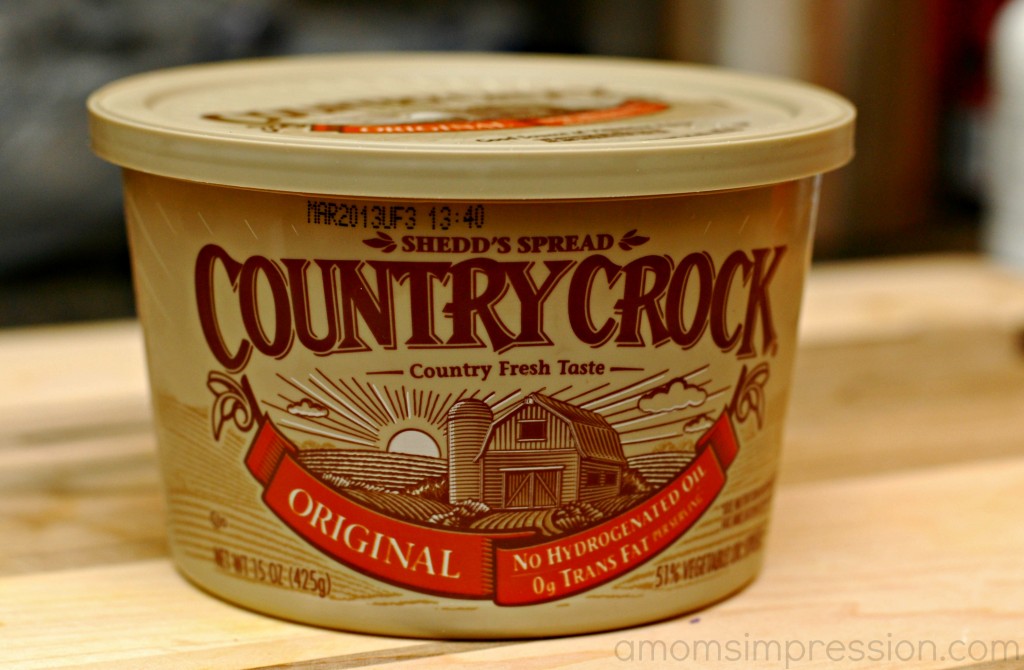 So, I have a great corn side dish and an amazing dessert for Thanksgiving that I know you will love!
My corn confetti is a beautiful side dish that is light, yet flavorful.  If there is one thing about traditional Thanksgiving dinner that I can't stand is that a lot of the food people make is bland.  My husband and I love flavor!  I added a little bit of cyan powder into the corn to give it a little kick.  It really isn't that spicy, but it does leave a nice light spice in your mouth.  I enjoy this recipe because it is really pretty!  The red in the peppers pop against the yellow corn, and the  cilantro adds just the right amount of green.

Confetti Corn
2 tablespoons Country Crock
4 cups fresh or frozen corn
1 large red bell pepper
1/4 teaspoon cayenne chile powder
Salt
1/4 cup chopped cilantro
1. Melt Country Crock in a large pan over high heat.  Add corn, red pepper, salt, and cayenne chile powder.  Stir occasionally until cooked through.
2. Chop cilantro and add to corn, mix to combine.  Transfer to a serving dish.
Serves 6
My husband loves to bake on Thanksgiving.  He usually makes apple pie, but last year he made amazing Chocolate Chip Raspberry Bars from a recipe we found in a Taste of Home magazine.  This year we are taking out the cup of cold butter and replacing it with a cup of Country Crock.  It is still as delicious as the original!

Chocolate Chip Raspberry Bars
1-3/4 cups all-purpose flour
1 cup sugar
1 cup Country Crock
1 egg
1/2 teaspoon almond extract
1 cup seedless raspberry jam
1/2 cup mini chocolate chips
1. Preheat oven to 350 degrees. Combine flour and sugar in a large bowl.  Cut in the Country Crock until the mixture is crumbly.  Stir in egg and extract.  Set aside 1 cup of the mixture for the topping.
2. Pour the remaining mixture into a greased 11 x 7 inch baking pan and press.  Bake for 5 minutes.  After 5 minutes take it out of the oven and spread the jam on top.   Sprinkle the reserved crumble mixture over it and bake for an additional 35-40 minutes.
3. Sprinkle with chocolate chips and return to the oven for about 30 more seconds. Cool completely.  Cut into bars.
Enjoy!
What special dishes are you creating this Thanksgiving?
Thank you to Good to Know & Unilever Spreads for being a sponsor. I was selected for this opportunity as a member of Clever Girls Collective. All opinions expressed here are my own.