Pixar studios invited our family for an early screening of Coco.  All opinions are 100% mine.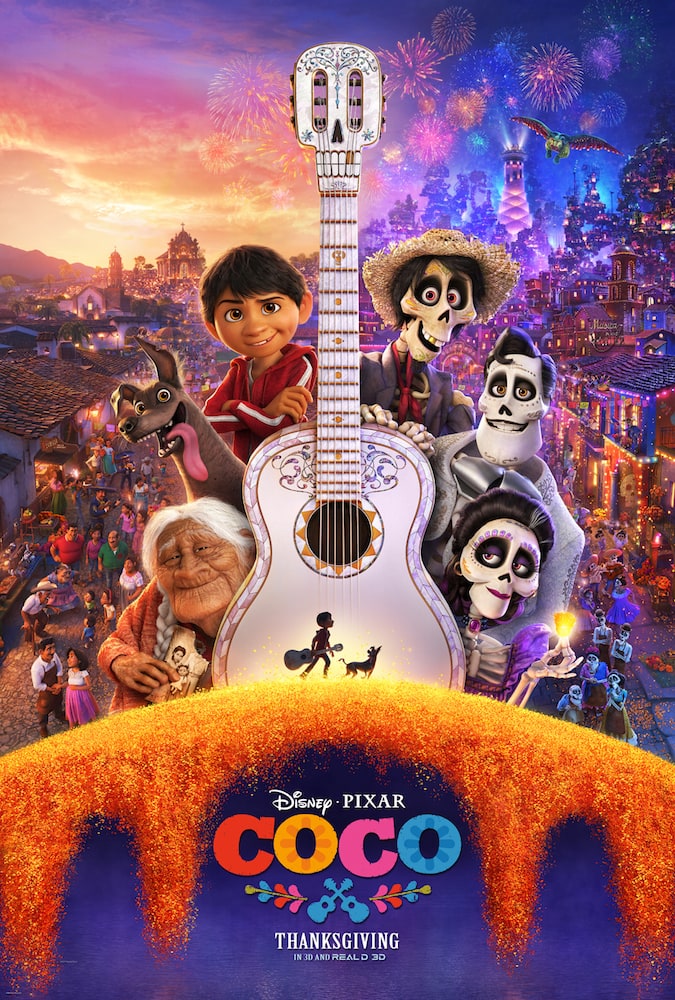 The holiday season gives us many opportunities to watch our favorite movies with our family members.  If you are like me, you may not want to actually watch Holiday movies the whole month.  It can be tough to find a great family movie in December that is not centered around Christmas and Thanksgiving.
Pixar Animation Studios has come to the rescue.  When looking to entertain both adults and children on multiple levels all at the same time, you can always count on Pixar to deliver.  In their latest offering, Coco, you follow young Miquel on a musical adventure into the Land of the Dead.
Miguel as at that age where he is trying to find his identity.  He comes from a very strong-willed family that owns their own shoemaking business.  They love each other very much and they love Miquel.  But they absolutely hate anything to do with music.  Unfortunately, the only thing Miguel has an interest in is playing the guitar.
Going against his family's wishes, he enters the town's talent competition on the Mexican holiday, Dia de Muertos.  The next thing he knows, he embarks on his journey into the Land of the Dead. It is here that he is forced to find out who is he is, where he came from and how he can make his dreams come true.  He meets all sorts of wonderful characters along the way that will make you laugh, make you cry and keep you on the edge of your seat with excitement.
I didn't know much about this movie going into it.  Walking out, I consider it one of my favorite Pixar movies.  The voice acting (supplied by newcomer Anthony Gonzalez along with bigger names like Gael Garcia Bernal and Benjamin Bratt) is wonderful and I felt really invested in the characters.  The music was outstanding and the CGI of the guitar playing was perfect.  As an avid guitar player myself, I forgot that this was not a real person strumming on the screen.
Directed by Lee Unkrich, the visuals were mind-blowing and I really feel that Pixar has outdone themselves again. Unkrich was really able to pay tribute to the Mexican culture and traditions, starting with the opening sequence. The Land of the Dead so well hashed out, it was like another character in the movie.
I also love the timing of this movie coming out in the holiday season.  This is not a Christmas movie at all.  This is a bold, wonderful move by Pixar that gives us all a welcome break from the reds, greens and jolly old elves that will be surrounding us for the next month. In its place, you will travel to the small Mexican village of Santa Cecilia where you will meet Miguel and his wonderful, complicated family.  From there, you can take a roller coaster ride through the Land of the Dead and back again.
It seems like every other movie studio is just reworking classics, giving us sequels, adapting popular novels and throwing comic book characters through buildings. I have come to depend on Pixar as one of the last true original storytellers left.  They never cease to write and deliver an original, touching, funny, and exciting product that will entertain both a 5-year-old and a 55-year-old.  This is an extremely challenging thing to do.  Pixar never fails.
COCO opens in theatres everywhere on November 22nd!