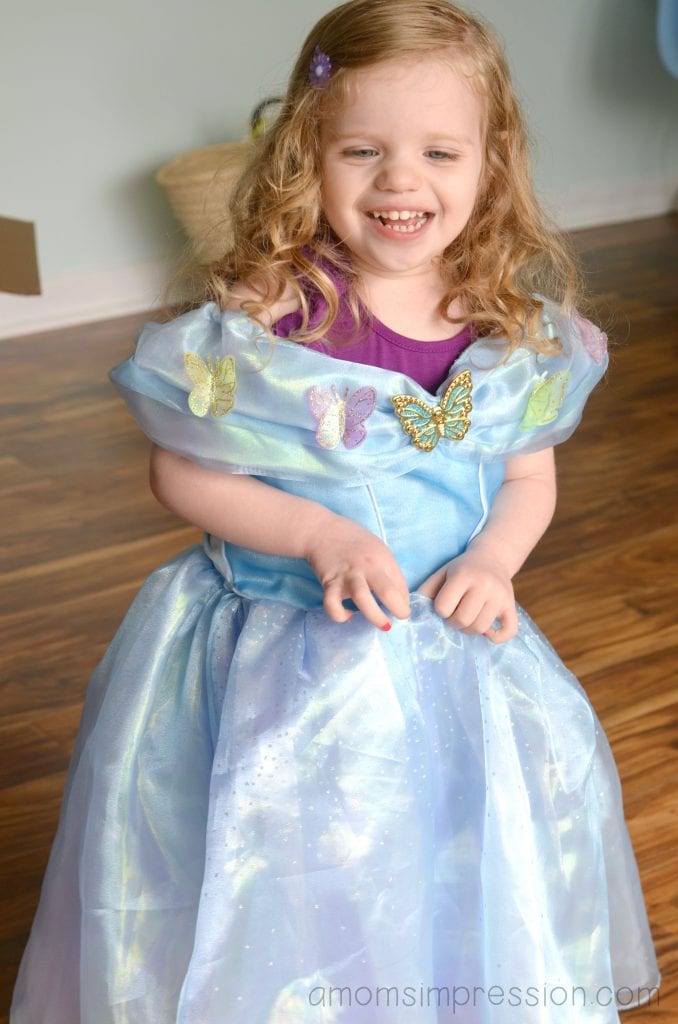 Like many young girls, my daughter LOVES to dress up.  Her favorite dress up outfits are Disney characters.  So far she has Anna, Elsa, Sophia, and Tinkerbell.  She has been asking for more Disney princesses and so when given the opportunity to review the newest Cinderella dress (inspired by the new movie) we jumped at the chance.
I have loved the story of Cinderella ever since I was a little girl.  She is the type of person that I would love as a role model for my daughter.  In spite of her circumstances she remains kind and caring. The new Disney Cinderella movie hit theaters last month and is still going strong in the box office.  This beautiful butterfly, movie inspired dress up gown is going to be a huge hit with girls everywhere!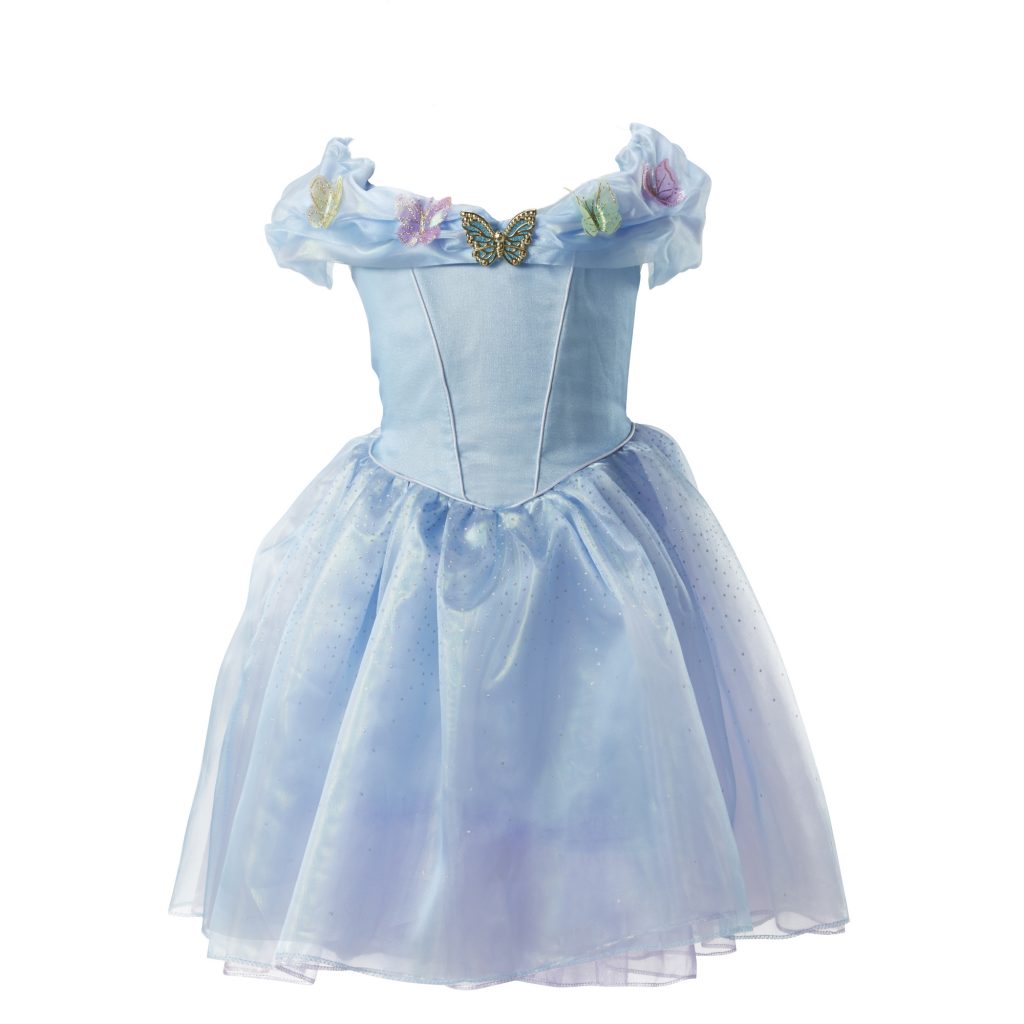 As soon as my daughter saw it her eyes lit up with awe and excitement.  She tried it on immediately.  My daughter is turning 3 in a couple of weeks but is still in size 2 clothing.  The dress we received is a 4x-6x and is a little big yet (as you can see in the pic) but no worries we can fix it with a few pins.  She is having a wonderful time running around the house in her dress.
Not only is this dress amazing it comes with some amazing dress up/light up shoes!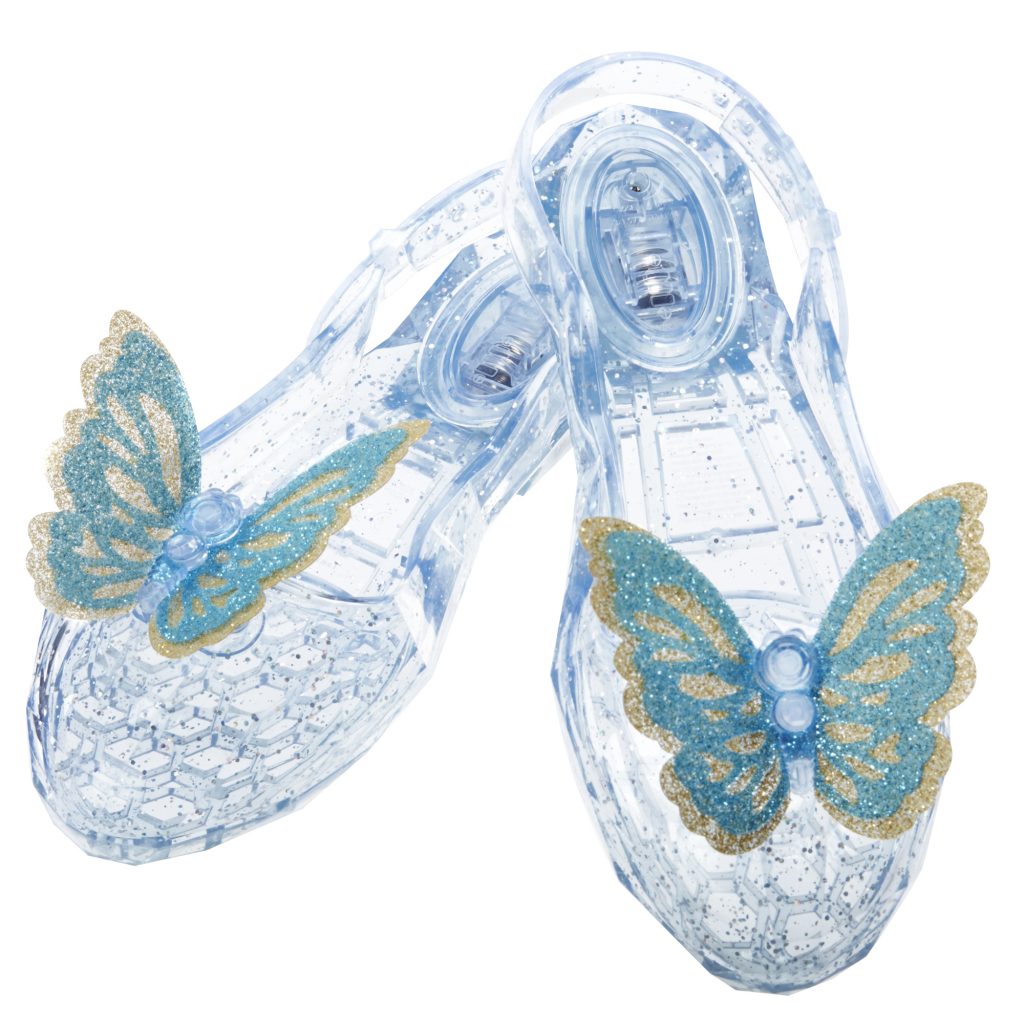 The shoes remind me of the jelly shoes that I wore when I was a kid but we didn't have the lights.  Caroline instantly fell in love with them and tries to walk around the house in them even though they are a bit big at the moment.  These shoes are a staple for any little girl who loves to play dress up!  They will go with just about any princess outfit.
You can purchase Ella's Blue Dress
for $29.99 from Jakks on Amazon!  Don't forget the Glass Slippers
to complete the look!  For more information on this outfit plus many more visit Jakks online!
Be sure to see Disney's Cinderella in theaters before its too late!