I have enjoyed being apart of the Huggies Ambassador program over the past couple of months.  While I have used Huggies in the past, I was really excited to learn about the all new and improved Snug & Dry Diapers and the improved wipes.  If you missed those posts you can read about the diapers here and the wipes here!
Mom isn't the only one around here that has enjoyed using Huggies.  My husband enjoys them as well.  Daddy changes just about as many diapers as I do!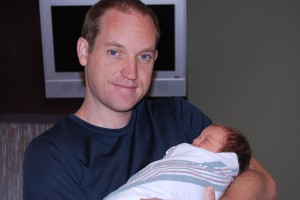 My husband is a special guy.  I wouldn't have married him otherwise.  We were together for over four years when he finally asked me to marry him.  Patience isn't something that comes easy to me, but I knew I had to wait for this one.  I was so in love with him.
I didn't think it was possible to love him more than I did on our wedding day, but I was wrong.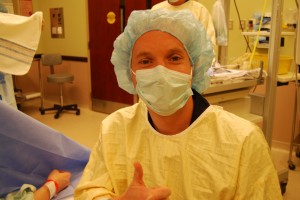 I wanted kids so badly, and when TJ was born it was the best day of my life.  I looked forward to being a mom.  I hadn't really thought about the fact that it would mean that my husband would become a father (I know weird right).  But the instant he met his son, I fell even more in love with him.  He is a natural at parenting.  The way he looks and interacts with his children amazes me.  He can get TJ from a full blow out tantrum to fits of giggles in seconds.  He can get him to eat his dinner when no one else can.  He can make Baby Girl smile already and she is only 5 weeks old (I swear, I had to see it to believe it too)!  He would do anything for the kids and I.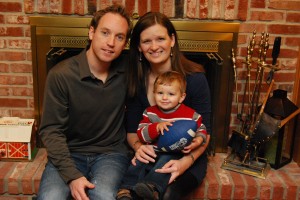 (I just realized that we need an updated family photo of the four of us!)
I think my husband is a fantastic father! Huggies wants to recognize great dads! Do you know a special dad that deserves to be recognized? You can nominate him to win a fully stocked Huggies Diaper Bag! Visit Huggies' Facebook page to nominate your deserving father (or a father you think should win).
A huge Thank You to Huggies for appreciating all the Dads out there and for selecting us to be a Huggies Ambassador!
I participated in a campaign on behalf of Mom Central for Huggies. I received product samples to facilitate my review and a promotional item to thank me for participating.